The Ultimate Guide to San Diego City College Financial Aid
Preparing for college stops being fun once you realize the astronomical amounts you have to pay for tuition. Luckily, you can find some relief by applying for financial aid.
Local tuition for San Diego City College is $1,144, while domestic tuition is $7,480. If you want to make your tuition less expensive, we'll provide you with the essential info about applying for San Diego City College financial aid.
and find out all there is to know about financial aid and appealing an insufficient financial aid amount!
San Diego City College Financial Aid Types
Financial aid for undergraduate and graduate students comes in a few different forms. Before applying, you should find out what types of financial aid San Diego City College offers. Consult the table below for specifics:
Aid Type
Explanation
Programs
Grants

Grants are a type of financial aid that doesn't have to be repaid. You can choose from:

Federal grants
State grants

Cal Grant A
Cal Grant B
Federal Pell Grant
Federal Supplemental Educational Opportunity Grant (SEOG)
Opportunity Grant (OG)
Grant-In-Aid (GIA)
Blue and Gold Opportunity Grant
Summer Session Grants

Loans

Loans are the money you borrow to cover the expenses of your studies and repay it after a certain period

Federal Undergraduate Loans
Federal Graduate/ Professional School Loans
Federal Direct Loan Program
California Dream Loans
University Undergraduate and Quaon Family Loans
Short-Term Emergency Loans
Private Loan Programs

Scholarships

Scholarships are usually awarded to students based on their academic success, but that's not always the case. Some scholarships are granted based on students' financial circumstances as well

Regents Scholarship
Ellen and Roger Revelle Scholarship
National Merit Scholarship
UC San Diego Athletic Scholarship
James Avery Scholarship
Black Alumni Scholarship
Clayton H. Brace Scholarship
Chancellor's Associates Scholarship
Chancellor's Scholarship
CREATE Undergraduate Scholarship

Work-studies

Work-study programs provide students with the opportunity to work while studying. That way, they can earn money to cover the expenses of their studies

On-campus positions
Off-campus positions
How To Get Financial Aid From San Diego City College
Applying for San Diego City College financial aid requires you to complete and submit the Free Application for Federal Student Aid (FAFSA). The San Diego City College board will use the information provided in your application to determine:
If you're eligible for financial aid
What financial aid amount you will get
Depending on the financial aid program you want to apply for, you may have to provide additional paperwork. You should visit the San Diego City College official website to find info about eligibility criteria, application deadlines, and financial aid FAQs (such as how long you can keep getting financial aid or how many credits you need to get financial aid).
How To Contact the San Diego City College Financial Aid Office
Do you have any questions about your financial aid applications? You can contact the San Diego City College financial aid office and inquire about the info you need. Here's how:
Contact San Diego City College Financial Aid Office Via
What To Do
Phone
To reach the financial aid office over the phone, you have to:

Dial 619-388-3501
Tell the support agent about your request

Wait for them to provide you with info

Email
If you want to email the financial aid office, complete these instructions:

Compose an email explaining your request
Send it to cityaid@sdccd.edu

Fax
You can also fax your request to the San Diego City College financial aid office at 619-388-3241
San Diego City College financial aid office is open Monday through Thursday, 8 a.m.–6 p.m. On Fridays, their business hours are 8 a.m.–12 p.m.
DoNotPay Shows You How To Appeal a Low San Diego City College Financial Aid Offer!
If you receive a low San Diego City College financial aid offer, or even worse, if they reject your application, don't stay quiet! Use DoNotPay to appeal the decision right away!
We can assist you through the entire process and help you compose an appeal letter in no time. The best part is that it takes almost no effort on your part—we do most of the work! All you need to do is complete our quick three-step guide to get started:
Choose the Appeal for More Financial Aid feature
Provide the necessary info about the college you want to attend and your family's financial circumstances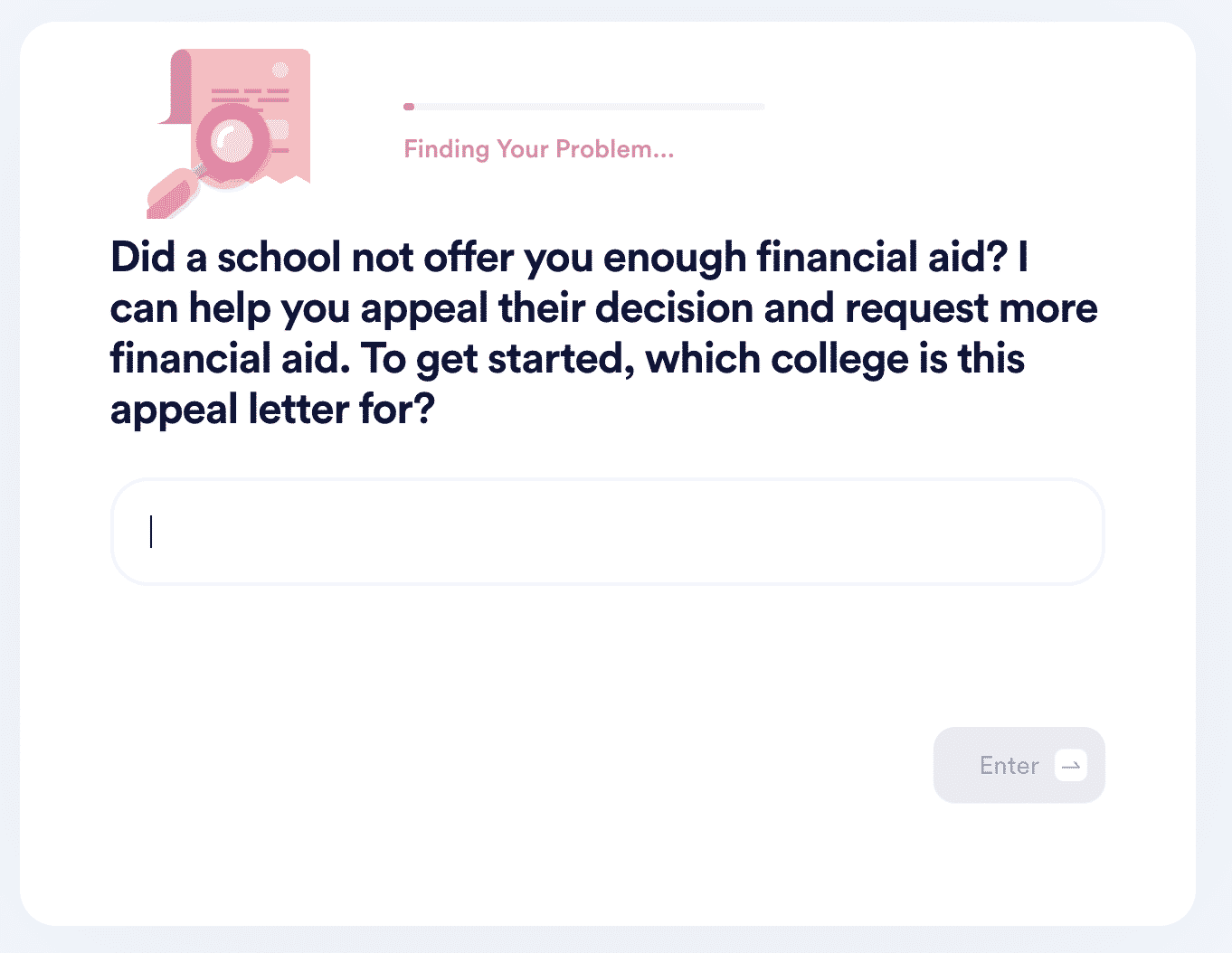 Once you finish, we'll create your appeal letter in a few minutes, but that's not all! DoNotPay will also send your letter to the San Diego City College financial aid office on your behalf.
If you aren't satisfied with the amount SDCC offered you and want to apply for more financial aid money, we can help! DoNotPay provides you with guides to applying for financial aid from other schools as well:
DoNotPay's Vast Collection of Features Keeps Expanding
Determined to simplify bureaucratic procedures and help you with various daunting items on your to-do list, we created DoNotPay—the world's first robot lawyer! With us, you can:
Streamline Different Tasks by Using DoNotPay's Practical Features
Are you looking for an efficient way to gain back your unclaimed money or get a refund from a company? Do it with DoNotPay without lifting a finger! Our app provides excellent money-saving features that will increase your budget and make all unnecessary expenses disappear.
We can assist you in terminating unwanted subscriptions, recovering your unused gift card funds, reducing your bills, and requesting late delivery refunds. You don't even need to hire lawyers to write a financial aid appeal letter, an HR complaint, or a child travel consent form in your stead—our app can do all this!