How Does the San Antonio College Financial Aid Office Operate?
Like other universities and graduate schools, San Antonio College has a special department dedicated to financial aid. Its purpose is to inform students about the application procedure, available types of support, and criteria they should meet to qualify for it.
If this institution is on your wish list and you want to get familiar with the process, our guide can help! Learn all about the San Antonio College financial aid office, find out how to contact it, and discover how to to increase the financial aid you get from the university!
What Is the San Antonio College Financial Aid Phone Number?
It's important to note that San Antonio College belongs to the Alamo Colleges District and that it shares its financial aid office with four more colleges:
Palo Alto
Northeast Lakeview
Northwest Vista
St. Phillips
The institution has the same phone number for all colleges from the district but proposes slightly different operating hours. You can contact the office by calling (844) 202-5266 Monday through Thursday from 8 a.m. to 7 p.m. The department doesn't work on Fridays and weekends.
What Are the Other Ways To Contact the San Antonio College Financial Aid Office?
If you are unable to reach the financial aid team of San Antonio College via phone, check out the remaining contact options listed in the table below:
Method
Details
Summer Operating Hours
Fall & Spring Operating Hours
Email
dst-sfs@alamo.edu
8 a.m.–7.p.m. Monday through Thursday

8 a.m.–5 p.m. on all working days except Tuesdays
8 a.m.–7 p.m. on Tuesdays

Fax
(210) 486-9282
San Antonio College Financial Aid Types
Once you get in touch with the college's financial aid office, it's possible to inquire about the existing financial support programs. There are four main types of financial aid, and they are shown along with their subcategories in the following table:
Type of Aid
Schemes
Grants

Federal Pell Grant
Federal Supplemental Educational Opportunity Grant (FSEOG)
Texas Public Education Grant (TPEG)
Texas Public Education Grant—Continuing Education (TPEG-CE)
Texas Educational Opportunity Grant Program (TEOG)

Loans

Federal loans:

Subsidized Direct Loan
Unsubsidized Direct Loan
Direct Parent PLUS Loan

Alternative loans provided by various private/third-party institutions

College work-study program

On-campus jobs
Off-campus jobs

Scholarships and other aid programs

Alamo Colleges Foundation Scholarship
Charles, Lela, and Mary Slough Foundation Scholarship
Federal and state veteran benefits
How To Apply for Financial Aid at San Antonio College
The type of form you must submit to apply for San Antonio College financial aid depends on the student category you belong to. You should fill out:
Before you complete the required form, you must:
Find out what the application deadlines are—for the 2021/2022 school year, you can submit the form from November 1, 2021, to the last class day
Collect the required biographical and financial data and check if all of them match your documents and the original statements
Create your Federal Student Aid (FSA) ID
Upload your tax information with the IRS Data Retrieval Tool
After filling out the application, it's necessary to:
Check the status regularly on the convenient page or via your FSA profile
Review your Student Aid Report (SAR) and check if you made any mistakes while completing the FAFSA
Submit additional documents if you filled out TASFA, including:

Parent W-2 Forms (if you are a dependent student)
Student W-2 Forms
Selective Service Registration Acknowledgment Card (if you are male)
Student Tax Return Transcript
These application forms must be resubmitted each year. If you get rejected or get an amount too low to cover all your needs, you can file an appeal yourself or with DoNotPay!
Didn't Get the Amount You Were Hoping For? Appeal the College's Decision With DoNotPay
Do you want to negotiate the sum you got from San Antonio College but don't know how to write a proper appeal letter? Relax—that's why DoNotPay is here! In under five minutes, we will gather all the required info from you through a brief questionnaire and create a claim in your stead!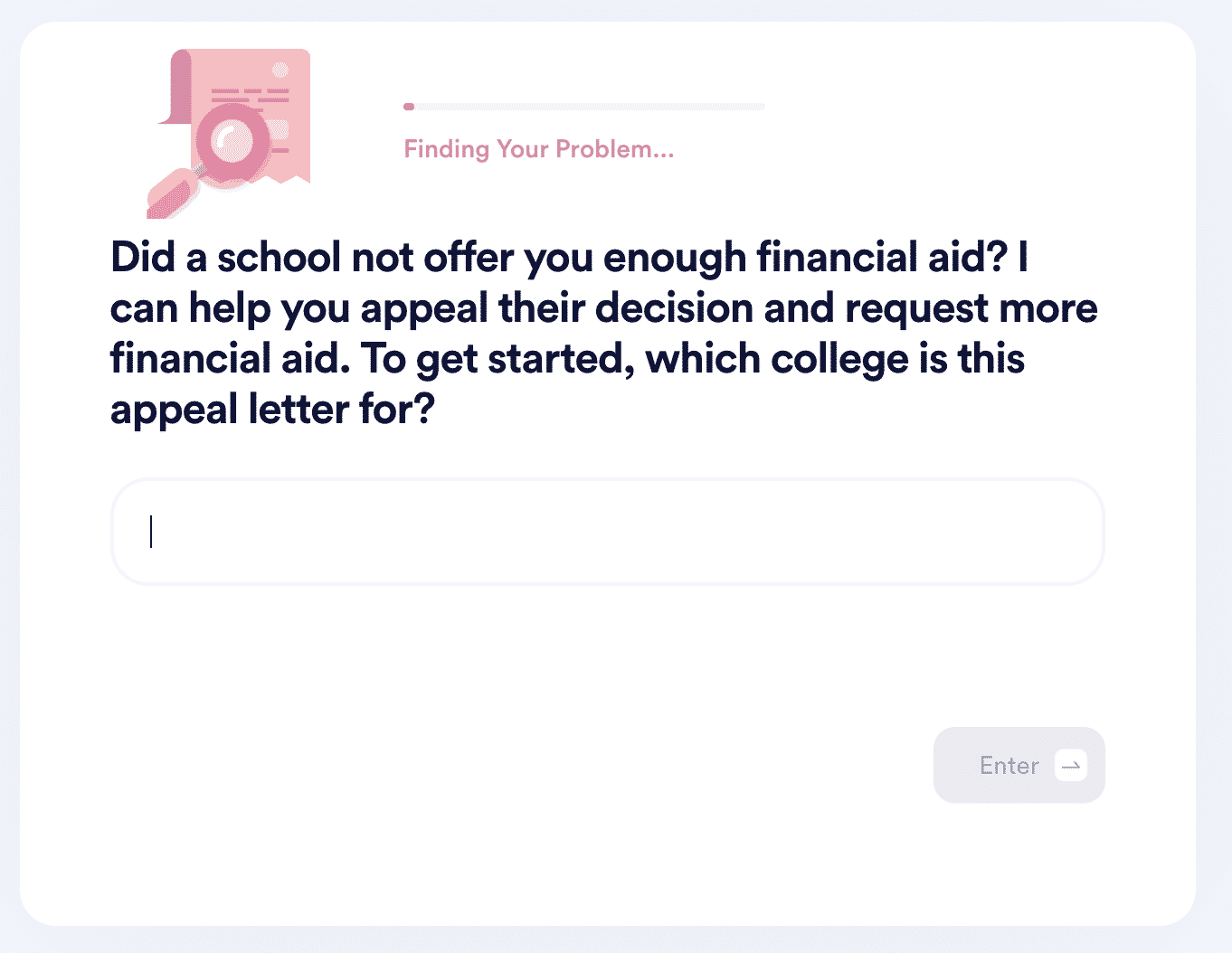 Here are the steps you should follow to get help from us:
in any preferred web browser
Search our app for the Appeal for More Financial Aid option
Enter the name of the college you want to enroll at
Tell us what offers you have received from other colleges
Disclose more details about your finances
Our system will process all the information provided and generate a valid appeal letter in a snap! It will automatically be sent to the college in question.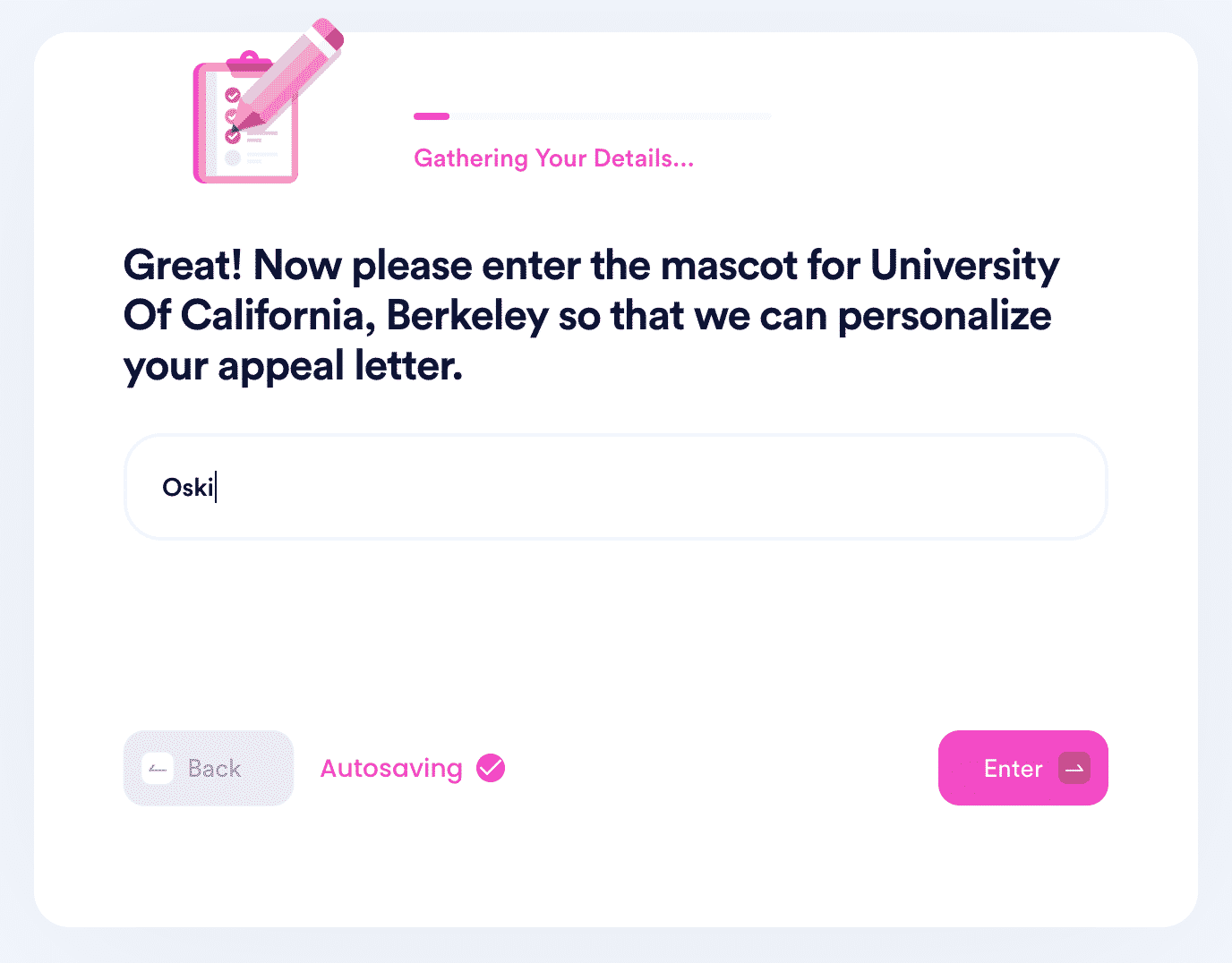 Interested in finding out what other universities have to offer when it comes to student financial support? We have answers to all your questions—find them in the following articles from our knowledge base:
Is Bureaucracy Giving You a Headache? DoNotPay Can Help!
Bureaucracy is a big part of our lives that we can't escape. We understand the struggle over at DoNotPay—that's why we've created various features that can help you out! The world's first robot-lawyer app can assist you with:
DoNotPay's Arsenal of Features Doesn't Stop Growing
DoNotPay's number of handy features keeps growing by the day. Our platform can help you with various issues ranging from filing insurance claims to finding clinical trials. Want to save money on unused subscriptions? DoNotPay has got your back! We can help you cancel them and fight any subscription spam email that you get. Your AI assistant can also get you free raffle tickets or find any missing money in no time!
With DoNotPay, you'll have access to countless features that grow in numbers by the day! You'll be able to block robocalls, deal with tedious neighbors, and much more!