Get the Gist of Queens College Financial Aid
Queens College, located in New York City, offers undergraduate degrees in over 70 majors. If this is the college you want to enroll in, you should get acquainted with the admission protocol and financial aid first. We're here to explain all there is to know about applying for Queens College financial aid and making your tuition less expensive!
Register for DoNotPay, and use our simple guides to apply for financial aid or appeal a low financial aid offer in a flash!
What Are the Available Queens College Financial Aid Types?
When it comes to financial aid, there is more than one option at your disposal. Queens College offers a variety of financial aid types, including:
Financial Aid Type
Programs
Grants

Federal Pell Grant
Pell Grant Award Schedule/Factsheet
Pell Book Advance
FSEOG - Federal Supplemental Educational Opportunity Grant
TEACH Grant

Loans

Federal Direct Loan
Student Loan Ombudsman
Federal Perkins Loan​

Work-study
Scholarships

Eric Altmann Scholarship
The Herbert Bienstock Scholarship
Gloria Sawicki Scholarship Endowment Fund
Robert P. Antler Class of '66 Scholarship Fund
Eleanor Dieckmann Picken Scholarship for Study Abroad
Undergraduate Student Support
Ambler Family Scholarship Fund
Barry S. and Evelyn M. Strauch Scholarship Endowment
Beth Lieberman Pre-Med Scholarship Fund
Dana Seidman/Magnus Hedenlund Endowed Scholarship Fund
Herbert Gresser Scholarship Endowment
Joel S. Morrison Scholarship Endowment
Linda Higgins Empowerment Scholarship
Who Is Eligible for Queens College Financial Aid?
Not everyone is eligible for Queens College financial aid. The general requirement for applying is being a U.S. citizen or an eligible noncitizen. Besides that, to apply for financial aid provided by Queens College, both undergraduates and graduates have to make satisfactory academic progress depending on the year of studies. Consult the table below for the specifics:
How To Apply for Queens College Financial Aid
To apply for Queens College financial aid, you have to complete and submit a Free Application for Federal Student Aid (FAFSA). FAFSA is used to determine your family's financial status and to see whether you're eligible for financial support. Make sure to read the questions carefully and answer all of them.
The required paperwork that you need to fill out and submit depends on the financial aid program you choose. Some programs require you to complete additional paperwork, so it's best to check the Queens College official website and see the requirements for the specific financial aid program you seek.
If you aren't sure when to apply for financial aid, your safest option is to do so when applying for admission.
How Can I Contact the Financial Aid Office of Queens College?
If you need more information about your application, you can contact the Queens College Financial Aid Office and inquire about it. There is more than one way to do so—you can contact them:
Over the phone
In person
By fax
Contacting the Queens College Financial Aid Office by Phone
If you want to call and inquire about your application, do it by following these steps:
Dial 718-997-5102
Ask to be provided with the info you seek
Give any info the support agent ask for
Visiting the Queens College Financial Aid Office in Person
You can go to Queens College and ask for the info you need in person. Visit the following address and explain your request to an employee once you get there:
Queens College
Office Financial Aid Services/ QC Hub
65-30 Kissena Blvd - Dining Hall 128
Queens, NY 11367
Faxing the Queens College Financial Aid Office
Sending a fax to the Financial Aid Office is another contact method you can choose. All you need to do is fax your request at 718-997-5122 and wait for a response.
Use DoNotPay To Appeal a Low Queens College Financial Aid Offer!
Wondering what to do if Queens College makes a low financial aid offer or, even worse, rejects your application? Don't fret! DoNotPay is here to lend a helping hand and assist you in appealing the decision! Why waste hours writing an appeal letter on your own when you can have our app do it instead?
The process is super easy and takes minimum time and effort. All you need to do is complete our quick, three-step guide to get started:
Choose the Appeal for More Financial Aid feature
Supply us with the required info about the college you want to enroll in and your family's financial situation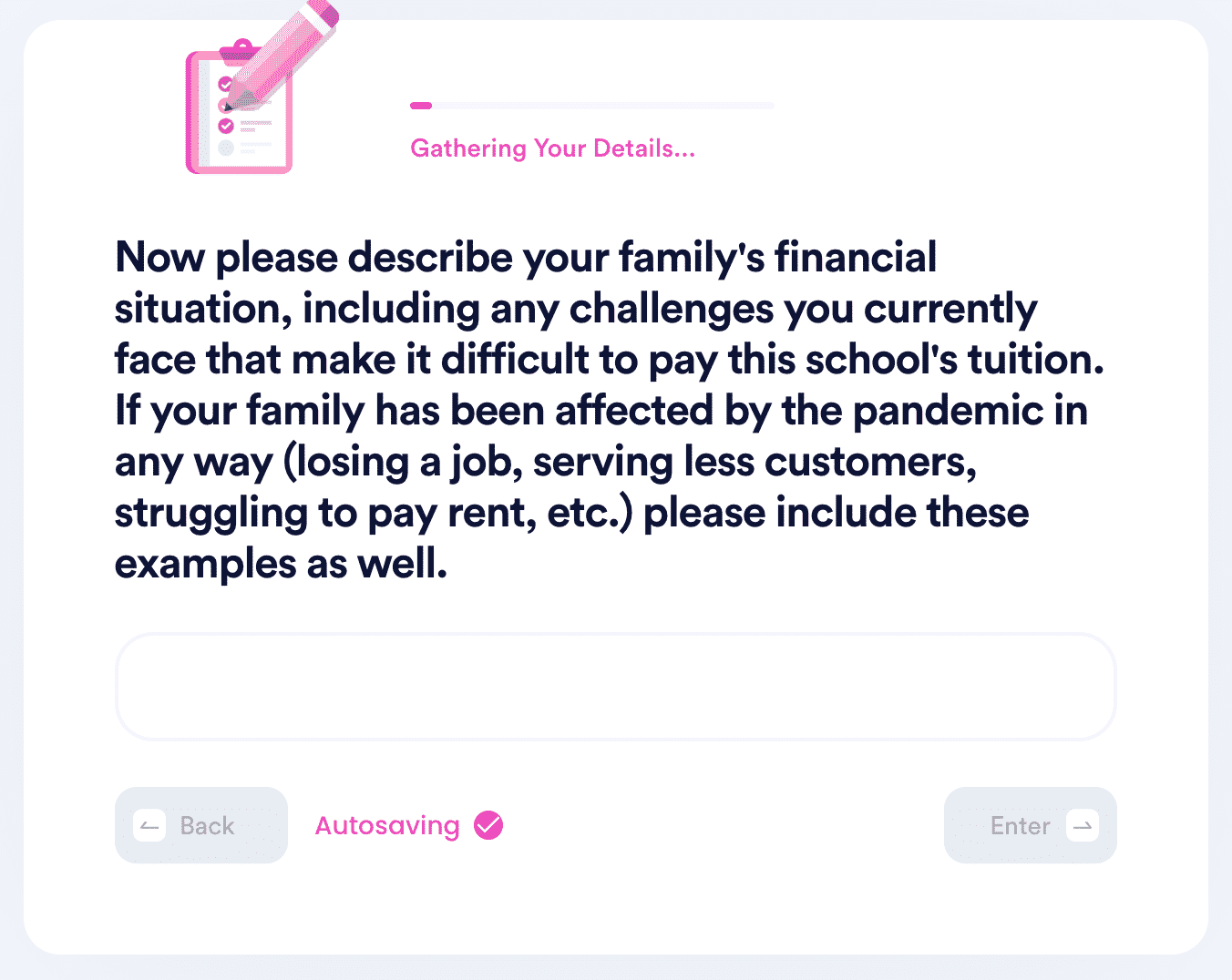 DoNotPay will generate your appeal letter promptly and send it to the Queens College Financial Aid Office on your behalf!
If you aren't satisfied with the financial aid offer that Queens College provided, you can check out some of the other schools and see what they have to offer. Consult the table below for details on how to get more financial aid:
Tackling Administrative Issues Has Never Been Easier
DoNotPay was created to help you deal with burdensome everyday tasks you would rather skip. The features we offer will make sure you can:
Dealing With Legal or Security Issues? DoNotPay Will Make Them Go Away
Has a company refused to issue a refund you are entitled to? Sue it in small claims court and get your money back with the help of the world's first robot lawyer! You can also turn to us if you want to protect your work from copyright violation, prevent stalking or harassment, or get virtual credit cards to avoid disclosing your credit card info.
Besides assisting you in seeking justice and security, DoNotPay can help you arrange DMV appointments, contest parking tickets, prepare divorce settlement agreements, and compose various legal documents.