The Ultimate Tips for Getting Pace University Financial Aid
Due to financial difficulties, many students struggle to find the necessary funds to pay for their education at Pace University. If enrolling at one of its degree programs is your dream but astronomical tuition brings you down, you may want to consider some financial aid programs.
Not sure how to approach the Pace University financial aid application? Afraid of making a huge mistake and ending up being rejected? Say no more—check out our guide and discover solutions for all your dilemmas right away. We help you learn all about:
What Packages Does Financial Aid at Pace University Include?
The Pace University financial support programs come in multiple forms, and most of them are need-based. They aren't offered only by the institution but also by:
New York State
Federal Government
Various private organizations
The table below helps you get familiar with the available financial aid types:
Type
Repayable
Some Programs Included
Grants
No

Institutional grants

Pace Grant
Trustee Tuition Grant

Federal grants

Pell Grant
Supplemental Educational Opportunity Grant

State grants

Tuition Assistance Program
Veterans Tuition Award
New York State Aid for Part-Time Study
Regents Awards for Children of Deceased and Disabled Veterans
New York State Assistance for Native Americans
Regents Awards for Children of Deceased Police Officers, Firefighters, and Corrections Officers

Scholarships
No

Institutional scholarships, such as:

Honors College Scholarship
Athletic Scholarship
Transfer Incentive Award
Trustee Recognition Award

State scholarships, including:

Regents Professional Opportunity Scholarships

Third-party scholarships

Loans
Yes

Direct Stafford Subsidized/Unsubsidized Loans
Direct Parent PLUS Loans
Direct Graduate PLUS Loans

Work-study program
No
No specific programs—only part-time job positions on-campus that help students earn for higher education
How To Contact the Pace University Financial Aid Office for More Info
If you can't find the answers to all your financial-aid-related queries on the university's website, the financial aid office can help. All you should do is choose a convenient communication channel and get in touch with the support team. You can do it by:
Emailing them at financialaid@pace.edu
Phoning them at:

(877) 672-1830 (toll-free)
(212) 346-1930 (toll)

Faxing your query to:

(212) 346-1750 (New York City branch)
(914) 773-3315 (Pleasantville branch)
(914) 989-8776 (White Plains branch)
What Makes You Eligible for Pace University Financial Aid?
Filing a Free Application for Federal Student Aid (FAFSA) is a key step towards being considered for most types of financial support from Pace University. The only exception is merit-based financial aid programs, which don't require this procedure. To keep getting financial support, you are required to submit this form annually.
To comply with the basic financial aid eligibility criteria, you should:
Disclose a valid Social Security number
Be a U.S. citizen, refugee, or permanent resident or belong to any other category of eligible noncitizens
Enroll in an acceptable degree or certificate program for the minimum credit hours
Keep up the good work when it comes to your academic progress
Repay all your previous loans
Be drafted for Selective Service—for male applicants only
What Happens During the Application Procedure?
Here are all the phases of the financial aid application process:
Getting informed about the predetermined application time frame
Filling in your FAFSA form with accurate information from your:

ID, passport, or driver's license
Social Security card
Income reports
Bank statements

Sending the completed form to Federal Student Aid (FSA) via mail or online
Receiving and reviewing your Student Aid Report (SAR)
Getting an offer or a rejection letter from the university
Filing an appeal if the offer you get isn't satisfying
Waiting for your financial aid funds to be allocated if you are accepted
If you are generally unhappy with the financial aid programs at your preferred college, discover the instructions for requesting support from other institutions, such as:
How Can DoNotPay Help You Appeal a Way Too Low Financial Aid Offer?
The offer you get from Pace University may not be negligible, but it may still be too small to help you pay for the entire academic year. If this is the case and you want to fix it, DoNotPay is your way to go!
Our app will help you avoid unsuccessful drafts by composing an appeal letter for you in five minutes! All you should do is tap a few times and enter the required finance-related details—we do all the rest! The Appeal for More Financial Aid feature can help you regardless of whether you requested financial aid from a college or graduate school.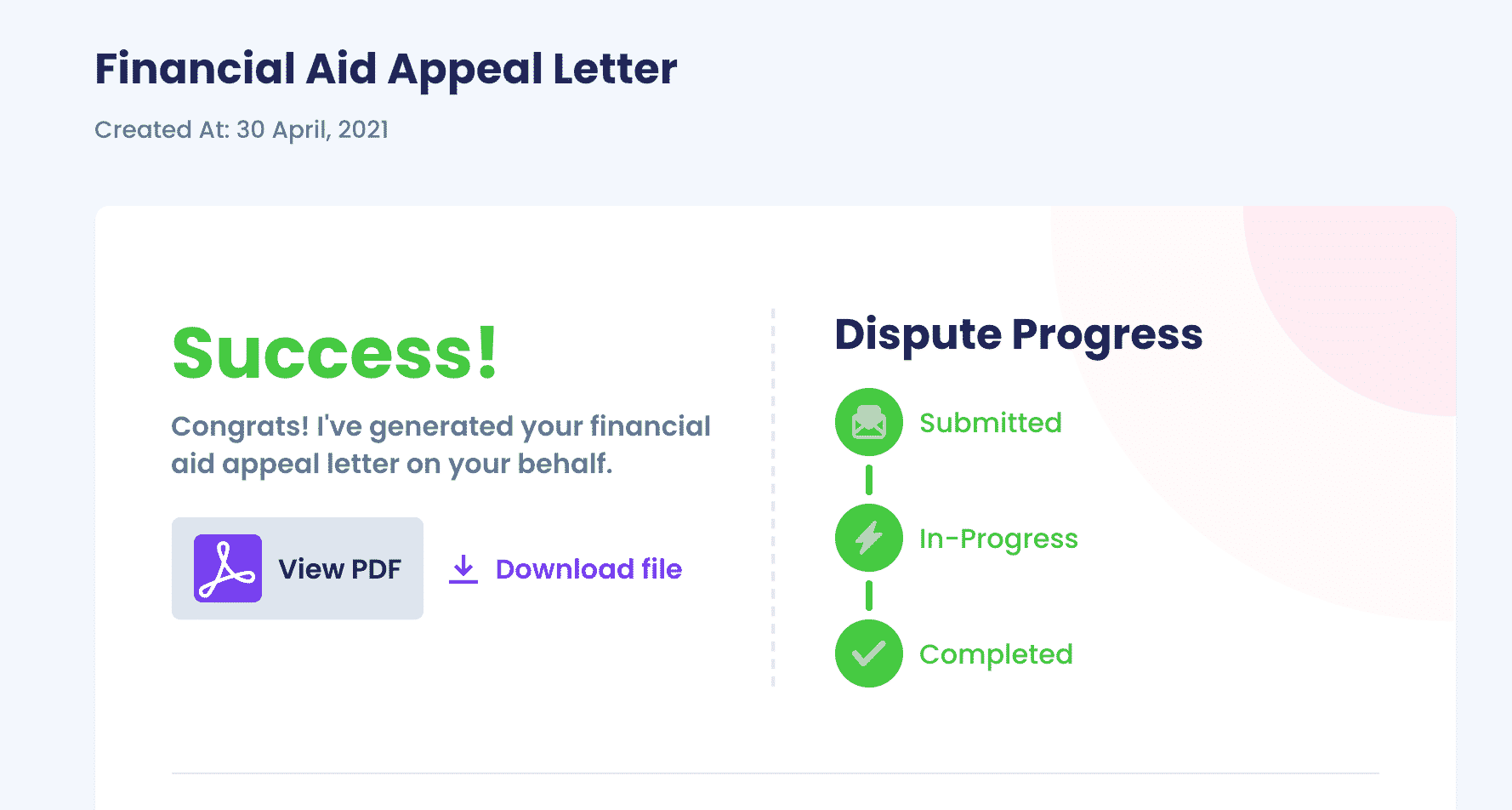 Here's how you can get the best out of your appeal with us:
Search for the Appeal for More Financial Aid product
Enter:

Name of the college you are interested in—in this case, Pace University
Names of other institutions whose financial aid you applied for and their offers

Respond to a few questions our chatbot has for you
As soon as you complete these steps, our system will generate a personalized letter and direct it to the university right away.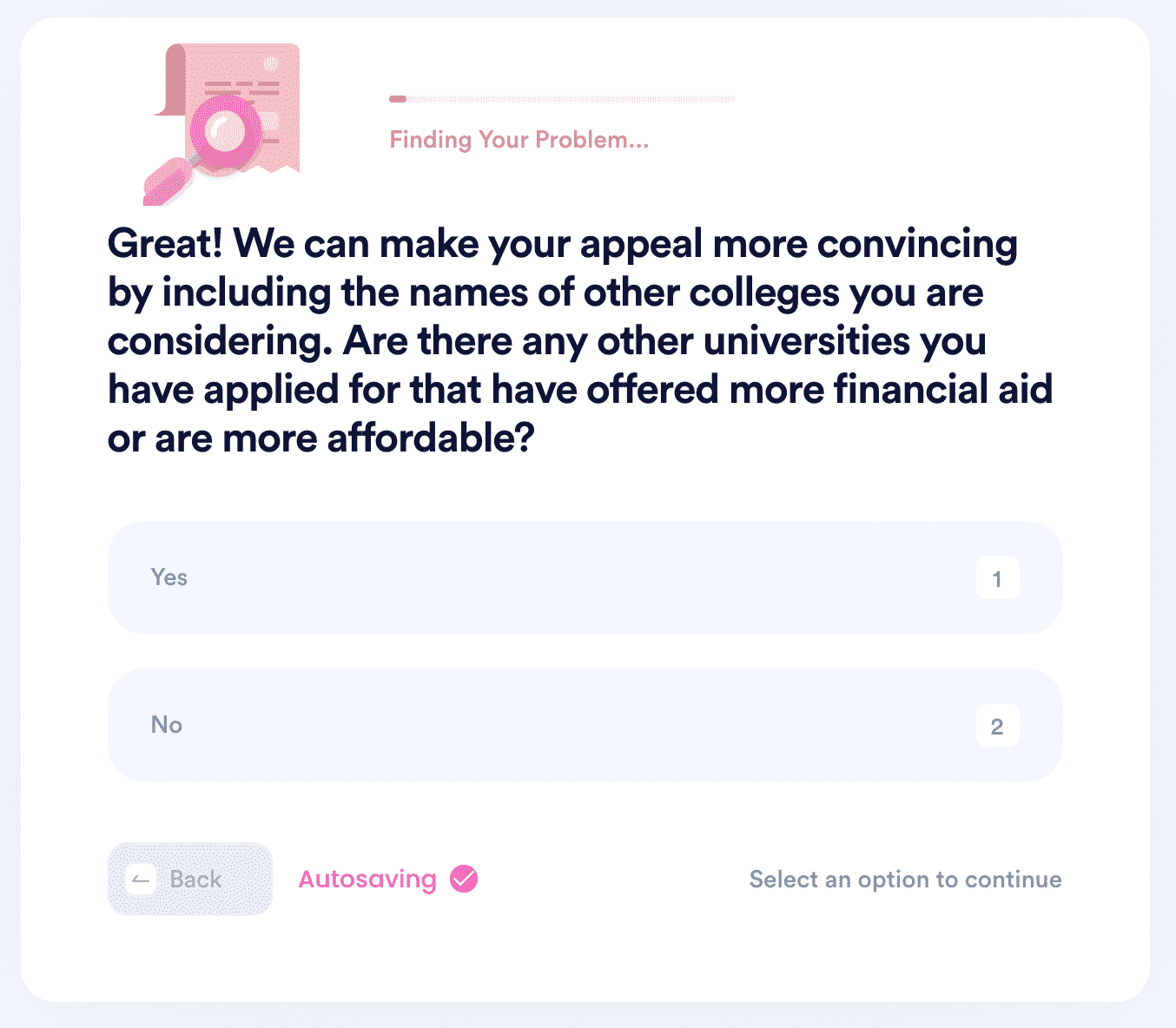 Only the Sky Is the Limit for DoNotPay
DoNotPay has an insane number of features that keeps growing. Our platform can help you:
Say Goodbye to Spam Mail With DoNotPay
DoNotPay has designed a feature that will put a stop to the flood of junk and spam mail into your inbox! We can help you join a class action against a spammer or take any person or company that's wronged you to small claims court!
Need a virtual credit card number or a fake phone number to protect yourself from scammers? We've got you covered! We can help you fight text spam or even assist you in sending mail without any chance of error.
Our users' safety is our number one concern, so we've developed a feature that will protect you from cyber stalking or harassment!