Get the Scoop on Finding a Notary Public in Fort Worth
As if the requirement to get documents notarized wasn't demanding enough, you need to find a notary public in Fort Worth, schedule, and come to your appointment with a notary remembering to print out and bring the document along with your ID. Not anymore! If you , you'll get an online notary service in a flash without lifting a finger or leaving your home.
How Does Notarization Work in Fort Worth?
Notaries in Fort Worth and across Texas are appointed and commissioned by the Texas Secretary of State with the primary purpose of preventing fraud. All Texas notaries can perform these notarial acts:
Take depositions

Protest instruments

Take acknowledgments

Administer oaths and affirmations

Certify copies of documents not recordable in the public records
A typical notary service where the notary acts as an impartial witness attesting to the signature of their client consists of the following steps:
Verifying the signer's identity—the client needs to have their valid ID or another form of identification with them

Reviewing the document—looking for blank spaces or other red flags

Determining the signer will sign the document voluntarily—the notary checks for signs of coercion

Establishing the client is of sound mind—the signer cannot be intoxicated or mentally unstable

Witnessing the signing—the notary has to watch the client sign the document

Adding a seal and a

signature

—the notary signs and stamps the document in the section with a

notarized statement

Asking the signer to sign the record book—the notary must keep a record book where they record the details of the notary services and charged fees
Types of Notaries
You can get a document notarized by different notaries. Here's a breakdown of different notary types that exist in Texas:
Notary Types

Brief Explanation

Traditional notaries

Traditional notaries provide notary services in person. You need to visit them and bring your document as they can only notarize paper documents

Online notaries

Online notaries are permitted to perform

remote online notarization (RON)

, which means the notary service takes place via a video call

Mobile notaries

They visit their clients and notarize documents in the agreed-upon location. Because of the traveling, they can charge extra in addition to the notary fees

Notary signing agents

Notary signing agents notarize loan documents and offer related services, such as printing and delivering. Like mobile notaries, they can also visit the signers
Understanding Texas Notary Fees
Texas notary fees are limited by the state. Notaries can choose not to charge a fee or set their fees, but they cannot exceed the state limit that you can see in the table below:
| | |
| --- | --- |
| Notarial Act | Maximum Notary Fee |
| Administering oaths or affirmations | $6 |
| Taking a deposition of a witness (100 words) | $0.50 |
| Notarizing the first acknowledgment or proof of the first signature | $6 |
| Notarizing an additional signature | $1 |
| Notarizing a photocopy | $6 |
| Protesting a bill or note for non-acceptance or non-payment, register, and seal | $4 |
| Notarizing a certificate and seal to a protest | $4 |
| Providing online notarization | $25 |
Notaries must place their fee schedules in a conspicuous place in their offices and inform their clients how much they charge. A Texas notary that charges more than the state-imposed fees may face disciplinary action.
How Can I Find a Notary in Fort Worth by Myself?
You can perform a Texas notary search by using certain websites dedicated to notaries, such as 123notary.com, Notary.net, American Society of Notaries, and American Association of Notaries. To filter your search, make sure to type in Fort Worth and any other preferences.
You can also check out some public places in your neighborhood that may offer notary services, such as:
AAA

stores

Accountant offices

Office supply stores

Real estate agencies

Insurance companies

Credit unions

Police departments

Courthouses

Money transfer stores

Law offices

Tax preparation firms
Online Notarization in Texas Explained
Commissioned notaries in all of Texas can register to become online notaries. Although the signer isn't physically present during RON, the notarization needs to happen in real-time. The notary and the signer have to join a video call, and once they can see and hear each other well, the notary service can begin.
During RON, the notary performs a two-part identity verification, which consists of asking identity-proofing questions and performing a technology-driven analysis of the signer's ID.
Once the rest of the notarial act is complete, the notary will place their digital seal and signature on the electronic document.
Use DoNotPay To Get Documents Notarized Online
and get your documents notarized in the most convenient way—online. Here's all you need to do:
Navigate to the

Notarize Any Document

product

Upload the document

Enter your email address
You'll receive an email from DoNotPay. You should follow the link in the email, and you'll be able to set up your notary appointment right away.
Count on our help if you have questions regarding notarization, either general ones or related to other places in Texas, such as Austin, Dallas, El Paso, and Irving.
DoNotPay's learning center boasts numerous helpful articles, including: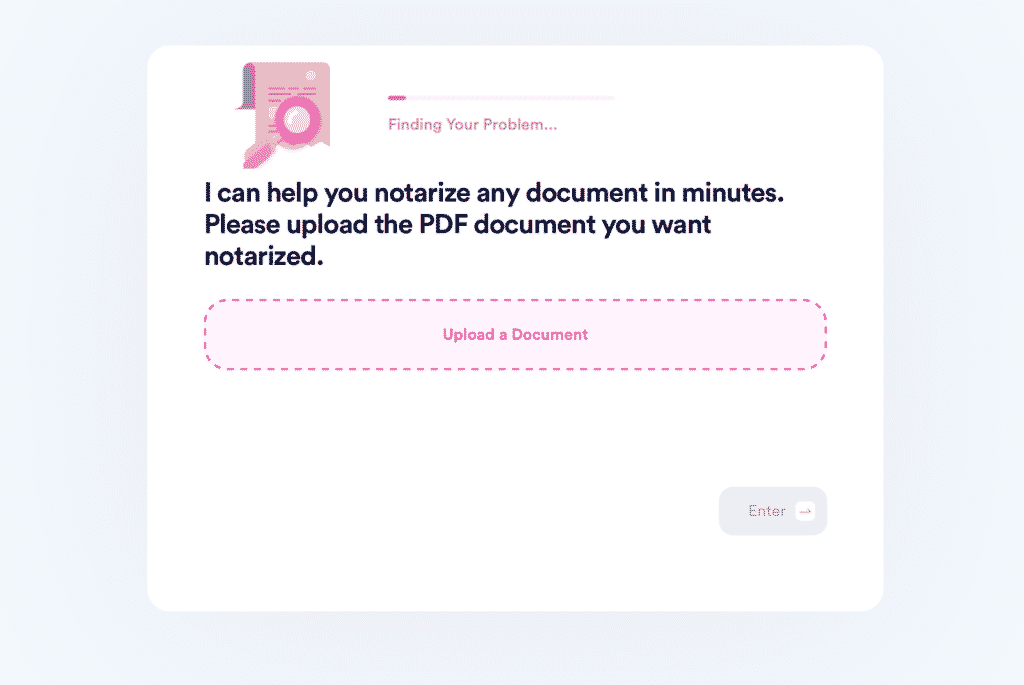 DoNotPay Can Help You Solve Pesky Issues Stress-Free
Dealing with everyday issues can become overwhelming, especially if they include bureaucracy. DoNotPay can help you handle numerous problems in a few minutes. With us, you can schedule your DMV appointments, get documents notarized remotely, and create various legal documents—including child travel consent statements—in a snap.
Do you need help paying your bills or disputing parking tickets? Once you register for DoNotPay, you'll be able to manage all of these and many more issues in no time.
What Else Can You Use Our App For?
Besides helping you handle tedious administrative hurdles, DoNotPay can do much more for you! You can use DoNotPay to:
With us, you can send online faxes or mail letters from the comfort of your home. Do you have friends or family members who are serving time? We can help you connect with inmates in a flash by enabling you to locate them and send them letters.