Find a Notary Public in El Paso, TX, With DoNotPay
We all have to deal with legal documents, many of which are only legally binding once they have been verified by a notary service.
If you live in Texas, you have many options for getting a notary's signature. DoNotPay is here to help you find a notary public in El Paso, TX, and get your documents notarized quickly and easily.
Why Do You Need a Notary?
A notary verifies that you are who you say you are and that you have physically signed a legal document. Getting a document notarized is necessary in many cases for the document to be legally binding.
You need a notary if you are dealing with any of the following documents:
Business agreements

Property-related documents

Personal agreements
There are almost limitless numbers of documents that can benefit from being notarized, and using a notary gives you an added level of legal protection if your documents ever get contested.
Where Can You Find an
El Paso Notary
?
Notaries public can be found in many places in El Paso, and there are three types of notaries you can use:
Type
Explanation

In-person notary

Notaries work from their own offices or as part of larger organizations. Over 20 notaries public are listed in central El Paso, and the following businesses frequently offer notary services:

Credit unions

Realtors

Car dealerships

Hotels

Public libraries

County or civic offices

Police departments

Mobile notary

Mobile notaries travel to your location to offer their services, making them more convenient than office-based providers but also more expensive

Online notary

Texas allows you to have your documents notarized online via a video call. Online notarization allows you to have documents notarized without having to leave your home or office
How Does the Notarization Process Work in El Paso?
Whatever document you are having notarized, the process is similar. You will need the following documents with you (for online notarization, the notary needs digital copies):
Valid photo ID

Proof of your authority to have the document notarized

Confirmation of your understanding of the document
Valid Photo ID
You need to present a passport, driver's license, or government-issued ID document with your photo on it to verify that you are who you say you are.
Proof of Your Authority To Have the Document Notarized
The notary requires proof that you are legally empowered to have the document notarized, so you need to verify:
Your age

Your capacity in relation to the document (author, signatory, or affected party)

Your fitness to sign the document (you must testify that you are of sound mind)
Confirmation of Your Understanding of the Document
You will have to demonstrate that you know what the document is, what it entails, and how it affects you to the notary's satisfaction.
Once you have completed these checks, the notary will ask you to sign the document and will stamp, date, and sign it as proof of your signature. Your document is now notarized, and you must pay the notary's fee.
What Is the Best Way To Get Documents Notarized in El Paso?
All three types of notary perform the same function, but in-person notary services may involve:
Waiting for an available appointment slot

Traveling

Standing in a queue

Close contact with other people waiting

Wasted time
Mobile notaries avoid many of these hassles, but they are frequently booked out, and you may wait a long time to get an appointment.
Online notaries are the quickest and easiest option, and DoNotPay can help you .
DoNotPay's Online Notarization Service Solves Your Problems in El Paso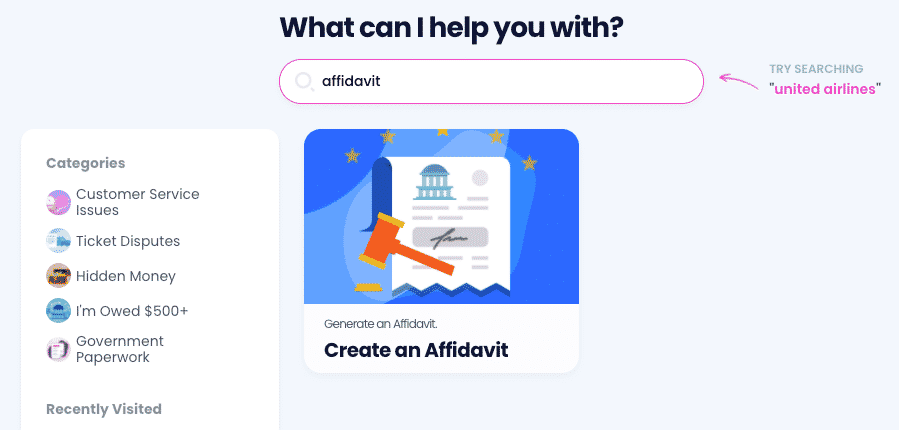 DoNotPay offers a simple and efficient online notarization service for any document you need to be vetted by a notary.
All you need to do to use our service is the following:
Navigate to DoNotPay in your web browser and

Choose our

Notarize Any Document

feature

Upload the document you need notarized

Give us your email address
We will send you a link to schedule your appointment with an online notary.
What if You Need To Write Legal Documents?
As part of our services, DoNotPay offers a range of contract templates and legal documents that you can customize to suit your needs. Once they are ready, you can use our service to have them notarized.
We can draft documents like these for you:
Lease agreements

Non-disclosure agreements

Non-compete agreements

Independent contractor agreements

Prenuptial agreements

Custody agreements
This is a selection of what we have, and we are adding to the list every week. To get your customized legal document, all you need to do is:
Search for the document you need

Fill in the details you want included

Wait a short time while we generate your document
Falling for Scams Is Less Likely With DoNotPay
Thanks to AI technology, DoNotPay is a great resource for protecting your privacy and finances from potential scammers. Our bots can help you report robocalls, keep your inbox clean from spam email and shady text messages, or even deal with stalking and harassment, if it comes to that.
In case the issues escalate, skip the expensive lawyers and sue the offenders in small claims court with ease.
Another great way to increase your online security is to use our virtual credit cards and sign up for any free trial without risking unwanted charges. You can even avoid sharing your contact info with our Burner Phone feature.
The Solution to Your Driving Woes
DoNotPay provides invaluable help to future and current drivers. By helping you ace that driver's license test, scheduling a DMV appointment the easy way, or contesting parking tickets, our app saves you money and time.
If you need to file a car warranty or an insurance claim, we will help you deal with the necessary paperwork within minutes. Trying to get out of a car wash membership? DoNotPay can cancel it in an instant.
Our platform works above ground as well. You can use DoNotPay to secure refunds from airline companies or compensation for delayed and canceled flights.