Notarization Without Visiting a Notary Public in Dallas, TX, Isn't a Myth!
Have you ever been in a hurry and needed to get your documents notarized quickly and easily, but the notary service options were anything but simple?
We understand you, and that is why we created a product that will help you get your documents notarized in a few minutes!
Not only is getting your important documents notarized without visiting a notary public in Dallas doable, but it's also super easy and efficient!
Turn to and let us guide you through the process of notarizing documents online and in no time—be it an affidavit or any other doc!
How and Where To Schedule an Appointment With a
Notary Public in Dallas, TX
You can make your appointment with notaries in Texas by researching the internet or visiting certain public places. In the table below, you will find suggestions for where to find notaries public in Dallas, Texas:
Keep in mind that notaries cannot notarize your documents if you are not present. That means that you have to go there in person and can't have anyone else get your documents notarized in your stead.
How Much Does a
Notary Public in Dallas
Charge for the Service?
Notary fees vary from state to state. Most states set a fee cap on how much notaries are allowed to charge their clients.
Texas laws allow the notaries in Dallas to charge you a maximum fee of:
$6 for the first signature

$1 per additional signature

$6 for administering oaths
How Does a
Mobile Notary in Dallas, Texas,
Work?
If you've heard about mobile notaries in Dallas and you aren't sure what they are, we'll provide you with all the information. A mobile notary comes to your location to witness your signature and add their signature and certificate to your documents.
When they arrive, the notarization process is the same as if it would be in a notary's office. That means you have to have your documents ready and present a valid picture ID, such as your driver's license or government ID. Any type of notary must confirm your identity as the key part of the notarization process.
While more convenient than standard notarization in an office, mobile notary service comes at a higher price—mobile notaries will charge extra for their travel expenses.
Dallas Notary
Service Online
If you choose to notarize your documents using the standard notary service, you'll have to:
Locate a notary

Schedule a meeting

Show up to the meeting in person
Using online notaries makes the process much more convenient! By choosing to get your documents notarized online, you'll avoid paying any travel fees and get to do everything from your home or office—no traffic, no queues, and no waiting rooms! You will schedule an appointment on your terms, meet up with a notary using an audio-video online platform, go through identity verification, and sign your documents in the notary's presence virtually.
If you want to save some time on searching online notaries in your area, you can use DoNotPay to find reliable service in no time.
Use DoNotPay To Get Your Documents Notarized the Easy Way!
Going for the outdated methods of document notarization, such as visiting notaries in person or having one visit you at home, takes more time and effort than necessary. There is a much simpler and more efficient option, and we are happy to present you with all the deets!
DoNotPay's Notarize Any Document service saves you from the burden and stress you would otherwise encounter! In a few quick steps, you'll have your notary appointment all set and ready!
Follow these instructions to have our app connect you with an online notary in a snap:
Find and select the

Notarize Any Document

product

Attach the document that you want notarized

Provide us with your email address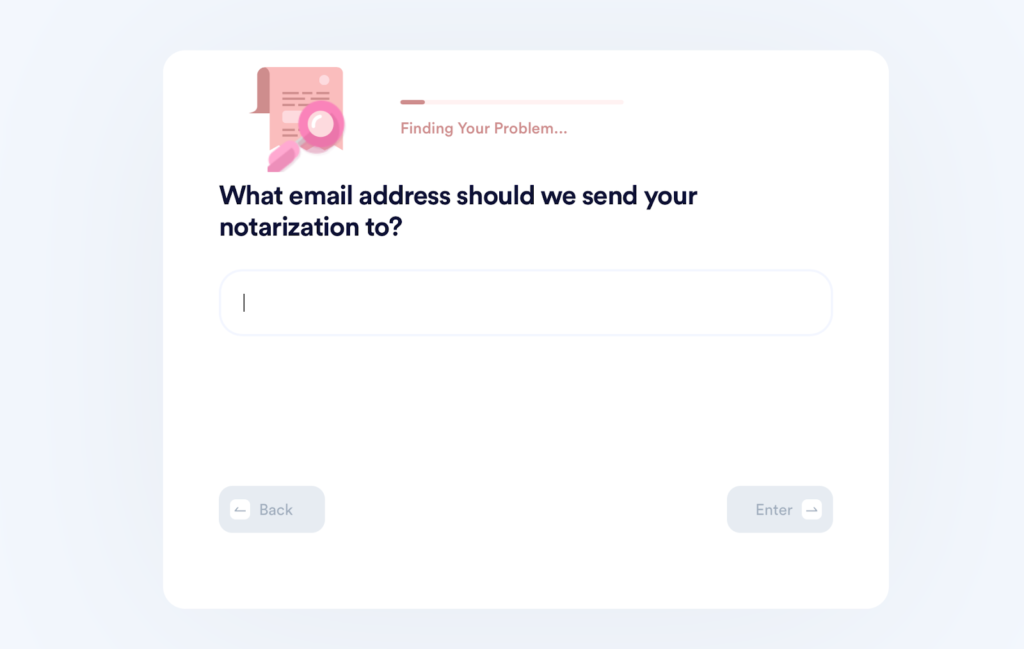 We will send you a link via email, and you'll use it to confirm the appointment with a notary. You won't have to leave your home—it's all done on your computer or smartphone!
DoNotPay Draws Up Numerous Contracts on Your Behalf!
Notarizing documents isn't all that DoNotPay does for you! We are fully aware that drafting legal documents and contracts is a tiresome procedure, so we came up with an app that lets you both draft your documents and get them notarized!
You won't have to burden yourself with figuring out how to write legal docs and what the legal terms even mean. We do the work for you!
These are some of the contracts and agreements we can currently draft in your stead:
LLC Operating Rules Documents

Non-Disclosure Agreements

General Business Contracts

Non-Compete Agreements

Intents To Purchase Real Estate

Independent Contractor Agreements

Estoppel Certificates

Quitclaim Deeds

General Affidavits

Promissory Notes

Prenuptial Agreements

Parenting Plans (Child Custody)

Residential Lease Agreement

Bill of Sale
DoNotPay Helps You Claim Your Money
Our virtual assistant app makes sure you get back funds that are rightfully yours.
Whether you need to claim insurance, warranties, or your property held by the state, we will help you do it in minutes.
DoNotPay can also help you initiate a chargeback on any transaction you disagree with. We can help you secure compensation from airlines, robocall and text scammers, or in case you've been a victim of a crime.
In case you are dealing with an unfair company regarding your subscription cancellation or any other matter, we can help you get your money back by suing them in small claims court.
Bypass Administration With DoNotPay
There's no more need for extensive research, abundant paperwork, or endless phone calls with customer service reps.
DoNotPay brings the administrative nonsense to a minimum.
Book DMV appointments fast and easy, appeal your parking citations, sign up for free trials without disclosing your credit card info or phone number, or reach your loved ones in jail—all in less than five minutes.
We also generate any legal document, provide full access to public records, offer DMCA protection, and reduce your property taxes with a few clicks.