Get Notary Service Without Visiting a Notary Public in Cincinnati
Scheduling an in-person notary appointment isn't the only option. You don't even have to look for a notary public in Cincinnati to get your document notarized.
This article will explain notary services in Ohio and different notary types you can choose from, and we'll suggest the best one—online notary.
A Breakdown of Notarization
The Ohio Secretary of State commissions notaries in Cincinnati and across Ohio. OH notaries can:
Execute a jurat

Attest documents

Administer oaths and affirmations

Take proof of execution and acknowledgment of instruments
The first step of notarization is identifying the signer of a document. The notary will check their ID and ask a few questions. Once the notary establishes that the signer is of sound mind and that they're signing the document voluntarily, they can ensure the document doesn't contain blank spaces or other signs of fraud. If everything is in order, the notary will watch the signer sign their name. Notarization is finalized when the notary completes the notarial certificate, adds a signature, and stamps the document.
How Can I Find a
Notary in Cincinnati
?
You can find a notary by browsing Yelp and the Yellow Pages or using the websites that are solely for notaries, such as 123notary.com, Notary.net, American Association of Notaries, or American Society of Notaries.
Many public places have notaries who can provide in-person notarization. Check out your local:
Insurance agencies

Translation services

Law offices

Shipping centers

Tax service offices

Real estate offices

Travel agencies
Types of Notaries
Besides the regular in-person notaries who work in an office, you can find others, such as:
How Much Are Notary Services in Ohio?
In Cincinnati and the rest of Ohio, notaries can choose how much they charge, as long as it doesn't exceed the state-imposed cap.
Check the table below for an overview of the maximum notary fees:
| | |
| --- | --- |
| Notary Service | Fee |
| In-person paper notarization | $5 |
| Electronic notarization | $10 |
| Online notarization | $25 |
Understanding Remote Online Notarization
In 2019, Ohio authorized remote online notarization (RON), and this type of notarization became even more widely sought-after in 2020 due to the COVID-19 pandemic.
For online notarization, the notary and the signer aren't in the same room, and they don't even have to be in the same city. Both parties need to have a computer, webcam, microphone, and a stable internet connection. Everything must work properly because they need to see and hear each other well.
The notary needs an electronic seal, an electronic journal, and a digital certificate with an electronic signature. The online platform the notary uses must meet the Ohio requirements.
While the notarial acts are the same in person except that they include electronic material, the identity verification is more thorough. The signer must complete a dynamic knowledge-based authentication (KBA) assessment and a credential analysis.
Aside from keeping a journal entry of the online notarization, the notary must also record it and keep this audio-video recording.
Fast-Track Notarization Using DoNotPay
If you want to have your document notarized online, DoNotPay is the way to go. No need to browse multiple websites—our app will find a notary for you.
Once you , all it takes is a few steps, and you'll have a notarized document in no time. Here's how it works:
Locate our

Notarize Any Document

product

Upload your document

Enter your email address
Check your email because we'll send you a link you'll use to schedule your appointment with a notary.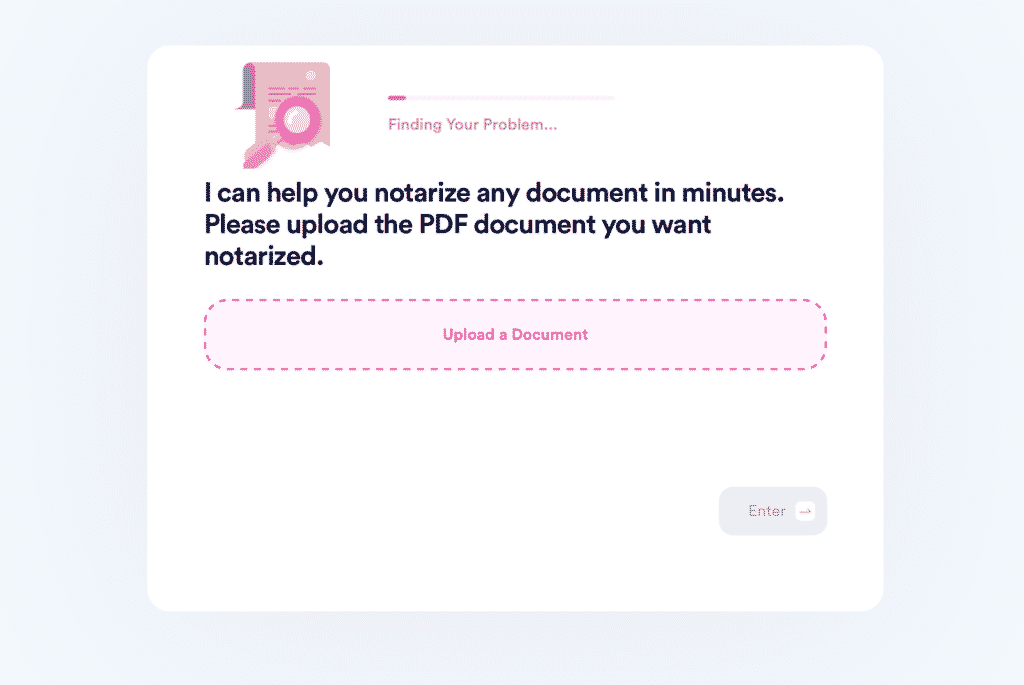 Notarization in Ohio Explained
In case you need more clarifications regarding notarization in Ohio, turn to our vast knowledge base for help. Learn all about notarization in Toledo, Dayton, Columbus, or Cleveland, and check out our articles covering the following:
Draw Up Various Legal Documents Using DoNotPay
If you , not only can you book an online notary but also enjoy all our nifty features. One of them is the Standardized Legal Documents product that creates contracts and agreements in your stead. With DoNotPay, you can draft, notarize, and even e-sign and fax your documents!
Check out the list below to see what we can generate for you:
General Business Contract

Parenting Plan (Child Custody Agreement)

Promissory Note

Prenuptial Agreement

Intent To Purchase Real Estate

Residential

Lease Agreement

Bill of Sale

Non-Disclosure Agreement

Estoppel Certificate

LLC Operating Agreement

Independent Contractor Agreement

Quitclaim Deed

Child Care Authorization Form

Non-Compete Agreement

General Affidavit
Admin Issues Giving You a Headache? Resolve Them With DoNotPay!
Scheduling a DMV appointment, applying for clinical trials, requesting refunds from companies, and getting in touch with your loved ones in prison are all difficult and time-consuming tasks. You have to take many steps before you can get any of these over with, and that's why our robot lawyer app is here to help.
No matter if you need assistance with appealing parking tickets, signing up for free trials, canceling various subscription services, or maybe preparing for government tests, DoNotPay will provide you with easy solutions.
Having Financial Struggles? Rely on the World's First Robot Lawyer
Many Americans struggle to make their ends meet at the end of each month. With that in mind, we've created plenty of features that will save you both time and money in the most efficient way.
Using our AI-driven app, you can get help with bills, get refunds from airlines, find unclaimed money in any state, or earn off annoying robocalls or stalkers and harassers. If you want to fight for your right, DoNotPay will also assist you in suing any person or company in small claims court.
No matter the admin task at hand, our robot lawyer will provide swift and effective assistance.