Does a Will Have To Be Notarized in Ohio? Find Out!
Before you pass away, you want to make sure you get everything in order with your estate planning. This includes writing your will and determining whether it is valid. Does a will have to be notarized in Ohio? We'll answer this question and explain the requirements for a legitimate will.
The Requirements for Writing a Will in Ohio
The court can pronounce your will as invalid and probate your assets following the statutory law instead of the terms of your will. To avoid this, you need to fulfill the following criteria:
You must be of sound mind and memory

You have to be 18 years of age or older

The will should be in writing—typed or handwritten

You cannot be under restraint or coercion

The will must be signed by you

Two or more impartial witnesses need to watch you sign the will or hear you acknowledge your signature and sign the will
There are certain instances where you don't have to fulfill all the requirements. If you're physically unable to sign your will (e.g., you have an injury, or you're hospitalized), you can appoint someone to sign it in your presence.
Another example of deviating from the rules is making an oral will in case you're severely ill or dying. If this is the case, you can dictate your will. Someone needs to write it down, and two disinterested witnesses have to sign it.
Does a Will Need To Be Notarized To Be Valid?
In Ohio, as in most states, a will does not have to be notarized to be legitimate. If you abide by the state regulations when creating your will—most importantly, signing it and having two witnesses—there is no need for a notary service.
People often notarize the witnesses' signatures to assist in proving the validity of a will. Usually, this can be done by notarizing a self-proving affidavit attached to the will. This way, the court won't call out the witnesses for testimony.
Unfortunately, in Ohio, self-proving wills are not allowed. Even if you notarize your will and have a self-proving affidavit, the court will initiate the probate process and call out your witnesses.
If You Want To Notarize a Will, Go With DoNotPay
We can help you notarize your will or any other document online. Once you , our app matches you with a notary. Here's how it works:
Locate our

Notarize Any Document

product

Upload your document

Type in your email address
When you complete these steps, you'll receive an email from us. Follow the link we sent you to schedule your online notarization.
Opting for DoNotPay to get a notary signature for your documents comes with the following perks:
Not searching for a notary on your own

Getting notarized documents in the comfort of your home

Using our app for numerous tasks, such as drawing up legal documents and faxing them
Draw Up Various Legal Documents Using DoNotPay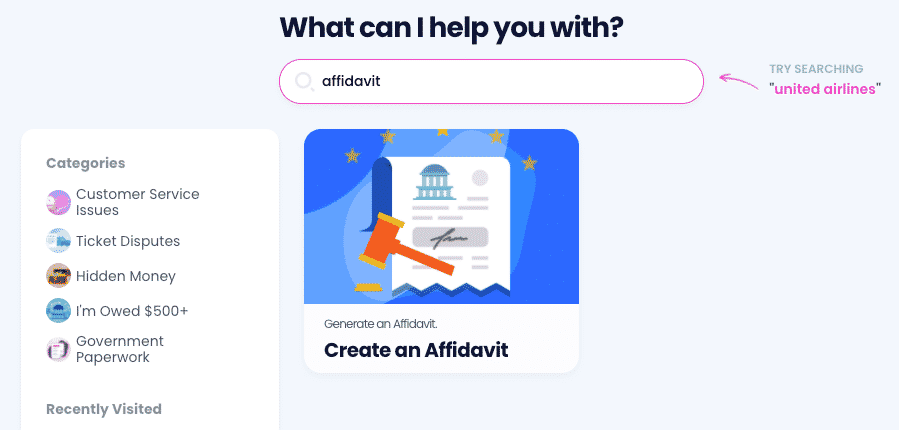 If you haven't written your will yet, DoNotPay can help you draft it. By , you can rely on our app to write a document for you, not only notarize it! Our AI-powered app can generate the following documents:
Intent To Purchase Real Estate

Residential

Lease Agreement

Bill of Sale

Non-Disclosure Agreement

Estoppel Certificate

General Business Contract

Parenting Plan (Child Custody Agreement)

Promissory Note

Prenuptial Agreement

LLC Operating Agreement

Independent Contractor Agreement

Quitclaim Deed

Non-Compete Agreement

General Affidavit
What To Expect From Online Notarization
Aside from the convenience, here's what you can expect from remote online notarization—the notary will:
Verify your identity—the notary checks your ID or another form of identification and asks you several questions

Determine you will sign the document willingly

Establish you are of sound mind

Check your document to see what type of notarial act is needed

Ensure the document isn't missing any pages

Witness your signing of the document

Add a digital signature and a tamper-proof seal
What Other Types of Notaries Are There?
Besides notaries that perform online and in-person notarization, there are other types, such as:
| | |
| --- | --- |
| Notaries | Brief Explanation |
| | Electronic notaries can notarize documents in digital form. This type of notarization is done in person, with both the notary and the signer present |
| | Mobile notaries can notarize a document at any location. They visit their clients or go to an agreed-upon place. Typically, their services are more expensive since they charge for the travel and additional expenses |
| | Notary signing agents usually only notarize loan documents and help manage the loans |
How Much Are Notary Services in Ohio?
Although notaries can choose their fees, Ohio imposes a limit on how much a notary can charge for their service. Take a look at the maximum notary costs in Ohio:
| | |
| --- | --- |
| Notary Service | Fee |
| In-person paper notarization | $5 |
| Electronic notarization | $10 |
| Online notarization | $25 |
Tired of Companies Not Taking You Seriously? Use DoNotPay To Put a Stop to It
If you're sick of companies that violate your consumer rights, DoNotPay is here to help. If you're struggling with reporting robocalls, requesting a refund, claiming any type of warranty, scheduling a DMV appointment, reporting spam text messages, or anything else, our robot lawyer will help you sue any firm or individual in small claims court.
With DoNotPay, you can also sign up for any free trial, cancel any subscription, avoid getting charged after your free trials end, and much more!
Want Your Money Back? DoNotPay Is Here To Help
Are you looking for your missing money? Do you want to get a refund for a delayed or canceled flight? Are you trying to flip the script on illegal robocalls and earn money off them? DoNotPay will assist you in dealing with any of these pesky issues!
We can also help you bypass phone number verification, sign up for clinical trials stress-free, ace any government test in a jiffy, and block spam emails for good.