The Fastest Way To Set Up a Meeting With a Remote Notary in Dayton, Ohio
While remote notarization is the most efficient way to notarize documents, finding an online notary in Dayton, Ohio, and scheduling a meeting can be a challenging task. DoNotPay has created a nifty product that can connect you with online notaries in Ohio in under five minutes. and rely on us whenever you need a quick and easy solution for document notarization!
What Can a Notary Public in Dayton, Ohio, Do?
All Ohio notaries are authorized by the state to:
Take

acknowledgments

Execute jurats

Take proofs of execution

Administer oaths and affirmations
Every notary's duty is to reject notarizing a document if he or she notices fraudulent or suspicious behavior. Notarization also can't be performed if a signing party doesn't appear before the notary or if the signer is intoxicated or mentally incapacitated.
How Much Do You Have To Pay for Notary Services in Ohio?
Ohio imposes a limit on notary service fees. Notaries in all Ohio cities can charge:
$5 per notarial act

$10 for electronic notarization

$25 for online notarization
Every notary must display his or her prices on the website or in a noticeable place in the office.
Traveling notaries can determine travel and administrative fees by themselves, but they need to let the clients know about the costs before scheduling a meeting.
Issues With the Traditional Notarization Process
Having your documents notarized the traditional way means wasting hours on a tedious and exhausting procedure since you need to complete the following steps:
Finding a notary on Google—by using

123notary.com

and similar websites—or in one of the following public places:

Setting up a meeting

Showing up with your documents

Providing your ID so that the notary can verify your identity

Acknowledging that you're familiar with the contents of the document and that you're signing it willingly

Waiting until the notary makes sure that the documents don't have blank spaces or missing pages

Signing the document in front of the notary

Paying

notary fees

Waiting until the notary completes a notarial certificate and seals it with his or her

signature

and stamp
Since most people need to have their wills, affidavits, car titles, real estate deeds, and many other documents notarized urgently, traditional notarization isn't the best choice.
Other Ways To Get Your Documents Notarized in Dayton, Ohio
Dayton citizens can have their documents notarized in three other ways:
Notarization Options
Description

Mobile notarization

Instead of notarizing documents in their office, mobile notaries travel from one client to another and perform notarization on the agreed-upon locations. If you don't mind paying extra for his or her travel fees, you can hire a mobile notary and have him or her come to your house or office

Electronic notarization

If you need to get your electronic documents notarized, you can visit an electronic notary in Dayton. To get an electronic certificate, signature, and stamp on your document, you need to:

Email your contract to an electronic notary

Go to his or her office

Provide a valid ID

Remote notarization

Ohio is one of the states that allow online notarization. Having your document notarized remotely is fast, efficient, and convenient. An online notarization platform will connect you with a remote notary who will verify your identity and notarize your documents via a video call
DoNotPay Can Help You Find an Online Notary in Under Five Minutes
Getting your documents notarized doesn't have to be complicated. We have developed a fantastic product that will help you manage document notarization in a jiffy.
DoNotPay's Notarize Any Document product can connect you with a remote notary who operates 24/7. This means that you can have your contract notarized hassle-free whenever you want.
These are the steps you should follow to have your documents notarized by an online notary in Ohio:
Select our

Notarize Any Document

product

Upload your document

Provide your email address

Open the email we send you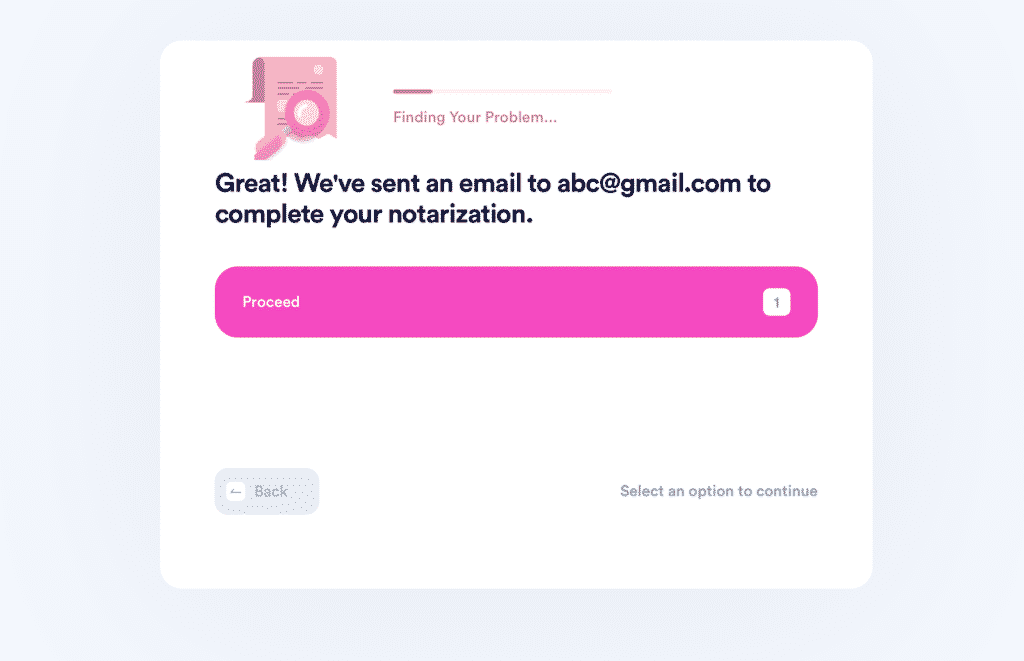 Once you open our email, you'll see a link that will redirect you to a webpage where you can schedule a video call meeting with a notary.
Here are some other states where you can find online notaries using our app:
Write, Fax, and Deal With Document Notarization Through the Same App!
While you're logged in to your DoNotPay account, you should also check out our other awesome products. With our help, you can draw up legal documents without having to hire expensive lawyers. Some of the documents you can create with DoNotPay are:
Lease agreements

Non-compete agreements

Prenuptial agreements

Operating agreements

Custody agreements
Create, fax, and have your documents notarized by using the same app, and save tons of time and money!
Clear Your Schedule With the Help of DoNotPay
DoNotPay is renowned for making our users' lives infinitely easier. Not only can we root out unwanted subscriptions for you—you don't need to do it manually one by one any longer—but we can unsubscribe you from unwanted email and snail mail lists.
Fire up our app and let it navigate the phone tree instead of you or use it to make a DMV appointment at your earliest convenience. Forget about googling clinical trials near you—DoNotPay can sort them out according to your needs and their individual eligibility criteria.
We can fill out the paperwork that you need to file at your local small claims court to initiate a dispute. You can work around the U.S. penal system and have DoNotPay locate an imprisoned loved one instead of you trying to reach individual prisons attempting to do it yourself.
You don't need to go to great lengths to get in touch with a counselor to sign your college fee waiver either—DoNotPay does it for you and then forwards the necessary documents on your behalf.
DoNotPay Never Ceases To Amaze
Where there's one useful feature, there are nifty features galore!
Use our Virtual Credit Card to sign up for free trials and stop robocalls and spam text messages from reaching your phone. If you feel a free trial unrightfully turned into an expensive paid membership, we can help you request a refund or chargeback for the inconvenience.
We can further assist you in exercising your consumer rights by making a warranty claim in your place and verifying your online accounts with temporary phone numbers.
We can also break down the Freedom of Information Act for you and introduce you to online fax options and property tax reductions.