How To Notarize a Car Title in Ohio Without a Hitch
You can't sell a car in Ohio without a car title. The document has to meet several conditions to be considered legally valid, including having a notary's signature.
There are many ways of notarizing a title transfer in Ohio, and DoNotPay will explain all of them. Learn how to notarize a car title in Ohio effortlessly!
Notarizing a Car Title in Ohio
—Key Information
To notarize a car title in Ohio, you must comply with state regulations. If you don't follow the rules to a T, your car title will be void, and you will have to request a duplicate from the DMV office.
Ohio law clearly states that you have to sign the title in front of a notary, who will then verify the signatures on the document. Note that the notary public won't notarize a previously signed document.
The parties must provide their printed and written signatures on the back of the title—in the upper section marked Transferor's/Seller's signature.
How To Notarize a Car Title in Ohio
You can notarize a car title in Ohio in person or using an online notarization service. Check out how to notarize a document via each method:
Visiting a notary

—

This method requires you to

find a local notary

and schedule an appointment. You will have to pay a standard fee and provide an identification document

Hiring a mobile notary

—

You can save yourself the trip to the notary's office by scheduling an appointment with a traveling notary. You can arrange an appointment at any time and meet the notary in your house, office, or any other convenient place. They will notarize your document on the spot and charge an appropriate fee for their services

Using an online notary

—

You can notarize your car title by registering for an online notary service. After creating and accessing your account on the online notary service's website, the app will connect you to one of the notaries. You will e-sign the document during a video call, and the notary with send it back with an electronic signature and seal
What Is the Best Method for Notarizing a Car Title in Ohio?
All the above-mentioned methods are equally effective but not equally convenient. Check out the pros and cons of each in the table below:
Notarizing Method

Pros

Cons

Traditional

You will have to wait for days or weeks to have your title notarized

The traditional method is tiresome and consists of many steps

A tiny mistake can result in repeating the process from the beginning

You will have to accommodate your schedule to the notary public's limited business hours

Mobile notary

Traveling notaries will adjust to your schedule

They are

available 24/7

A mobile notary will come to any place convenient for you, such as your home or office

Mobile notaries charge for their travel expenses in addition to the standard notary fee

They can be unreliable or unprofessional

Online notary service

Online notary services are available 24/7

They can help you schedule and notarize your title without leaving your home

The notarizing process is simple and straightforward

You can notarize any document fast

These platforms can be complicated to use

Online notarization services can be pricey
Notarize a Car Title in Ohio With DoNotPay
Most U.S. states have recently allowed notarizing documents online. If this method sounds appealing to you, you should go for DoNotPay!
While many other online notary services charge high fees for every notarized document, our app allows you to notarize numerous contracts per month for an affordable price.
DoNotPay does all the legwork for you by scheduling an appointment with a notary. All you have to do is provide the document and your email address, and we will take care of the rest!
Here is how the process goes:
in a web browser

Access our

Notarize Any Document

feature

Upload your document

Type in your email address
Click on the link that you will receive via email to confirm your meeting with the notary. A notary will join you on a video call and witness the document signing. After notarizing your car title, the notary will send it back.
DoNotPay Can Help You Create Many Legal Documents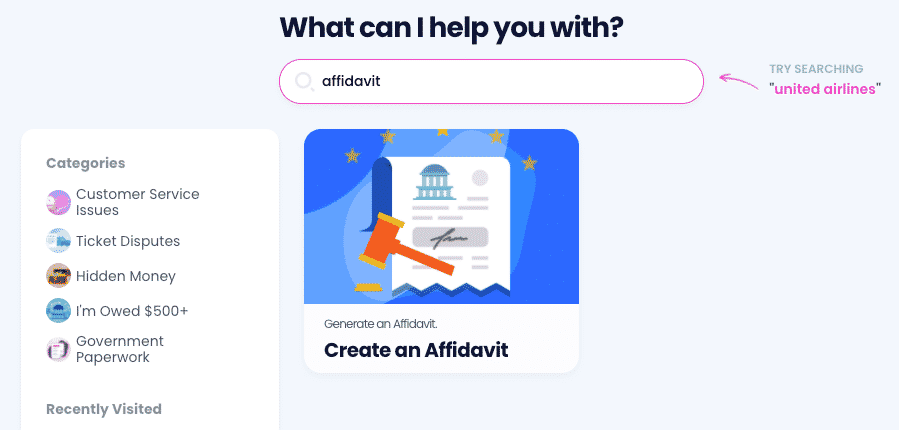 Our app can do so much more for you! You don't have to pay for a lawyer to draw up your will, affidavit, or any other contract. If you have to create a legal document that fits Ohio's laws, !
We can generate various legal documents for you, including:
Bill of Sale

Non-Compete Agreement

Residential Lease Agreement

LLC Operating Rules Document

Non-Disclosure Agreement

Prenuptial Agreement

Parenting Plan (Child Custody)

Independent Contractor Agreement
After receiving your document, you can use our other features to notarize and even fax it—all from the same platform!
DoNotPay Leads the Way Against Spammers
Browsing the internet has never been more popular than today, but you must not forget to keep your private and financial information safe. You know you can cancel any streaming service or magazine subscription easily, but that won't stop them from using your personal details for marketing purposes.
DoNotPay has a solution for that!
Is a company pestering you with incessant robocalls, spam emails and text messages? Use our Virtual Credit Card to catch them in the act and claim compensation for your troubles.
To prevent that from happening ever again, use our card to sign up for free trials—not only will you not pay a dime for the service, but you will be automatically unsubscribed as soon as the trials are up!
If you want to avoid revealing your personal phone number, we'll generate a temporary burner phone for you so the company won't have any way to reach you.
Already Been Scammed? DoNotPay Knows the Way!
If you've already made the mistake and divulged your personal info to the wrong party or experienced any other kind of crime or injustice, you don't have to sit tight and suffer the consequences. DoNotPay can assist you in taking anyone to small claims court!
We'll help you gather evidence—correspondence proving stalking or harassment took place, customer service call recordings, denied chargeback and refund claims, online fax transcripts, or proof of copyright violation. Then, we'll fill out the relevant legal documents for you and draft a court script that you can use in your hearing.