Get a Notary in Toledo, Ohio, Effortlessly
Although the process might seem intimidating, getting a document notarized doesn't have to be difficult. Visiting a notary public in person is not your only option. With DoNotPay, you can schedule an appointment with a notary in Toledo, Ohio, without changing out of your nightwear!
What Are the Duties of a Notary Public in Toledo, Ohio?
A notary, or a notary public, is an independent officer assigned by the state government to act as a witness during the signing of certain legal documents. Notaries confirm the signer's identity and ensure the person is signing the document of their own free will. Further duties of a notary public include:
Taking oaths and affirmations

Taking affidavits

Performing acknowledgments

Executing jurats
What Documents Do You Need To Notarize in Ohio?
Few people understand notarization even if they get their documents notarized frequently. Notarization prevents fraud, forgery, and coercion by verifying the signatures and the identity of the signers.
Not all legal documents require notarization, but consider going through the procedure for the following:
Wills

Trusts

Contracts

Contractor agreements

Real estate deeds

Separation agreements
Notary Fees in Toledo, Ohio
Notary fees vary all over the U.S., but every state sets a maximum limit a notary can charge. In Ohio, notaries charge per notarial act instead of a signature. Here is a quick summary of notary fees in Toledo:
| | |
| --- | --- |
| Notary Service | Fee |
| Traditional notarization | Up to $5 |
| In-person electronic notarization | $10 |
| Remote online notarization | $25 |
Different Ways To Get Your Documents Notarized in Ohio
There are three different ways to get your documents notarized:
Traditional

—Call a notary's office to get an appointment. You will have to visit a notary during business hours to get your document notarized

Mobile

—The notary will travel to the location you choose to notarize your documents

Online

—Notarization takes place online via a video call. The notary will verify your document and provide their digital signature and stamp
How To Reach a Traditional Notary in Toledo?
If you opt for a traditional notary, follow these steps:
Search for a notary near you

Contact their office to schedule an appointment

Gather all necessary documents

Visit the office at the agreed time to finalize the process
You must bring a government-issued photo ID as proof of identity. Notaries have busy schedules, and if your document has any irregularities, the notary will postpone the notarization and reschedule your appointment for a later date.
Can You Get Your Documents Notarized Online in Toledo, Ohio?
The short answer is yes. Ohio is one of the 28 states that allow online notary services. Other states that allow online notarization include:
Not everyone is authorized to act as an online notary. Notaries have to take a three-hour notary course and take the exam. Once they pass, they can send their application to the state government and be authorized to provide notary services.
How To Search for a Notary in Toledo, Ohio
Websites that can help you find a notary in your area include:
Alternately, you can contact your local bank, UPS stores, or the nearby law firm to get an appointment with a notary.
If you want the easiest way to find a notary, use DoNotPay! We will find a notary near you and book an appointment!
DoNotPay Can Schedule an Appointment With a Notary in Minutes
Online notarization is more convenient than traditional notarization because you can get your document notarized from the comfort of your home, omitting the potential health risks in the midst of the COVID-19 pandemic. DoNotPay makes the entire process super convenient! In a few clicks, you can get an appointment:
Select the

Notarize Any Document

feature

Upload the document you want to notarize

Enter your email address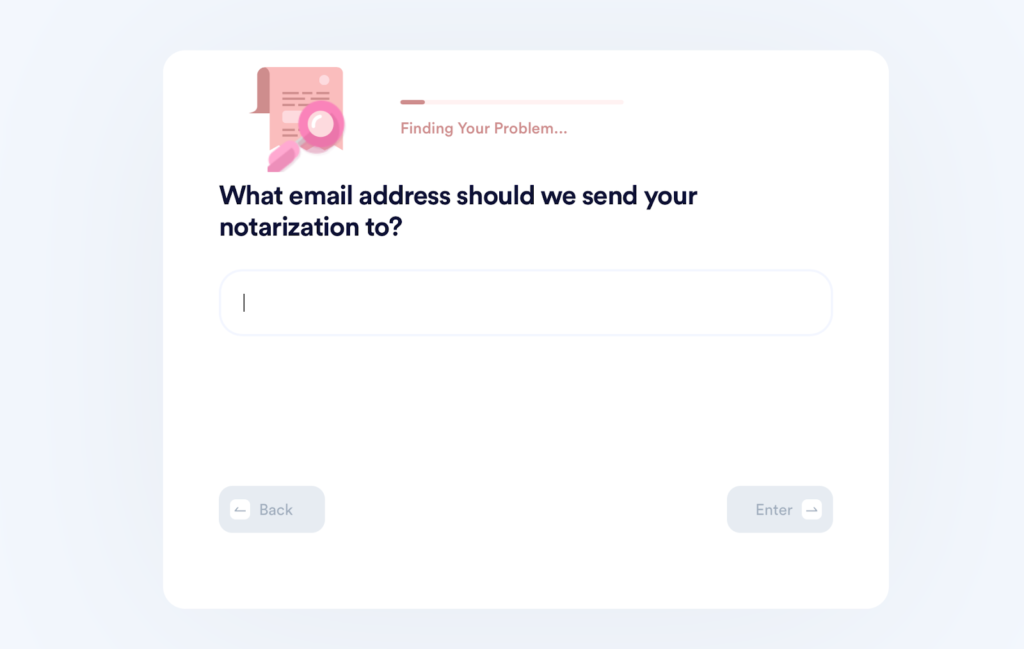 In your inbox, you'll find an email from DoNotPay with a link to a timetable with many available slots. Select a convenient time. The notary will be available on a video call to digitally sign your documents.
Draft Legal Documents Using DoNotPay
Our Standardized Legal Document tool is integrated with the Notarize Any Document feature, making it easier for you to create and get your documents notarized in a single app! All you have to do is follow these instructions:
Enter the name of the document you want to create

Answer questions from our chatbot to explain the details
You will receive a professionally drafted document tailored to your specific requirements.
We can create various legal contracts and agreements, including the following:
Bill of Sale

Non-Disclosure Agreement

LLC Operating Rules Document

Independent Contractor Agreement

Non-Compete Agreement

General Business Contract

Intent To Purchase Real Estate

Quitclaim Deed

Estoppel Certificate

Prenuptial Agreement

General Affidavit

Parenting Plan (Child Custody)

Child Care Authorization Form
Easy-Breezy Ways To Deal With Not So Breezy Issues
Administrative and similar tasks don't have to be as complicated as we've known them to be. With DoNotPay, dealing with paperwork and companies is done in a few clicks. Let the world's first robot lawyer help you:
Draft various legal documents
Money Troubles? I Don't Know Her!
As our app's name says, DoNotPay's mission is to put a stop to losing money and overpaying. We will help you get your hands on free trials and snatch free raffle tickets. DoNotPay can also provide solutions for you to get help covering bills and reduce your property taxes.
If you want to get some additional funds, use our app to sign up for clinical trials. You may also take our practice tests to ace a government test and land a better-paying job.
It doesn't hurt to check whether you are owed some unclaimed money, and we can help you with the application.