Do I Need a Notarized Letter To Travel With a Child to Mexico
? Can DoNotPay Help?
Mexico takes children's safety seriously. If you are accompanying somebody else's child or are traveling as a lone parent, you will need to prove to the Mexican authorities that the child has permission to travel with you.
To travel to Mexico without difficulty, you will need the services of a notary, and DoNotPay is here to show you how to notarize the documents you need.
When Do I Need a Notarized Letter To Travel to Mexico With a Child?
When traveling to Mexico with a child, you will need a notarized letter if you fall under the following criteria:
| | |
| --- | --- |
| Criterion | Explanation |
| Lone parent | If you are accompanying your own child without the other parent or legal guardian |
| Accompanying adult | If you are a teacher, group leader, or person responsible for a child or children other than your own |
At your port of entry, the Mexican border authorities will require you to produce a notarized letter of consent that the child is allowed to travel with you, signed by the following:
The other parent if the child is yours

Both parents or legal guardians if you are accompanying children you aren't related to
There are a few exceptions to this rule, as follows:
Only one parent appears on the child's birth certificate

One parent has sole custody of the child

The other parent of the child is deceased
Only One Parent Appears on a Child's Birth Certificate
If you are traveling with your own child and no second parent is recorded on the child's birth certificate, your authorization is enough, and you do not need a letter of consent. You'll need to have the child's birth certificate with you.
One Parent Has Sole Custody of a Child
If you have been granted sole custody of your child, you do not need a notarized letter of consent, but you must present the court order confirming your sole custody.
The Other Parent of a Child Is Deceased
If your child's second parent has died, you need to present the parent's death certificate along with the child's birth certificate.
What Should the Letter Contain?
The letter of consent for travel to Mexico doesn't need to be complicated, but it must contain the following:
| | |
| --- | --- |
| Point | Explanation |
| Heading | The letter should be headed "Letter of Authorization To Travel" |
| Date | The date should correspond to the date of travel |
| Name of parent(s) | If the child or children are traveling with a parent, the other parent or legal guardian should state their full name |
| Name of child(ren) | You should write the child's name exactly as it appears in their identity document |
| Flight number or travel details | You should include the mode of travel, flight details, or the name of the ship on which they are traveling. If they are traveling by road, you should identify the vehicle they will be in |
| Name of accompanying adult | The name of the accompanying adult should be quoted as it is recorded in their travel document |
| Signature(s) | The letter must be signed by the non-traveling parent or guardian or both parents if the child is traveling with someone not related to them (a teacher, for example). The signatories should sign in the presence of a notary |
| Address and contact details | The full address and contact details of the parent or parents signing the document must be included |
How Can I Get a Letter of Consent To Travel Notarized on My Own?
Once you have written your letter of authorization to travel, you need to have it notarized to satisfy the Mexican authorities.
A notary verifies that you are who you claim to be and that the letter has been written by you and signed by all the concerned parties. The notary signature you receive on your letter does not prove the legality of the document but confirms that you wrote and signed it.
You can handle the process yourself by doing the following:
Book an appointment

Take all the required documents with you

Attend the appointment in person, together with the other parent
This can be time-consuming and prone to you forgetting a crucial document like your ID, meaning you have to start the process again.
DoNotPay has a faster and easier solution for getting your letter of authorization notarized.
Notarize a Travel Authorization Letter With DoNotPay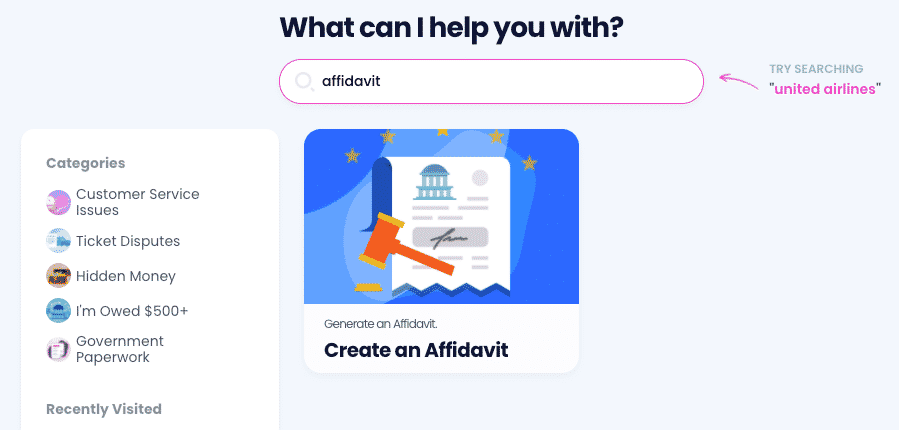 DoNotPay has a way for you to have your legal documents notarized without having to leave your home.
Using our notarization system, you can create your document and have it notarized online without queues or waiting times.
All you have to do to get your document notarized is:
Sign up with DoNotPay

in your web browser

Find the

Notarize Any Document

section

Upload the document you want notarized

Give us your email address
DoNotPay will get back to you quickly with a choice of appointment times. At the chosen time, a notary will verify your identity via a video call and witness the signature of your document. Your document is then notarized, and you can set off for Mexico.
If you want to know more about what notarization is, DoNotPay has a wealth of documents that explain the whole process:
Can DoNotPay Help Me With Other Legal Documents?
If you want to create specific legal documents before getting them notarized, DoNotPay is here to help as well.
We have linked a legal document creation tool to our notarization feature, so you can create the document you need and get it notarized in one place.
To create your custom legal document, all you need to do is:
Go to DoNotPay in your browser

Search for the legal document template you need

Fill in the details you want included
DoNotPay does the rest—from a non-disclosure agreement and a bill of sale to a custody agreement and a non-compete agreement.
DoNotPay—The Easy Way To Save Money
If it looks like your wallet has a hole and the money keeps pouring out for unnecessary expenses, it might be time to come up with a better saving strategy. 
DoNotPay uses AI-powered technology to identify the best opportunities for some serious penny-pinching or earning a few extra bucks:
| | |
| --- | --- |
| Saving Money | Earning Money |
| | |
Do You Need Help With All That Paperwork?
Saving money is great, but cutting the time wasted on bureaucracy sometimes sounds even better. DoNotPay joins the best of both worlds and helps you avoid boring paperwork while preventing future unnecessary charges and expenses. 
With our help, you can enjoy free trials without any risk, file insurance claims, or handle issues with credit cards. 
You won't have to waste time on researching the right procedures or pay for help if you need to stop stalkers and harassers or put together all sorts of legal documents.