All There Is To Know About the Northwestern Law Financial Aid Program
Chicago's Northwestern Pritzker School of Law, like most colleges and graduate institutions in the United States, offers a variety of financial aid programs to help students pay for their education. Since the Northwestern Law tuition ranges from $69,350 to $104,025 a year, most students need monetary assistance.
Read our quick guide to learn everything there is to know about applying for Northwestern Law financial aid.
if you want to appeal an insufficient offer in minutes!
What Are the Available Types of Northwestern Law Financial Aid?
Northwestern Law devised a financial aid program that includes the following support options:
Grants and scholarships
Loans
Both are awarded on a combined basis of merit and financial need.
Grants and Scholarships
Enrolled students can apply for grants and scholarships shown in the table below:
Type of Scholarship/Grant
Explanation
Available Programs
Firm scholarships
Scholarships that are sponsored by companies

Winston & Strawn LLP Diversity Scholarship
Kirkland & Ellis LLP Diversity Fellowship

Outside scholarships
They are awarded by outside organizations or associations

Diversity Scholarships
General Scholarships
Location Specific Scholarships
Practice Area Scholarships

Donor scholarships
Financial aid secured by the community of alumni and friends of the school
There are 167 donors (the list is available here)
Veteran programs
For the army, air force, navy, and national guard veterans
Yellow Ribbon Program for Veterans
Writing competitions
ABA law student writing competitions that offer monetary awards

ABA Writing Competition and Contests
Human Rights Essay Award Competition
Oklahoma Supreme Court Sovereignty Symposium Writing Competition
Loans
There are four loan types available:
Federal Stafford and Graduate PLUS Loans
Private Loans
Bar Loans
Short-Term Loans
To qualify for federal student loans, you need to:
Be admitted to Northwestern Law
Be a U.S. citizen or eligible noncitizen
Not owe a refund on a federal grant or loan
Not be a convicted drug offender
Abide by the registration requirements of the Selective Service
Complete all the required steps in the financial aid process
Meet satisfactory academic standards
Meet the credit standards for a Federal Direct GradPLUS Loan or have an eligible cosigner
What Is the Loan Repayment Assistance Program (LRAP)?
Even though public interest and government positions are great options for JD (Juris Doctor) graduates, the sky-high expenses of law school and the insufficient pay of these jobs may deter them. For this reason, Northwestern Law offers a Loan Repayment Assistance Program (LRAP) to graduates who take on government or public interest jobs. Both income and debt amounts are used to determine LRAP awards.
Graduates can apply for this program up to ten years after graduation as long as they stay in a qualifying job and comply with the terms. The application process takes place each year between July and September, and awards come in the form of one-year forgivable loans.
When Should I Apply for Financial Aid?
You can apply for financial aid at Northwestern Pritzker School of Law once you get admitted. Scholarships offered to incoming students are automatically renewed each year if recipients maintain good academic standing and stay enrolled in Law School classes. A student's GPA must be at least 2.25 for them to qualify for support.
After exhausting all other options for financial support, creditworthy students may apply for institutional and/or private loans.
If you are applying for a loan for the first time, make sure you start the pre-approval process early to provide enough time for resolving possible credit issues.
Students who receive a loan must reapply for loan funding each academic year. The school will remind them about the deadline for reapplying by sending them an email during the spring semester.
How To Apply for Financial Aid at the Northwestern Pritzker School of Law
To get support, you may have to submit the following applications, depending on whether you are applying for a loan, scholarship, or both:
University Aid Application
Scholarship & Grant Supplemental Application
Have you already applied for aid and got rejected or were offered a low amount? Do you lack the knowledge on how to write an appeal letter or don't have time to do it yourself? Do not worry—DoNotPay saves the day!
Let DoNotPay Help You Send an Appeal Letter in a Flash
If the University's Financial Aid Office declines your request for financial aid or offers an amount that is insufficient for your needs, do not despair. Find out how much financial aid you can get, and let DoNotPay help you write an appeal letter and get more money.
What you need to do is:
Select Appeal for More Financial Aid
Write the name of your preferred school and list some other ones that offered you more financial support
Provide us with the necessary details about your income and education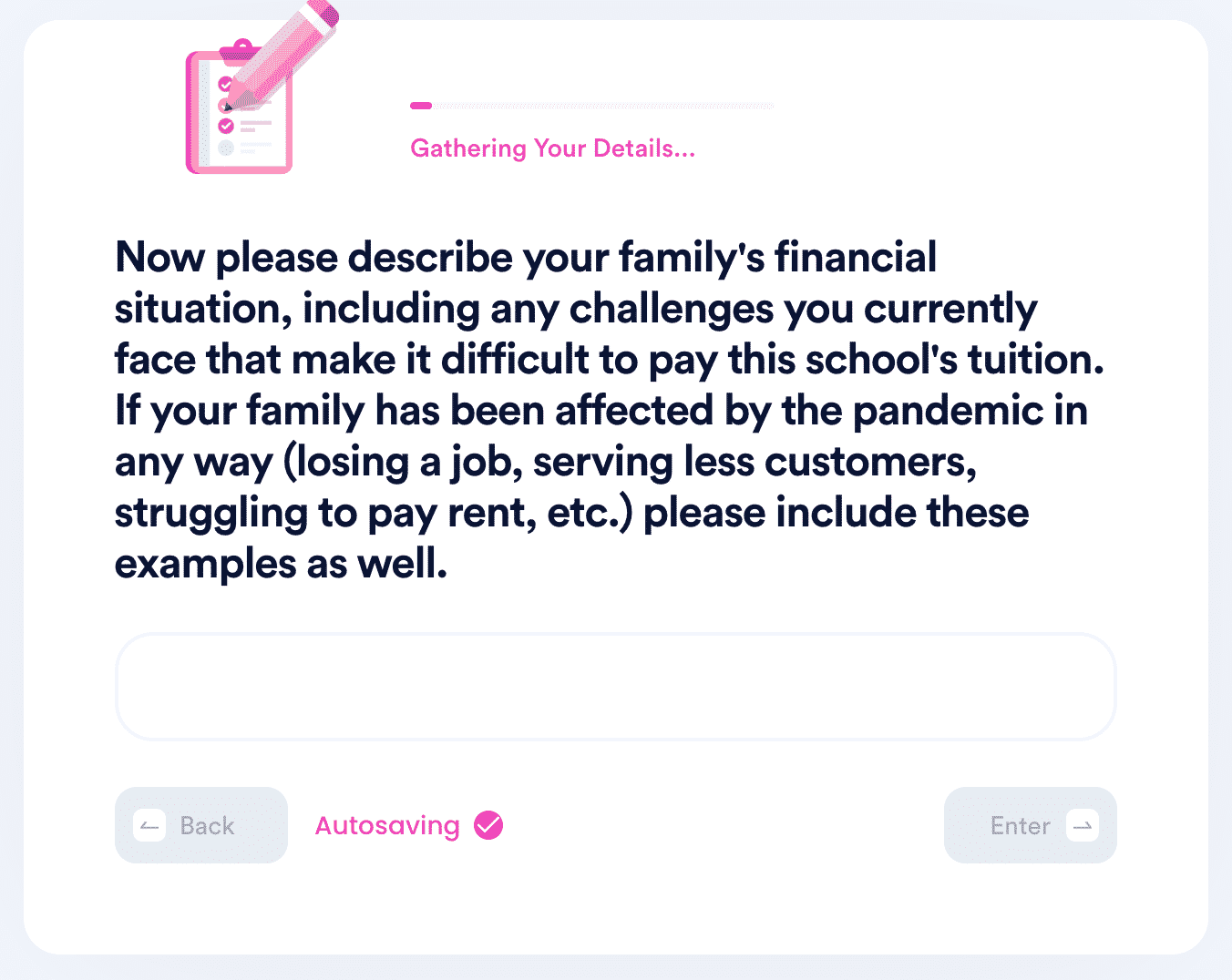 Our system will create a customized appeal letter for you in less than five minutes and mail it to the university of your choice straight away!
Make sure you look into how financial aid works at other schools, such as:
DoNotPay Is the Robot Lawyer You Need!
Dealing with the law and understanding legal protocols is difficult if you're not used to doing it on a daily basis. That's why DoNotPay comes to the rescue!
Assisting you in drafting legal documents, creating a neighbor complaint letter, and suing companies in small claims court is what we do best.
That's not all! With us, you can tackle any legal task head-on, no matter how big or small, including:
Deal With Companies Hassle-Free
If you love to shop and you want to make the experience as easy and enjoyable as possible, you're in the right place! DoNotPay provides you with various features that allow you to accomplish just that.
You don't have to struggle trying to reach customer support or figuring out how to claim a warranty or file an insurance claim by yourself. You can cancel any subscription, sign up for free trials, and discover how to use every last penny from your gift cards in minutes!
In case you made a purchase, but your package is missing, don't fret! Finding your missing parcel is only a few clicks away.