The Essentials of the Northwestern Financial Aid Program
Did you know that Northwestern University awards more than $195 million in financial aid to its students each year? This means that, even if your household income isn't enough to cover your college expenses, a grant or a scholarship offered by the university can help.
Our guide offers essential info about Northwestern financial aid—such as deadlines, necessary forms, and all other parts of the application process. DoNotPay can even help you increase a low support amount by appealing the college's decision!
Getting Familiar With Northwestern University Financial Aid Types
The university offers several financial support programs for undergraduates coming from federal, state, and institutional resources. Here are the available options:
Grants and scholarships
Student loans
Work-study program
Veteran Affairs benefits
Various aid packages
Grants and Scholarships
Available grants and scholarships are divided into three categories represented in the following table:
Institutional Scholarships
Federal and State Grants
Outside/Third-Party Scholarships

Northwestern University Scholarships
Northwestern Endowed Scholarships
Good Neighbour, Great University
QuestBridge National College Match Scholarships
Founders Scholarships
Karr Achievement Scholarships
Chicago Star Scholarships

Federal grants:

Pell Grants
Supplemental Educational Opportunity Grants

State grant:

Illinois Monetary Award Program

Depend on the resources
Loans
If you want to borrow money for your college costs and return it later, you can apply for the following loan programs:
Need-based loans, including:

Federal Perkins Loans
Subsidized Federal Stafford Loans

Non-need-based loans, such as:

Private loans
Institutional loans for parents
Federal Parent PLUS Loans
Unsubsidized Federal Stafford Loans
Work-Study
The university also helps you pay for your college expenses by providing you with various part-time job opportunities—on- and off-campus. A traditional job fair at the beginning of every school year is a perfect chance for everyone interested to find out more about the available work-study options.
Veteran Affairs Benefits
Students attending approved programs at this university are also eligible for some veteran benefits, including:
The Montgomery GI Bill-Reserves
The Montgomery GI Bill-Active Duty
Veterans Vocational Rehabilitation
Reserve Educational Assistance Program
Survivors and Dependents Educational Assistance
The Post 9/11 GI Bill/Yellow Ribbon Program
Aid Packages & Emergency Aid
The list below shows some existing aid programs available at Northwestern University:
The Art of the Possible
Working Together
Building for the Future
Lending a Hand
Emergency Aid Program
Applying for Financial Aid at Northwestern University
To assess your financial need and education circumstances, the Northwestern financial aid office requires you to fill out two forms:
Free Application for Federal Student Aid (FAFSA)—It can be found online and submitted via mail, the official app, or your federal student aid (FSA) profile. Combined with the IRS Data Retrieval Tool, this form should provide your basic financial info to help the team determine your eligibility
CSS/Financial Aid Profile—You can complete it online. If your biological or adoptive parents are separated or divorced, both of them must fill out a separate application
You can complete the form after October 1st, 2021, and submit it by February 15th, 2022. Once you do this, all that remains is to:
Send your federal tax forms to the College Board
Receive and check your Student Aid Report (SAR) for potential errors
Wait for the university to evaluate your qualifications and answer your request
How Does the Northwestern University Financial Aid Office Determine Your Financial Need?
The Northwestern University financial aid team will calculate your financial need by determining the difference between your:
Estimated Family Contribution (EFC)—the total sum you and your family can pay without financial aid
Cost of Attendance (COA)—the total amount you must pay for all college-related costs
Here's a table with a short overview of education costs for on-campus students at Northwestern University for 2021/2022:
| | |
| --- | --- |
| Category | Costs per Year |
| Full tuition amount | $60,276 |
| Fees | $492 |
| Housing and meals | $18,264 |
| Books and other supplies | $1,566 |
| Personal expenses | $2,193 |
| Transportation | $993 |
| Loans | $54 |
| Total | $83,838 |
The Awarded Amount Seems Too Small—What Can You Do?
Has the envelope from Northwestern University arrived, but you aren't too happy with the outcome? If the offered sum is too small for your education expenses, you can look for alternatives.
Are you interested in multiple colleges? Check out their financial aid offers! We created some super handy guides on financial support programs at other universities and grad schools, including the ones below:
If you don't want to give up on your first choice, file an appeal. Write a letter to the university and disclose the reasons for being unhappy with the awarded sum. You can also mention more attractive offers you got from other universities or any other financial circumstances that may help your case. Another option is to and let us appeal the decision on your behalf!
Compose a Perfect Financial Aid Appeal Letter With DoNotPay
Skip composing the entire appeal letter yourself—DoNotPay was made to do it for you! Our app features a practical tool that gathers basic financial info from you, generates a personalized claim, and sends it to an appropriate department!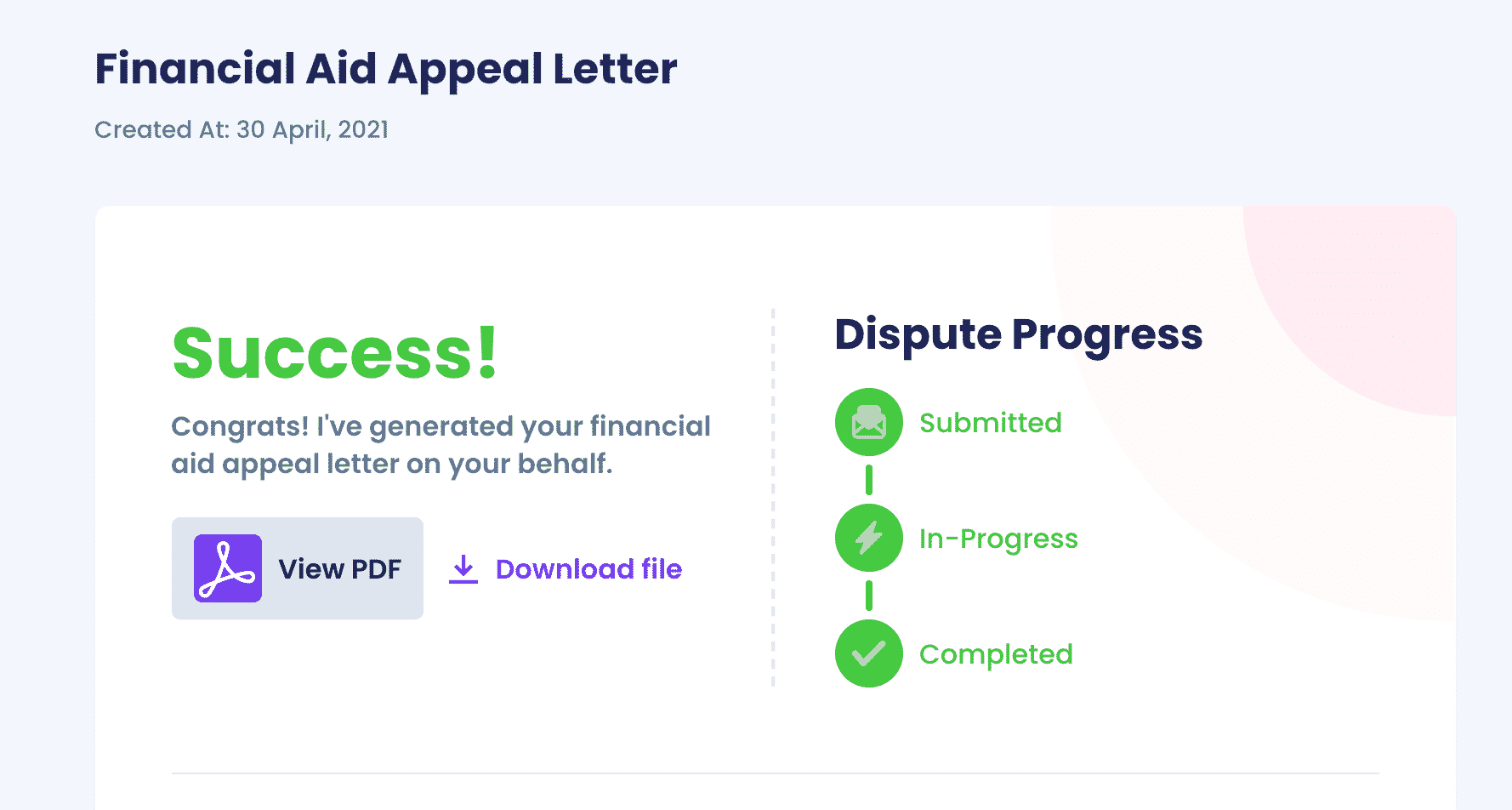 All you have to do is follow these easy steps:
in a web browser
Choose the Appeal for More Financial Aid product
Answer questions from our chatbot regarding:

The college you want to enroll at
Potential financial aid offers you got from other universities
Financial difficulties you are facing at the moment
This way, you will avoid administrative hassle and increase your chances of getting a higher financial aid amount!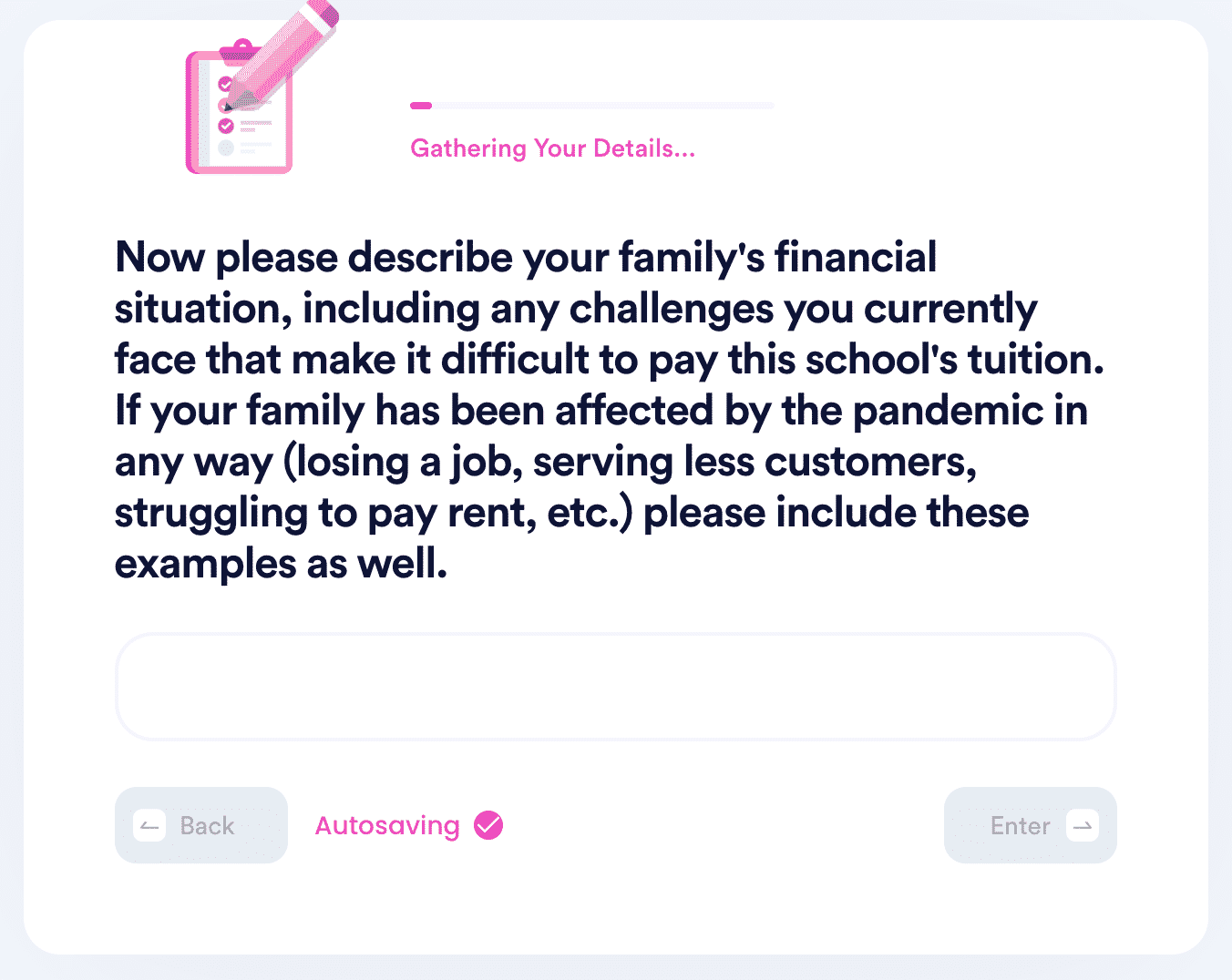 Only the Sky Is the Limit for DoNotPay
DoNotPay has an insane number of features that keeps growing. Our platform can help you:
Say Goodbye to Spam Mail With DoNotPay
DoNotPay has designed a feature that will put a stop to the flood of junk and spam mail into your inbox! We can help you join a class action against a spammer or take any person or company that's wronged you to small claims court!
Need a virtual credit card number or a fake phone number to protect yourself from scammers? We've got you covered! We can help you fight text spam or even assist you in sending mail without any chance of error.
Our users' safety is our number one concern, so we've developed a feature that will protect you from cyber stalking or harassment!