Northeastern Financial Aid in a Nutshell
Many people think that Northeastern University is one of the greatest schools to attend, especially because of its experiential learning programs. The annual tuition of $53,036 begs to differ. To afford this sky-high price, you will probably have to apply for Northeastern financial aid.
Before you submit your application, you will probably have a dozen questions—from how to apply for financial aid and whether it is available for graduate students to how much you can get and how long you can receive the aid.
In this guide, you will find all that you need to know and more! If the financial aid Northeastern University ends up offering is not enough to cover your educational expenses, you can rely on us. Our app can create a financial aid appeal letter and help you ask for more aid swiftly and effortlessly. Sign up for DoNotPay and learn how to file a proper appeal and get the aid that fits your needs.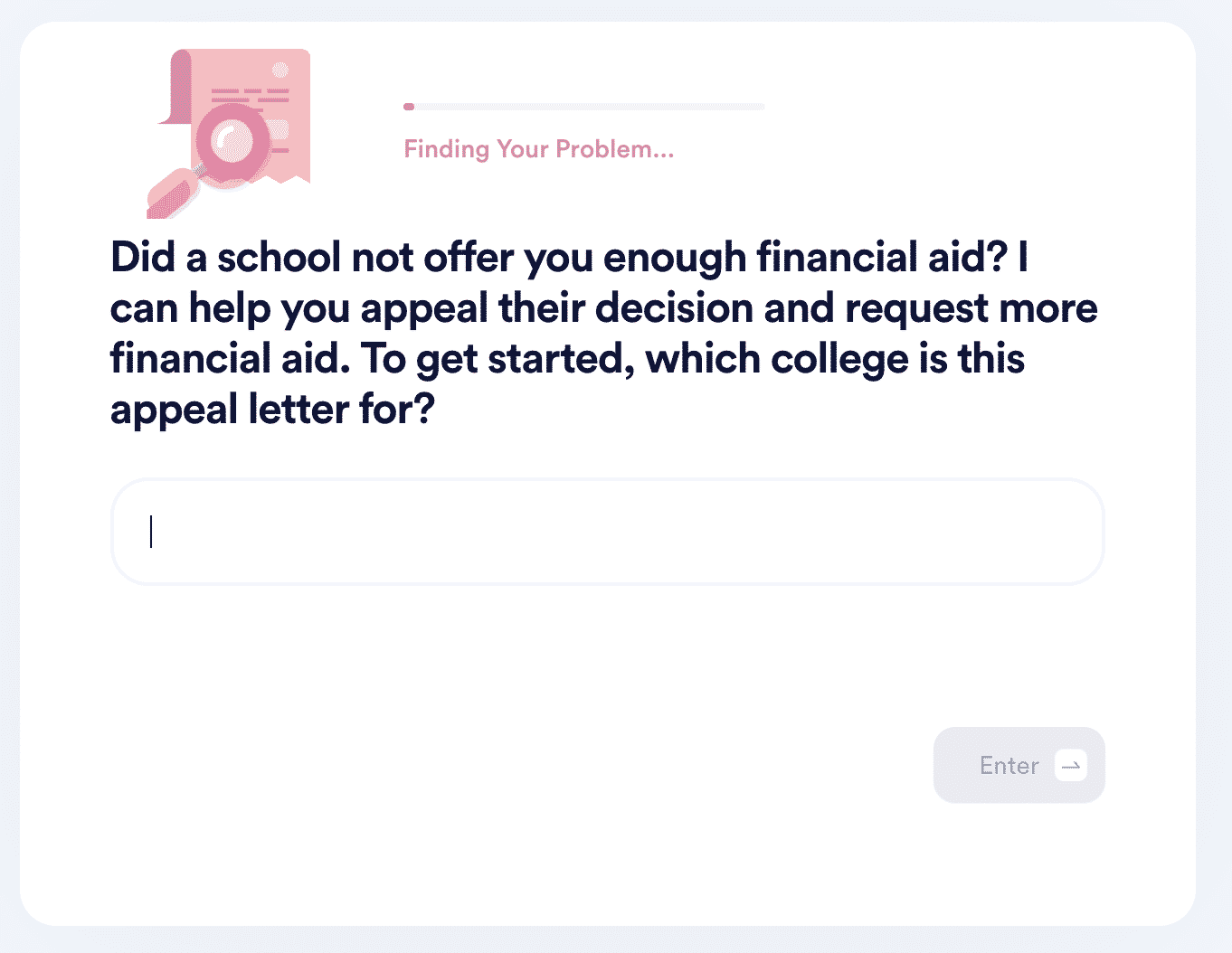 Types of Financial Aid at Northeastern University
Northeastern University divides financial aid into five categories:
Loans
Scholarships
Grants
Work earnings
Assistantships (only for graduate students)
The university awards both grants and loans straight to your tuition account, but that is not the case for work earnings.
Student Loans at Northeastern University
To become an eligible candidate for any type of loan at the Northeastern University, you have to:
Complete FAFSA
Attend classes at least half-time
Keep up with expected academic progress
Be registered with the Selective Service, if possible
Be a U.S. resident or an eligible foreign citizen
If you meet these criteria, you will be able to apply for:
Federal Nursing Student Loan
Health Professions Loan Program
Federal Perkins Loan
Northeastern University Scholarships
Northeastern University awards a large number of scholarships. This type of aid is a gift that the university awards based on merit, outstanding academic achievements, or the student's financial need.
Type of Scholarship
Scholarship Name
Scholarships for first-year students

Merit-Based Scholarships
Northeastern National Scholarships
Torch Scholars Program
Boston Scholarships
RaiseMe Micro-Scholarships

Scholarships for current students

Presidential Global Scholarship
Scholarship of the Month
ROTC Scholarship
Gates Millennium Scholars Program
Outside Scholarships

Outside scholarships
To learn about these scholarships, you will have to contact the Northeastern University Office of Student Financial Services
Grants at Northeastern Uni
A grant is a type of aid that Northeastern awards based on the financial need of a student. At Northeastern, you can apply for:
Federal supplemental education opportunity grant (FSEOG)—Available for students in extreme financial need
Federal Pell grant—Available for undergraduate students who don't have a professional or bachelor's degree
Northeastern University grant—Aid for students in financial need provided by individual donors
The Massachusetts state grant—Available for students who are Massachusetts residents
Other state grants–Aid for students from Pennsylvania and Vermont
Work Earnings at the Northeastern University
The work earnings aid is a part of a federal work-study program that allows students to get a part-time job while attending Northeastern University. Students can find jobs off and on campus.
Assistantships for Graduate Students
This type of aid includes awards and positions that the university offers directly to graduate students. Northeastern University offers:
Graduate School Scholarships (GSS)
Northeastern University Graduate Assistantships (GA)
How To Apply for Northeastern Financial Aid
To determine whether you qualify for financial aid or not, the university's Student Financial Services Office will have to consider:
The availability of university funds
Your academic profile
The financial need of your family
If you wish to apply for Northeastern financial aid, you will have to complete the CSS and FAFSA applications. Aside from that, you need to:
Choose an application checklist that fits your academic status (first-year student, transfer student, returning student)
Complete and submit an application according to established deadlines
Northeastern Financial Aid Deadlines—When To Apply
You will have to fill out FAFSA and CSS every year you plan to attend the university. To make sure you do that on time, you should check the end dates for application on the FAFSA and CSS Profile websites.
Did Northeastern University Reject Your Financial Aid Application? Generate an Appeal Letter With DoNotPay
Have you followed every step of the financial aid application carefully? Have you submitted all forms and materials on time yet Northeastern decided to deny you aid? Do not despair—file an appeal instead!
In case you've never written an appeal letter, use our app. DoNotPay can generate an appeal letter in your stead and save you from that dull task. All you have to do is:
Locate our Appeal for More Financial Aid product
Provide us with some basic information
Within a couple of minutes, you will have your appeal letter and be ready to send it to your university.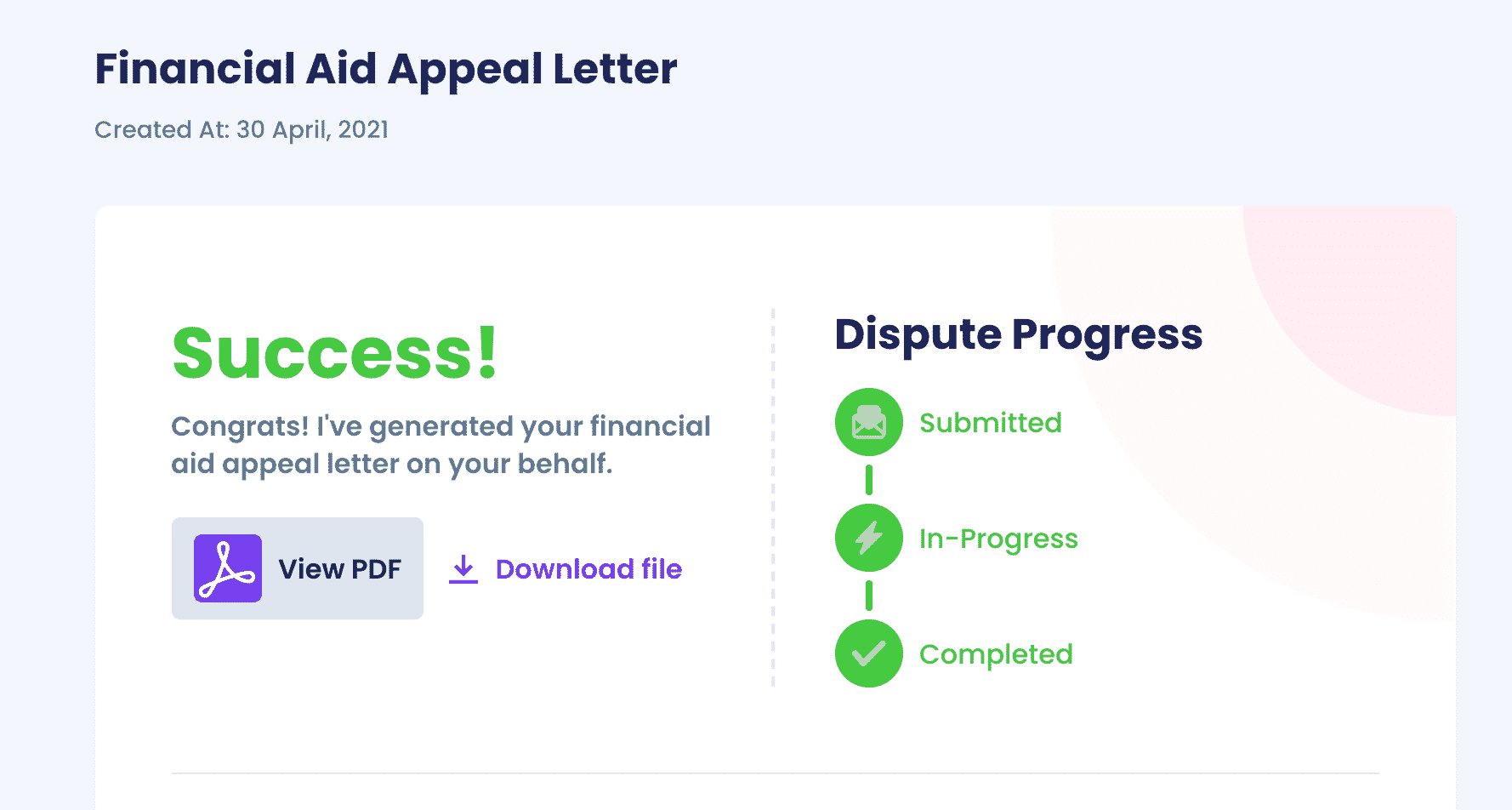 Aside from Northeastern, DoNotPay creates appeal letters for these universities and many others:
DoNotPay Can Help You With Almost Anything
DoNotPay's goal is to have a multitude of features that can be useful to you with handling various issues. Whether you want to apply for clinical trials, prepare for government tests, or even get in touch with your locked-up friends or family—DoNotPay has got you covered!
For a small yearly fee, our AI-based app will help you:
Want To Save and Earn Money at Once? Subscribe to DoNotPay
DoNotPay can help you earn and save a buck or two. We'll assist you in reducing your property taxes, canceling any unused subscriptions, and signing up for free trials with our virtual credit card.
As if that wasn't enough, we'll save you money and spare you from a headache if you receive any faulty deliveries by filing a refund or an item return request in your stead! This is just the tip of the iceberg of features that DoNotPay has in store for you.