An Extensive Guide on the Pierce College Financial Aid
Pierce College is a public community college located in Washington. This school has more than 17,000 students and consists of two campuses. Individuals attending Pierce College will need to set aside $1,772 for in-state and $1,960 for out-of-state tuition.
Even though the expense of attending a community college is not the highest, students still have the option of obtaining financial aid.
DoNotPay provides you with info about the Pierce College financial aid programs and can help you get more money by filing an appeal as soon as you .
What Type of Financial Aid Does Pierce College Offer?
You can apply for various types of financial aid that offer different amounts of money if you attend Pierce College. The table below offers more information:
Federal and State Financial Aid
Scholarships
Other Resources

Federal Direct Stafford Loan
Washington State Passport for Foster Youth
Student Employment (Federal and State Work-Study)
Federal Pell Grant
Federal Supplemental Educational Opportunity Grant (FSEOG)
Washington State Need Grant
Federal Parent PLUS Loan

Pierce College Grant
Pierce College Foundation Scholarships
Pierce College Day Care and Emergency Grants
Pierce College Tuition Waiver

Veterans Benefits
Work-Study
BFET-Basic Food, Employment, and Training
Opportunity Grant
Resources for Service Members and Spouses
Private Loans
Worker Retraining
WorkFirst
Ability to Benefit: Equity in Federal Financial Aid
Get More Info From the Pierce College Financial Aid Office
You can get in touch with Pierce College Financial Aid Office advisors in a few ways:
Zoom—You will need to join a Zoom room at the scheduled time—Monday through Thursday from 8:30 a.m. to 4 p.m. or Friday between 8:30 a.m. and 11:30 a.m.
Phone—You can call the office at 253-964-6544
Email—Pierce College also allows you to pose questions about financial aid via email at financialaid@pierce.ctc.edu
What Are the Pierce College Financial Aid Office Hours?
You may contact Pierce College financial aid advisors from Monday to Friday between 8 a.m. and 5 p.m.
What Criteria Do You Need To Meet To Receive Pierce College Financial Aid?
To get financial aid, you need to meet certain requirements that will vary depending on whether the source is federal or state-based. See the table below for more information:
Federal Financial Aid
State Financial Aid
You need to:

Be a United States citizen or eligible noncitizen
Register with the Selective Service when required by law
Be part of a program leading to a degree
Not have any debts on federal educational loans
Maintain a satisfactory academic progress

You must:
How the Pierce College Financial Aid Process Works
You will need to follow a specific procedure if you want to get financial aid. Here are the required steps:
Apply for admission to Pierce College—Complete the Pierce College online admissions application
Apply for financial aid—Visit Ready Set Grad to find out whether you should complete a FAFSA or WASFA application
Check your financial aid application status—Log in to ctcLink to see your status
Receive your financial aid—You will receive an award letter via email and will be able to see the aid amount through ctcLink
Manage your financial aid—To keep receiving financial aid, you must maintain Satisfactory Academic Progress (SAP)
You need to apply for financial aid each year by completing the renewal FAFSA or WASFA online. You can access the applications after October 1 each year.
What Is the Average Processing Time for Financial Aid Documents?
Pierce College will usually take four weeks to process all appeals, verification forms, and other forms.
It is possible that your application gets rejected. You may also get an offer that's too low—one that you will refuse. In such situations, you will have the option to send an appeal letter.
Not Happy With the Pierce College Financial Aid Offer? Use DoNotPay To Send an Appeal Letter
You can count on DoNotPay to create a financial aid appeal letter fast. Our app makes sure Pierce College gets an airtight appeal letter that will make it reconsider the decision. Follow these simple steps:
Search for our Appeal for More Financial Aid product
Enter the amount of financial aid other schools offered you (if applicable)
Provide relevant info about your family's income and financial status
We will make sure Pierce College gets the appeal letter as soon as possible.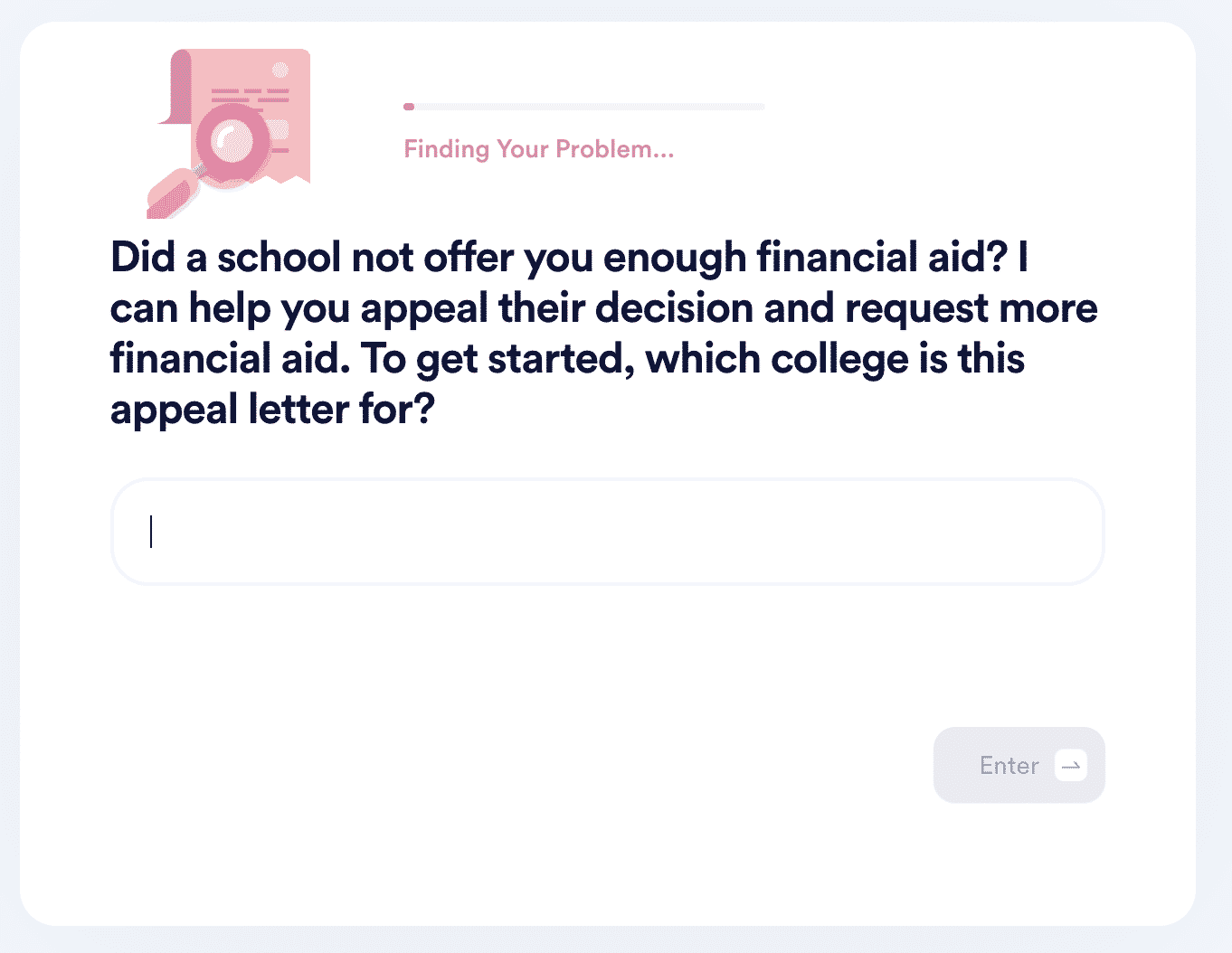 DoNotPay also has information about financial aid for graduate school and the number of years you can get financial aid.
Interested in other schools' offers? Check them out:
Let DoNotPay Be Your Virtual Assistant!
Why bother with deciphering legal terminology or figuring out how to write a legal document when you can let us do it for you? You don't have to waste your time any longer. Once you sign up for DoNotPay, we'll do much more than draft your legal documents or help get them notarized!
DoNotPay will show you how to perform a number of tasks with ease, including suing any company in small claims court, filing insurance claims, claiming warranties, creating passport photos, and sending your neighbor a complaint letter!
Should you need assistance with requesting a refund for a delayed flight or fighting workplace discrimination, our virtual assistant shows you how it's done.
There's More We Can Do!
Tired of dealing with mundane tasks and spending hours running dull errands? We offer the perfect solution!
DoNotPay can assist you in completing tedious tasks with ease! The best part is that you will spend significantly less time on them, and you can get them done from the comfort of your home!
Paying bills, getting a free trial, canceling subscriptions, getting revenge on robocalls, requesting refunds, or making a DMV appointment is only a few clicks away!