All NJIT Financial Aid Info You Need in One Place
Like at many other prestigious universities and graduate schools, the tuition fees at the New Jersey Institute of Technology (NJIT) are quite high. Luckily, the institution provides more than $100 million in financial aid to its students, helping 92% of regular students continue their education.
If this is your preferred college, but you aren't sure if you have enough money to cover all the expenses, ! Find out how to apply for any type of NJIT financial aid and appeal the rejected application or a low support offer with our app!
All Offered Forms of NJIT Financial Aid
Here's a detailed overview of all the available financial aid options provided by NJIT and the amounts you can get within each program:
Aid Type
Programs
Amount
Grants
Federal Pell Grant
$639 to $6,345
Educational Opportunity Fund

$1,150 (for commuters)
$1,400 (for on-campus residents)

Tuition Aid Grant
$2,588 to $11,428
Federal Supplemental Educational Opportunity Grant (FSEOG)
$200 to $1,000
Highlander Student Emergency Fund Application
Up to $500
Loans
Subsidized Federal Direct Loans

$3,500 for freshmen
$4,500 for sophomores
$5,500 for juniors and seniors

Unsubsidized Federal Direct Loans

$2,000 for dependent students
$6,000 for independent freshmen and sophomores
$4,000 for independent juniors and seniors

Graduate PLUS Loans
Unavailable online
Scholarships
Governor's Urban Scholarship
$1,000
New Jersey World Trade Center Scholarship
Unavailable online
Law Enforcement Officer Memorial Scholarship
Unavailable online
Veterans Scholarships
Unavailable online
National Merit Scholarship
Full amount necessary for tuition and other additional fees
Honors Merit Award
Full amount necessary for tuition and other additional fees
Honors Residential Scholarship
From $500 to the full room and board cost
Student employment
Federal Work-Study
Variable
Institutional Work-Study
Variable
Other types of aid
Military Benefits
Variable
Summer & Winter Financial Aid
Variable
Emergency Aid
Variable
What Do You Need To Apply for Financial Aid at NJIT?
To file a valid financial aid application, you must:
Check if you qualify for the program—Besides meeting the general financial aid eligibility criteria, you must comply with other basic requirements for a particular financial aid option
Fill out a Free Application for Federal Student Aid (FAFSA)—It's a special form including various questions regarding your family's income, expenses, and other financial circumstances. This document is your ticket to most NJIT financial support programs. In other words, once you complete and submit it, you will be taken into consideration for all available aid options
Revise your Student Aid Report (SAR)—This is the second most important document for the application process, and you will get it a couple of days after submitting your FAFSA form. Its purpose is to help you revise all the information you provided in the form and ensure there aren't any errors that could make the institution decline your application
Wait for NJIT to make a decision—The institute will calculate your financial need by determining the difference between:

Cost of Attendance (COA)
Expected Family Contribution (EFC)
Based on the result, the university can approve your request and send you an official financial aid offer or reject your application if you don't meet the necessary criteria.
What Are the Contact Details and Working Hours of the NJIT Financial Aid Office?
If you want to inquire about the application deadlines, annual financial aid renewals, or ask other related questions, you can contact the support office. You can do so via:
Method
Details
Phone (mainline)
(973) 596-3479
Email
finaid@njit.edu
Mail
NJIT - Student Mall

University Heights

Newark, NJ 07102
NJIT financial aid office hours are Monday through Friday from 9 a.m. to 4 p.m.
Let DoNotPay Write an Appeal Letter on Your Behalf
Composing an appeal letter can be tricky and quite time-consuming. If even the thought of doing it on your own makes you anxious, we have a solution! DoNotPay can generate a customized letter with all the necessary details and help you request more financial aid money!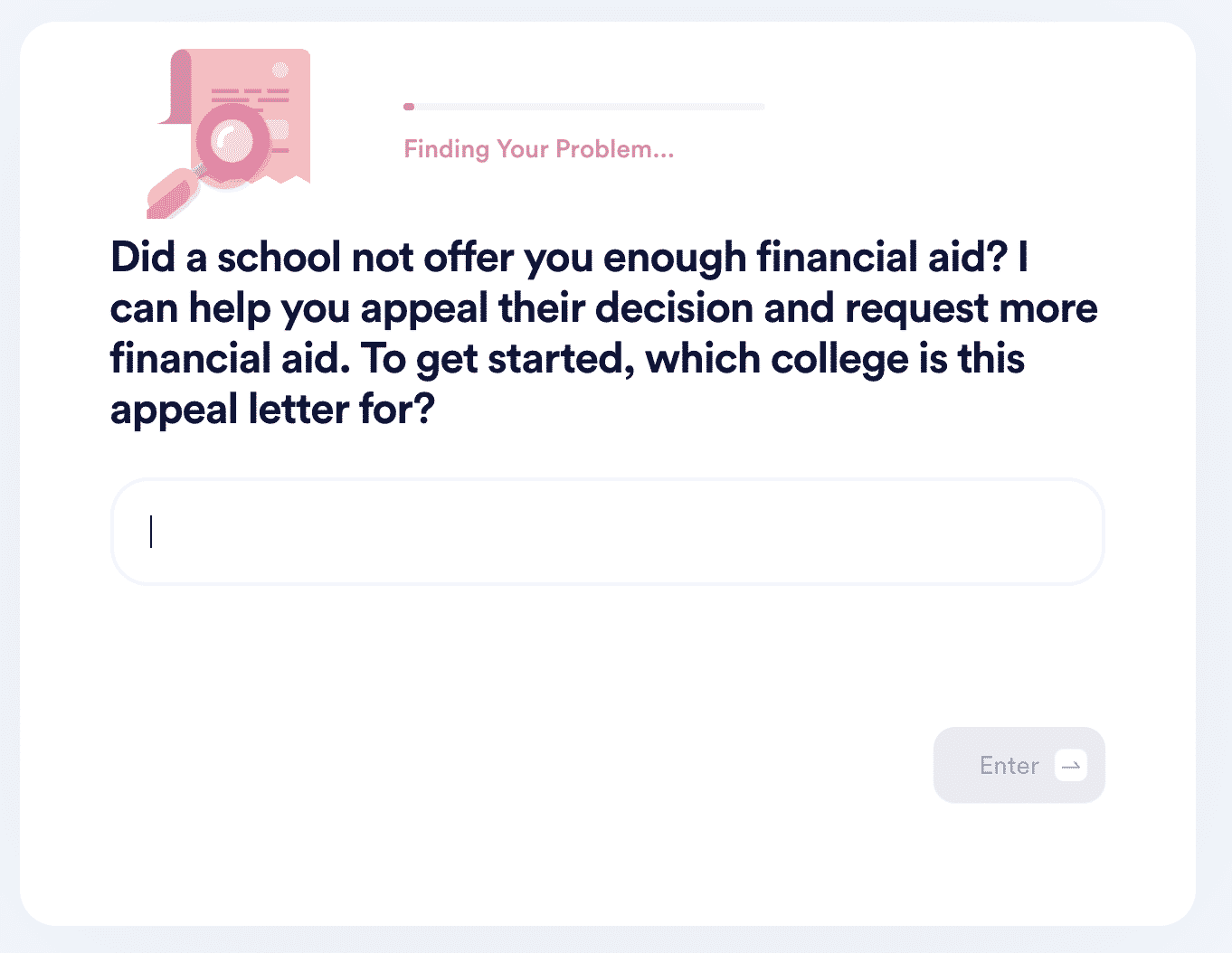 All you should do is answer a few of our chatbot's questions about your finances, and our app will do the rest of the work!
Here's what you need to do:
and sign in to your account
Look for the Appeal for More Financial Aid option
Tell us to which college you want to go and what colleges offered you a higher sum than that one—if there are any
Enter the requested information about your income and family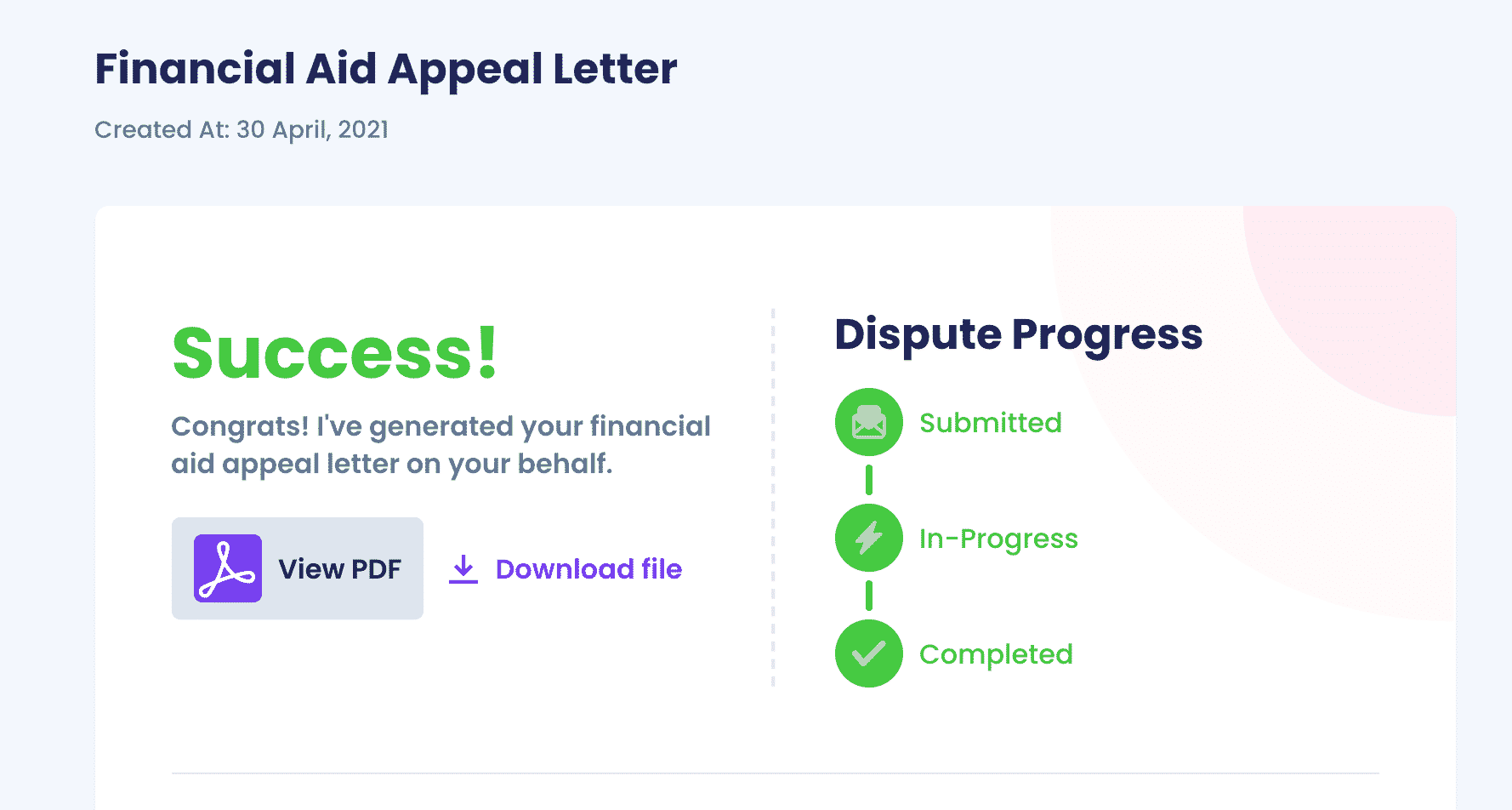 After completing these steps, we will generate your request and send it where necessary! By using the Appeal for More Financial Aid, you won't need to:
Spend hours on manual drafts
Explain the situation in your own words
Waste money on paying someone to write the letter for you
Our learning base contains dozens of articles describing how financial aid works at other universities, such as:
DoNotPay Crosses All Your Tasks Off Your List
Whether you need help with preparing for government tests, online faxing, or getting your documents notarized—DoNotPay will be able to help! Whatever problem you're facing, we'll turn it into a breeze!
Sign up now if you want an easy solution to stop email spam, cancel unneeded subscriptions, schedule DMV appointments, and draw up agreements from the comfort of your home.
We can also help you reduce property taxes, pay bills, appeal parking tickets, and find any unclaimed money.
Improve Your Quality of Life With DoNotPay
The beauty of our platform is that besides bureaucratic issues, it can also assist you with numerous other struggles! To name a few, we can help you:
The list could go on for days!