The Essential Info About National University Financial Aid
National University (NU) is a private school established in 1971. This university has around 24,000 students in California, Nevada, and online. The tuition you need to pay for attending NU is $13,320, but National University financial aid is also available.
Use DoNotPay to learn how to apply for financial aid at NU and file an appeal if the school's offer doesn't suffice.
How To Apply for National University Financial Aid
If you want to receive financial aid, you must follow the application procedure. Check out the table below to see the steps you need to complete:
| | |
| --- | --- |
| Steps | Explanation |
| Complete the Free Application for Federal Student Aid (FAFSA) | The FAFSA form is used to establish your eligibility for financial aid. You will need your FSA ID and the school's FAFSA code (011460) to complete the form |
| Sign the FAFSA | You can sign the document online using your FSA password or mail the signature page in the next 14 days |
| Review your Student Aid Report (SAR) | You can download the SAR once you complete the FAFSA. Make sure to check the document for any inaccuracies and keep a copy of the SAR |
| Complete a process called "Verification" | This step is mandatory only for the students chosen by the U.S. Department of Education to check the accuracy of info provided on the FAFSA. If you are among them, you'll receive an email |
What Are the Financial Aid Types You Can Apply for at NU?
National University offers various types of financial aid to its students. The type of aid will also determine the period you can keep receiving financial assistance. You can apply for:
Work-study programs
Loans
Scholarships
Grants
Work-Study Opportunities at National University
Federal Work-Study (FWS) is a program that helps students by offering them part-time employment. Both graduate and undergraduate students with financial need are eligible for work-study programs that can help finance the cost of their education.
Student Loans You Can Apply for at National University
While helpful, loans are not the ideal aid type because you'll need to repay them with interest after you graduate. You can apply for:
Federal Stafford WDF Student Loan
Federal Unsubsidized WDF Loan
Graduate Plus Loan
Federal Parent Loans for Students (PLUS)
Scholarships Available at National University
Scholarships are a form of financial assistance that does not need to be repaid. National University has two scholarship offers:
The Opportunity Scholarship
The Fast Track Scholarship
What Grants Can You Apply for at National University?
Grants are another type of financial aid that does not require repayment. The available options include:
Federal Pell Grant
Federal Supplemental Educational Opportunity Grant (FSEOG)
Cal Grant A
Cal Grant B
TEACH Grant
National University Financial Aid Contact
National University offers help to students seeking financial aid. You only need to get in touch with the school's financial aid office by:
Federal Eligibility Requirements
You must meet all federal eligibility requirements to qualify for student financial aid. A prospective recipient needs to:
Be a U.S. citizen or an eligible non-citizen
Have a valid Social Security number
Show financial need
Be enrolled in an eligible program
Own a high school diploma or recognized equivalent
Keep up a satisfactory academic progress
Not owe an overpayment on any educational grant
Complete the verification process if chosen by ED
Register with Selective Service (male students)
The criteria you meet and the type of aid you receive will determine the amount of financial assistance you will get.
You also need to think about the federal application deadlines for submitting forms. The federal processor must get the FAFSA by June 30, 2022, for the 2022–2023 academic year.
What To Do When a Financial Aid Application Gets Rejected
In case National University rejects your application, you have the right to send a financial aid appeal letter. Filing an appeal is also an option when you receive an unsatisfactory offer from the school and require more funds.
to deal with this task easily!
Create a Financial Aid Appeal Letter in a Matter of Minutes With DoNotPay!
If you are not certain how to write an appeal letter or don't have time to do it, you can turn to DoNotPay for help. Our app can generate a financial aid appeal letter fast and without trouble. We can also send the letter to National University on your behalf. You only need to complete four simple steps:
Find our Appeal for More Financial Aid product
Inform us about financial aid offers from other universities (if you applied to multiple)
Provide the relevant information about your family's income and financial status
Your letter will be ready within moments. If you're a grad student, check out our guide to financial aid in graduate schools!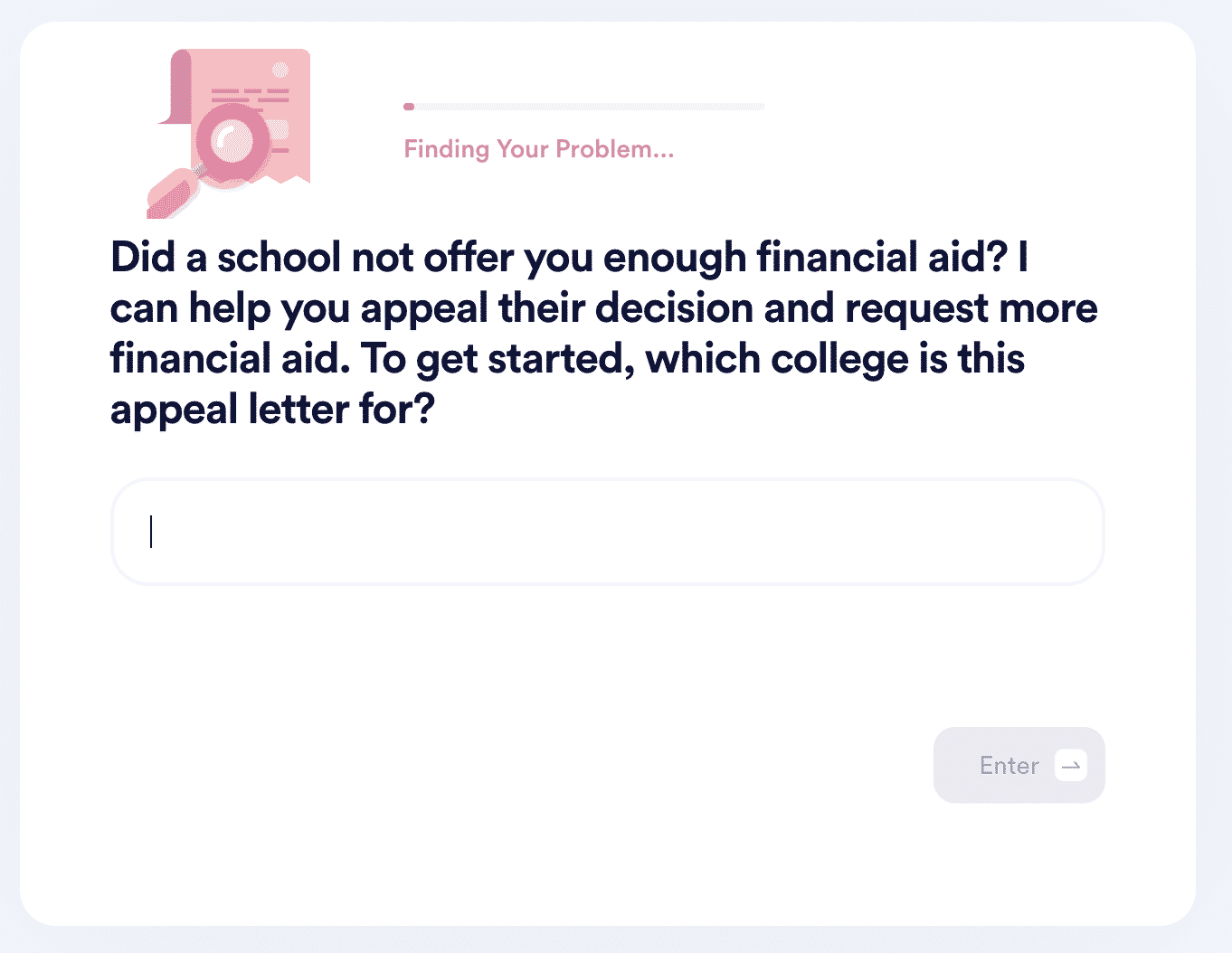 What Do Other Schools Have To Offer? Find More Financial Aid Options With DoNotPay!
If you still haven't made a final decision, you should see what other schools offer. Check out the table below to see DoNotPay's guides to financial aid programs at some of the most popular universities:
Work Smarter, Not Harder!
Although there are certain tasks that are a pain but can't be avoided, such as paying your property taxes, you don't have to do them the hard way. There is always a way to make the overbearing bureaucratic procedures a bit easier. DoNotPay can find a loophole and help you cut through the red tape!
Reducing your property taxes is only one in the sea of tasks our app will make super easy to do! You can also use DoNotPay to:
Draft legal documents

(such as

POAs

)
Explore DoNotPay's Other Neat Features
DoNotPay offers a plethora of useful products to make your day-to-day life easier and enjoyable! Consult the list below to see what you can do using our app: