An In-Depth Guide to Montgomery College Financial Aid
Considering the versatile programs and study abroad opportunities Montgomery College (MC) offers, it's no wonder this school is such a popular choice among prospective students. Unfortunately, the total tuition and attendance costs—reaching almost $34,000—can be discouraging for some.
We will help you overcome the issue by explaining how much support the Montgomery College financial aid program can provide and what the application process entails. If you get rejected or receive a disappointing offer, DoNotPay can help you !
The Basics of Montgomery College Financial Aid
Montgomery College offers the following types of financial aid:
Grants and scholarships
Federal Work-Study
Loans and Loan Assistance Repayment Programs
Special aid programs
Montgomery College Financial Aid—Grants and Scholarships
Federal grants you can qualify for at Montgomery College include:
Pell Grant
Federal Supplemental Educational Opportunity Grant (FSEOG)
Montgomery College also awards state grants and scholarships, such as:
Category
Details
Need-based
The Howard P. Rawlings Program of Educational Excellence Awards:

Guaranteed Access Grant
Educational Access Grant
Campus-Based Educational Assistance Grant

2+2 Transfer Scholarship
Part-Time Grant
Graduate and Professional Scholarship Program
Community College Promise Scholarship
Legislative
Delegate Scholarship
Senatorial Scholarship
Occupational
Charles W. Riley Firefighter and Ambulance and Rescue Squad Member Scholarship Program
Cybersecurity Public Service Scholarship Program
Hal and Jo Cohen Graduate Nursing Faculty Scholarship
Tuition Reduction for Non-Resident Nursing Students
Workforce Development Sequence Scholarship
Workforce Shortage Student Assistance Grant Program
Service Obligations
You can also apply for school-based awards. For more details, check out the table below:
Category
Award Details
Merit- and financial-need-based aid
Montgomery College Foundation Scholarships
Board of Trustees Student Tuition Grants
Merit-based scholarships
Montgomery Scholars Scholarship
Board of Trustees (BOT) Scholarship
The Macklin Business Institute (MBI) Scholarship Program
Southern Management Leadership Program
Renaissance Scholar Honors Program
STEM Scholars Program
Alumni scholarships
Montgomery College Alumni Scholarships
National Science Foundation (NSF) Grants
ACCESS Engineering & Computer Science Scholarships
Aid for dual enrollment students
Montgomery College High School Grant
Check the outside scholarships page frequently for more funding opportunities backed by Montgomery College.
Federal Work-Study at Montgomery College
Montgomery College states that students can:
Get an on- or off-campus position related to their course of study
Work 12 hours per week and earn $14 per work hour
Use the eJobs portal to find open positions
Montgomery College Financial Aid—Loans and Loan Assistance Repayment Programs
Montgomery College offers the following loans:
Federal loans

Direct Subsidized Loans
Direct Unsubsidized Loans
Parent PLUS Loans

Private loans
The College also participates in the following state Loan Assistance Repayment Programs:
State of ​Maryland Student Loan Debt Relief Tax Credit
Janet L. Hoffman Loan Assistance Repayment Program (LARP)
John R. Justice Grant Program
​Maryland Loan Assistance Repayment Program (MLARP) For Foster Care Recipients
State Loan Repayment Program (SLRP) and Maryland Loan Assistance Repayment Program for Physicians (MLARP)
Maryland Dent-Care Loan Assistance Repayment Program (MDC-LARP)
Special Aid Programs at Montgomery College
Students who require additional aid because of unfortunate financial circumstances can resort to one of the following programs:
Jack F. Tolbert Memorial Student Grant Program
Edward T. and Mary A. Conroy Memorial Scholarship Program & Jean B. Cryor Memorial Scholarship Program
Veterans of Afghanistan and Iraq Conflicts (VAIC) Scholarship Program
Tuition Waiver for Foster Care Recipients
Tuition Waiver for Unaccompanied Homeless Youth
Tuition Waiver for Maryland National Guard
Community College Tuition Waiver for Students with Disabilities
How To Apply for Montgomery College Financial Aid
To apply for financial aid, Montgomery College requires you to:
Check your MyMC account regularly for additional tasks, corrections, etc.
The priority deadlines for financial aid applications are March 1 for the fall semester and November 1 for the spring semester.
If you have any questions regarding the application process, contact the Montgomery College Financial Aid Office via:
What Can I Do if the Financial Aid Office at Montgomery College Rejects My Application?
Did Montgomery College misjudge your financial need? Request reconsideration with a rock-solid financial aid appeal letter that explains your financial difficulties in detail.
Students should submit their appeal letters as soon as possible to secure the maximum amount of aid. DoNotPay offers a feature that will help you write one in no time!
Use DoNotPay To Request More Aid From Montgomery College in a Flash
Why would you go through the appeal process alone when you can turn to DoNotPay for help? Don't waste time writing an appeal letter yourself, and let DoNotPay complete the task for you!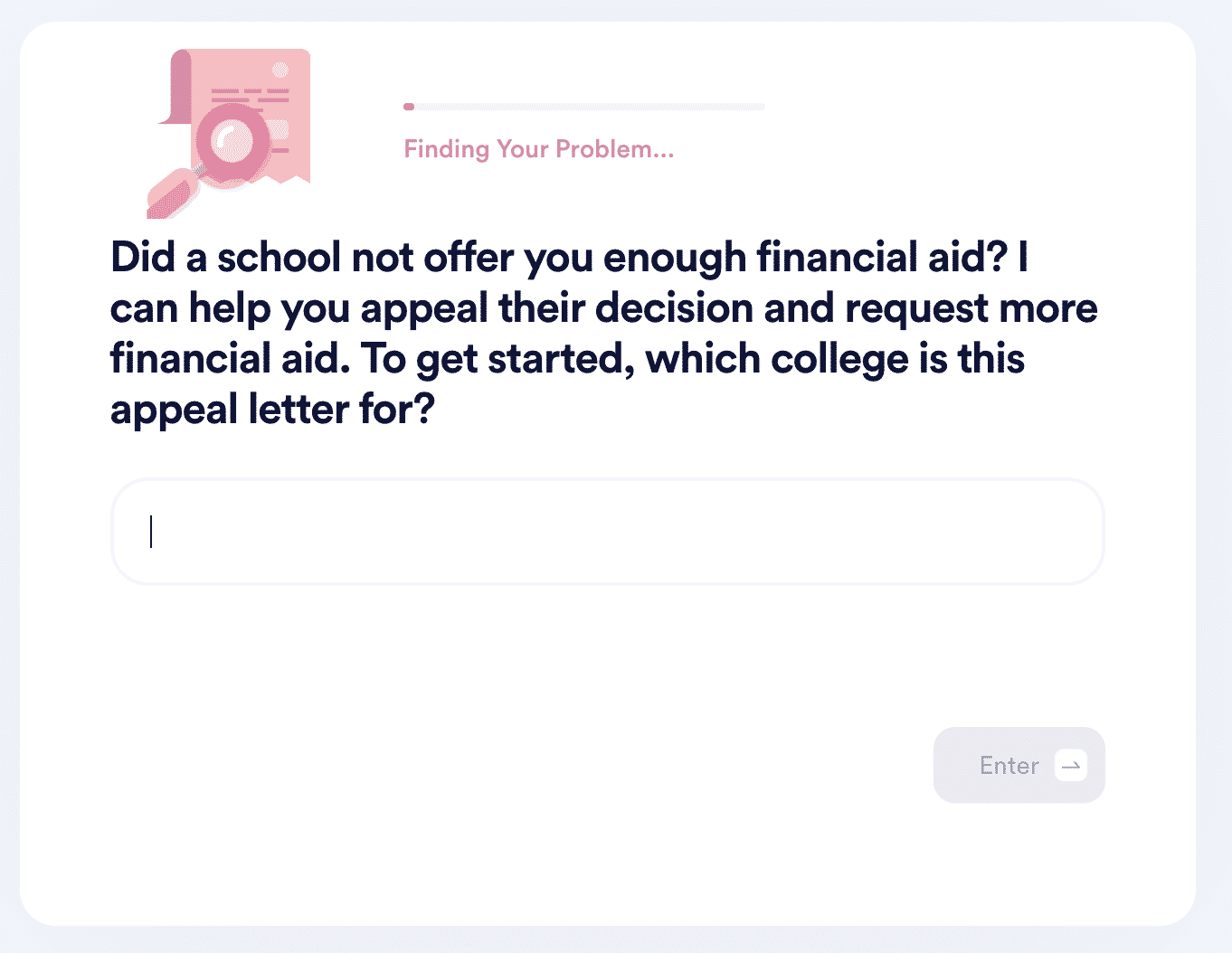 Our app can generate a bullet-proof appeal letter that explains your financial circumstances in a clear and concise manner. To request more financial aid from Montgomery College with our help, follow these steps:
Enter Appeal for More Financial Aid in the search bar
Answer a few short questions about your financial situation
Your letter will be ready in a matter of moments. You don't have to worry about sending the letter to Montgomery College because DoNotPay will do it for you quickly!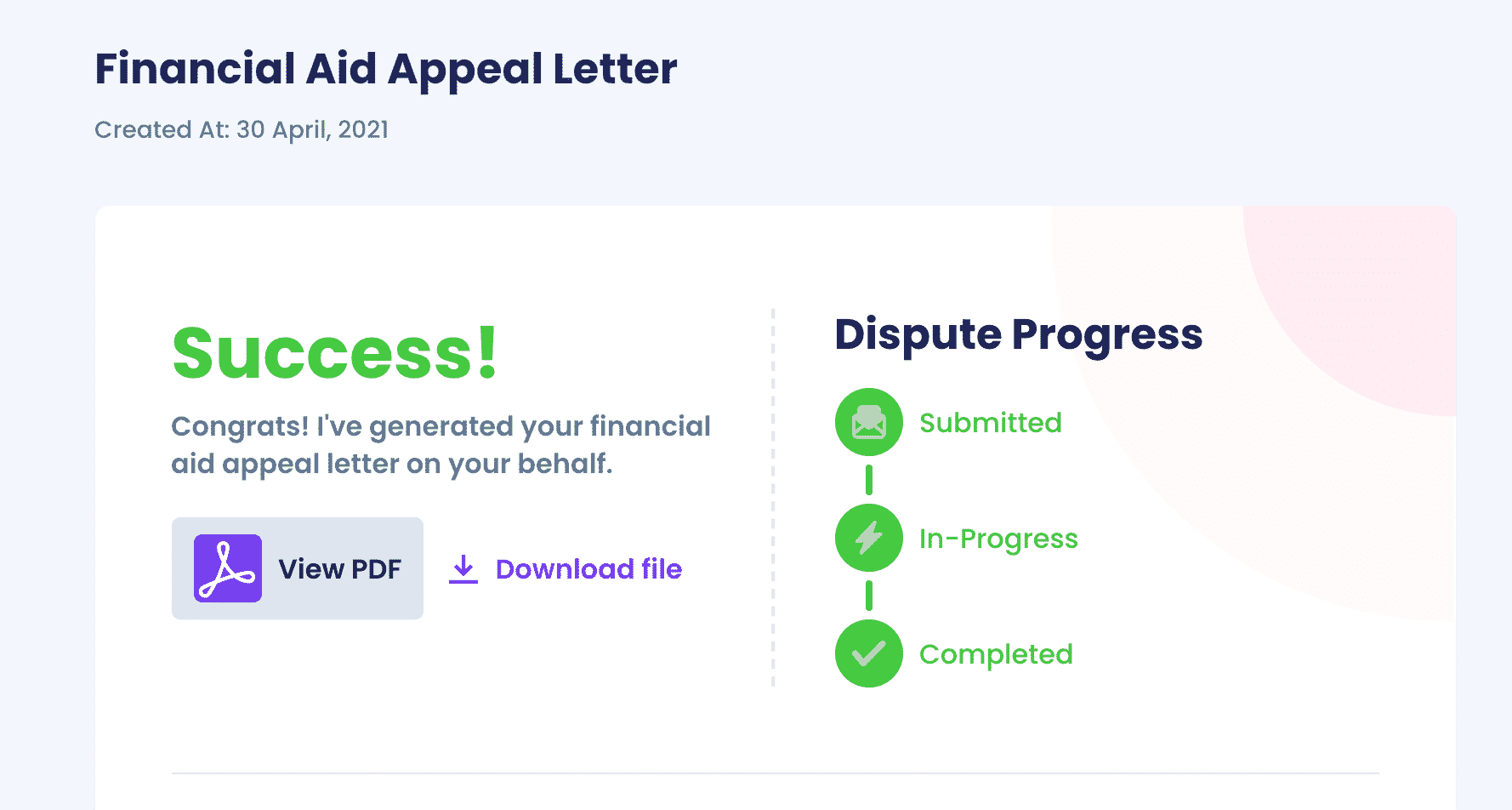 Whether you're curious about how many years you can get financial aid or how financial aid works at graduate schools, our learning center has answers to these and many more questions!
Alternatives to Montgomery College
If Montgomery College doesn't offer enough financial relief for you, maybe one of these schools we hand-picked for you will:
DoNotPay Turns Your Everyday Hurdles Into a Piece of Cake
Did you receive a faulty or damaged item? Why not return it with your virtual assistant? We can also help you get a late delivery refund and jump the queue if the customer service phone keeps ringing to no avail. The list of handy DoNotPay features that make your everyday life easier goes on.
By subscribing to our platform, you won't have to worry about your tedious neighbors or parking tickets. We can do it all!
Want To Save Money on Lawyers? Use DoNotPay
Most people spend big bucks on expensive lawyers to overcome their bureaucratic obstacles. Don't waste your money on unnecessary fees—use DoNotPay and take care of any legal matter in a few easy clicks! Check out some of the issues the world's first robot lawyer can help you with: