NC Notary Statement and Services Explained
A NC notary statement is a key part of every notary service. Getting a document notarized in North Carolina or any other state can be a lengthy and tiring process. 
DoNotPay provides useful tips about notary acts in numerous states and towns. We can show you the way to get your documents notarized in a few minutes! 
What Is a NC Notary Statement?
A notary statement—also called an acknowledgment—is a final step of a notary's service. A statement shows that a notary public:
Identified the signers, i.e., by checking their photo ID document

Confirmed the signers understood the contents of the document

Verified they are signing the document willingly

Determined the signers were of sound mind
A notary statement should include the:
Names of the signers

Location where the notarial act took place

Date

Name of the notary public

Notary's

signature

and stamp
How To Get Your Documents Notarized in North Carolina
You can get trusts, wills, real estate deeds, affidavits, or other legal document notarized in one of the following ways:
Regular in-person notary services

Electronic notary services

Mobile notary services

Online notary services
Regular Notarization Provides a Notary Acknowledgment in NC 
If you choose to get your documents notarized using the traditional in-person notary service, you should take the following steps:
Schedule an appointment

Bring a valid ID and the necessary documents with you

Go to the notary's office 
The regular notary service is what lots of people still choose, but it requires lots of time to:
Find a notary

Get in touch with him or her

Wait for the appointment

Drive to the notary's office
You will have to set up another appointment if you:
Make a mistake

Forget to bring a valid ID with you

Fail to collect the necessary documents 

Don't pay the

notary fees
Get a NC Notary Statement Using Electronic Notary Services
Electronic notaries follow the same practice and rules as traditional notaries. It means they require you to appear in person. The only difference is that e-notaries will:
Notarize documents in electronic format, e.g., PDF or Microsoft Word documents

Write a NC notary statement and mark it with their electronic signature and seal
Notaries public in North Carolina can charge the following maximum fees for their services:
Services
Regular Notary
e-Notary

Jurats

Acknowledgments

Oaths or affirmations

Verifications or proofs

$5.00 per signature

$10.00 per signature
Mobile Notary Services 
Scheduling an appointment with a mobile notary might be convenient as they:
Perform the same notary services as the regular notaries

Can come to a location of your choice, e.g., your office, home, or some other suitable place
When you get in touch with a mobile notary, you should inquire about the fees as they charge additional travel fees on top of the regular ones. 
Online Remote Notarization—An Efficient Way To Get a NC Notary Statement
Online notarization is the most practical option to get your documents notarized as it is:
Safe

You do not have to worry about social distancing and wearing a mask since online notarization does not require you to:

Show up at a notary's office 

Share the same place with other people

This is important, particularly during the COVID-19 pandemic

Comfortable

You can go through the notarization process from the comfort of your home

Time-Effective

You can finish the whole notarization process in a few minutes
North Carolina does not usually allow remote notarization. Online remote notarization has been introduced during the pandemic. It means you can get your documents notarized via a live video call. 
As this can change, you should follow information regarding online notarization or ask a NC notary public. 
Use DoNotPay's Practical Remote Notary Services
DoNotPay's online solution will help you get your documents notarized from any location in a few minutes. Take the following steps to get your contracts notarized with no fuss:
Select our

Notarize Any Document

feature

Upload the document you want to get notarized
You will receive an email with a link—click on it to schedule an appointment with an online notary. 
What should you expect during the online notarization? A notary will:
Witness your signing of the document via a live video call

Verify your signature

Provide notarization instantly (for an extra charge)
Our Notarization feature provides remote notarization services for lots of states, including:
Create Legal Documents With DoNotPay
You can use lots of DoNotPay's useful features for the price of one subscription. We can help you tackle problematic administrative issues smoothly. 
One of our efficient and cost-effective features is Standardized Legal Documents. It can help you create numerous contracts and legal documents in a few clicks. 
To generate an agreement, follow these steps:
Type in the name of the document you want to create

Answer the chatbot's questions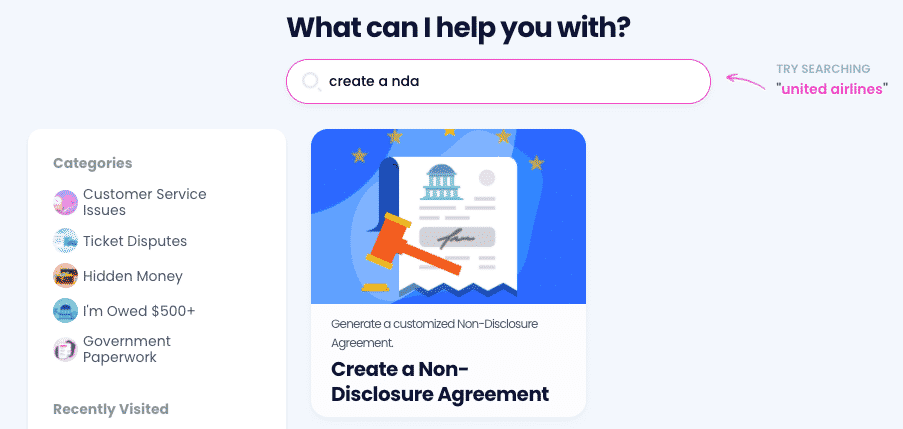 Apart from being super easy to use, our Standardized Legal Documents feature is integrated with the Notarize Any Document one, so you can finish the entire process hassle-free. Take a look at some documents we can help you draw up:
How Else Can DoNotPay Help You Find and Save Cash?
Our Missing Money feature helps you find any unclaimed assets in your name in any state. An additional perk is that you can claim your money right in the app—no need for further research!
We can also make sure you don't pay for any unfair parking citations and get the rightful compensation from airlines for any canceled or delayed flight. 
Don't let big companies scare you into not claiming your warranties or insurance. DoNotPay helps you file these claims and appeal any rejections in minutes, which brings you closer to getting your money.
We can also delay your bill payments, get your college fees waived, or sign you up for paid clinical trials to earn some extra cash!
DoNotPay Keeps the Spammers Away
Whether you're dealing with email spam, text scammers, robocalls, or severe harassment, DoNotPay can help. 
Use our virtual credit card or the Burner Phone feature to sign up for free trials safely—without revealing your real info. DoNotPay will make sure that no company can reach you when you use our tools. 
We provide a fake email address, credit card info, and phone number that are in no way connected to your real data. 
We can also help you cancel services or request a refund without you having to contact the company directly.