Don't Let the Missguided Return Policy Misguide You
Find yourself disappointed with a purchase from Missguided and wish to return it? You've come to the right place. This article will explain how the Missguided return policy works and how to .
How Does the Missguided Return Policy Work?
While Missguided used to allow returns within 14 days of purchase, this period has been extended to 28 days due to the pandemic. Missguided doesn't offer free returns and exchanges—$8.25 will be deducted from your refund as a return fee.
You can return any product as long as it's unworn and has its tags alongside original packaging intact. This includes:
Jewelry, perfume, and cosmetics with unopened cellophane packaging
Swimwear and underwear with an uncompromised hygiene seal
Keep in mind that all sales of face coverings are final regardless of the item's condition.
Missguided will issue a refund to the original payment method as soon as they process your return. The processing time usually takes up to 3–5 business days. You will be notified via email if there are any issues with your request.
How To Return a Missguided Product
Missguided doesn't offer shipping labels with their products. You need to file a return request to get one. Here's how:
Visit Missguided's portal and select Create a return
Type in your order number and the delivery postcode
Enter your order confirmation email
Choose the items you wish to return
Select the most convenient return method for you
Print the customized return label
Once you have the label ready, follow these steps to return your item:
Pack the product in its original box
Place the return label onto the parcel
Send the package via mail or take it to the nearest drop-off point
Keep your delivery receipt in case there's something wrong with the shipping process. You can get in touch with Missguided customer service to see if they have received the product. You can contact them via:
The representatives typically respond within a few minutes, but it can take up to one hour for you to get a response if you contact them via Facebook and Twitter messages.
Cut to the Chase and Send Your Return Request With DoNotPay's Help!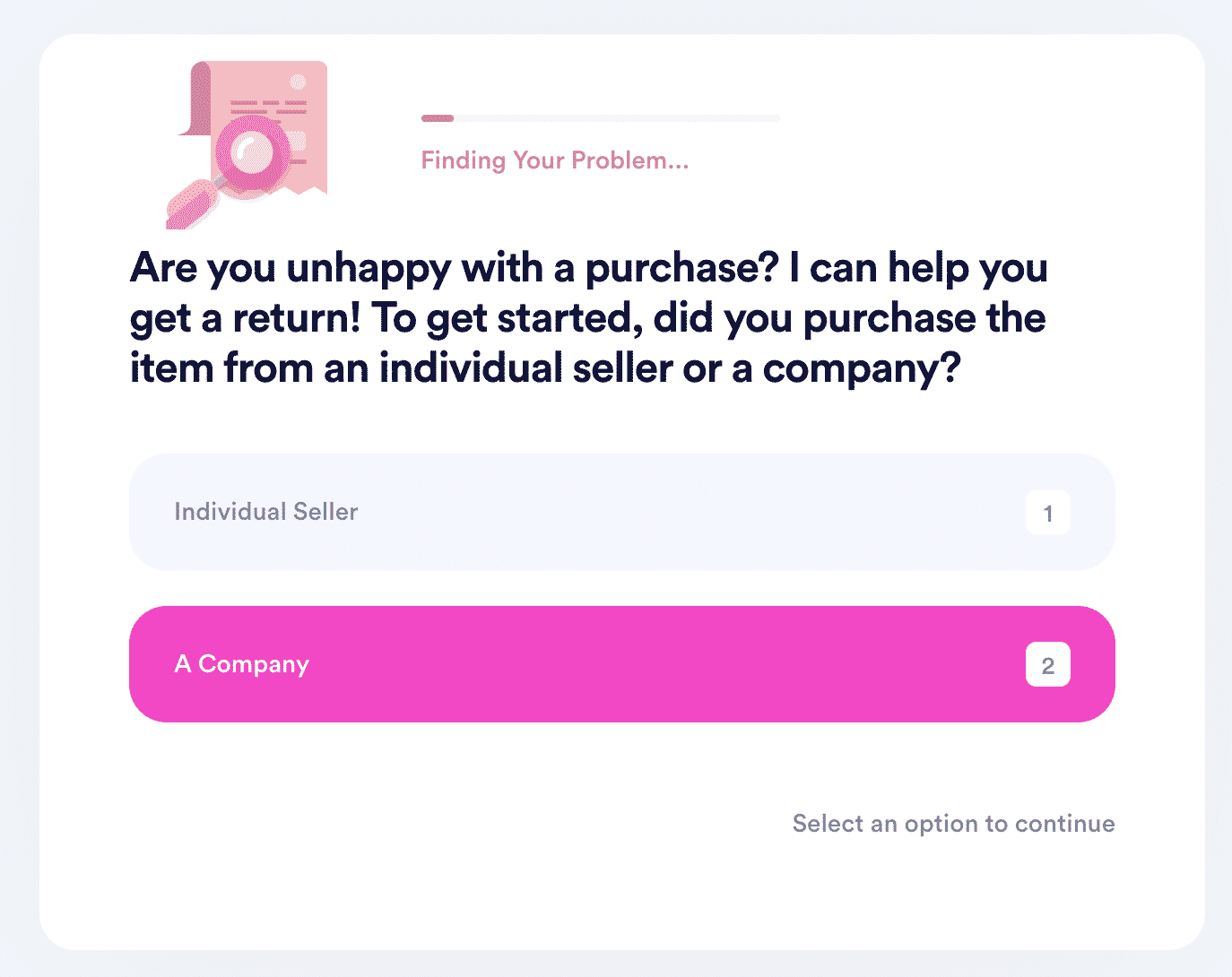 Filing a return request with Missguided isn't the most intuitive process sometimes, which is why you might need a few hours to handle the entire procedure.
If you'd like to avoid navigating their website, you should rely on DoNotPay. With our app's Return My Purchase product, you can handle your return request stress-free. Here's how:
Search for the Return My Purchase tool
Provide the details regarding your order
Sign off your letter with an electronic signature, and submit the request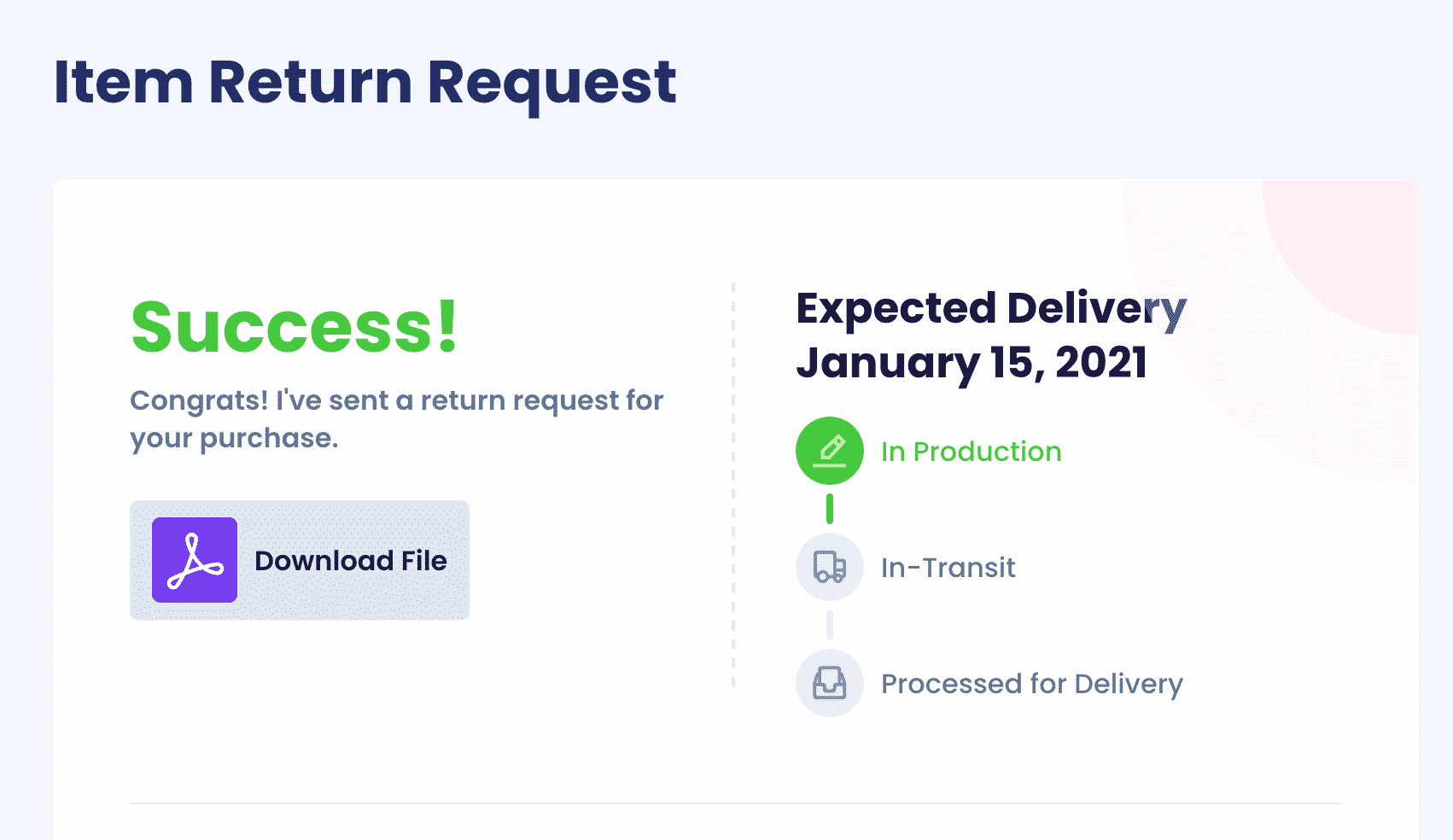 We will create a personalized return request letter in a few minutes and provide a free shipping label.
DoNotPay will also impose a deadline on the company to ensure they process your request as soon as possible.
What To Do if Missguided Doesn't Issue a Refund Even After You Returned the Product?
If you still haven't received reimbursement or a response five days after returning the item, consider emailing Missguided customer service at customercare@missguided.com. Have the details of your purchase ready, including:
Full name
Contact details
Order number
Tracking number
Original receipts
Other relevant information (like the product line or category)
DoNotPay Can Help You Demand a Refund in No Time!
There have been many complaints regarding Missguided's refund process. If you fear that they won't respond even after you've returned the item, you can send a refund request letter using DoNotPay. Here are the steps you should take:
Locate the File a Chargeback product
Click on Get Protected
Answer the chatbot's questions
Select Sign and Submit to finalize your request
Has Missguided Wronged You? Consider Suing the Company in Small Claims Court With DoNotPay!
If your refund request meets all the criteria but Missguided refuses to pay, you can bring the matter to small claims court. The problem is, hiring a lawyer to handle the procedure can be costly. If you feel like you can't afford one, don't give up just yet! DoNotPay has a product that can assist you in:
Completing all court forms
Gathering the necessary paperwork
Lodging a complaint
Drafting a script containing the most compelling argumentation to use
If you'd like to find out more, we have a comprehensive guide on suing companies in small claims court.
What Other Return Requests Can DoNotPay Help With?
We understand how frustrating it is to navigate through most companies' return procedures. That's why we offer assistance in filing return request letters with other major companies, including:
Item Returns and Other Annoying Tasks Take but a Minute With DoNotPay
Looking into resolving other tedious bureaucratic tasks with the help of our app? Check out a fraction of our product range that can assist you with:
Drawing up power of attorney documents
Don't Stop There—See How We Can Help You Even Further
You can count on our app's assistance if you need to cancel any subscription, demand a refund from a company or airline, get help with utility bills, reduce your property taxes, get a tourist visa, appeal banned accounts, contact embassies, or get cash back on gift cards.
Think you have some missing money? Claim it before the government does it in your stead! Need help preparing for a government test? Skim through our guides! Want to schedule a DMV appointment in a snap? We'll do it for you! Have any other obstacles? We'll get rid of them in the blink of an eye.