A Comprehensive Guide to Miami Dade College Financial Aid
Students looking for top-level degrees won't make a mistake if they apply for Miami Dade College, but the price, which can reach $32,638 for out-of-state students, can be a dealbreaker for some.
Luckily, the Miami Dade College financial aid program can help you overcome your financial hurdles, and we're here to explain how it works, how to apply for it, and how to if it doesn't work for you!
What You Need To Know Before You Apply for Miami Dade College Financial Aid
Make sure to submit your application in a timely manner to secure maximum financial aid. The deadlines for financial aid applications are:
Students can qualify for the following types of financial aid at Miami Dade College:
Grants
Scholarships
Work-study programs
Loans
Miami Dade College Financial Aid—Grants
Take a look at this table to get acquainted with grants that are available at Miami Dade College, as well as the amount of aid they provide and the maximum duration of the programs:
Category
Grant
Amount and Duration
Federal
Federal Pell Grant
Up to $6,495 per year for a maximum of six years
Federal Supplemental Educational Opportunity Grant (FSEOG)
Up to $4,000 per year for a maximum of six years
Teacher Education Assistance for College and Higher Education Grant (TEACH Grant)
Up to $4,000 per year for a maximum of:

four years for undergraduate studies
two years for graduate studies

State
First Generation Matching Grant

The amount depends on financial need
Program length depends on Miami Dade College

Florida Student Assistance Grant
N/A
José Martí Scholarship Challenge Grant
Up to $2,000 per year for a maximum of four years
Honorably Discharged Graduate Assistance Program
$50 for a maximum of 20 days during the academic year
Keep in mind that the maximum duration refers to how long you can receive the grant if you renew your financial aid application each academic year.
Scholarships at Miami Dade College
Some of the available scholarships the College offers include:
St. John Community Development Corporation Scholarship
Watermark Scholarship
Army ROTC Scholarships
Families of Freedom Scholarship Fund
UNCF Scholarships
Publix Tuition Reimbursement
Miami Bayside Foundation/Commissioner Willy Gort Scholarship
Benjamin A. Gilman International Scholarship
Miami Dade College Financial Aid—Work-Study Programs
Miami Dade College students that are seeking employment opportunities can opt for one of the following work-study programs:
Federal Work-Study
Community Service
Florida Work Experience (FWEP)
Institutional Work-Study
Loans at Miami Dade College
If all previous types of aid did not suffice and you still have substantial student contributions, you can borrow the following loans at Miami Dade College:
Direct Subsidized Loans
Direct Unsubsidized Loans
Direct PLUS Loans
How Much Aid Does Miami Dade College Offer?
In the academic year 2020/2021, Miami Dade College awarded:
83% of first-year MDC students with an average financial aid package value of $11,256
5,530 first-year students with federal grants, averaging $5,851 per person
1,772 first-year students with scholarships, averaging $2,458 per person
How To Apply for Miami Dade College Financial Aid
To apply for Miami Dade College financial aid, prospective students must complete their FAFSA and include a federal school code. The code you need to include depends on the campus you choose. Check the following list for all Miami Dade College campuses and their federal school codes:
Hialeah—E01296
Homestead—E00611
Kendall—004536
Medical—014632
North—010223
Padrón—E00994
West—E40469
Wolfson—014631
If you need assistance with your application, you can contact Miami Dade College Financial Aid Office by sending an email with your questions to finaid@mdc.edu.
What Can I Do if Miami Dade College Offers Insufficient Aid?
If you require more aid due to unfortunate circumstances, you can appeal the school's decision by submitting a Changes in Eligibility form using your Miami Dade College student account. The school will be more likely to reconsider your financial aid application and offer more aid if you include a convincing financial aid appeal letter, and we can help you write one in a matter of moments!
Use DoNotPay To Get the Most Out of Miami Dade College Financial Aid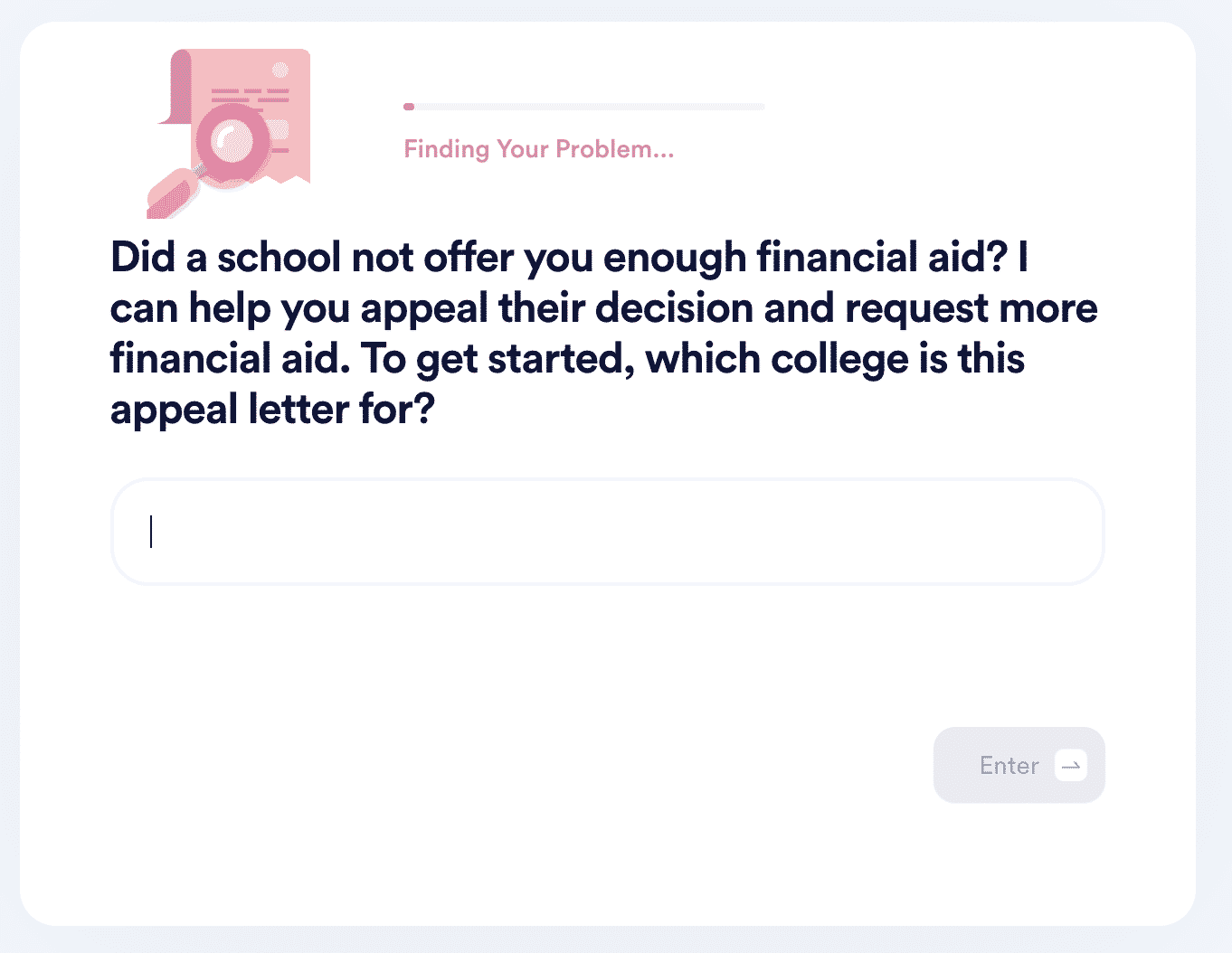 If you can't enroll at Miami Dade College without more aid, request it in three simple steps:
Search for Appeal for More Financial Aid
Answer a few questions about your financial aid application and include offers you got from other schools
After you complete all steps, you will receive a custom-made appeal letter to send to Miami Dade College! If you want, we can also send the letter on your behalf.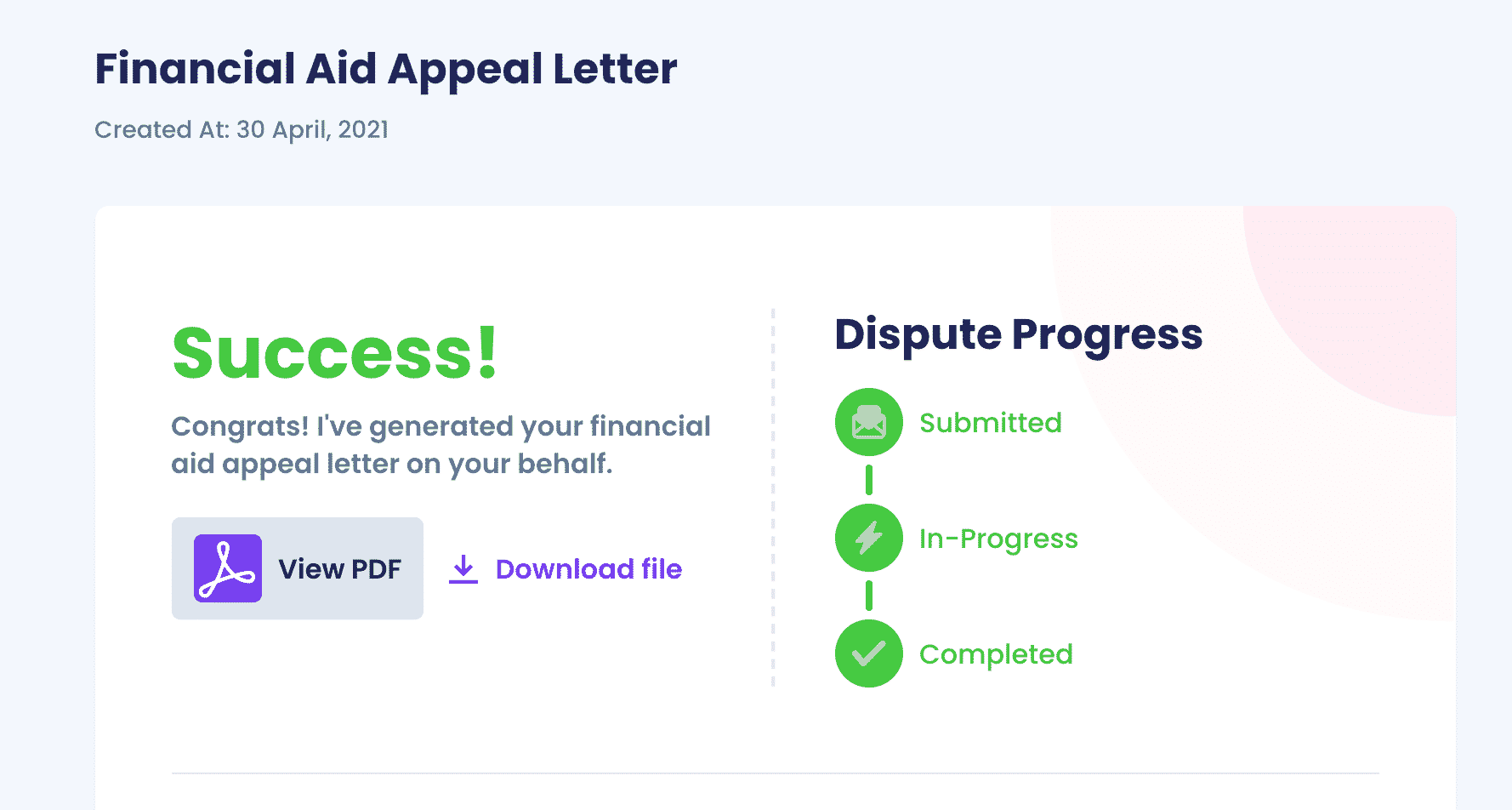 Alternatives to Miami Dade College
Did Miami Dade College not meet your expectations regarding financial aid? Whether you're applying to undergraduate or graduate schools, we can help you explore other options and their financial aid programs, such as:
DoNotPay Helps You Deal With Any Administrative Issue Effortlessly
Tedious administrative tasks are always headache-inducing, but they don't have to be if you use DoNotPay. With our AI-powered app, you will be able to:
Solve Any Issues Like a Pro With DoNotPay
DoNotPay is an AI assistant that is able to solve almost all issues you're facing. Whether that be your noisy neighbors, the annoying text and email spam you're receiving, or the frustrating robocalls that won't leave you alone. We'll even cancel your unneeded subscriptions and get you a few extra bucks you've been cheated out of.
The world's first robot lawyer app can help you get: