Explaining Los Angeles Mobile Notary Services
Whether you need a notary's signature on your will, contract, affidavit, or translation, finding a reliable service is a crucial step toward successful notarization. The bad news is that you may face trouble while trying to keep up with long and burdensome notary procedures.
In this guide, we will dissect the procedure of finding a Los Angeles mobile notary. We also explain another, more convenient way of notarizing any document without leaving your home!
Who Can Notarize Your Documents in Los Angeles?
If you are looking for a notary in Los Angeles, you can choose among four notary categories listed in the following table:
Category
Details
Regular Notaries

They usually work in independent offices or financial institutions, but you can also find them at many other locations, such as:

Banks

—

Wells Fargo

or

Bank of America

, for example

Accountant offices

Insurance companies

Credit unions

County clerk offices

Libraries, colleges, and universities

AAA

offices

Notary Signing Agents

These officials provide notary services, but they also guide you through the document signing procedure. They usually validate mortgage loan documents

Mobile Notaries

Mobile notaries work out of the office. You can meet them at your preferred location—home, workplace, etc.

Online Notaries

Online notaries work remotely. They validate your signature during a video appointment
Why Do You Need a Mobile
Notary in Los Angeles
?
Visiting a notary office in Los Angeles isn't always an option. You may be unable to do it for various reasons:
You are a person with disabilities

You have other health issues preventing you from leaving your house

The nearest notary office is far away, and you don't have a car or any other way of transportation

You can't manage to schedule a regular notary appointment during their working hours
Mobile notaries can be a perfect solution, as you can use their services regardless of your location. The working hours of mobile notaries are also more flexible.
How To Find a Mobile
Notary Public in Los Angeles
Here are several methods to find a convenient mobile notary in Los Angeles:
Check local yellow pages

Revise the lists of the best mobile notaries in the city on Yelp

Use online search tools. Type

Los Angeles

in the search box or enter your zip code

Ask your friends or family members whether they had experience with any mobile notary in the city. Once you get a couple of suggestions, check out the reviews on the internet and decide which one works best
Virtualize Your Notarization With DoNotPay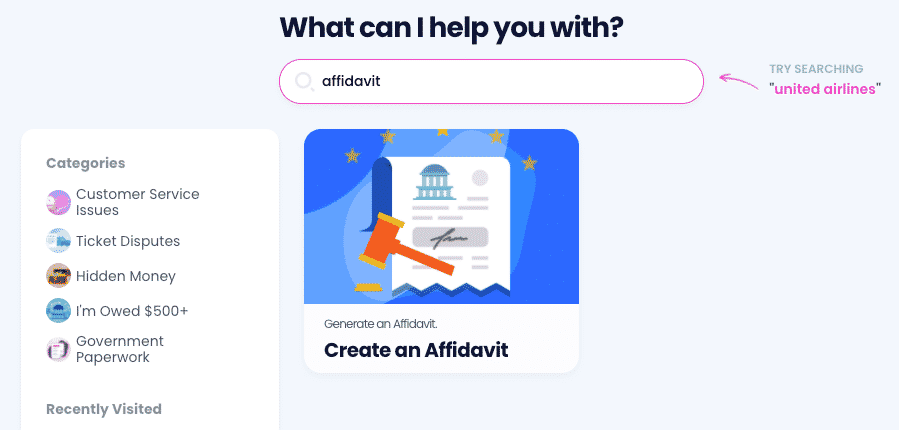 The problem with the regular notary service is that it's too complicated. You may need a lot of time to find a convenient notary, schedule a meeting, and complete all other required steps. Not to mention the stress you may face if something goes wrong, and you must redo the whole procedure.
Aiming to make your life easier, we offer to turn your notarization procedure into a no-brainer! After signing up for , you will:
Find a notary in record time

Finish the scheduling procedure in less than five minutes

Avoid in-person meetings because you can organize everything from the comfort of your home and save money on fuel

Notarize your documents from any location using your computer or smartphone

Be able to use loads of other handy features we offer
Here is what you have to do:
Access DoNotPay from any preferred

Go to

Notarize Any Document

Provide us with the digital copy of the document you want to validate

Leave your email address and submit your request
We will send you a link to a timetable where you can pick an appointment date and time. Our system will connect you with an online notary who will validate your signature during a video meeting.
Since every state has specific notary laws, find out about notarization rules in:
DoNotPay Lets You Create and Notarize Documents in a Snap
A quick and easy notarization process isn't the only perk we offer.
Our Notarize Any Document feature is linked with another useful tool generating legal documents in your stead! It means that you won't need to compose your contracts yourself or pay exorbitant amounts to lawyers. We offer a double benefit. Once you create a document using our customizable template, you can notarize it quickly.
To get your personalized document, follow these instructions:
from any preferred web browser

Pick the template you want to edit

Provide more details by completing a short questionnaire
We currently offer:
LLC Operating Rules Document

Independent Contractor Agreement

Intent To Purchase Real Estate

Residential Lease Agreement

Child Care Authorization Form

General Business Contract

Non-Disclosure Agreement

Quitclaim Deed

Child Custody Agreement

General Affidavit

Non-Compete Agreement

Promissory Note

Estoppel Certificate

Bill of Sale

Prenuptial Agreement
Our learning center offers amazing articles about composing the most common contracts. Check out our guides and get informed about any legal document you may need!
Need Help Fighting Bureaucracy? Use DoNotPay!
As the world's first robot lawyer, DoNotPay can help you resolve a plethora of tedious administrative issues. Our app will assist you in getting justice in small claims court, getting refunds from merchants, reporting annoying spam emails and text messages, reporting copyright infringement, bypassing phone number verification, and so much more!
You can also rely on DoNotPay's help when it comes to subscriptions. If you want to sign up for a free trial, cancel a service you no longer use, and skip the phone queue when doing so, our app will provide its assistance.
Our App Saves You Time and Money
Are you unable to pay your bills? Use the world's first robot lawyer app to cover them! Do you want to appeal your traffic or parking tickets? DoNotPay will help you appeal them in the blink of an eye.
Our app can do so much more than that, though—with DoNotPay by your side, you can sign up for clinical trials, ace government tests, claim any type of warranty, schedule an appointment with the DMV, and handle any other bureaucratic task.