An Extensive Guide to Liberty University Financial Aid
Liberty University (LU) is one of the largest private non-profit universities in the U.S. This evangelistic Christian school has almost 80,000 students who need to pay a tuition of $22,747.
In case you don't have the funds to support your education at this university, you can apply for Liberty University's financial aid.
to learn what types of aid are available and to send an appeal letter if your application is refused or the offer is unsatisfactory.
How To Get Financial Aid at Liberty University
When applying for financial aid, you need to follow the required procedure and respect the deadlines. Take a look at the table below to see the necessary steps:
Steps To Take
Brief Explanation
Submit the Free Application for Federal Student Aid (FAFSA) form
Both graduate and undergraduate students need to complete a FAFSA form to get financial aid.

This form will help the school determine if and how much aid you can get

You will need to use your FSA ID username and Liberty's school code—010392

Apply for financial aid
You can choose between different types of financial aid at Liberty University
Complete Financial Check-In
You need to log in to ASIST and complete your Financial Check-In (FCI). When you submit all the necessary documents, the school will process your financial aid
What Types of Financial Aid Can You Apply for at Liberty University?
You can apply for various types of financial aid depending on what you are interested in and whether you meet the eligibility criteria. The available aid at Liberty University comes in the forms of:
Grants
Scholarships
Loans
Work-study
What Grants Can You Apply for at Liberty University?
Grants are a form of financial aid that you do not need to repay. They are based on financial need but sometimes take into consideration residence status, academic performance, or academic degree program. You may apply for the following grants at the LU:
Federal Pell Grant
Children of Fallen Heroes
Federal TEACH Grant
Iraq & Afghanistan Service Grant
Federal Supplemental Educational Opportunity Grant (FSEOG)
Virginia Two Year College Transfer Grant
Liberty Supplemental Grant
Virginia: Brown v. Board of Education
Liberty Scholars Grant Program (undergraduate)
Liberty University Tuition Assistance Grant (LUTAG)
Virginia Tuition Assistance Grant (VTAG)
What Are the Scholarship Options at Liberty University?
Scholarships are another financial aid variation that does not require repayment. You can apply for the following scholarships at Liberty University:
Middle America Scholarship
Resident Undergraduate Scholarships
Resident Graduate Scholarships
Liberty University Online (LUO) Scholarships
What Are the Student Loan Options You Have at the LU?
Student loans are a form of financial aid that needs to be repaid with interest, but they are also the easiest to acquire. You can apply for:
Federal educational loans

Direct (subsidized and unsubsidized)
Direct PLUS and Grad PLUS

Private loans
All federal loans are processed through the William D. Ford Federal Direct Lending Program.
What Work-Study Programs Can You Find at the LU?
Federal Work-Study (FWS) is a federally funded program that lets students work and pay for their education. You can get up to $4,000 per academic year based on need. It is possible to find off-campus jobs and part-time ones. Work-study is available for:
Undergraduates
Graduates
Online students
Liberty University Financial Aid Office
If you are looking for more information related to financial aid, FAFSA, grants, loans, and scholarships, you can get in touch with the Financial Aid Office. There are a few ways to contact financial aid advisors at Liberty University:
Resident students can also set up a virtual advising session. The FAFSA school code for the LU is 010392.
If your financial aid application flops and gets rejected, or you receive an offer you're not happy with, file an appeal with DoNotPay!
Got a Less Than Satisfying Financial Aid Offer From the LU? File an Appeal With DoNotPay!
You can use DoNotPay to save time and energy you'd otherwise spend on writing a financial aid appeal letter. Our app will cover all the important bits one such document should contain and send it to Liberty University. You only need to complete these steps:
Type in Appeal for More Financial Aid in the search bar
Add the amount of financial aid other universities offered you if you applied to more than one school
Provide the relevant info about your family's income
DoNotPay also has information about how long students can receive financial aid.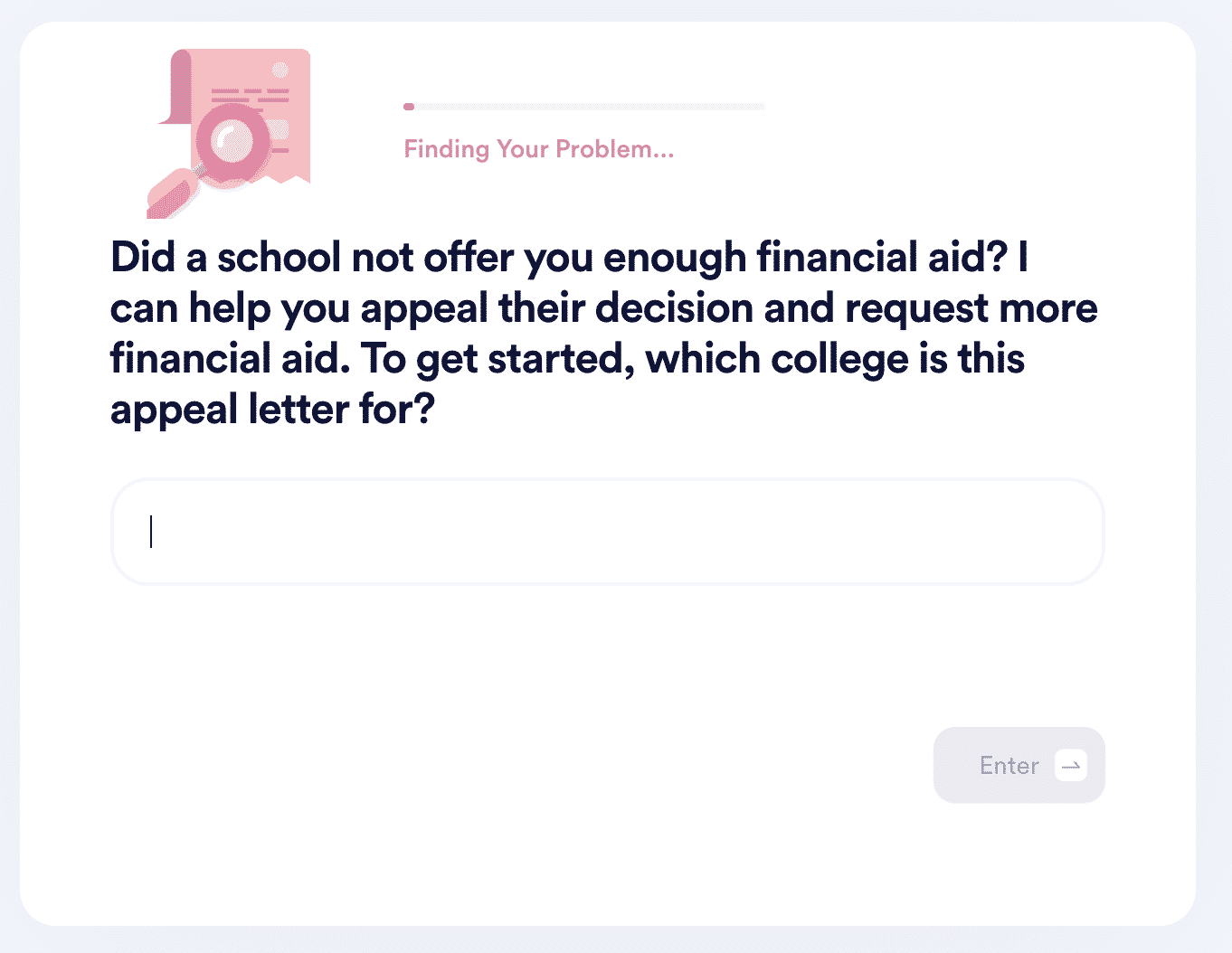 Financial Aid Offers of Other Universities in the U.S.
Are you curious if other schools might offer more financial aid? Don't waste time but explore other options! See some of the financial aid info about some of the most popular schools in the table below:
Work Smarter, Not Harder!
Although there are certain tasks that are a pain but can't be avoided, such as paying your property taxes, you don't have to do them the hard way. There is always a way to make the overbearing bureaucratic procedures a bit easier. DoNotPay can find a loophole and help you cut through the red tape!
Reducing your property taxes is only one in the sea of tasks our app will make super easy to do! You can also use DoNotPay to:
Draft legal documents

(such as

POAs

)
Explore DoNotPay's Other Neat Features
DoNotPay offers a plethora of useful products to make your day-to-day life easier and enjoyable! Consult the list below to see what you can do using our app: