Lehman College Financial Aid—All You Need To Know
If you've decided to become one of the 15,000 Lehman College students, you'll want to know what your options for getting financial assistance are. Around 89% of new students receive some sort of financial aid, so your chances are good.
If you want to ensure that you partake in that statistic, we got you covered with our easy-to-follow Lehman College financial aid guide.
Lehman College Financial Aid—The Essentials
Lehman College tuition is somewhat less than the national average, standing at $7,210 for in-state and $18,480 for out-of-state students. Financial aid can lower those costs even further.
The amount you can get is around $9,618.
There are three types of aid you can get:
Need-based—considers your ability to finance your studies
Self-help—comes in the form of work-study and federal loans that can also lessen your expenses substantially
Non-need-based or merit-based—is delegated to students with notable academic or athletic achievements, parent's military affiliation, extensive community work experience, and similar. You can get $2,323 on average as a first-year student for this type of scholarship
By combining scholarships, grants, part-time employment, and/or loans, you won't need to worry about affording college.
Available Types of Financial Aid at Lehman College
Current or future students at Lehman College can apply for:
Grants
Scholarships
Loans
Work-study programs
Consult the table for more info:
Type of Financial Aid
Explanation
Grants

It is a type of financial assistance that you don't need to pay back
It is granted based on financial need primarily
The available grants are:

Federal Pell Grants
Federal Supplemental Educational Opportunity Grants (FSEOG)
New York State Tuition Assistance Program (TAP)
Aid for Part-Time Study Program (APTS)

Scholarship

It is a type of funding you don't need to repay
It is granted based on academic achievement primarily
You can find the list of available scholarships here

Loans

It is a need-based financial aid type that needs to be repaid with interest
The available loans are:

Federal Direct Loans
Federal Perkins Loans

The amount of the loan is determined according to your financial situation

Work-study programs
They help students find part-time jobs that can align with their attendance requirements
What Makes a Student Eligible for Financial Aid at Lehman College?
You can qualify for financial aid if you meet these criteria:
Be a U.S. citizen or eligible noncitizen
Have a valid Social Security number
Prove financial need
Remain in good standing with any loan
Be accepted for an eligible program
Maintain an adequate academic progress
How To Apply for Lehman College Financial Aid
Whether you are applying for state or school financial aid or a grant or a scholarship, your first order of business is to complete the FAFSA form. You can submit it electronically or manually starting from October 1. The earlier you submit it, the better.
New York State residents should complete the New York State Tuition Assistance Program (TAP/APTS) application as well. If you fill out your FAFSA online, you will be taken to the CUNY TAP/APTS application once you submit it. If you send a FAFSA form in writing, you will get the TAP application via mail.
Once you complete these two forms, you should:
Revise the Student Aid Report (SAR)
Prepare the Expected Family Contribution (EFC)
Collect the rest of the documentation you must submit to the Financial Aid Office
To check which documents you need to enclose, go to your CUNYFirst account and review the To-Do List or contact the Lehman College Financial Aid Office.
What Are the Lehman College Financial Aid Office Hours?
Due to safety reasons, Lehman College doesn't provide any in-person consultations. If you have any questions about the financial aid options, you can contact the school via:
Email at financial.aid@lehman.cuny.edu
Phone at (718) 960-8545
Live chat on the website
The staff will answer your questions during office hours:
Monday–Thursday (9 a.m.–5 p.m.)
Friday (9 a.m.–3 p.m.)
Did You Receive a Disappointing Answer From Lehman College?
After your application is processed, you will receive a response with the proposed financial aid amount, or you will get a rejection letter. You can appeal this verdict whether Lehman College denied you or didn't offer enough funds.
If you disagree with the proposal, you should submit an appeal letter. You must explain why the school should give you more financial aid. If you think that this is a dreary task, you are right—but it doesn't need to be if you !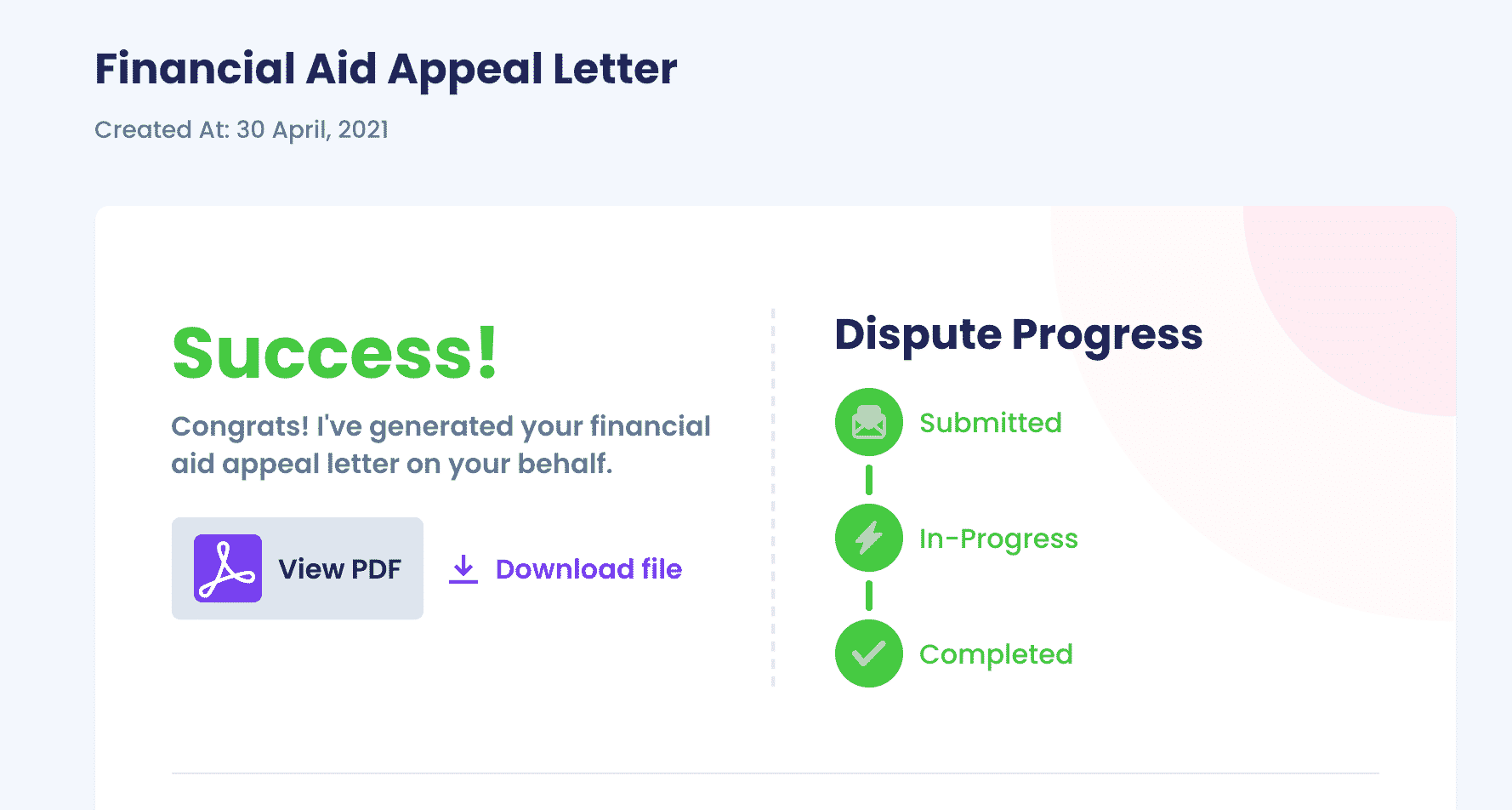 Let DoNotPay Take Care of Appeal Letters in a Jiffy!
Our AI-powered app can be your financial aid appeal assistant. You just need to take three steps to get a tailor-made letter:
from a web browser
Navigate to the Appeal for More Financial Aid tool
Answer the chatbot's questions about the appeal
That's it! We'll create the appeal letter and send it to Lehman or any other college or university. Whether you want more funds or your aid was suspended after years of receiving it, DoNotPay can step in. We can help you with graduate school financial aid as well!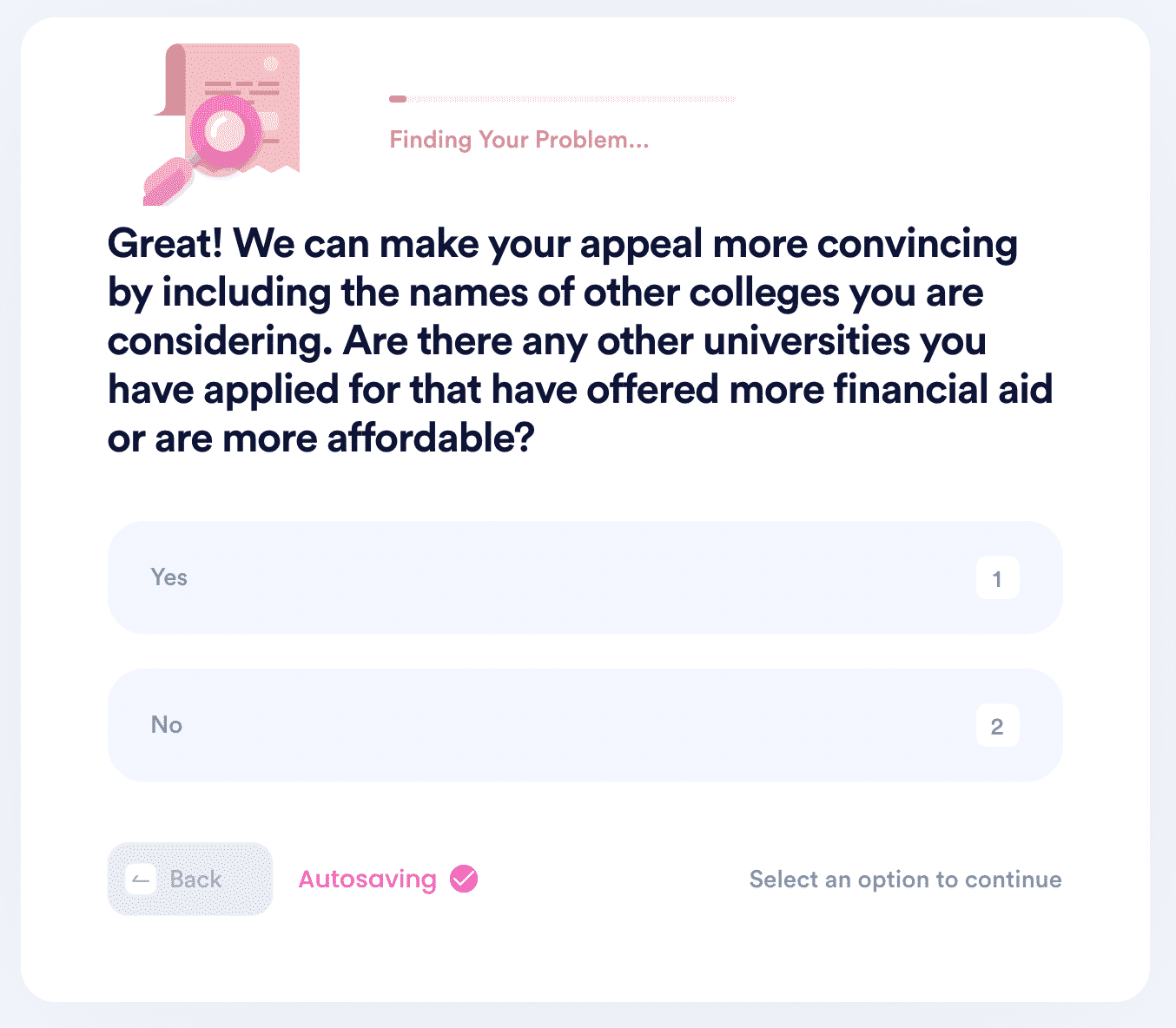 If you want to keep your options open, take a look at our other financial aid guides in the table below:
Is Bureaucracy Giving You a Headache? DoNotPay Can Help!
Bureaucracy is a big part of our lives that we can't escape. We understand the struggle over at DoNotPay—that's why we've created various features that can help you out! The world's first robot-lawyer app can assist you with:
DoNotPay's Arsenal of Features Doesn't Stop Growing
DoNotPay's number of handy features keeps growing by the day. Our platform can help you with various issues ranging from filing insurance claims to finding clinical trials. Want to save money on unused subscriptions? DoNotPay has got your back! We can help you cancel them and fight any subscription spam email that you get. Your AI assistant can also get you free raffle tickets or find any missing money in no time!
With DoNotPay, you'll have access to countless features that grow in numbers by the day! You'll be able to block robocalls, deal with tedious neighbors, and much more!