The Easiest Way To Contact the Ithaca College Financial Aid Office
Are you applying to Ithaca College and have questions about the financial aid program? This guide will not only show you the quickest way to contact the Ithaca College Financial Aid Office, but it will also answer some of the most frequently asked questions about applying for financial aid!
How To Contact the Ithaca College Financial Aid Office
If the financial aid application process is causing you trouble or you want to know more about eligibility criteria or the potential award amounts, you can contact the Ithaca College Financial Aid Office in three ways:
Via email
By phone
In person
Reach Out to the Ithaca College Financial Aid Office via Email
To contact the Office, write an email containing all of your questions to sfs@ithaca.edu.
Contact the Ithaca College Financial Aid Office by Phone
Reach the Ithaca College Financial Aid Office by calling (607) 274-3131.
Ask Any Questions in Person at the Ithaca College Financial Aid Office
The address of the Ithaca College Financial Aid Office is:
The Peggy Ryan Williams Center, 2nd floor
953 Danby Road, Ithaca, NY 14850
Note that the Office switched to remote work during this spring term. Refer to the other contact methods until the College allows staff members to go back to the office.
What Types of Financial Aid Does Ithaca College Offer?
The Ithaca College offers the following types of financial aid:
Scholarships
Grants
Work-study programs
Loans
Scholarships at Ithaca College
You can apply for the following scholarships at Ithaca College:
Ithaca scholarships:

Ithaca College Scholarship
Ithaca S-STEM Scholar Program
Ithaca Leadership Scholar Program Award
Ithaca Premier Talent Scholarship

Other scholarships:

Martin Luther King Scholar Program
Park Scholar Program Award
Phi Theta Kappa Transfer Scholarships
Ithaca College Financial Aid—Grants
Take a look at this table to learn more about Ithaca College grants:
Grant Category
Grant Names
Federal Grants

Federal Pell Grant
Federal Supplemental Educational Opportunity Grant (FSEOG)
Iraq and Afghanistan Service Grant

NY Resident Grants

Ithaca College New York State Tuition Award
New York State Tuition Assistance Program (TAP)

Ithaca Grants

Ithaca Sibling Grant
Ithaca Heritage Grant
Ithaca College Grant
Ithaca Opportunity Grant (IOG)
Ithaca-New York State HEOP Grant
W. G. Egbert Grant
Ithaca College Work-Study
Ithaca College Students can seek employment through:
The Federal Work-Study Program—for financial aid applicants
The Student Employment Office (SEO)—for students who didn't receive or apply for Federal Work-Study
Loans at Ithaca College
If other financial aid types aren't enough to cover the tuition and attendance costs, you can opt for one of the following loaning options at Ithaca College:
Federal Direct Loans
Graduate Direct PLUS Loans
Parent Direct PLUS Loans
If you decide to take out a private loan, submit your loan approval and request for certification from the lender to the Ithaca College Financial Aid Office as soon as possible so the staff members can process and include it on your billing statement.
How To Apply for Ithaca College Financial Aid
To apply for financial aid, Ithaca College requires prospective students to complete the following forms:
The deadline for early decision applicants for new students is November 1st. Regular admission and early action applicants should submit their applications by January 15th. FAFSA applications start on October 1st each year for the next academic year.
What Can I Do if Ithaca College Offers Insufficient Financial Aid?
If the offer you received from Ithaca College doesn't cover enough of your tuition and attendance expenses, you can appeal the school's decision. The easiest way to do this is to write an appeal letter, and we can help you with that! to get more financial aid from Ithaca College in no time!
Get More Financial Aid From Ithaca College With DoNotPay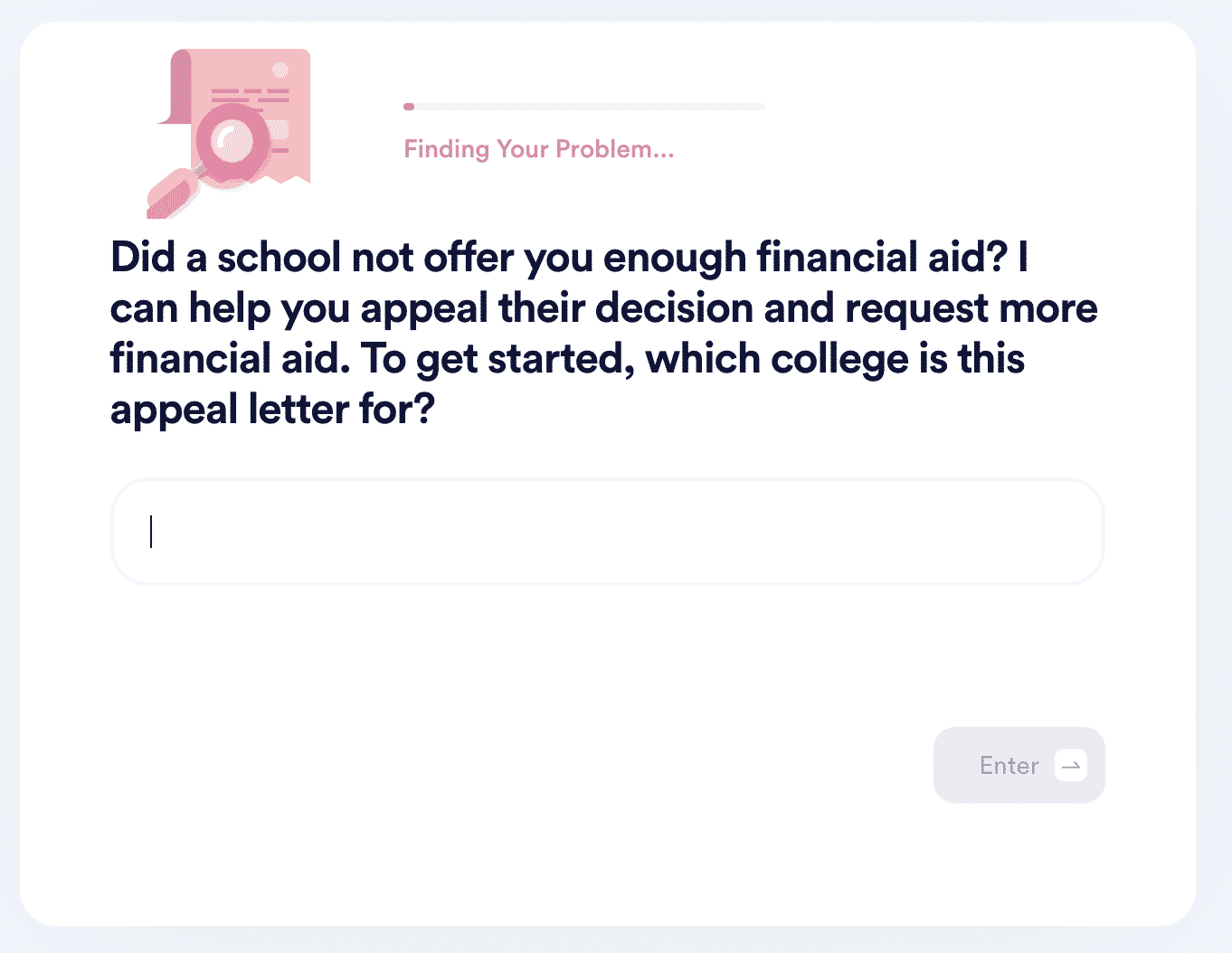 DoNotPay can generate a custom financial aid appeal letter you can use to get more aid from Ithaca College, and the process takes only three steps:
in any web browser
Search for Appeal for More Financial Aid
Answer a few brief questions about your financial aid application, the response you got from Ithaca College, and offers you received from other schools, if any
After you complete all steps, all you need to do is select whether you want us to send the letter to Ithaca College on your behalf.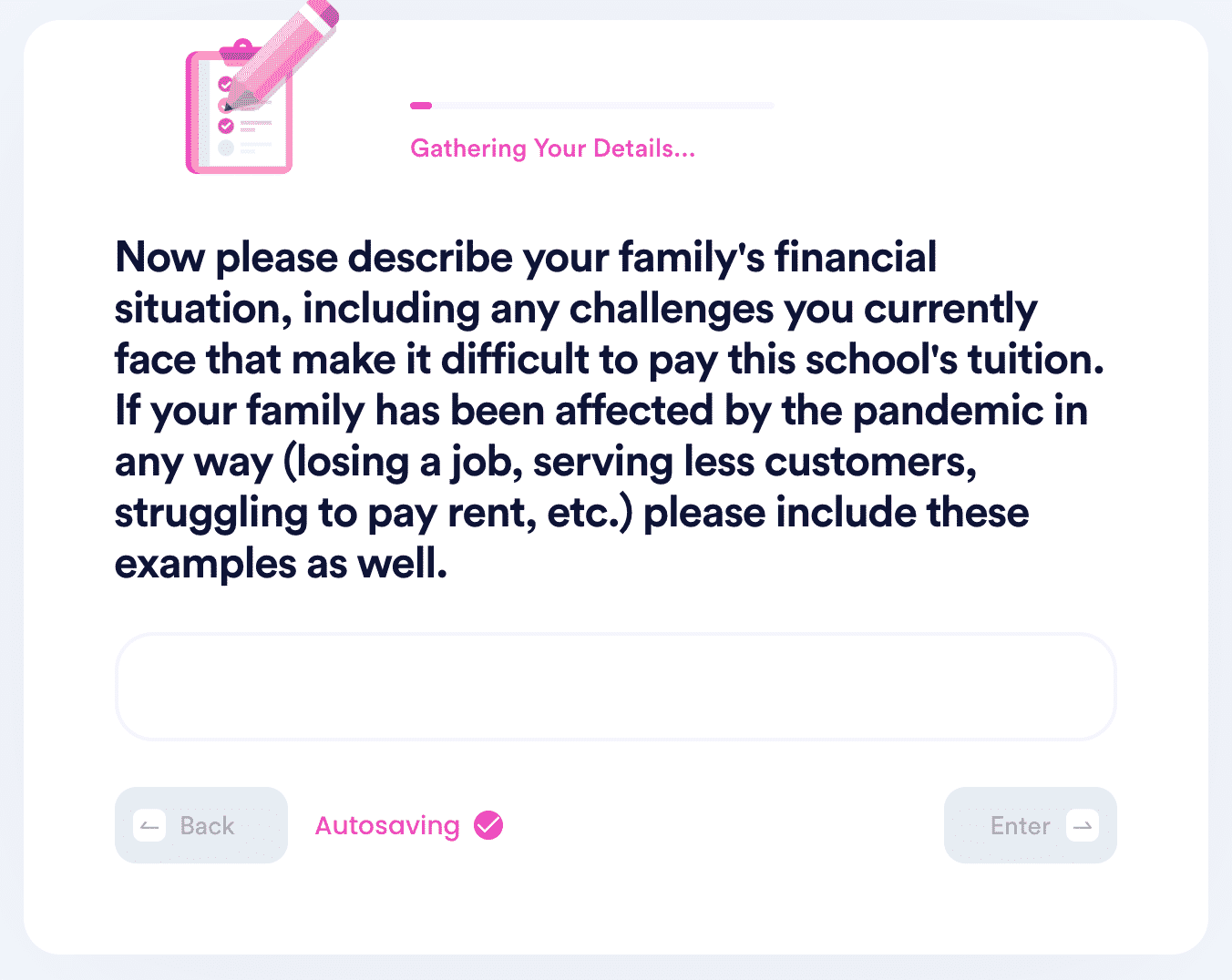 If you need more guidance, we answered some of the most common financial aid questions in our learning center, including:
Alternatives to Ithaca College
In case the worst happens and Ithaca College rejects your financial aid application, it's always good to have a backup plan. Check out some of the most popular U.S. schools and their financial aid programs we wrote about:
Solve All of Your Bureaucratic Issues With DoNotPay
Do you need to file an insurance or warranty claim? Need help with setting up DMV appointments or appealing parking tickets around the U.S.? Don't worry because your AI-based helper can step in!
We can help you get professional powers of attorney and divorce agreements, so you don't have to waste money on expensive lawyers! Once we draw up these documents for you, we'll set you up with an online notary, and you can get them notarized in no time!
Subscribe to Various Services Hassle-Free With DoNotPay
Did you ever get charged by a subscription service after using their free trial? DoNotPay can put a stop to that once and for all! We can get you a virtual credit card or a burner phone number, which you can then use to subscribe to any service stress-free! When you want to cancel a subscription, turn to your virtual assistant for help, and we'll do it for you in seconds!
If the company is giving you a headache, we'll hook you up with their customer support or even sue them in small claims court. Possibilities with DoNotPay are endless!
DoNotPay can also turn mailing into a piece of cake and save your inbox from email and text spam!