Get the Lowdown on the Hunter College Financial Aid
Though average tuition at Hunter College is affordable, there are many reasons to apply for financial aid to cover your education expenses. If you are considering this option, you should speak to the Hunter College financial aid office and discuss your options with a Financial Aid Service Representative.
In case the financial aid offer you get doesn't meet your expectations, write an appeal letter! and file an appeal in a couple of minutes.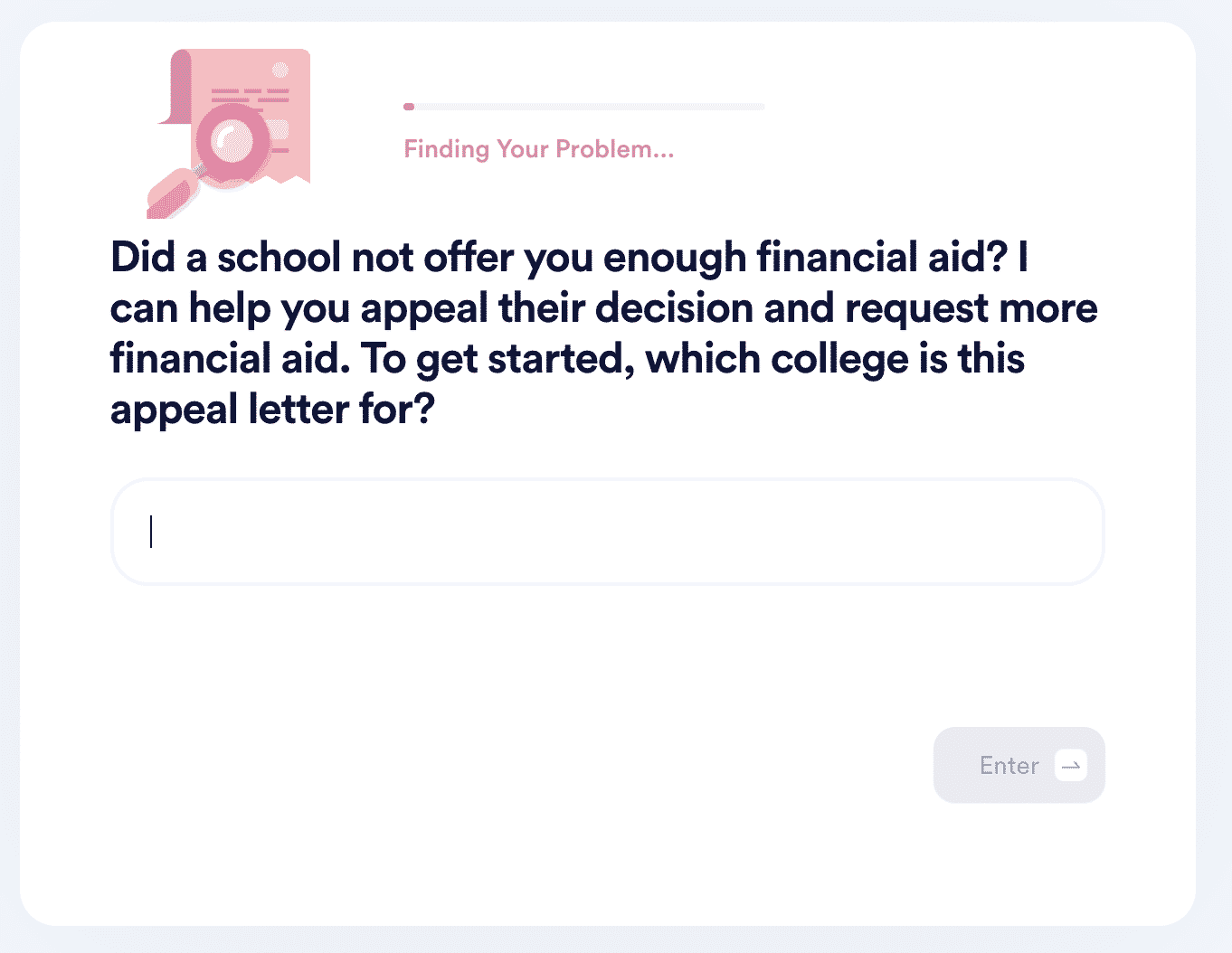 The Types of Financial Aid at Hunter College
Hunter College offers several types of financial aid, which can be categorized as:
Loans
Scholarships
Work-study
State grants and federal grants
SEEK Opportunity Program
Veterans Education Benefits
These types of aid are available for graduate and undergraduate students, student veterans, disadvantaged students, and students taking summer courses.
What Loan Options Are Available for Hunter College Students?
If you decide to apply for a student loan at Hunter College, you can choose from:
Federal Perkins Loans
Federal Direct Subsidized Loans
Federal Direct Subsidized Loans
Grad PLUS Loan
Parent PLUS Loan
Private Loans
To be a valid candidate for Federal Direct Loans at Hunter College, you have to:
Fill out the FAFSA form
Create a CUNYfirst account and submit a Direct Loan application
Direct loans are available for both graduate and undergraduate students.
Hunter College Scholarships
In case your college plan doesn't include repaying the loan you received for the next three to seven years, you should choose a scholarship. At Hunter College, you have the following options:
New York City Scholarships
New York State Scholarships
New York State Awards
Hunter College Scholarships
CUNY Scholarships
Outside Scholarships
Hunter College Work-Study Options
Undergraduate and graduate students at Hunter College are also able to apply for a federal work-study program. If this is something you find interesting, you should:
Complete your FAFSA form
Create an account on the Next Gen Student Portal
Search all active jobs
Ask your supervisor to fill out a Letter of Intent to Hire
Give a Letter of Intent to Hire to Hunter College Office of Financial Aid (if you get the job)
Complete and submit Hiring Packet to Financial Aid before you start working
Federal and State Grants at Hunter College
Hunter College offers various types of federal and NYS grants, and the great thing about them is that you will not have to repay them. You only need to choose the one you will apply for:
Grant Type
Grant Name
Who Is Eligible?
Federal Grants
CARES Act Student Emergency Grant
College students
Federal Pell Grant
Undergraduate students
Federal Supplemental Opportunity Grant (FSEOG)
Students with exceptional financial need
Summer Pell—Year-Round Pell Grant
Students attending college in the summer
TEACH Grant
Students who are planning a career in teaching
New York State Grants
Tuition Assistance Program (TAP)
Full-time students who are citizens of NYS
Aid for Part-Time Study (APTS)
Students who were not awarded with Tuition Assistance Program
Part-Time Tuition Assistance Program
Students admitted to a degree program
SEEK Opportunity Program
SEEK opportunity program is a type of aid created to help students who are financially and academically disadvantaged. To apply for this program, you should:
Complete the FAFSA form
Apply for TAP (Tuition Assistance Program)
Register as a full-time student
To be eligible for SEEK as a transfer student, you must have been accepted into SEEK, HEOP, EOP, or CD opportunity program.
Hunter College Veteran Benefits
In case you are a veteran, to receive financial aid from Hunter College, you will have to fill out your FAFSA form. If you are also a citizen of New York State, you should submit a TAP application.
How To Apply for Financial Aid at Hunter College
If you are confused by all of these choices and are wondering how to apply for financial aid, the first step is to complete a Free Application for Federal Student Aid (FAFSA). No matter the type of aid you are applying for, this is something you need to do every year.
You will have a better chance to be awarded aid if you complete the FAFSA as soon as it is available.
Be careful while filling out your application because each type of financial aid has time limits and specific requirements.
Hunter College Denied You Financial Aid? File an Appeal Using DoNotPay!
Hunter College rejected your financial aid application, or the aid it's offering is not enough? You started writing an appeal letter, but it is taking too much time? DoNotPay has a solution!
Instead of exhausting yourself with all of the details you have to include in the appeal letter, you should and find our Appeal for More Financial Aid product. All you will have to do is answer a few questions, and our app will generate the appeal letter for you in a matter of minutes.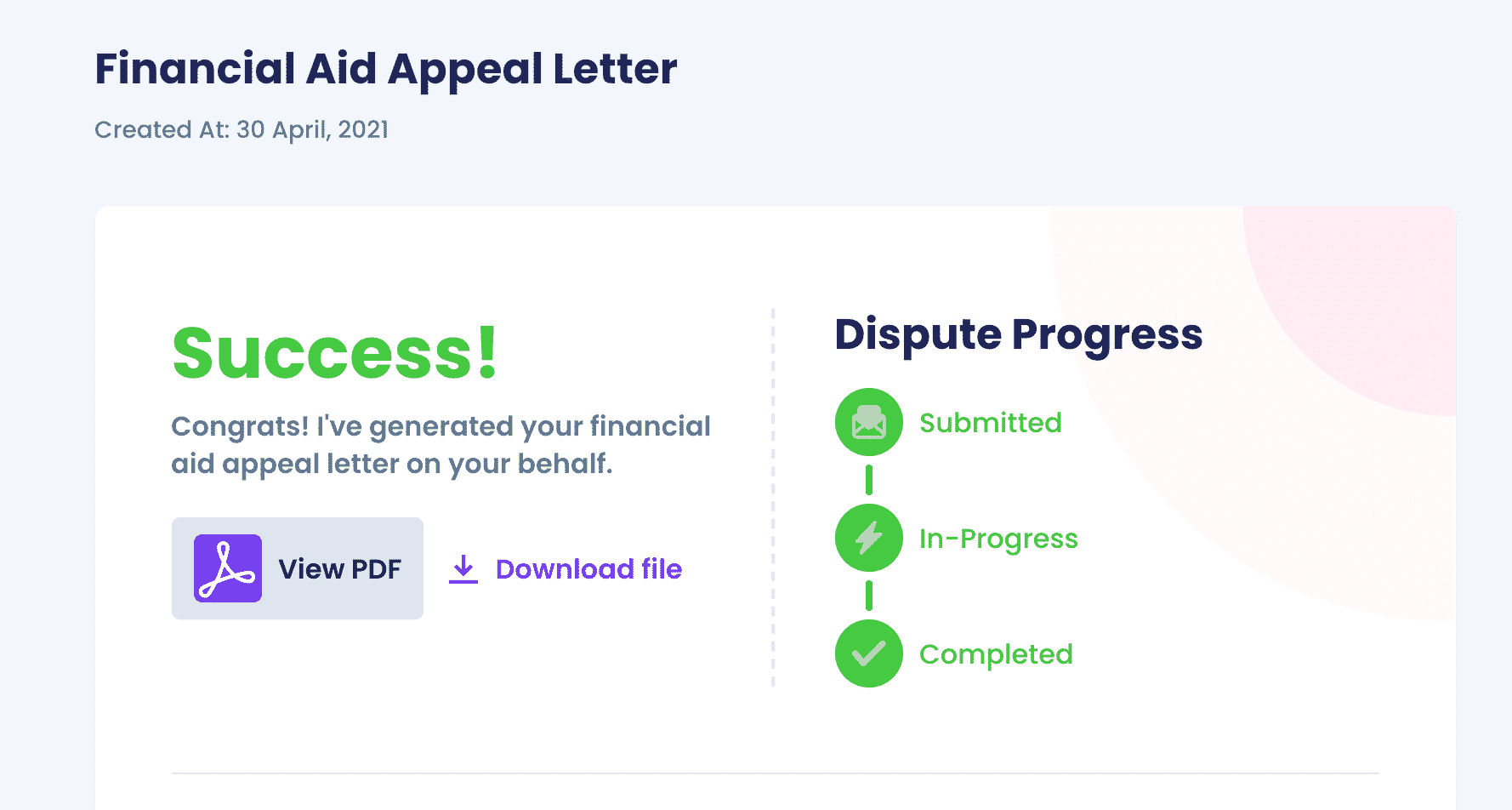 If you are wondering when to apply for financial aid, how long it will last, how much you can get, and if it is possible to get more, DoNotPay can explain it to you.
In case you are not in college yet, we can help you figure out how to receive financial aid from these universities and many more:
Only the Sky Is the Limit for DoNotPay
DoNotPay has an insane number of features that keeps growing. Our platform can help you:
Say Goodbye to Spam Mail With DoNotPay
DoNotPay has designed a feature that will put a stop to the flood of junk and spam mail into your inbox! We can help you join a class action against a spammer or take any person or company that's wronged you to small claims court!
Need a virtual credit card number or a fake phone number to protect yourself from scammers? We've got you covered! We can help you fight text spam or even assist you in sending mail without any chance of error.
Our users' safety is our number one concern, so we've developed a feature that will protect you from cyber stalking or harassment!