All There Is To Know About Butte College Financial Aid
Do you plan to attend Butte College, one of the most versatile universities in California? If the lack of tuition money is preventing you from enrolling, you should consider applying for financial aid.
Would you like to know whether you are eligible to apply and what the process entails? DoNotPay is here to give you the deets and get you a step closer to getting into your desired school. Apart from informing you about Butte college financial aid programs, we will also help you make sure the school grants you an appropriate award package!
What Is Financial Aid, and Which Types Are Available at Butte College?
Financial aid is money intended to help undergraduate and graduate students cover the expenses of attending college. It can be granted on a federal, state, and university level and typically comes in these forms:
Grants
Loans
Scholarships
Work-study programs
While grants and scholarships are non-repayable, students who take out loans typically have to repay them with interest after graduating. Work-study programs enable students to pay for their education by working on and off campus.
When applying for the first two types of financial aid, students can choose between the programs presented in the table below:
Grants

Call grant
FSEOG
Pell grant
Chafee grant
California College Promise grant
Student Success Completion grant

Loans

Federal Student loans
Private Student loans
Federal Parent loans
Am I Eligible To Apply for Financial Aid at Butte College?
While some eligibility conditions are determined according to database matches between the U.S. Department of Education and other federal agencies, others must be monitored by the school.
To apply for federal financial aid at Butte College, students must:
Be U.S. citizens or eligible non-citizens
Have a Social Security Number
Register with Selective Service (males from 18 to 25)
Be enrolled or accepted in a degree or an eligible certificate program at a college or university participating in Federal Student Aid programs
Maintain suitable progress in their academic program
Have not completed a BS/BA degree (except for student loans)
Confirm that they:

Are making regular payments on their student loans and don't own money on a federal student grant
Will use the financial aid only for educational purposes

Show that they are eligible to attend college by:

Owning a valid high school diploma
Completing homeschool education in a setting approved by the state law
The Process of Getting Butte College Financial Aid Explained in Detail
Are you wondering what the process of getting financial aid at Butte College entails? Check out the table below to get a complete picture:
Steps to Financial Aid
Description
Complete the Free Application for Federal Student Aid (FAFSA)

You should fill out the form as soon as possible after October 1st of every year but no later than March 2nd of the next year for the following term. Doing so will get you into consideration for all available financial aid
Five to seven days after completing the form, the U.S. Department of Education will send you your Student Aid Report (SAR) via email. You should review and update it if necessary

Check for the college's response

Once the Financial Aid office reviews your FAFSA application, you'll receive a FAFSA notification email
You should check whether you need to add additional information to complete your application file

Go through potential FAFSA verification

FAFSA verification is aimed to determine whether the data on your form is accurate
The process may lead to requests for further information regarding taxes and earnings

Wait for your Financial Aid award notification

In July of each year, students will get their Financial Aid Award Notification email
Students whose grant application is denied can apply for a loan. You can also to send the Butte Financial Aid office an appeal letter and ask them to reconsider

Receive the money

If your request has been approved, you will be able to choose a preferred method of receiving the award
You can select a method by using your personal code, which will arrive in your Refund Selection Kit
Butte College Financial Aid Is Reachable With DoNotPay
What happens if your plea for a grant doesn't work? Whether Butte declined to award you any aid or offered an insufficient amount, know that you can appeal their decision with our help!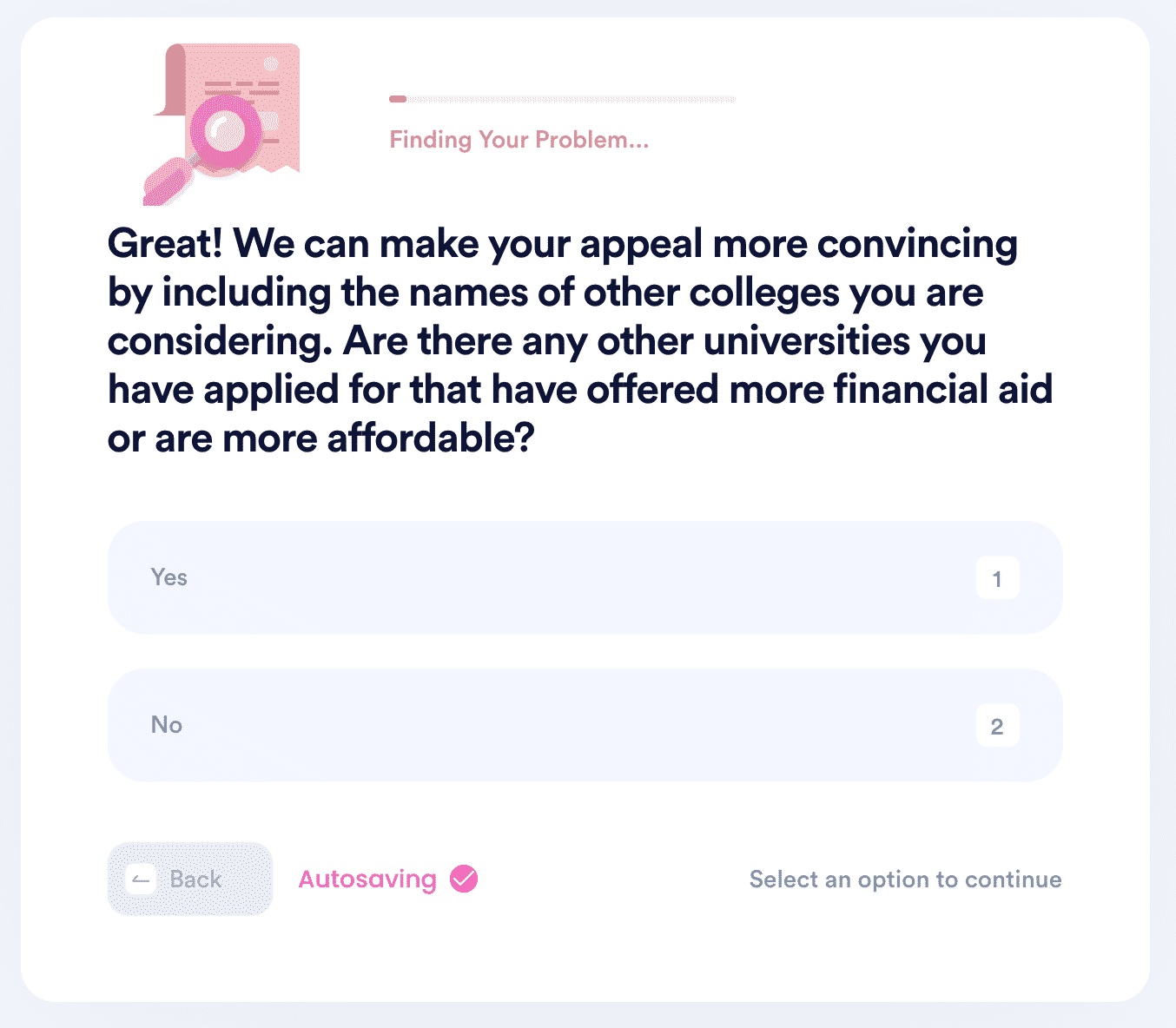 DoNotPay uses established guidelines for generating an appeal letter and personalizes it with the information you provide. The result is a well-crafted, comprehensive letter bound to make the Butte College Financial Aid office reconsider!
You can initiate the process if you:
in a web browser
Find the Appeal for More Financial Aid tool
Answer our chatbot's questions regarding your financial status
The rest is on us—we will both draw up and send the letter in your stead!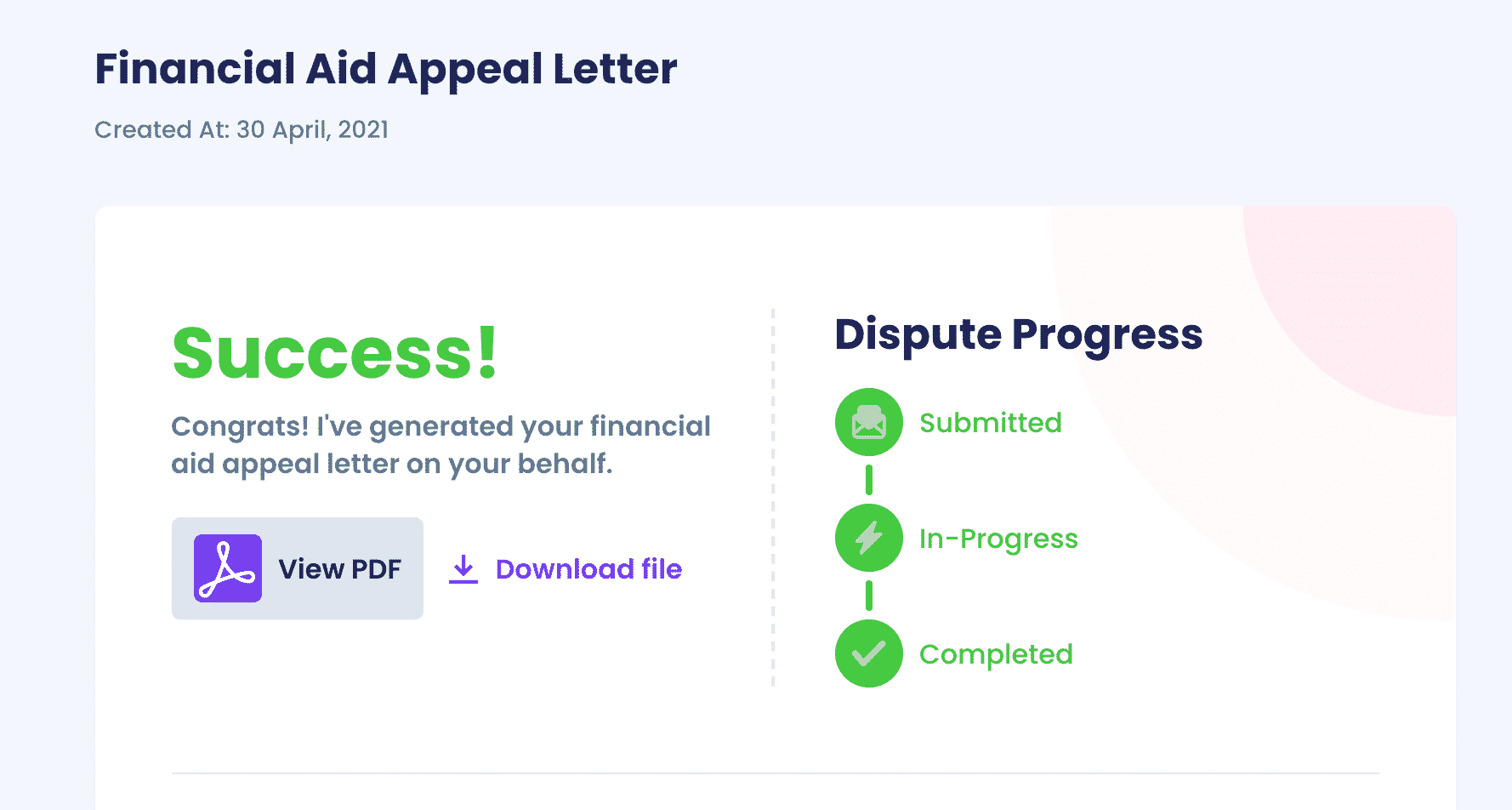 Most students apply for backup colleges in an attempt to increase their chances of getting higher financial aid. Check out financial aid programs of the most sought-after U.S. colleges in the table below:
DoNotPay Is an App for Everyone
Whether you need help with drafting paperwork, searching through government databases, or managing your bills, DoNotPay has a feature that'll make your life easier. The number of features keeps growing, and you can check out a table showcasing some of them:
Get More Done With Our Do-It-All Platform
DoNotPay can take care of any daily hurdle you come across. For a small yearly subscription fee, you get access to various features that you'll find handy on a daily basis. Besides everyday chores, signing up for DoNotPay will help get you:
The list could go on for days. You can even get in touch with an inmate or fight for discrimination at your workplace!