Instructions on Doing a Harkins Gift Card Balance Check the Easy Way
Have you almost used up your Harkins Theatres gift card, but you're not sure how to do a Harkins gift card balance check to see how much you have left? You're on the right track—with us, you'll learn how to check your Harkins Theatres gift card balance and what you can do with the remaining money. DoNotPay will also help you turn your gift card into cash in a few clicks if you no longer want to use it!
Basic Information About Harkins Theatres Gift Cards
Harkins Theatres offers physical gift cards only. They can contain from $5 to $500. You can use Harkins Theatres gift cards to purchase:
Tickets
Loyalty items
Concessions
PlayCenter admission
You can redeem Harkins Theatres gift cards:
Online—through the website, Harkins Theatres app, and designated third-party ticket retailers
In person—in theaters' box offices, concession stands, and ticket kiosks
How To Check a Harkins Gift Card Balance
Checking Harkins Theatres gift card balance is possible in three ways:
Online
In person
Over the phone
With DoNotPay
How To Check a Harkins Theatres Gift Card Balance Online
To check your Harkins Theatres gift card balance online, you'll need to visit the Harkins Theatres website and follow the instructions below:
Enter your Card Number
Type in the Security Code
Click on Check Balance
How To Check a Harkins Theatres Gift Card Balance in Person
Checking Harkins Theatres gift card balance in person might be a little inconvenient since you have to visit a box office, a concession stand, or a ticket kiosk. Follow the steps below to check your gift card balance in person:
Head over to a Harkins Theatres location
Ask the cashier to check your balance
Provide the staff representative with your card number
How To Check a Harkins Theatres Gift Card Balance Over the Phone
To check your gift card balance over the phone, follow the steps below:
Call 1-480-627-7777
Ask the customer service representative to check your balance
Provide the agent with your gift card number
Check Harkins Theatres Gift Card Balance With No Effort—Use DoNotPay
You don't have to bother performing a Harkins Theatres gift card balance check by yourself because DoNotPay is here to do the work for you. We will check your balance in a few clicks. You only need to and do the following:
Take a photo of your gift card
Upload the photo to DoNotPay
We will call Harkins Theatres on your behalf, and as soon as we get the exact amount, we'll let you know.
What Can You Do After You Check Your Harkins Theatres Gift Card Balance?
If your Harkins Theatres gift card balance check uncovered some leftover money, it's time to decide what you'll do next. Check out the list below for some ideas:
Make purchases—If you have enough funds left, you can treat yourself to a movie along with some popcorn. Buy a ticket online or at a Harkins Theatres office box
Sell the gift card—There are various stores and kiosks that will buy your gift card for cash. A downside is that you have to visit them, which might take up too much of your time and make you spend gas money. You can also sell your Harkins Theatres gift card online, but some websites could be a scam, so be careful. Another drawback of selling your Harkins Theatres gift card is that you probably won't be able to get the full value of your card
Exchange the card—Many websites offer gift card exchange services. If you don't like watching movies, you can always exchange your Harkins Theatres gift card for a different one that will be of more use to you
Get cash back—According to the Harkins Theatres official policy, the company reimburses their customers for gift cards in cash, but only if the balance doesn't exceed $10 in California, $5 in Colorado, and $2.50 in Texas. If you're in another state, Harkins Theatres might refuse to reimburse you, but the law could be on your side! Rely on DoNotPay to find out how to get your money back hassle-free
How To Get Your Cash Back Immediately by Using DoNotPay
Even if you don't live in California, Colorado, or Texas, you might be eligible to get your money back. Puerto Rico and 11 U.S. states have cash back policies that obligate companies to provide cash back to their customers if the balance on their gift cards doesn't exceed a certain amount. The limit is different in each cash back state.
You can use DoNotPay to determine whether your state has a cash back policy and get your money back within minutes. If your state doesn't have the said policy, our platform will send a request to a Harkins Theatres office in one of the states that do.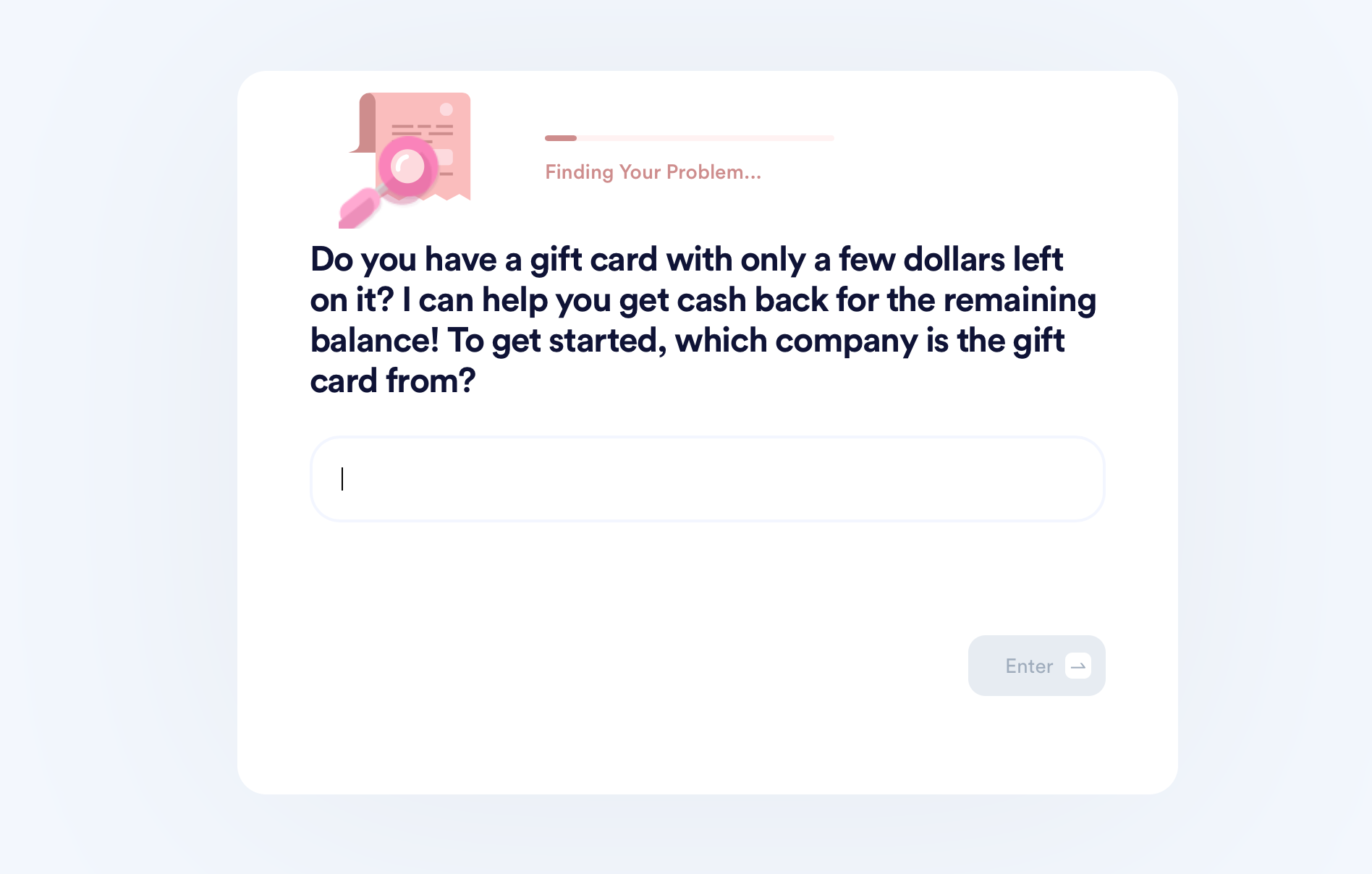 To take our awesome feature to your advantage, and follow these step-by-step instructions:
Open the Gift Card Cash Back product
Add the information about your gift card

Gift card number
Remaining balance
Company's name
The state in which you bought the card

Tap on Sign and Submit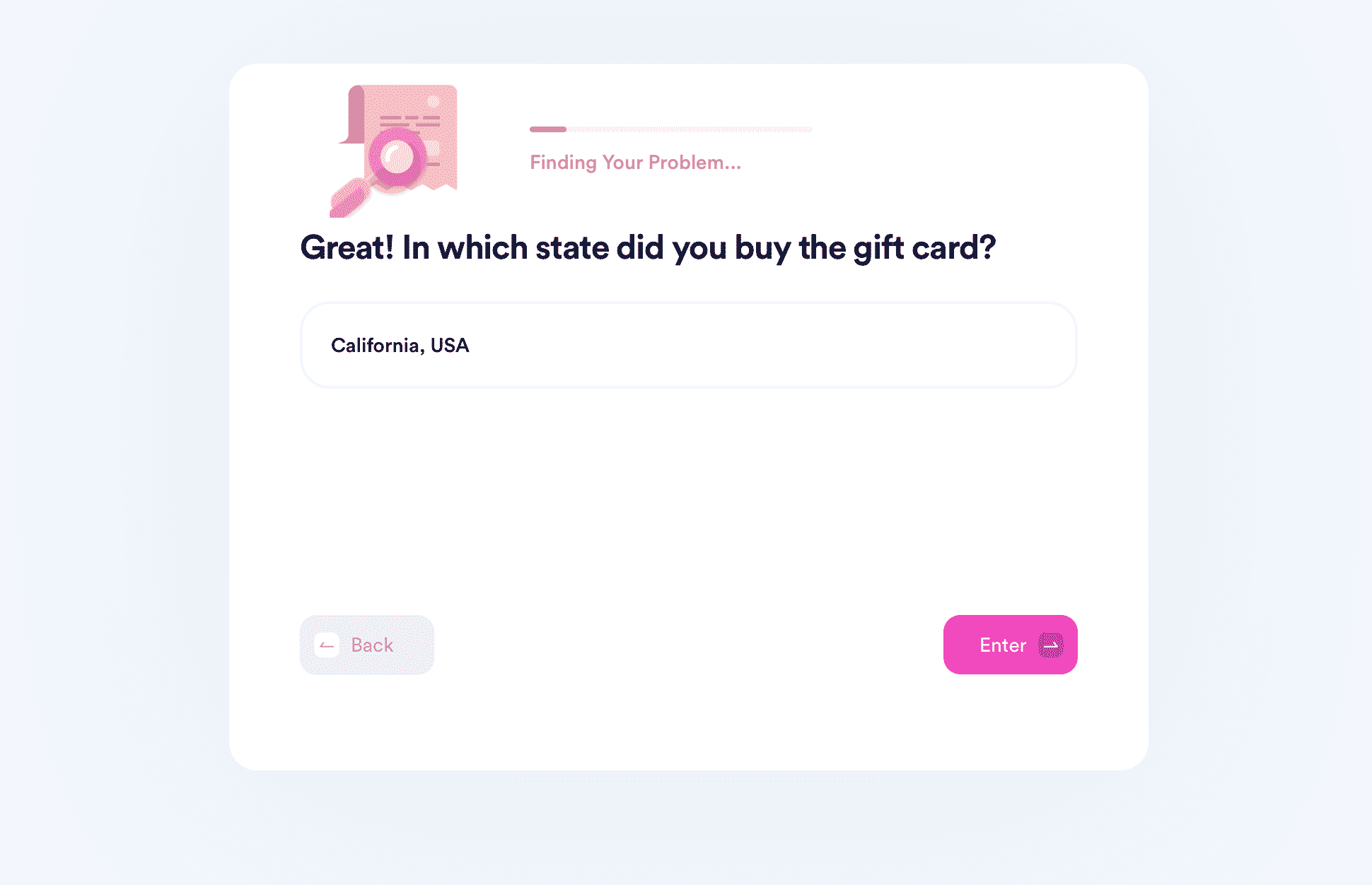 Check Out DoNotPay's Learning Center for More Information About Gift Cards
If you search through DoNotPay's extensive learning center, you'll find more information and instructions on how to:
Check the balance on any gift cards you might have. Some of the companies we can help you with are:
DoNotPay—Easy Fixes for Your Daily Struggles
Calling customer support takes hours. Dealing with refunds and chargebacks takes weeks or sometimes months. And don't even get us started on DMV appointments. The good news is that, with DoNotPay, you don't have to stress out about these tasks any longer.
Our platform can help you turn exhausting administrative troubles into two-minute tasks. Thanks to AI technology, you can easily create legal documents, request compensation for canceled flights, send a complaint letter to your neighbor, or book appointments with online notaries.
Diversity of services is one of the biggest advantages DoNotPay offers, and the best part is that our subscription won't cost you an arm and a leg.
Do You Need Help With Anything Else?
All you need to do is ask, or in this case, sign up for DoNotPay, and the world of practical, user-friendly products awaits. Finishing boring or annoying tasks with the help of our AI bots is fun, easy, and super intuitive—you won't need any special knowledge of legalities or administrative terminology.
With our help, you will be able to: