Get Some Useful Tips on How To Check a Sonic Gift Card Balance
It's been a while since your last Sonic Drive-In visit, and now you're not sure about the remaining funds on your used gift card? Whether you want to use your gift card to buy yourself a decadent Twisted Texan cheeseburger or file a cash back request, you should see how much money there's left on your gift card first.
This article will explain how to check a Sonic gift card balance in a breeze!
How To Do a Quick Sonic Gift Card Balance Check
There are three ways to check your Sonic gift card balance:
Online
Over the phone
In person
Checking Your Sonic Gift Card Balance Online
To track the remaining money on your Sonic gift card online, all you have to do is follow these steps:
Go to the Sonic Drive-In website
Choose the Gift Cards tab at the top of the main page
Scroll down to the middle of the page
Click on the red Check Balance button
Enter your gift card number
Type the four-digit PIN
Check that you're not a robot
Hit Check Balance
Checking Your Sonic Gift Card Balance Over the Phone
You can contact Sonic customer support to inquire about your gift card balance. Here's how:
Call 1-888-272-6547
Give the customer support representative your gift card number
Provide other information they might require
Ask about the remaining balance
Checking Your Sonic Gift Card Balance in Person
Another way to inform yourself about the gift card balance is by doing it in person. You should go to the nearest Sonic Drive-In, approach the cashier, and ask them for information about your gift card balance.
You Discovered Some Money After a Sonic Gift Card Balance Check—Now What?
What you can do with the leftover funds on the gift card depends on how much there's left. If you've had enough of the cherry slushes and chicken burgers, you might be thinking about selling your gift card for cash. According to the Sonic Gift Card Terms and Conditions, you can't do that without authorization. Here's everything else you are not allowed to do with your Sonic gift card:
Use it to buy another gift card
Exchange it for cash or another gift card
Redeem it for cash unless the law requires it
Take a look at the following table to find out how to use the remaining balance on your gift card:
What To Do With Your Sonic Gift Card
Explanation
Use the remaining money on another order
Your gift card balance check may uncover a small amount of money. If you don't want to go through the trouble of getting those two dollars back, check the Sonic menu to see if there's an item that doesn't exceed that amount and enjoy
Add extra money to continue using it
If there's not enough money on your gift card, and you want to use it again, follow these steps to add value:

Go to the Sonic Drive-In website
Navigate to the Gift Cards tab
Click the Reload Card button
Enter your card's number and PIN
Pass the verification
Hit Reload Card
Enter the amount you want to add
Proceed to payment

You can also contact customer support at 1-888-272-6547 or visit a restaurant to reload your card directly

Get the remaining balance in cash
If you don't want to spend the remaining balance at Sonic Drive-In, you don't have to. You can convert the funds from the gift card to cash with DoNotPay's help
What Is the Sonic Policy About Redeeming Gift Cards for Cash?
Unless the law requires it, Sonic doesn't allow gift card owners to redeem gift cards for cash. Companies are obligated to give the unused cash back to the customers in Puerto Rico and 11 U.S. states, including:
California
Colorado
Connecticut
Maine
Massachusetts
Missouri
New Jersey
Oregon
Rhode Island
Vermont
Washington
What happens if you don't live in one of these states? Don't worry—, and we'll retrieve your cash regardless of where in the U.S. you live.
DoNotPay Won't Let Your Money Go Unused! Get the Remaining Gift Card Cash FAST!
Why let your money go to waste if DoNotPay can help you get it back. With our Gift Card Cash Back product, you can get the remaining balance from any gift card—free or purchased—in three steps:
Choose the Gift Card Cash Back tool
Insert required information, such as the gift card number, company's name, and the state where you live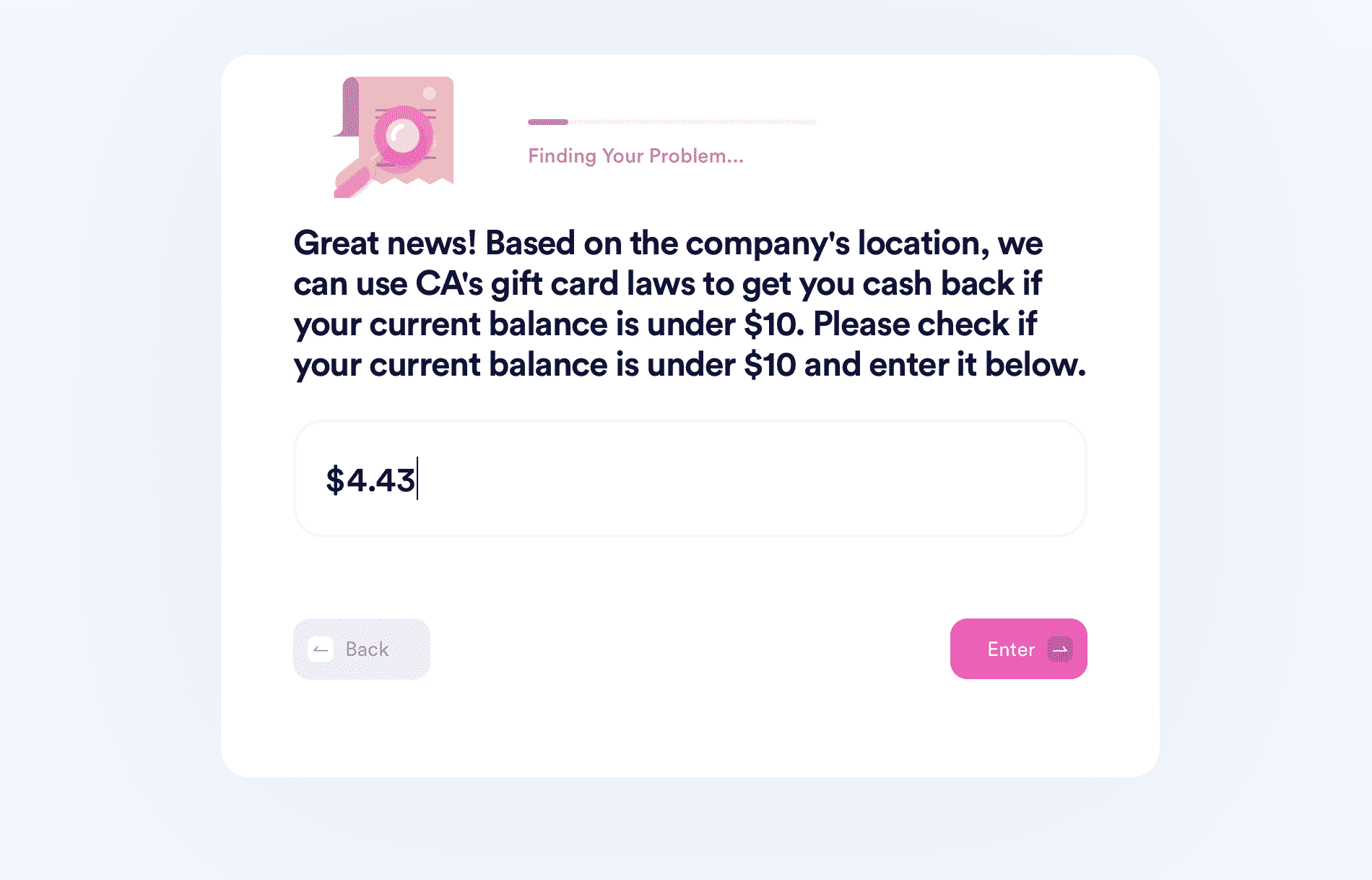 DoNotPay will:
Explore the company's terms and conditions about redeeming gift cards for cash
Check whether your state has a cash back policy or not
If your state has a cash back policy, we'll send the request to the company. If not, we'll send it to the company's office or branch in another state with such regulations. You can expect to get the cash or a check two weeks after we send the request.
Get remaining funds from other stores' and restaurants' gift cards, including:
DoNotPay—A Pocket-Sized Assistant
If you need protection from stalkers and harassers, we know what to do. Whether you want to deal with a rude or noisy neighbor or fight workplace discrimination, DoNotPay has got your back. Even spammers don't stand a chance against our AI-powered app—both the texters and the robocallers.
If your situation takes a turn for the worse, you may need to take the issue to court. In this case, the world's first robot lawyer swoops in to help! You can count on DoNotPay to assist you every step of the way, regardless of whether you need to take a person or a company to small claims court.
Our App Helps You Through Numerous Red-Tape Issues
Dealing with paperwork doesn't have to be tedious. With DoNotPay's help, cutting through red tape is fast and easy. With a few clicks in our app, you'll be able to: