The Greatest Tips on How To Check the Lush Gift Card Balance
If you have already used your Lush gift card but believe that there may still be some available credit on it, check it since you may be right! The remaining money can help you get a slight discount during a new purchase or fit perfectly in your wallet, depending on your preferences. We will teach you how to check the Lush gift card balance in three easy-breezy steps and convert the funds left into cash in a split second. You will also get some other ideas on using the leftover balance wisely and preventing your used card from going to waste!
How Do Lush Gift Cards Work?
Here are some essential details you should know about Lush gift cards:
They come in two formats:

Plastic (physical) gift cards
Digital or eGift cards

Each card can be loaded with any amount between $5.00 and $300.00. Once you exhaust the card, you can add more value and use it again
The cards can be used for online or phone purchases and also in any Lush shop in the USA and Canada
You can choose among various designs and also include a personalized message whether you opt for a plastic or electronic gift card
Lush gift cards can't expire, which means you can use them whenever you want
How To Find Out if You Still Have Funds on Your Lush Gift Card
The table below shows all the proposed ways to see the available credit on your Lush gift card:
Method
Explanation
Using an online balance checker
To check the remaining amount on your gift card online, do the following:

Access the retailer's website
Select the Gifts tab
Choose Gift Cards from the drop-down menu
Click on Check Your Gift Card Balance Here
Type in the 21-digit number from the back of your gift card
Click on the black Check Balance button

Phoning Lush customer service
If you prefer direct contact or don't have a stable internet connection, call the Lush customer care center at (888) 733-5834. An agent can tell you how much money is left on your card once you provide them with the necessary details
Starting a live chat conversation
Another option is to inquire about your gift card balance via chat. Explain the issue to the operator, disclose your card details, and let them check the amount left for you. Note that this service is available only during the regular working hours—Monday through Friday from 9 a.m. to 9 p.m. and weekends from 10 a.m. to 6 p.m.
Avoid Complicated Steps—Check Your Gift Card Balance With DoNotPay!
Did you know that we can contact Lush with a balance query in your stead? That's right—DoNotPay is the best and the least complicated way of getting informed about the remaining gift card credits. Here's the drill:
and log in
Pick the Check Gift Card Balance feature
Take a photo of both sides of the gift card and upload them
Provide us with your email address so that we can send you an update
We will scan your photos for gift card details, contact the company, and let you know when we get a response!
What Can You Do With a Used Lush Gift Card?
Having a few extra dollars on a gift card is great, but how should you put them to use? Here are some ideas you can consider:
Bring the card with you when visiting a Lush store next time and redeem the funds left to get a small discount
Combine the used card with another one for the same merchant if available as the company allows joining multiple cards for a single purchase
Exchange the card for a gift card from any other retailer you prefer online or in person
Give the card to someone interested in getting a discount if you don't want to purchase at Lush anymore
Sell the card to someone for cash or get an instant offer from a gift card exchange kiosk
Return the card for cash if you live at one of the locations whose laws approve the cash back option. This method isn't available in all states, and even when it's permitted, there are limitations regarding the cash back amount. It also typically doesn't apply to free gift cards
How To Turn All Gift Card Funds Into Cash With DoNotPay
Have you tried contacting the company and explaining that you should receive cash back but were rejected? Even though the representatives should be aware that the law sometimes approves this type of reimbursement, it's not always the case. This may cause further disputes and stress, which is why you should turn to DoNotPay and send a cash back request in a jiffy!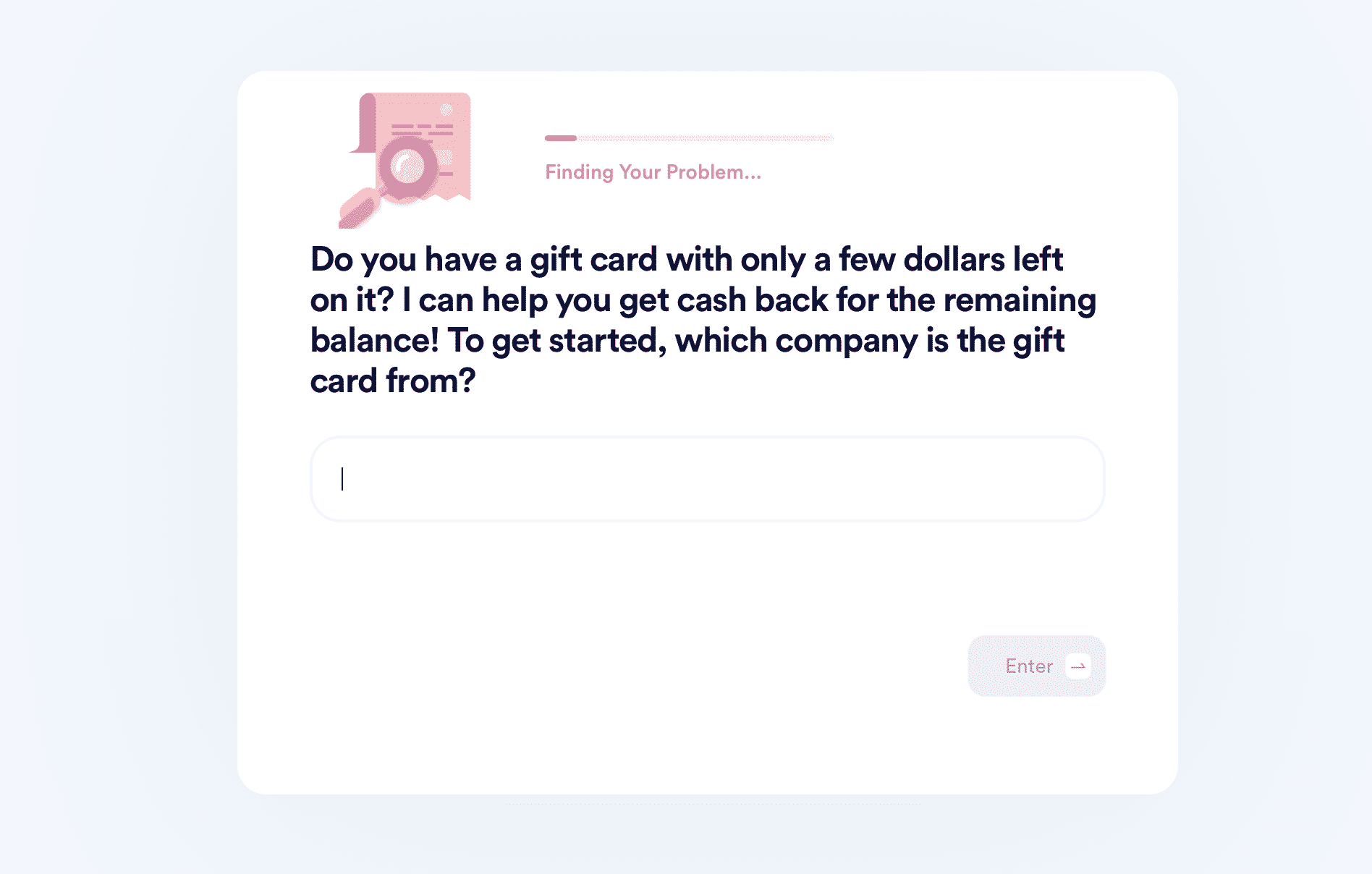 We will:
Run the necessary checks on your card details to see if your state allows getting gift card cash back
Compose a proper request and forward it to the company in question on your behalf (if the cash back method is permitted at your location)
Send the request to the retailer's branch in one of the states that approve gift card cash back (if this method isn't permitted at your location)
Help you avoid lengthy and burdensome phone conversations with customer support
Here's what you need to do:
Go to the Gift Card Cash Back section
Tell us more about your gift card and answer a few quick questions from our chatbot
Not only can we assist you in getting what Lush owes you, but we can also make any other company return the unused gift card money to you! Here's a list of some retailers we can help you with: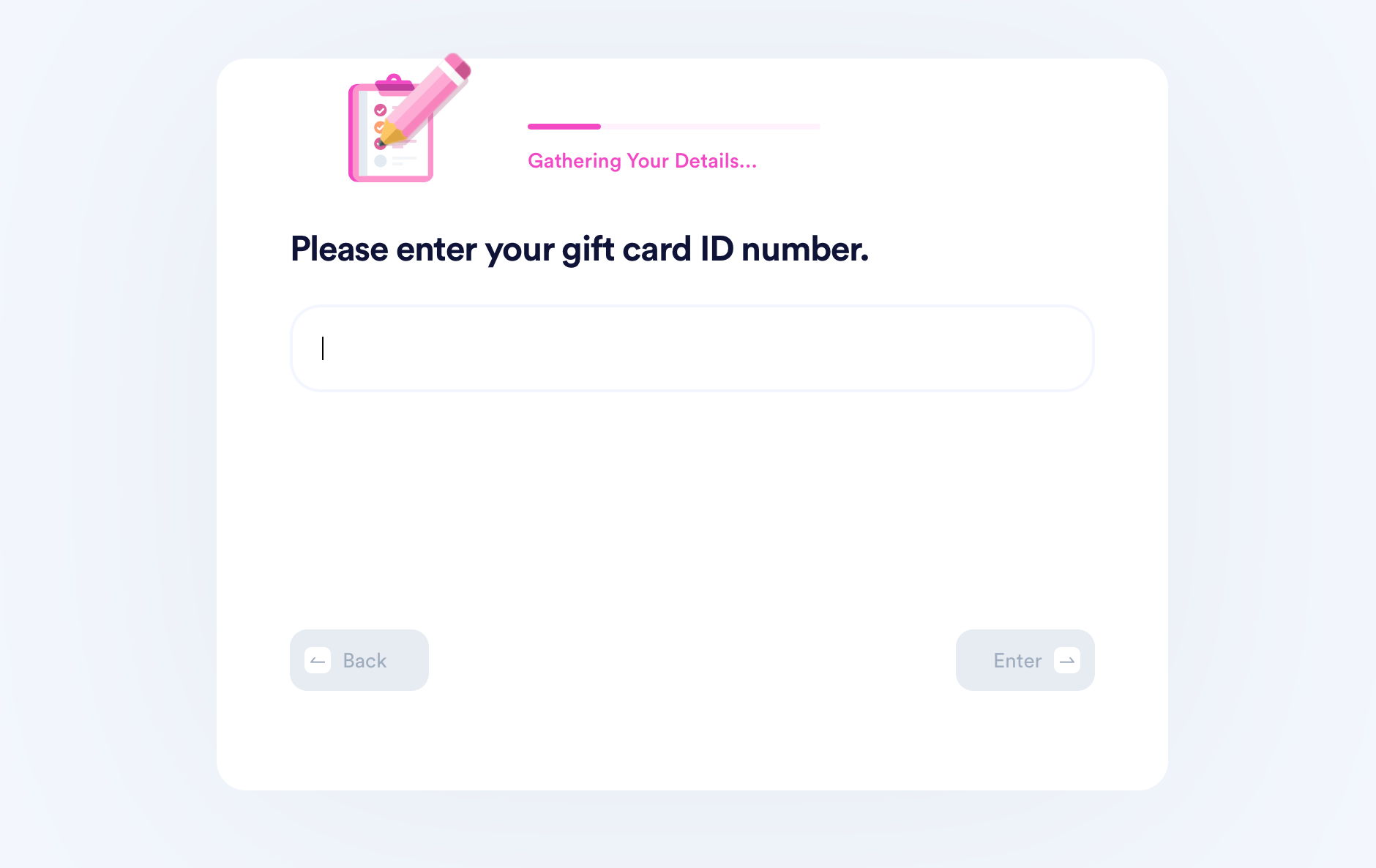 DoNotPay Crosses All Your Tasks Off Your List
Whether you need help with preparing for government tests, online faxing, or getting your documents notarized—DoNotPay will be able to help! Whatever problem you're facing, we'll turn it into a breeze!
Sign up now if you want an easy solution to stop email spam, cancel unneeded subscriptions, schedule DMV appointments, draw up agreements, and get your documents notarized from the comfort of your home.
We can also help you reduce property taxes, pay bills, appeal parking tickets, and find any unclaimed money.
Improve Your Quality of Life With DoNotPay
The beauty of our platform is that except bureaucratic issues, it can also assist you with numerous other struggles! To name a few, we can help you:
The list could go on for days!