Check the Ralphs Gift Card Balance Without a Hitch
Getting a Ralphs free or paid gift card provides a nice discount when shopping for groceries, toiletries, or other household necessities. If you have already used it but aren't sure whether you have any money left on it, this guide will help you solve the dilemma!
Get valuable info on how to check your Ralphs gift card balance with DoNotPay and reclaim the leftover credit in the blink of an eye.
How Do Ralphs Gift Cards Work?
Both types of Ralphs gift cards—physical and digital—are issued by Kroger, and they must be used according to this company's terms and conditions. Here are some basic details you should have in mind:
You can pick a gift card loaded with a custom denomination between $10.00 and $250.00 or choose to pre-load it with one of the following amounts:

$25.00
$50.00
$75.00
$100.00

This payment method can't be used for purchasing:

Other gift cards
Lottery tickets
Money orders

The company can't replace a lost, stolen, or damaged gift card, which means that if this happens, the remaining amount on your card will be lost
These cards don't have an expiration date
Ralphs doesn't charge you extra fees for inactivity or maintenance of the card
You can't return or exchange the card for cash unless the local gift card law permits it. This is possible in 11 U.S. states and Puerto Rico only
How To Get a Ralphs Gift Card Balance Update Yourself
To plan how to use the funds left on your gift card, you must check the exact remaining amount. There are four ways to do it:
Online
Via phone
In-store
Via the sales receipt
How To Check the Ralphs Gift Card Amount Online
Here are the steps you should follow to see the available gift card credit online:
Go to the Check Gift Card Balance page on the Ralphs website
Type in your gift card number and the PIN code
Click on the blue Check Balance Now button
How To Check the Ralphs Gift Card Amount via Phone
To inquire about your gift card balance over the phone, call Ralphs' customer care line at (866) 822-6525. Once you explain the issue and provide the operator with the necessary details, they will find the balance info using the company's database software.
How To Check the Ralphs Gift Card Amount in Person
If there's a Ralphs retail location in your neighborhood, you can stop by and ask a shop assistant to check your gift card balance on site. They can scan it with a price checker or enter your gift card details in their system to see the currently available sum. You can locate nearby shops by inputting your ZIP code in the store locator on the official website.
How To Check the Ralphs Gift Card Amount by Checking the Receipt
Did you use your gift card during the previous purchase in Ralphs? If yes, check the receipt. The leftover amount on it should be printed on the bottom.
Do a Ralphs Gift Card Balance Check With DoNotPay
DoNotPay is a perfect way to have your gift card value checked without typing in your card details or reaching out to Ralphs' customer service. Here's what to do:
Open the Check Gift Card Balance product
Upload the photos of your gift card from both sides
Disclose your email address
Once we scan your gift card details, we will get in touch with the company and inquire about the available funds on your behalf. The update will be sent to your email address right away!
DoNotPay Files a Cash Back Request in Your Stead in a Split Second!
Would the rest of the gift card funds be more useful in cash? Selling or trading your card for cash can be risky, and you may not be able to get the full value. Even if the local law allows you to return the card for cash, the company's representatives can be unfamiliar with the procedure or statutes.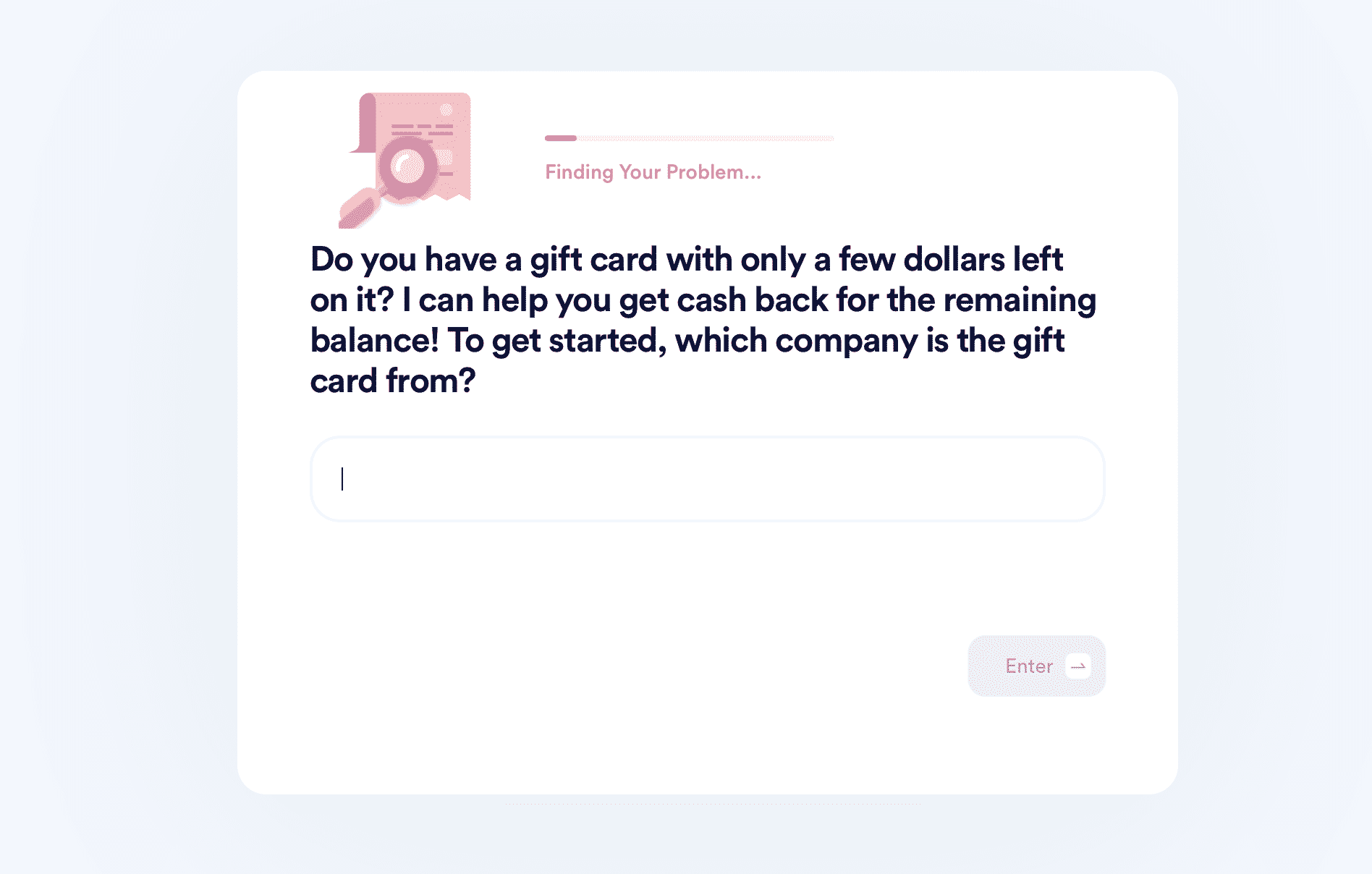 DoNotPay is here to help you redeem gift card funds effortlessly by processing your info and checking the state laws. If we confirm that your location has a cash back law, we will create a request in your name and send it to the merchant. If not, our system will search for the company's retail location in the areas that approve this option and submit the request there.
To turn the gift card credit into cash with our help, you should:
Go to Gift Card Cash Back
Give us a few details about your gift card, such as:

Gift card ID number
State where you purchased the card
Remaining amount on the card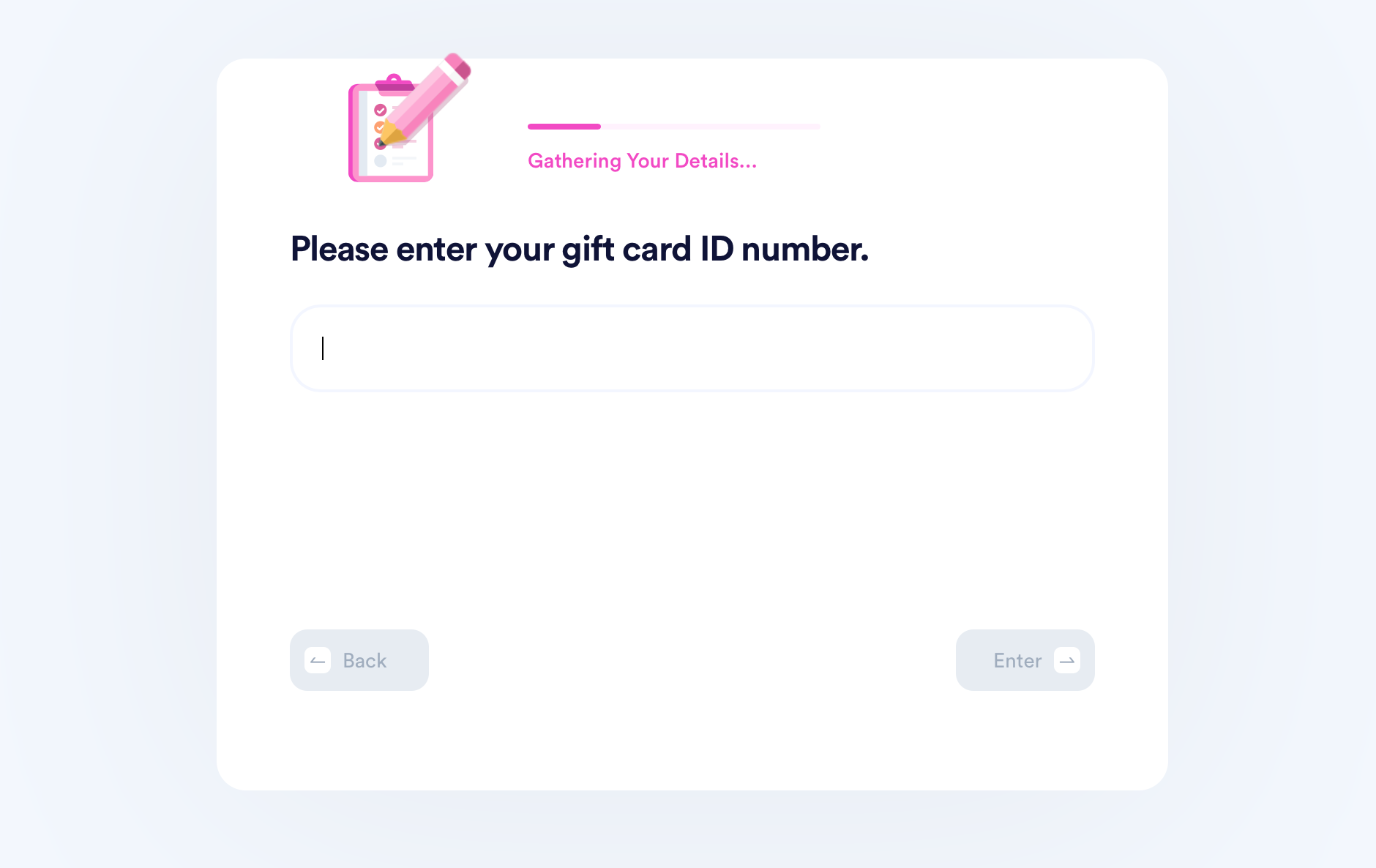 Check out our other guides that can help you get a cashout from many other retailers, including the ones in the table below:
Is Bureaucracy Giving You a Headache? DoNotPay Can Help!
Bureaucracy is a big part of our lives that we can't escape. We understand the struggle over at DoNotPay—that's why we've created various features that can help you out! The world's first robot-lawyer app can assist you with:
DoNotPay's Arsenal of Features Doesn't Stop Growing
DoNotPay's number of handy features keeps growing by the day. Our platform can help you with various issues ranging from filing insurance claims to finding clinical trials. Want to save money on unused subscriptions? DoNotPay has got your back! We can help you cancel them and fight any subscription spam email that you get. Your AI assistant can also get you free raffle tickets or find any missing money in no time!
With DoNotPay, you'll have access to countless features that grow in numbers by the day! You'll be able to block robocalls, deal with tedious neighbors, and much more!