All Information About Georgia Tech Financial Aid in One Place
The Georgia Institute of Technology is the ideal choice for students seeking an engineering degree, but the tuition cost—reaching almost $40,000 per year—can be discouraging.
In this guide, you will learn how to apply for Georgia Tech financial aid and if the Institute's decision doesn't work for you!
Georgia Tech Financial Aid Options Explained
Georgia Tech offers the following types of financial aid:
Scholarships
Grants
Loans
Work-study programs
Scholarships Available at Georgia Tech
Georgia Tech examines the following factors when awarding scholarships:
Merit
Financial need
Major of study
Students of Georgia Tech are eligible for all scholarships from this list:
BlackRock Hallac Scholarship
Neilsen Foundation Scholarship
Provost Scholarship
Institutional scholarships with recipients selected by the Office of Scholarships and Financial Aid
CyberCorps® Scholarship for Service (SFS) program
G. Wayne Clough Tech Promise Program
Godbold Family Foundation Scholarship
The Zell Miller Scholarship Program
Institutional scholarships with recipients selected by entities other than the Office of Scholarships and Financial Aid
The HOPE Scholarship Program
Stamps President's Scholars Program
Scheller College of Business Dean's and Faculty Merit Scholarships
School of Economics undergraduate scholarships
Goizueta Foundation Scholarship
Georgia Student Finance Commission Scholarship for Engineering Education for Minorities
National Merit and National Achievement
Georgia Tech Alumni Network and Georgia Tech Alumni Network Matching Scholarships
The Institute also takes into account any outside scholarships you receive. You can use the Georgia Tech Outside Scholarships page to find scholarships that are currently accepting applicants.
Georgia Tech Financial Aid—Grants
Here's a list of available grants at Georgia Tech:
Federal Pell Grant
Federal Supplemental Educational Opportunity Grant (SEOG)
The Georgia Tech Grant
Dean's Grant Program
Georgia HERO
Public Safety Memorial Grant
Georgia Tech Army Reserve Officers' Training Corps (ROTC)
Loans at Georgia Tech
The following table shows which federal loans you can opt for at Georgia Tech and whether they require credit approval:
| | |
| --- | --- |
| Federal Loan | Does It Require Credit Approval? |
| Subsidized Direct Student Loans | No |
| Unsubsidized Direct Student Loans | No |
| Direct Parent PLUS Loans | Yes |
| Graduate Direct PLUS Loans | Yes |
Before you include loans in your Georgia Tech financial aid package, you should become familiar with:
Georgia Tech—Work-Study Programs
Check out this table to see all available work-study options at Georgia Tech:
| | |
| --- | --- |
| Work-Study Options | Description |
| Co-op | Alternate semesters of on-campus study with full-time employment and earn up to $10,000 per work term |
| Internships | Receive academic credit and/or pay by interning domestically or abroad |
| Research | Do research at Georgia Tech and earn course credit or money depending on the lab and the project you opt for |
| On-campus employment | Check the Campus Jobs page to find open student employment spots at Georgia Tech |
What Percentage of Students Gets Financial Aid at Georgia Tech?
Statistics that the Georgia Institute of Technology published state that:
66% of first-year students get financial aid. The average value of a package is $20,131
26% of newcomers get scholarship offers
10% of all first-year students receive both scholarships and federal grants
How To Apply for Georgia Tech Financial Aid
Georgia Tech requires you to complete three forms to apply for financial aid:
Georgia Tech Application for Scholarships and Financial Aid—Students can use the Georgia Tech app to complete and submit it
FAFSA—You need to submit this form if you're interested in federal or any need-based aid
CSS Profile—Students should submit this form only if they want to apply for institutional financial aid programs that consider financial need, among other factors, while picking award recipients. That is because the CSS Profile comes with a $25 fee, and you need to pay an extra $16 to find out if you're eligible for Georgia Tech institutional aid
The deadline for application submissions is January 31. The Institute will accept late applications but cannot guarantee the availability of funds for all aid programs it offers.
If you need more information about the application process, contact the Georgia Tech Financial Aid Office by:
Writing an email to finaid@gatech.edu
Scheduling a meeting with a staff member using the Georgia Tech app or via email
The Offer You Got From Georgia Tech Doesn't Work for You? File an Appeal With DoNotPay!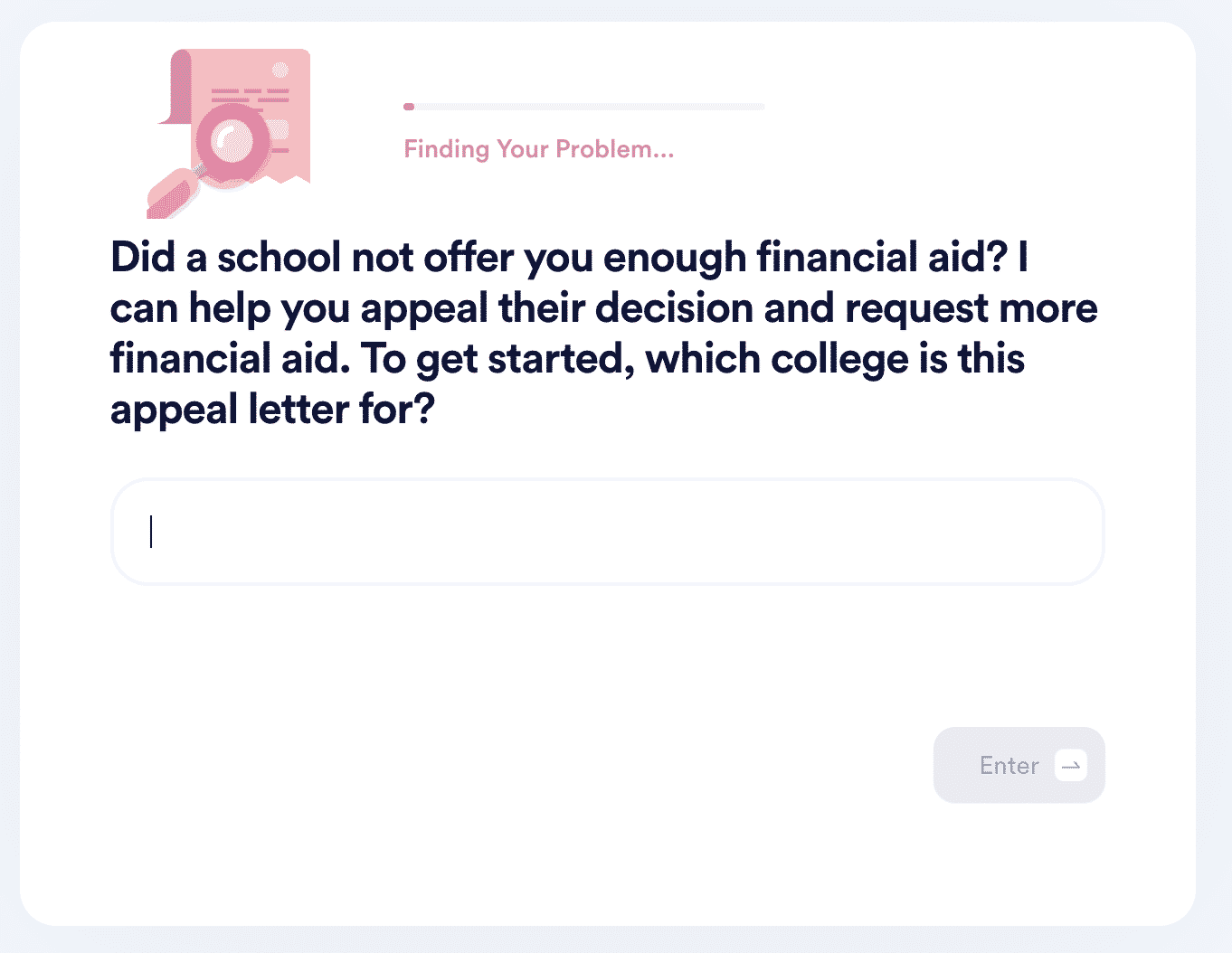 If Georgia Tech offered little financial aid or—even worse—rejected your application, you can appeal its decision by writing a letter.
Use DoNotPay to make the Institute reconsider your application and get more financial aid in three simple steps:
Search for Appeal for More Financial Aid
Answer some questions about your application and include schools that offered you more aid, if there are any
After you answer all questions, we will forward the letter to Georgia Tech.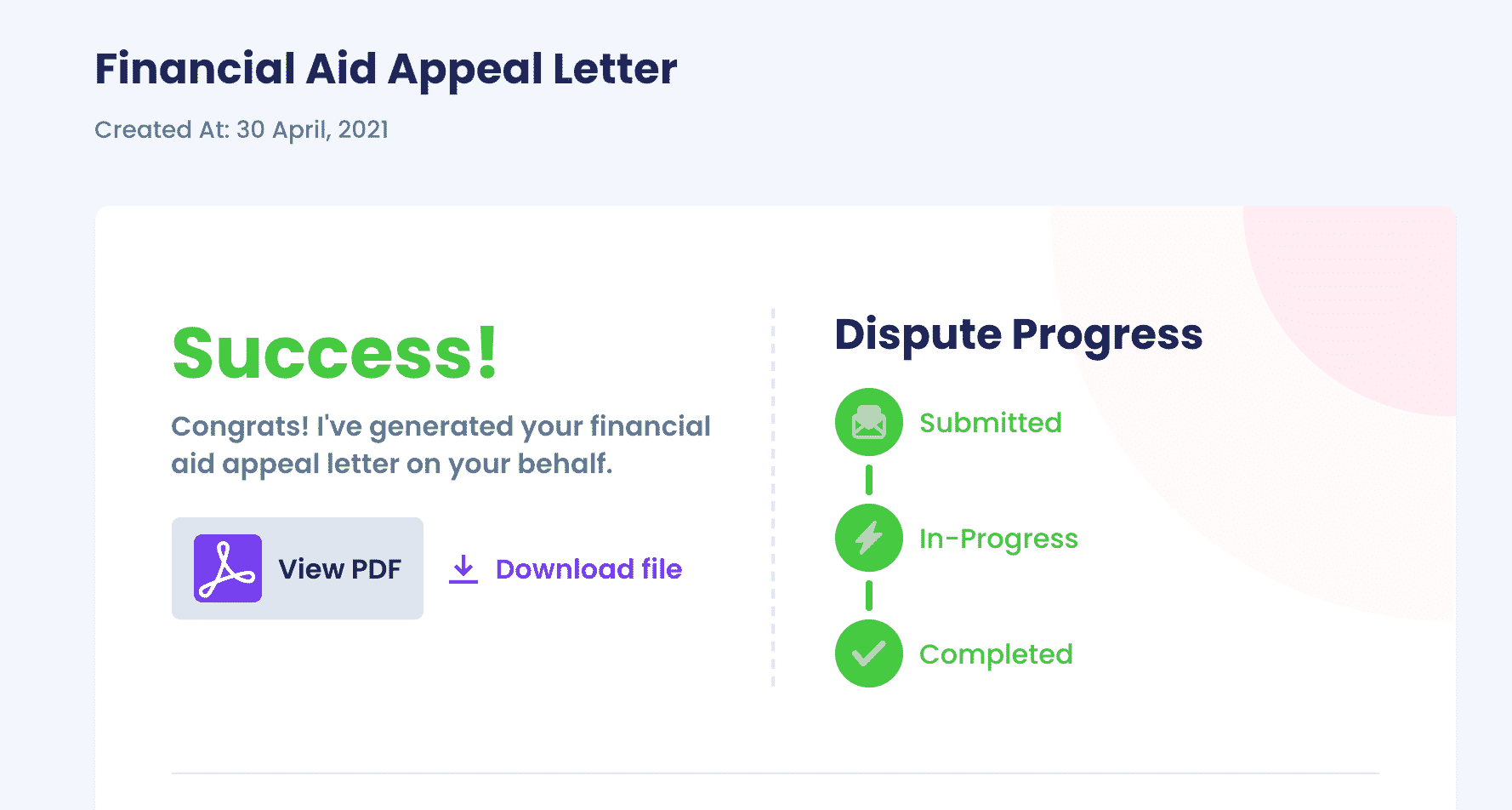 Get up-to-date answers to all of your financial-aid-related questions with our guides:
We Can Help You Find Other Options if Georgia Tech Doesn't Work Out for You
It's always good to have a backup plan, so here's a list of other schools' financial aid programs we wrote about:
DoNotPay Turns Your Everyday Hurdles Into a Piece of Cake
Did you receive a faulty or damaged item? Why not return it with your virtual assistant? We can also help you get a late delivery refund and jump the queue if the customer service phone keeps ringing to no avail. The list of handy DoNotPay features that make your everyday life easier goes on.
By subscribing to our platform, you won't have to worry about your tedious neighbors or parking tickets. We can do it all!
Want To Save Money on Lawyers? Use DoNotPay
Most people spend big bucks on expensive lawyers to overcome their bureaucratic obstacles. Don't waste your money on unnecessary fees—use DoNotPay and take care of any legal matter in a few easy clicks! Check out some of the issues the world's first robot lawyer can help you with: