Get the Lowdown on Georgetown Law Financial Aid
Georgetown Law is one of the largest and most prestigious law schools in the U.S. If you want to complete your graduate studies there, you may want to consider applying for financial aid.
Do you want to know when to apply, which standards you must meet, and what types of financial aid are available at Georgetown University? is here to walk you through the process of applying for Georgetown Law financial aid. We will help you get an award high enough to cover the attendance cost at this and any other college you set your heart on!
Types of Financial Aid at Georgetown Law
Georgetown Law offers its prospective students numerous opportunities for getting financial aid. You can apply for one of the following:
Need-based grants
Different types of loans (from federal and private sources)
Federal work-study programs
Need-Based Grant Assistance
Known as the Dean's Tuition Grant, it's a type of financial aid funded by the university and available only for full-time Juris Doctor (J.D.) students. While this award is non-repayable, Georgetown Law expects its students to pay it forward somehow once they are able to do so.
A student applying for a Dean's Tuition Grant has to meet the following standards:
Prove financial need
Not be in default on any other loan
Have a valid citizenship/residency status
Fill out required eligibility forms
Students can renew the award at the same level for up to two additional years of full-time studies at Georgetown.
Dean's Tuition Grants are treated as a secondary source of aid. Students become eligible to get or retain it once they borrow an amount equivalent to the annual loan limit for a federal Unsubsidized (Stafford) Loan. If they fail to comply with this requirement, the grant will be reduced or canceled.
Loans at Georgetown Law
Three main types of loans at Georgetown Law are:
Federal Unsubsidized (Stafford) loan—It's a primary source of financial aid for students at Georgetown Law. It is typically distributed in two installments (one half at the beginning of each semester). Students taking out a Stafford loan have to start repaying it six months after graduation at a fixed interest rate of 4.30%
Federal Direct Graduate PLUS loan—They represent an addition to Stafford loans for most students. The maximum amount a student can borrow is equal to the student's budget minus all other financial aid. They, unlike Stafford loans, require minimum credit checks
Private (commercial) loan—These loans are practical because they:

Are credit-based
Have lower fees
Allow students to choose between fixed or variable interest rates
The maximum amount a student can borrow is determined in the same way as for PLUS loans.
Federal Employment Programs at Georgetown Law
Georgetown Law provides students with part-time jobs so they can cover the cost of their attendance. Unlike other types of financial aid, Federal Work-Study (FWS) funds are paid to students bi-weekly. For that reason, participating students typically use the earned money to cover day-to-day college expenses (not tuition or rent).
What Else Should I Know About the Georgetown Law School Financial Aid?
The process of applying for financial aid at Georgetown Law differs depending on the type of student you are. You can find a detailed description of each procedure on the Georgetown Law financial aid website page.
The table below contains a list of crucial (eligibility and other) forms that each group of students needs to complete during application:
Student Type
What You Should Complete
First-year and transfer J.D. students
Returning J.D. students
LL.M, M.L.T, and M.S.L. students
International students

Georgetown Law Yellow application if you are an incoming or transfer J.D. student
Blue certification application after June 1st only if you're an incoming or transfer J.D. student
Georgetown Law Green application if you are returning J.D. or incoming or returning graduate law student

Certificate students

Georgetown Law Green application

Students visiting from another school

You should apply for financial aid through your home university. Georgetown Law will have to complete a Consortium Agreement with your home school so you can get financial aid while attending Georgetown Law
Georgetown Law Financial Aid Deadlines
Priority dates for submitting your financial aid applications are as follows:
Yellow financial aid applications—March 31st
Green financial aid applications—April 31st (summer sessions), June 1st (fall/spring semester)
Blue loan certification request—July 15th
DoNotPay Can Help if Georgetown Law Denies Your Request or Awards You Insufficient Aid
Applying for a grant at Georgia Law will leave you with the smallest amount of debt. If the college rejects your plea or gives you a dissatisfying offer, you shouldn't throw in the towel!
A professional appeal letter is all you need to make the financial aid office reconsider its decision.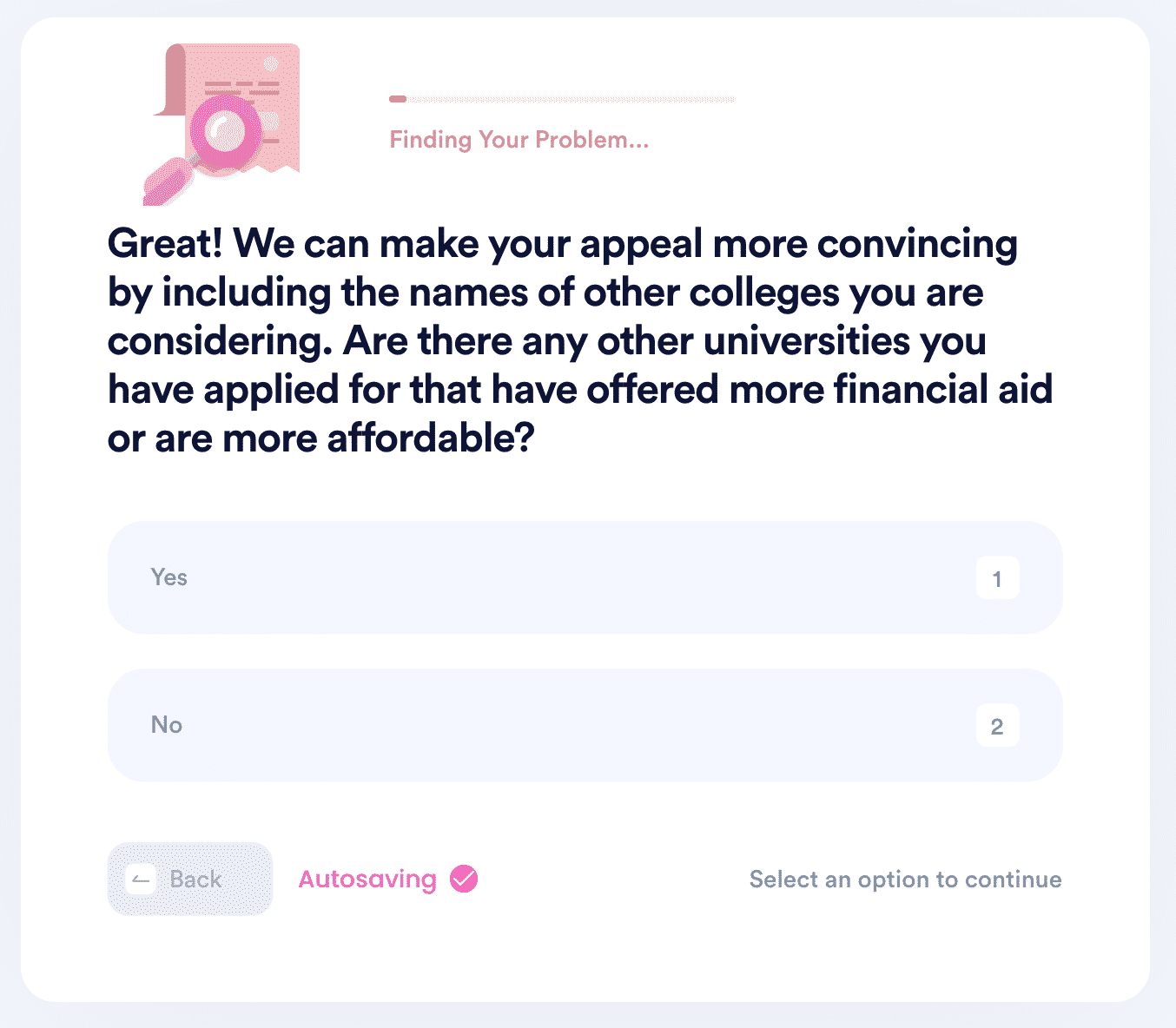 DoNotPay can help the appeal go smoothly by drafting a letter for you! You only need to:
Find our Appeal for More Financial Aid product
Answer our chatbot's questions regarding your financial status
We will implement the details you provided into a professional appeal letter and send it to Georgetown Law immediately. You can expect an appropriate response shortly after!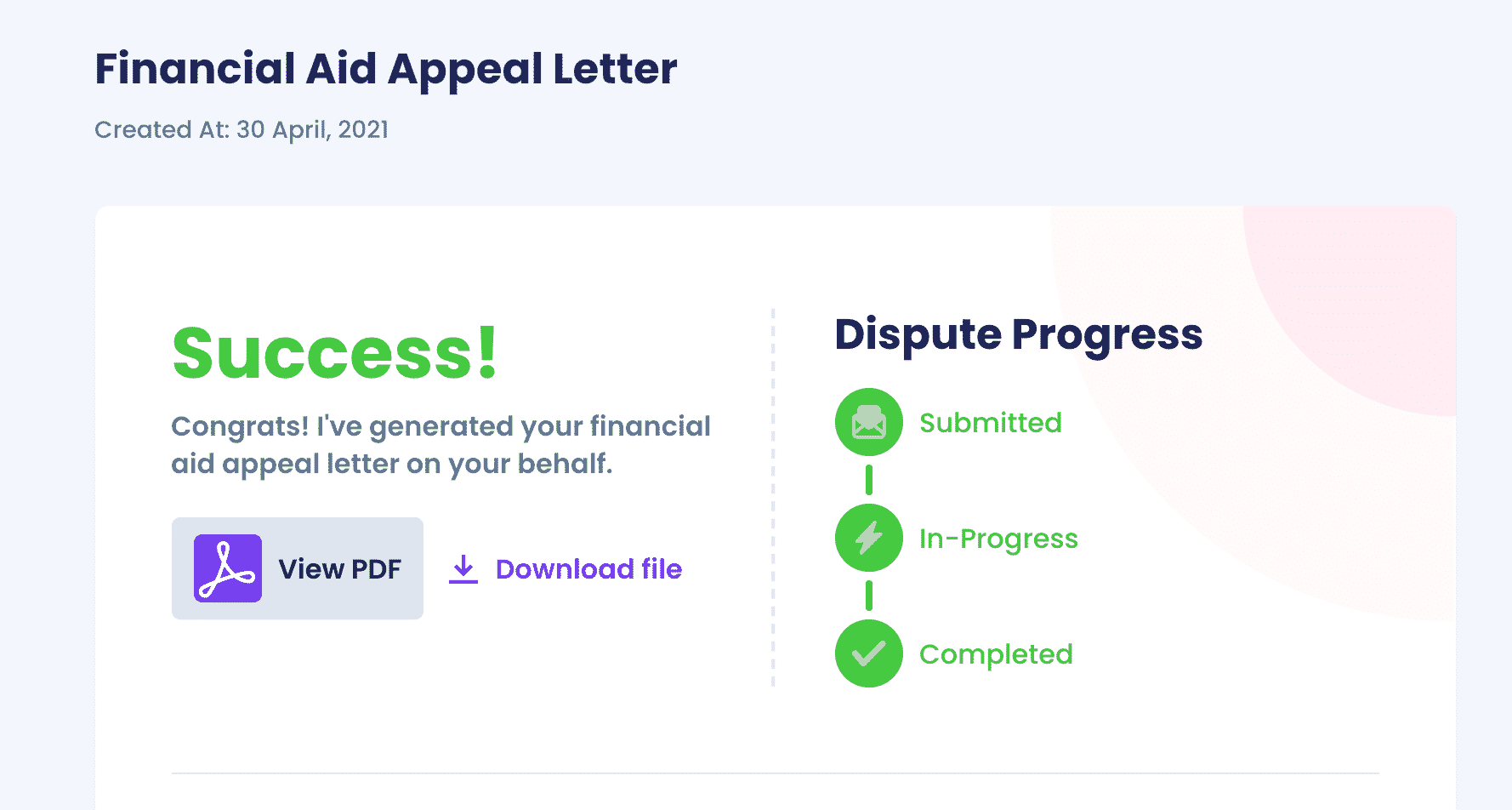 It never hurts to apply for backup colleges in case one of them offers you a better deal. Check out the financial aid packages in the following schools:
Get an Extra Buck or Two With DoNotPay
Besides being able to assist you with almost any legal issue, DoNotPay can also help you get some extra money! We can cancel any unused memberships and prevent you from being charged after free trial periods are over with our virtual credit card.
Can't claim a warranty or get cash back for a gift card? Subscribe for DoNotPay and consider it done! We can also help you return items to almost any company or even help you get a refund in a few clicks!
Helping you jump the customer service queues is also not a biggie for us, as well as taking the company that wronged you to small claims court!
No Problem Is Unsolvable for DoNotPay
By subscribing to our platform, you get access to a plethora of handy features that can help you with:
Drafting legal documents

Creating POA agreements

Reducing property taxes