Financial Aid at Monroe Community College—Comprehensive Guide
If you are preparing to get into Monroe Community College and are wondering whether you'll be able to afford the tuition fee that ranges from $2,353 to $4,706, you are in the right place. In this guide, we will introduce you to the financial aid Monroe Community College offers and explain how much financial aid you can get and how to get more with DoNotPay.
Whether you are interested in Monroe Community College aid for grad students or a work-study program, we will provide you with valuable data. You will also find out whether you are eligible for financial aid or not, when the right time to apply for it is, and much more.
Types of Monroe Community College Financial Aid
Before you apply for financial aid, take a look at the options Monroe Community College offers. At this college, these are types of financial aid you can put in an application for:
Grants
Scholarships
Work-study
Loans
Alternative aid
Veteran benefits
Monroe Community College—Grants
In case you decide to apply for a grant at Monroe Community College, the good news is you will not have to repay it. This school offers the following grant options:
Type of Grant
Grant Name
Grant Amount
Federal Grants
Federal Pell Grant
$5,920 per entire year
Federal Supplemental Educational Opportunity Grant (FSEOG)
$400–$600 per semester
New York State Grants
New York State Tuition Assistance Program (TAP
$500–$2,353
New York State Aid For Part-Time Study (APTS)
$100–$400 per semester
If the amount of your grant is lower than you expected, you can to create an appeal letter and send it to Monroe Community College quickly.
Scholarships at Monroe Community College
At Monroe Community College, scholarships are reserved for:
Exceptional academics
Artistic and athletic talents
Members of underrepresented groups
Students interested in specific academic fields
Since the government, educational institutions, community organizations, private foundations, and companies finance Monroe Community College scholarships, you will be able to apply for any of the following:
Governmental scholarship
Institutional scholarship
Private scholarship
You will not have to repay them either.
Monroe Community College—Work-Study
The work-study option is available for all students who want to work and pay their educational expenses that way. If you are one of them, you can apply for the Federal Work-Study Program and get a part-time job related to your field of study.
Loans at Monroe Community College
In case a student loan is a type of financial aid that is the best fit for your college plan, Monroe Community college offers the following:
Federal Direct Student Loan—It is awarded to students directly and can be:
Subsidized loan—awarded on the basis of need
Unsubsidized loan—the award isn't based on need
Federal Parent Loan for Undergraduate Students (PLUS)—Awarded to parents or families of dependant students
Private loans
If you apply for Federal Direct Student Loan, you can borrow from $5,500 as a first-year student to $6,500 as a second-year student. You can also combine it with a Federal Parent Loan and receive an additional $4,000 per year.
Monroe Community College—Alternative Aid
For alternative aid at Monroe Community College, you will have the option to conduct community or military service. You will be able to apply to programs such as ROTC, Rochester AmeriCorps program, Montgomery GI Bill, or NYS National Guard Recruitment Incentive and Retention Program (RIRP).
If you are eligible for RIRP, you will be able to receive up to $4,350 per year. The requirements for this type of aid are enlisted on the Education Services page.
Monroe Community College—Veteran Benefits
Veteran benefits are a special type of financial aid that includes educational programs for veterans, reservists, and active-duty military personnel. The Department of Veterans Affairs manages all of those programs, such as:
Work-Study Program
Post-9/11 GI Bill®
Vocational Rehabilitation & Employment Program
Reserve Educational Assistance Program (REAP)
Survivors' and Dependents' Educational Assistance Program
How To Apply for Financial Aid at Monroe Community College
If you are applying for financial aid at Monroe Community College for the first time, you will have to complete the application process as follows:
Consider how you would like to pay for your tuition
Fill out the FAFSA form and apply for federal aid
Complete your TAP application
Review your Student Aid Report
Answer the request for additional information
Check the aid after completing the documentation
Filling out the FAFSA form is a process you will have to repeat every year of study if you wish to receive financial aid throughout college.
If you are applying for federal grants, your eligibility will also be determined by Expected Family Contributions (EFC), which will be in your Student Aid Report (SAR).
For New York State grants, you will have to turn to Monroe Community College Financial Aid Office, which also applies to scholarships.
The Financial Aid Monroe Community College Offered You Isn't Enough? Use DoNotPay To Send an Appeal Letter!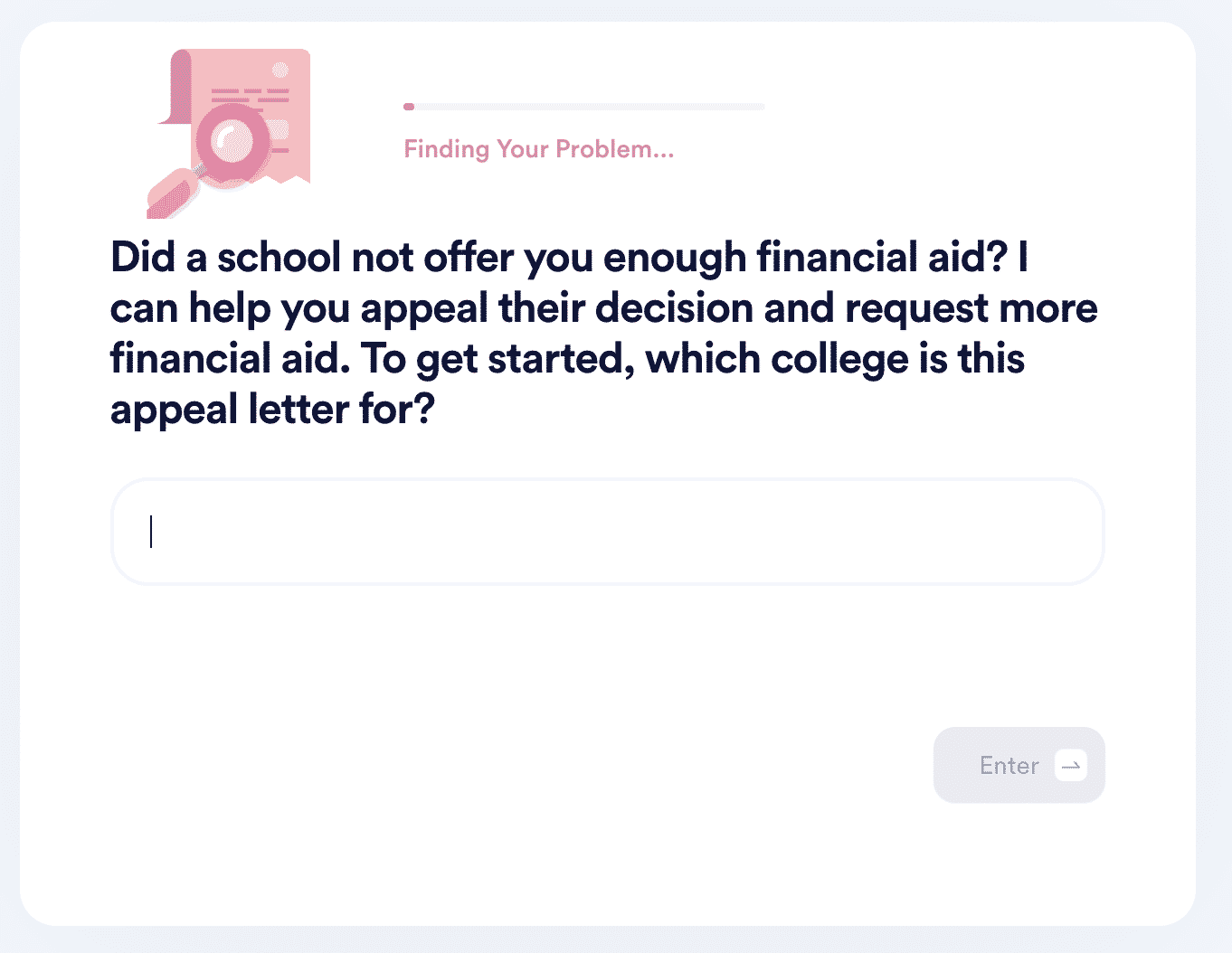 If you think the financial aid Monroe Community College offers is not enough to cover your education expenses, do not hesitate to send an appeal letter. You don't know how? Don't stress about it! DoNotPay can generate an appeal letter for you within a couple of minutes—all you need is to:
using any browser
Locate Appeal for More Financial Aid
Answer a few questions
Aside from Monroe Community College, we can also help you with appeals to:
Need Legal Assistance? DoNotPay Got You Covered!
Forget about getting a migraine every time there is an administrative task to handle. DoNotPay makes it easy and stress-free to deal with any bureaucratic issue that comes your way.
Not only can we assist you in drafting a legal document and getting it notarized, but we also help you:
Reduce your property taxes
Finishing Your Daily Errands Has Never Been Easier!
Looking for help with running errands? You don't have to spend hours trying to make a DMV appointment or contacting a customer service rep! Completing your day-to-day tasks stops being a burden once DoNotPay gets involved.
There is no shortage of errands we'll help you run for a small subscription fee, including:
Sign up for DoNotPay and avoid spending hours on simple daily tasks that can be done in a jiffy!