Everything You Should Know About Emory Financial Aid
Emory University was established in 1836 and now has nine academic divisions. The school has a bit more than 15,000 students who are setting aside a whopping $53,804 for tuition fees. If you can't afford to give such a hefty amount of money to this private research university, you should apply for Emory financial aid.
to inform yourself about the financial aid application process and options at Emory. We can also help you send a financial aid appeal letter if the offer you receive is insufficient or you get rejected.
How To Apply for Financial Aid at Emory University
To properly apply for financial aid, it is necessary to carefully follow the required application procedure. See the steps you need to take in the table below:
Steps To Take
Important Info
Complete the Free Application for Federal Student Aid (FAFSA)
Thanks to this form, you will be considered for all federally funded grants, loans, and work-study assistance. If you want to transfer your data and electronically sign your FAFSA application, you'll need to register for a Federal Student Aid (FSA) ID.

The Emory FAFSA code is 001564

Complete the CSS Profile
This form will provide a more detailed review of your family's financial status. You need to complete it to apply for Emory-funded, need-based grant programs.

Emory's CSS Profile code is 5187

Submit tax forms
Once you complete the CSS Profile application, you will receive a letter from the College Board Institutional Documentation Service (IDOC). This document will contain instructions for submitting relevant federal tax forms
Emory Financial Aid Deadlines To Keep in Mind
Your application won't matter much if you miss the submission deadlines for financial aid. The dates are usually similar every year—check out the deadlines for 2021:
February 3, 2021—for submitting 2021–2022 FAFSA, 2021–2022 CSS Profile (non-custodial if needed), 2019 Student/Parent/Business Tax Returns, 2019 Non-Custodial Parent Tax Return
April 2021—financial aid notification begins
Types of Financial Aid Offered at Emory University
Based on the eligibility criteria, you can apply for different kinds of financial aid at Emory. Take a look at the table below for more information about aid available at Emory College academic division:
Type of Aid
Explanation
Grants and scholarships
You don't need to repay these types of aid, and you can apply for:

Federal grants and scholarships:

Federal Pell Grant
Federal Supplemental Educational Opportunity Grant (SEOG)
Veteran's Education Benefits

State grants and scholarships:

Georgia Hope Scholarship
Georgia Zell Miller Scholarship
Georgia Tuition Equalization Grant

Emory institution grants and scholarships

Courtesy Tuition Benefit for Undergraduates
Woodruff Dean's Achievement Scholarship
Emory Advantage
Emory University Grant
Scholars Program
Lettie Pate Whitehead Scholarship
QuestBridge
Liberal Arts Scholarship
National Merit Scholarship
Study Abroad
Emory Opportunity Award
Emory College Woodruff
United Methodist Ministerial Tuition Benefit
Yellow Ribbon Program
George W. Jenkins Scholarship

Loans
Student loans are the type of aid that is borrowed and needs to be repaid. You can apply for:

Undergraduate Federal Direct Loans
Federal Direct Parent PLUS Loans
Georgia Student Access Loan
Private Loan Programs

Work-study
The Federal Work-Study (FWS) program is an employment program that offers students part-time jobs. Eligibility is based on the information provided on the FAFSA
There are more types of aid available for different academic divisions and graduate schools.
How To Reach the Emory University Financial Aid Office
Emory's Office of Financial Aid is currently only working remotely, and the physical office is closed due to the COVID-19 pandemic. If you have any additional questions about financial aid at Emory, you can reach the office staff via:
Email—finaid@emory.edu
Phone—404-727-6039
The office staff is available from 9:00 a.m. to 4:00 p.m., Monday through Friday.
What if You Are Not Satisfied With Emory's Financial Aid Offer?
In case Emory University rejects your application or you need more money, you can file an appeal. DoNotPay can help you with the process and ensure you save time and energy.
Use DoNotPay To Create a Financial Aid Appeal Letter and Send It to Emory
Being a current or a future student comes with numerous responsibilities and doesn't leave you enough time for dealing with financial aid appeals. You can count on DoNotPay to generate a financial aid appeal letter for you and mail it to Emory as soon as possible.
Follow these instructions:
Find our Appeal for More Financial Aid product
Tell us what the amount of financial aid other schools offered you is (if you applied to multiple schools)
Give us the necessary info about your family's income and financial status
DoNotPay also has the info on how much financial aid you can get and for how long you can keep receiving it.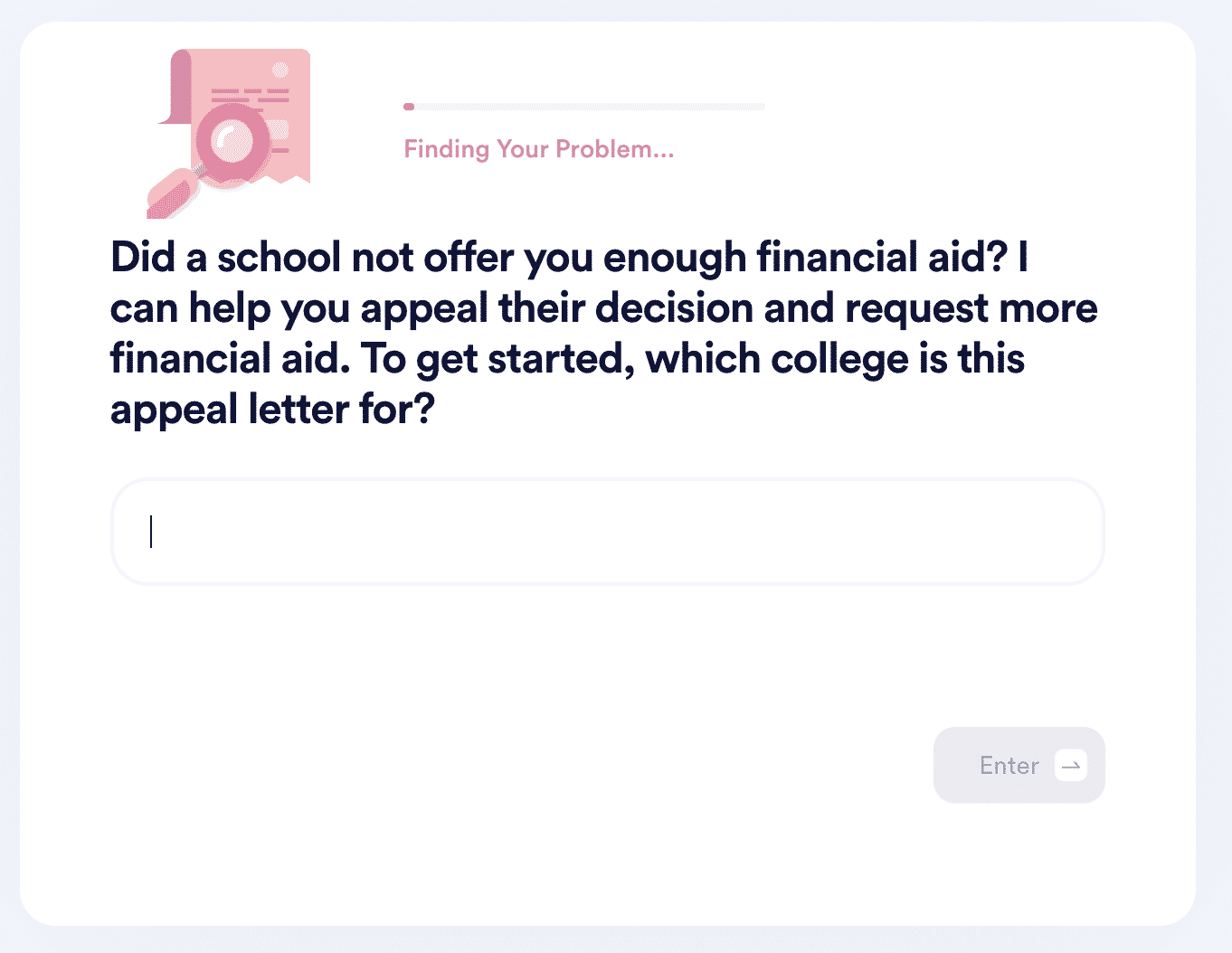 Check Out Other School's Financial Aid Offers With DoNotPay
You shouldn't rely only on Emory's financial aid offer—there are many more schools to consider. Take a look at the table below to see DoNotPay's guides on financial aid for other universities:
Work Smarter, Not Harder!
Although there are certain tasks that are a pain but can't be avoided, such as paying your property taxes, you don't have to do them the hard way. There is always a way to make the overbearing bureaucratic procedures a bit easier. DoNotPay can find a loophole and help you cut through the red tape!
Reducing your property taxes is only one in the sea of tasks our app will make super easy to do! You can also use DoNotPay to:
Draft legal documents

(such as

POAs

)
Explore DoNotPay's Other Neat Features
DoNotPay offers a plethora of useful products to make your day-to-day life easier and enjoyable! Consult the list below to see what you can do using our app: