How Does the Delta College Financial Aid Office Operate—Questions Answered
Getting financial aid from Delta College can be a little burdensome, considering all the information and instructions you must be aware of. Whether you are applying for the first time or inquiring about your existing financial aid scheme, a special department can help you with any related issues.
In this article, we introduce you to the essentials of the Delta College financial aid office operation. Learn:
What Programs Does the Delta College Financial Aid Office Provide?
Delta College students can apply for active financial aid schemes by filling out a Free Application for Federal Student Aid (FAFSA) within a specified time frame annually. The available support programs come in the following forms:
Federal student aid
State financial support
Institutional financial awards
Find some more details and subcategories in the table below:
Federal Aid
State Aid
Institutional Aid

Children of Fallen Heroes Scholarship
Pell Grant
Iraq and Afghanistan Service Grant
Supplemental Educational Opportunity Grant

Children of Veterans Tuition Grant
Michigan Reconnect Scholarship
Michigan Indian Tutor Waiver
Fostering Futures Scholarship
Futures for Frontliners Scholarship
Michigan GEAR UP Educational Award
Michigan Competitive Scholarship Program
Tuition Incentive Program

Board of Trustees Grant
Adult Education Scholarship
Study Abroad Program
Besides these programs, it's possible to file a request for numerous outside scholarships provided by private organizations or donors.
Ways To Contact the Delta College Financial Aid Office
You can reach out to the financial aid office staff in multiple ways—by:
Phoning them at (989) 686-9080
Emailing finaid@delta.edu
Sending your inquiry via fax to (989) 667-2202
Visiting the team at Delta College, Attn: Financial Aid Office, 1961 Delta Road, University Center, MI 48710
Filling out an online form at the official Delta College website
According to the latest updates, the fastest way to get the answers to your queries is to get in touch via email.
When Can You Apply for Financial Aid at Delta College?
You must complete the FAFSA for Fall 2021, Winter 2022, and Spring 2022 semesters to be considered for any available financial support program at Delta College. Here's the table representing the newest information regarding the application deadlines and important dates:
Occasion
Fall 2021
Winter 2022
Spring 2022
FAFSA becomes available on
October 1st, 2021
FAFSA submission deadline
July 1st, 2021
November 1st, 2021
March 1st, 2022
Document submission deadline
July 15th, 2021
November 8th, 2021
March 4th, 2022
How To Appeal a Low Offer from Delta College
If you receive a letter from Delta College that states you have been awarded an amount that seems too small for your needs, you shouldn't get discouraged. The institution encourages all students who think they should get more financial aid to appeal the office's decision.
Here are the instructions for submitting your complaint to the financial aid department:
Use the available communication channels to get in touch with the Financial Aid Advisor and try to solve the matter with them
Submit supporting documents if necessary to prove you deserve to get (more) financial aid
Forward your complaint to the Director of Financial Aid if you don't find a satisfying solution with the advisor. You can also send it to other college staff members, including:

Vice President of Student and Educational Services
Dean of Students
President of the College
If the procedure doesn't yield positive results, another option is to send an appeal letter to:
Federal Ombudsman of the U.S. Department of Education
Office of Inspector General
Michigan Attorney General Office of Consumer Protection
Consumer Financial and Protection Bureau
No Time To Write an Appeal Letter? Have It Created in a Snap With DoNotPay
We understand that spending hours composing a personalized appeal letter can be challenging, especially if you want to appeal multiple colleges' decisions. Save the time you would spend on this task by letting DoNotPay do it for you!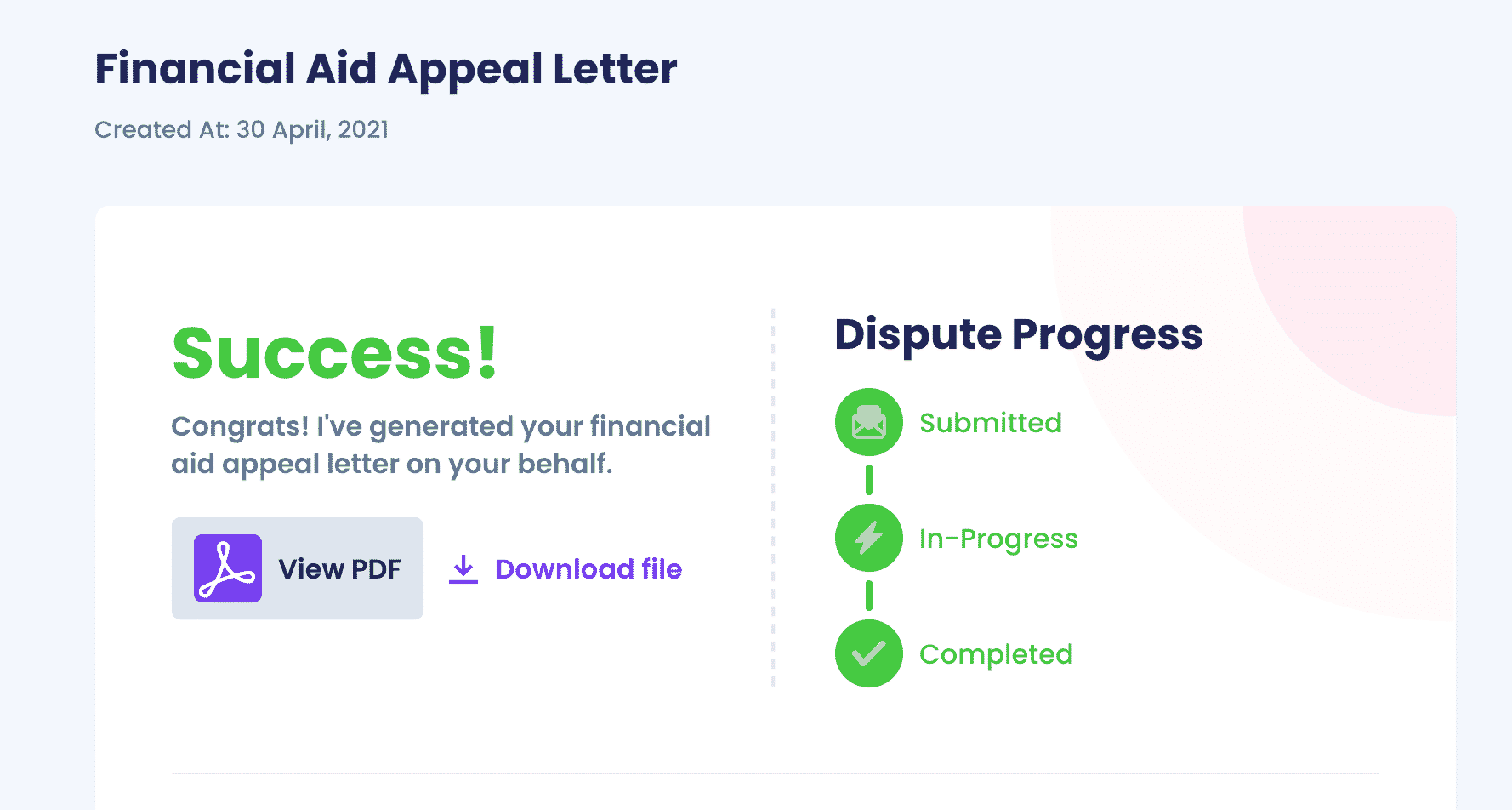 The secret lies in our AI-powered tool that gathers the info about your financial status and creates a customized appeal letter based on it. All you should do is:
Locate the Appeal for More Financial Aid product
Provide more details about:

The college you want to attend
Other financial aid offers you got (if applicable)
Your income, taxes, and education level
Once your claim is ready, we will forward it to the chosen college or graduate school as soon as possible.
Are you considering other colleges and looking for the most accurate financial aid information? Search no more—the excellent guides from our extensive learning base will introduce you to the propositions at many other institutions, including: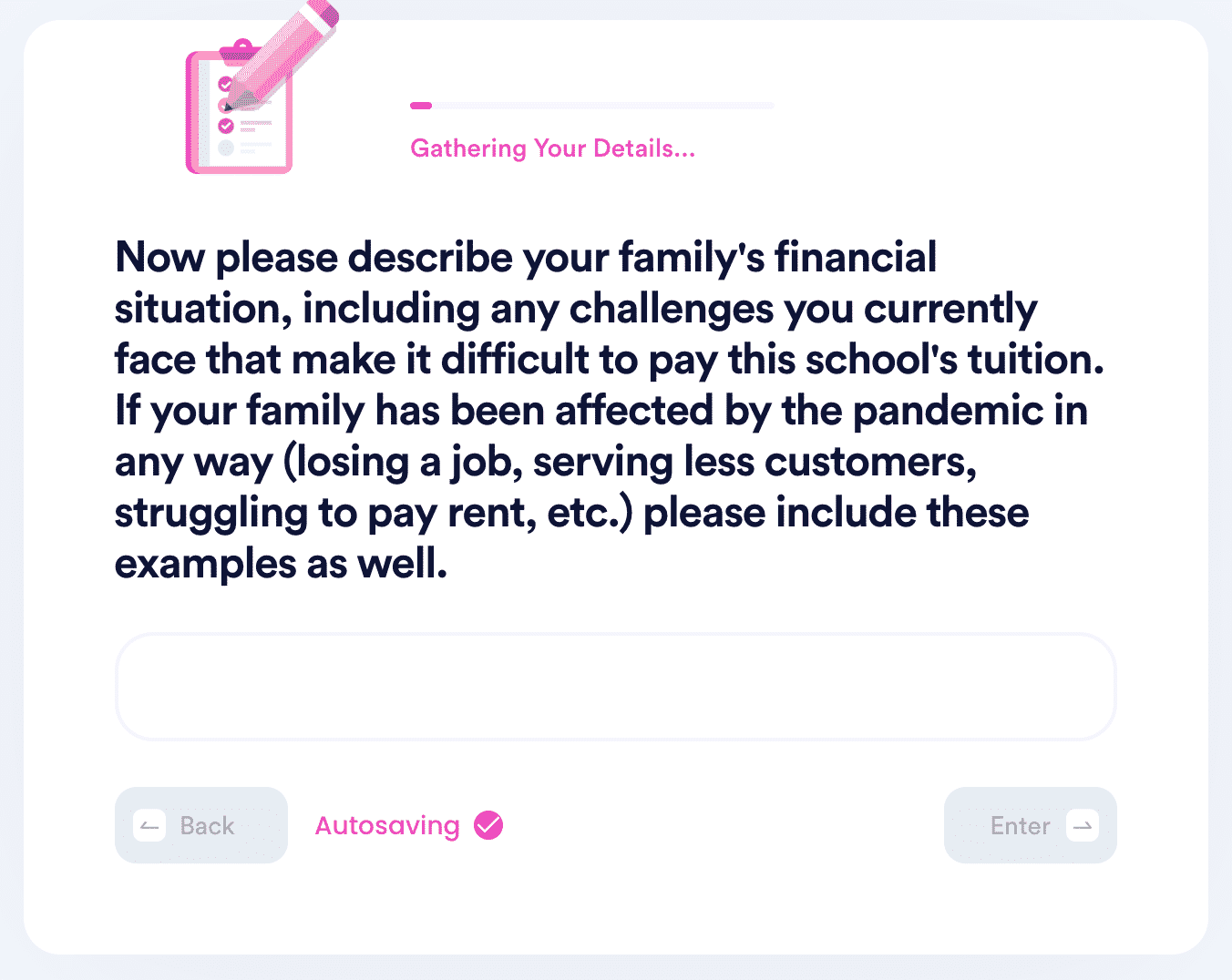 Is Bureaucracy Giving You a Headache? DoNotPay Can Help!
Bureaucracy is a big part of our lives that we can't escape. We understand the struggle over at DoNotPay—that's why we've created various features that can help you out! The world's first robot-lawyer app can assist you with:
DoNotPay's Arsenal of Features Doesn't Stop Growing
DoNotPay's number of handy features keeps growing by the day. Our platform can help you with various issues ranging from filing insurance claims to finding clinical trials. Want to save money on unused subscriptions? DoNotPay has got your back! We can help you cancel them and fight any subscription spam email that you get. Your AI assistant can also get you free raffle tickets or find any missing money in no time!
With DoNotPay, you'll have access to countless features that grow in numbers by the day! You'll be able to block robocalls, deal with tedious neighbors, and much more!