The Ins and Outs of Applying for the College of Southern Idaho Financial Aid
College of Southern Idaho (CSI) doesn't have astronomic tuition fees like private schools, but that doesn't mean that you shouldn't look into financial aid opportunities. Instead of paying from $4,000 to over $6,000 a year, you can get away with paying a few hundred dollars or even less.
Seize the opportunity to get your college expenses covered by learning how to apply for the College of Southern Idaho financial aid.
Available Types of College of Southern Idaho Financial Aid
CSI has a diversified college financial aid program that consists of the following five possibilities:
Grants
Loans
Scholarships
Waivers/reimbursements
Work-study programs
How much money you can get from these programs depends on your financial status, academic achievement, and the year you are in.
Grants
Receiving a grant liberates you from repaying the money as long as you attend your classes regularly, don't fail all your classes, or drop out of college. The available grants are:
Federal Pell Grant
Federal Supplemental Educational Opportunity Grant (FSEOG)
Loans
As a participant of the Federal Direct Loan Program, CSI allows its students to apply for loans. You will need to repay the received amount along with interests and origination fees.
The loan types you can get are:
Subsidized Loans
Unsubsidized Loans
Parent Loans for Undergraduate Students (PLUS)
Scholarships
The CSI Foundation awards over $2,000,000 a year in scholarships. The selection process is mainly based on a student's academic performance, but the school can also consider:
Financial need
Leadership
Ability
Waivers/Reimbursement
College of Southern Idaho might partially or fully waiver or reimburse out-of-state, out-of-district, and in-district tuition and fees if the student is one of the below:
Spouse or a child of a full-time CSI employee
Senior citizen (60 years old and older)
Graduate from an accredited Idaho secondary school
Resident of one of the Western Undergraduate Exchange (WUE) states
Member of certain Idaho American Indian tribes
Immigrant alien with an asylee, refugee, or conditional entrant status
Dual credit/high school student
Work-Study
Part-time jobs are available to CSI students. To enter this program, you need to:
Be enrolled at least half-time
Demonstrate financial need
Be qualified for the jobs you apply for
The school doesn't guarantee that you'll get the desired position.
If you get a part-time job, you'll work around 12 hours a week.
Are You Eligible for the College of Southern Idaho Financial Aid?
To be an eligible financial aid candidate, you need to meet these requirements:
Be a U.S. citizen or an eligible noncitizen with a valid Social Security number
Have a high school diploma or a recognized equivalent
Be admitted to CSI as a regular student
Demonstrate financial need
Maintain Satisfactory Academic Progress (SAP)
Be in good standing with other financial loans (if you have any)
How To Apply for the College of Southern Idaho Financial Aid
Only a few steps are keeping you away from receiving your federal financial aid:
Fill out the FAFSA form (the CSI Federal School Code is 001619)
Complete the scholarship application under the Money Matters tab (for scholarship applicants only)
Revise your Student Aid Report (SAR) to check if there are any incorrect answers
Collect and submit the documentation requested by the CSI Financial Aid Office (you will receive an email with the list of documents after the FAFSA is processed)
Review your aid offer by logging in to Net Partner
You can receive a combination of loans, grants, student jobs, and scholarships within your financial aid offer. Note that you can receive monetary help from the school or State for up to six years, but you can't receive it from more than one institution at a time.
If you need any further clarification on how to apply for financial aid, get in touch with the CSI Financial Aid Office by:
Going there in person (Eagle Central, 1st floor Taylor Building)
Calling them at (208) 732-6273 or 1-800-680-0274, Ext. 6273 (in Idaho and Nevada)
Sending an email at csifinancialaid@csi.edu
Applying for a Student Loan
If you decide to apply for a student loan at Southern Idaho, here's what you need to do:
Complete the FAFSA form
Complete the online Loan Entrance Counseling
Fill in the Master Promissory Note (MPN)
Complete the Annual Student Loan Acknowledgement
Review your loan status on Net Partner
Applying for Subsidized Loans
For unsubsidized loans, you need to:
Complete the FAFSA form
Complete the loan request
Contact CSI in person or via email at csifinancialaid@csi.edu
Applying for the Parent PLUS Loan
In case you want to get the Parent PLUS Loan, take these steps:
Fill in the FAFSA form
Go to the Federal Student Aid website and complete the Parent PLUS Loan Application, Master Promissory Note (MPN), and PLUS Counseling under Parent Borrower
Complete the Parent PLUS Loan Packet form and submit it to the CSI Financial Aid Office
Private lenders—such as banks and other financial institutions—have their own requirements you need to inquire about and follow.
When To Apply for the College of Southern Idaho Financial Aid
Your application won't be reviewed if you don't meet the financial aid deadline. You can submit the FAFSA and scholarship applications after January 1, and CSI encourages you to complete both by March 1. The review process can take up to several weeks.
What if My Application for the College of Southern Idaho Financial Aid Gets Rejected or I Don't Receive Enough Funds?
After you receive the offer, you can accept it, reject it, or submit a financial aid appeal. You can appeal rejected applications or offers with insufficient funds. To get this process started, follow these guidelines:
Contact the Financial Aid Office
Collect the required documentation
Write the appeal letter
Send the letter
Writing an appeal letter is a mundane task that will give you a headache almost instantly. There are many pieces of information that you need to include while making sure that you use the right tone and language. If you want the easy way out, and have our app prepare a rock-solid letter that will get you more funds in a split second!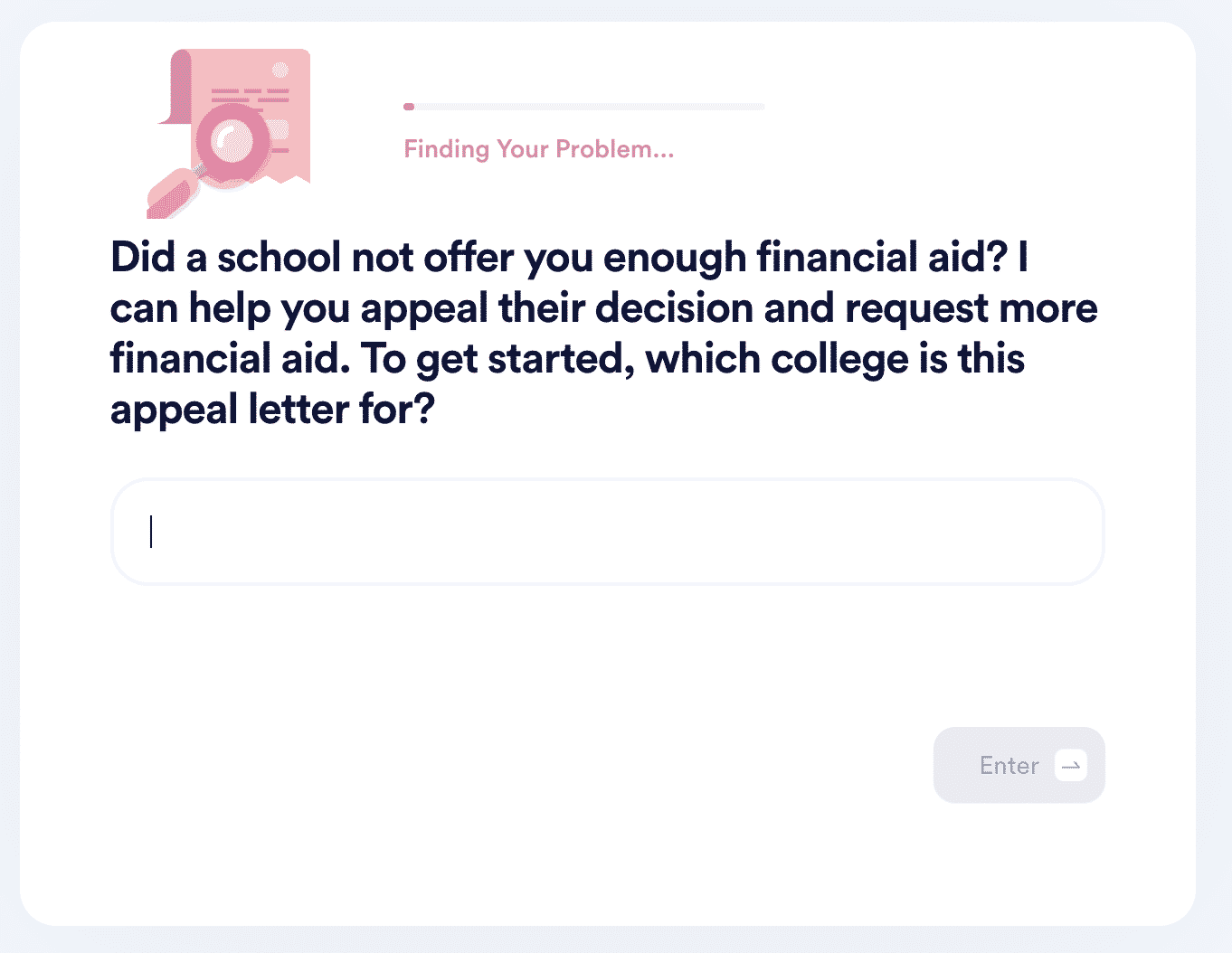 DoNotPay Can Speed Up the Appeal Procedure!
Our nifty app can help you with your appeal process by generating a customized letter. All you need to do is take these three simple steps:
Find the Appeal for More Financial Aid product
Fill in the questionnaire about your reasons for the appeal
We will send the letter to all schools you applied for, including College of Southern Idaho.
Want to learn more about financial aid for graduate schools? Look into our guide!
To revise your financial aid options, check out our guides on other schools' programs:
No More Wasting Money on Lawyers
Spending hundreds of dollars on lawyers seems like a waste, especially when you have a more convenient solution at your fingertips. We developed various neat features that make performing dull legal tasks feel like a breeze! The best part is that you can use them from the comfort of your home or office.
Consult the list below to see the tasks DoNotPay can help you with:
DoNotPay Offers Additional Helpful Tools
Legal tasks aren't the only ones DoNotPay can help you with! We can provide assistance for an abundance of different tasks—from stopping the pesky spam emails to contacting your incarcerated loved ones. Check out the table below and learn how to use our app to:
| | |
| --- | --- |
| Deal With Companies | Deal With Other Tasks |
| | |