Decoding the Clark University Financial Aid Programs
Coping with expensive tuition can make studying at Clark University difficult unless you opt for one of the available financial aid options. 85% of students get this kind of support, which helps them cover college-related expenses and makes their education more affordable.
Do you want to get familiar with the way Clark University financial aid functions? We've got you covered! In this article, you will find the latest information about the application process and discover the simplest way to appeal a disappointing financial aid sum and get more funds!
What Financial Aid Options Does Clark University Offer?
All financial support programs available at Clark University belong to one of the two following categories:
Below is a table containing more details about each category, including the existing subcategories:
Aid Category
Subcategories
Available Programs
Need-based aid
Loans

Federal loans:
State loans:

Massachusetts No-Interest Student Loans

Private/outside loans

Grants

Institutional grants:
Federal grants:

Pell Grants
Supplemental Educational Opportunity Grants

State grants:

Massachusetts Gilbert Grants
Non-Massachusetts State Grants

Work-study
Vary depending on the available job selection
Merit-based aid
Regular scholarships

Presidential LEEP Scholarships
Global Scholars Program Scholarships
Jonas Clark Scholarships
Richard Traina Scholarships
Segal AmeriCorps Scholarships
Robert Goddard Scholarships
Yellow Ribbon Program for Veterans
Tuition Exchange Scholarships

International scholarships

International Traina Transfer Scholarships
International Achievement Transfer Scholarships
International Jonas Clark Transfer Scholarships
What Does Applying for Financial Aid at Clark College Look Like?
Whichever financial aid scheme you opt for, the next step is to file an application. This process must be re-done annually to keep receiving support funds.
Here's a short checklist of all phases you must go through during this procedure:
Fill out a Free Application for Federal Student Aid (FAFSA)—Make sure you check the submission deadlines for the specific academic year and send the form timely. FAFSA usually becomes available on October 1, and the application time frame ends on January 15 (or May 15 for transfer students). This document is crucial for determining your eligibility/financial need. You can complete it online or fill out the printed version and submit it via mail
Complete your CSS Profile—This form can be found on the official College Board website. You don't need to fill it out if you are applying for federal financial support only, but it's necessary for state and institutional need-based programs
Submit additional forms if necessary—If some pieces of information provided in your FAFSA are unclear or incomplete, the university can ask you to submit supporting documentation
Re-read your Student Aid Report (SAR) and search for possible mistakes—You will receive a summary of your FAFSA responses by email/mail soon after submitting your application. Revise the details provided and check if there are any errors, as each incorrect piece of information may decrease your chances of getting a reasonable aid amount
Clark University Financial Aid Office Contact Details
The financial aid office of Clark University can answer all your additional queries related to your application. To contact the support team, use one of the following methods:
Clark University
Office of Financial Assistance
950 Main Street
Worcester, MA 01610
What Happens After the College Receives Your Request?
The Clark University financial aid office will process your application, ensure that all the responses contain accurate info, and make a decision. The team will inform you about the outcome via an official letter.
The results may be the following:
Let DoNotPay Help You Appeal a Disappointing Financial Aid Offer in a Jiffy!
Writing a personalized appeal letter from scratch takes too much time, effort, and persuasion. The good news is that you don't need to do it yourself—DoNotPay is there to spare you the trouble!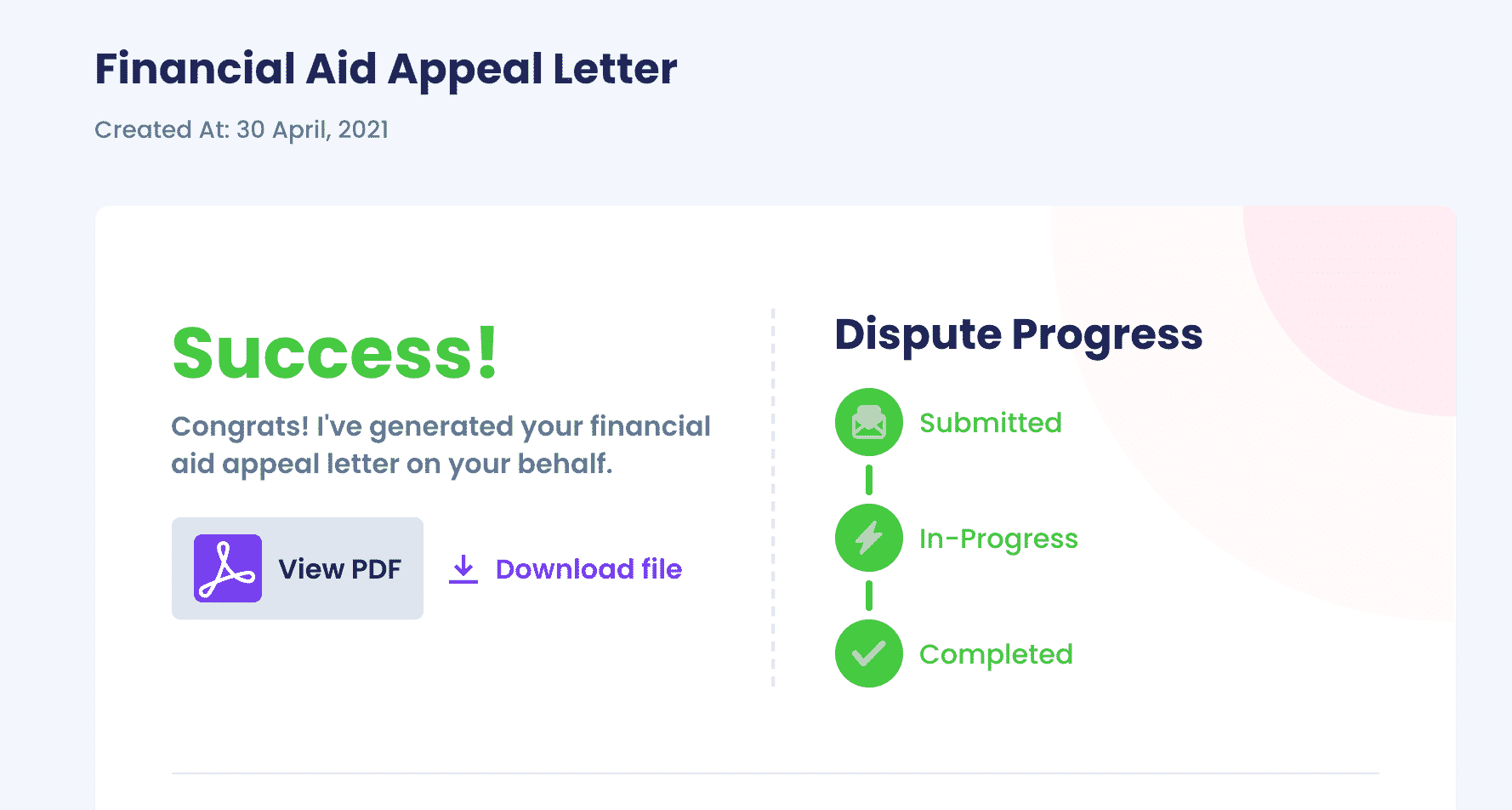 Here's what you need to do to use our help when appealing the college's decision:
in your preferred web browser
Select the Appeal for More Financial Aid product
Respond to several quick questions
We will collect all the info we need from your answers and generate a customized appeal letter! It will automatically be sent to the institution in question.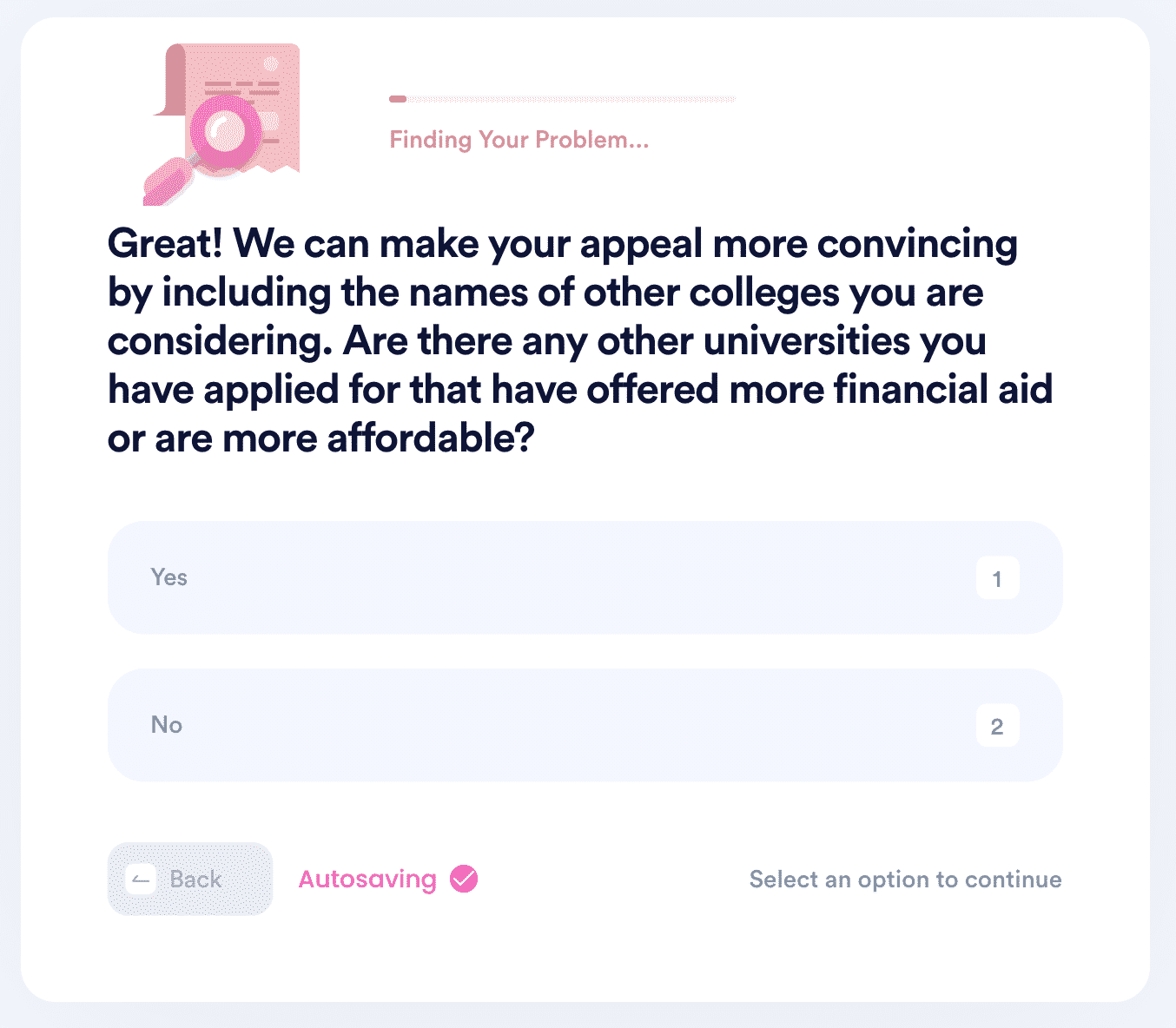 Only the Sky Is the Limit for DoNotPay
DoNotPay has an insane number of features that keeps growing. Our platform can help you:
Say Goodbye to Spam Mail With DoNotPay
DoNotPay has designed a feature that will put a stop to the flood of junk and spam mail into your inbox! We can help you join a class action against a spammer or take any person or company that's wronged you to small claims court!
Need a virtual credit card number or a fake phone number to protect yourself from scammers? We've got you covered! We can help you fight text spam or even assist you in sending mail without any chance of error.
Our users' safety is our number one concern, so we've developed a feature that will protect you from cyber stalking or harassment!