City College Financial Aid—How To Get It the Easy Way
Financing your education at the City College of New York becomes incomparably easier with any type of financial aid provided by the institution.
Are you wondering how the City College financial aid scheme works? In this article, you'll find all the information you need about the application process, financial need calculations, and potential appeals! You will also learn how to to get the best appeal letter in minutes without manual drafts and wasted hours!
What Financial Aid Programs Can You Apply For?
The City College of New York created a financial aid scheme with a wide variety of support types. The table below shows the overview of all available programs you can apply for:
Type of Aid
Programs
State financial aid
Grants

Tuition Assistance Program (TAP)
Part-Time Tuition Assistance Program
NYS Aid for Part-Time Study

Scholarships

Excelsior Scholarships
Enhanced Tuition Awards
American Airlines Flight 587 Memorial Scholarship
NYS Part-Time Scholarships
NYS Scholarships for Academic Excellence
NYS Child Welfare Worker Incentive Scholarship Program
NYS Math and Science Teaching Incentive Scholarships
NYS Achievement and Investment in Merit Scholarships
NYS World Trade Center Memorial Scholarship
NYS Science, Technology, Engineering, and Mathematics Incentive Program
Senator Patricia K. McGee Nursing Faculty Scholarship
Flight 3407 Memorial Scholarship
Military Enhanced Recognition Incentive and Tribute—MERIT Scholarship
NYS Masters-in-Education Teacher Incentive Scholarship
NYS Memorial Scholarship for Families of Deceased Firefighters, Volunteer Firefighters, Police Officers, Peace Officers, and Emergency Medical Service Workers

Awards

Veterans Tuition Awards
NYS Aid to Native Americans
Segal AmeriCorps Education Award
NYS Regents Awards for Children of Deceased and Disabled Veterans

Federal financial aid
Grants

TEACH Grant
Pell Grant
Federal Supplemental Educational Opportunity Grant
Iraq and Afghanistan Service Grant

Loans

Direct Parent PLUS Loan
Direct PLUS Graduate Loan
Direct PLUS Professional Loan
Direct Subsidized/Unsubsidized Loan

Work-study program
No specific schemes
Other types of financial aid
Miscellaneous

Institutional scholarships
Private scholarships and loans
NYS Educational Opportunity Program
What Does Applying for Financial Aid at City College Look Like?
The process is quite similar to the financial aid application procedures for any other college or graduate school. Here's what it consists of:
Checking the eligibility requirements
Getting informed about the current application deadlines
Preparing the necessary information for completing the application form
Creating an account on the Federal Student Aid (FSA) website
Filling out and sending a Free Application for Federal Student Aid (FAFSA)
Completing your TAP application to request specific state financial aid types
Receiving a Student Aid Report (SAR) and examining it for potential mistakes
Waiting for the institution to check your eligibility and assess your financial need
Reviewing the offer from the college
Accepting the offer or filing an appeal to get more financial aid if you don't like the offered amount
You must resubmit the forms with updated info each year to keep receiving financial support from the City College.
City College Financial Aid Office Hours and Communication Channels
If you have any questions regarding your application, you should reach out to the support office within the determined working hours. Find more info in the table below:
Contact Method
Details
Working Hours
Phone
1(212) 650-6656
Monday through Friday from 9 a.m. to 5 p.m.
Email
financialaid@ccny.cuny.edu
No specific working hours
Zoom meeting
Meeting ID: 2126506656

Mondays, Tuesdays, and Thursdays from 10 a.m. to 4 p.m.
Wednesdays from 10 a.m. to 6:30 p.m.
How Does the Financial Aid Office at City College Determine Your Financial Aid Amount?
The City College financial aid office has a predetermined way of calculating your financial need and assessing your eligibility for support programs. Once it receives your application, the staff will estimate the Expected Family Contribution (EFC)—the total amount your family can pay for college expenses. This sum will then be subtracted from your Cost of Attendance (COA), which represents all the education-related expenses, including:
Full tuition
Housing/room and board
Meals
Books
Transportation
Other necessary supplies
The result represents your financial need—the amount you will receive as financial aid.
Avoid Inaccurate Templates—Let DoNotPay Compose Your Appeal Letter!
How to compose a perfect appeal letter if the college's decision isn't what you were hoping for? The answer is simple and only a few taps away from you!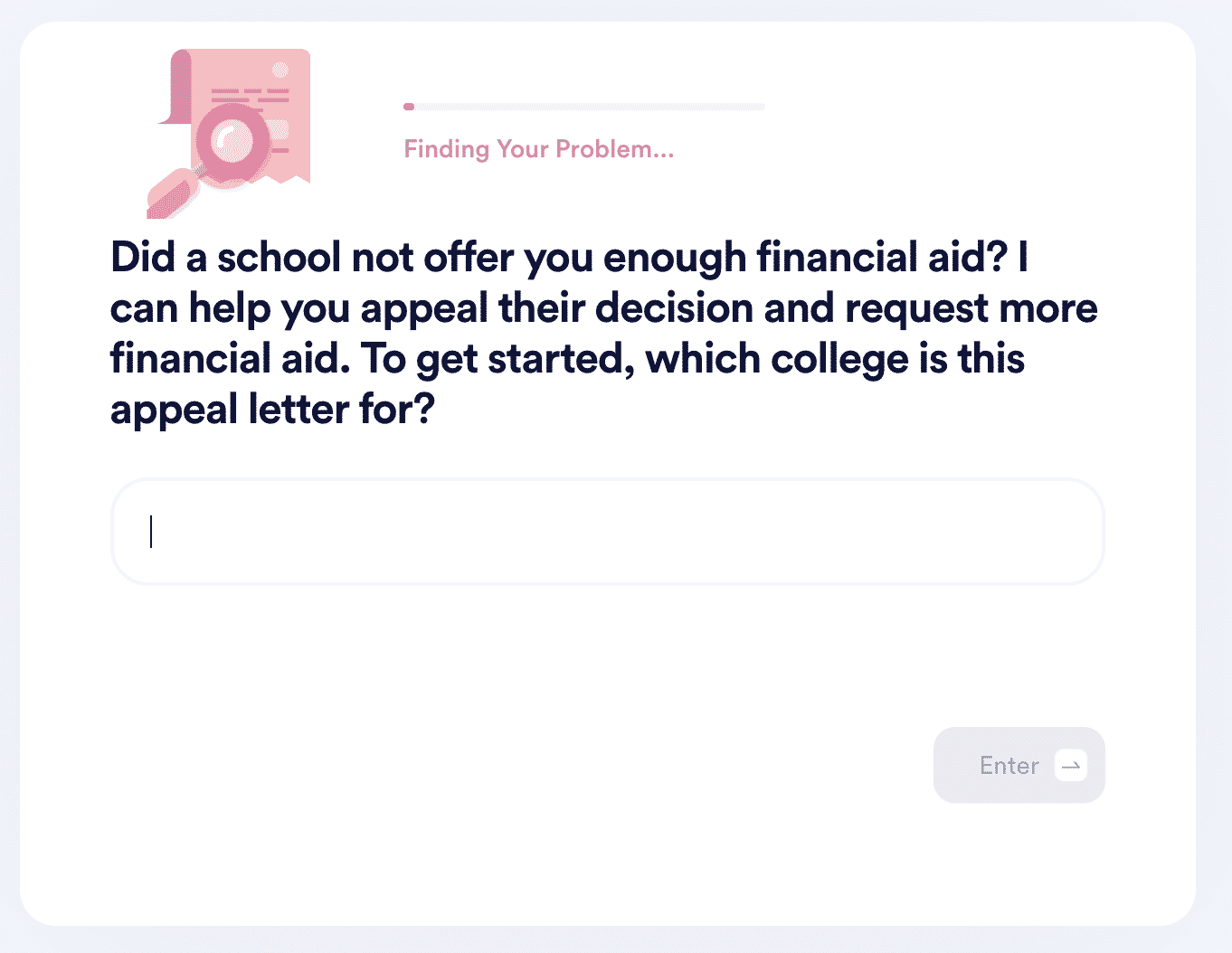 DoNotPay records all the info about your finances and other income details, using them for composing a fully customized appeal letter in your stead! You don't have to be an expert, pay other people to write the request for you, or use unreliable templates. All you need is right here, within our app!
To file a quick and efficient appeal with DoNotPay, do the following:
Click on Appeal for More Financial Aid
Type in The City College of New York as the name of the institution you enrolled at
List the colleges that gave better offers than your preferred one
Give us the necessary details about your income, taxes, and education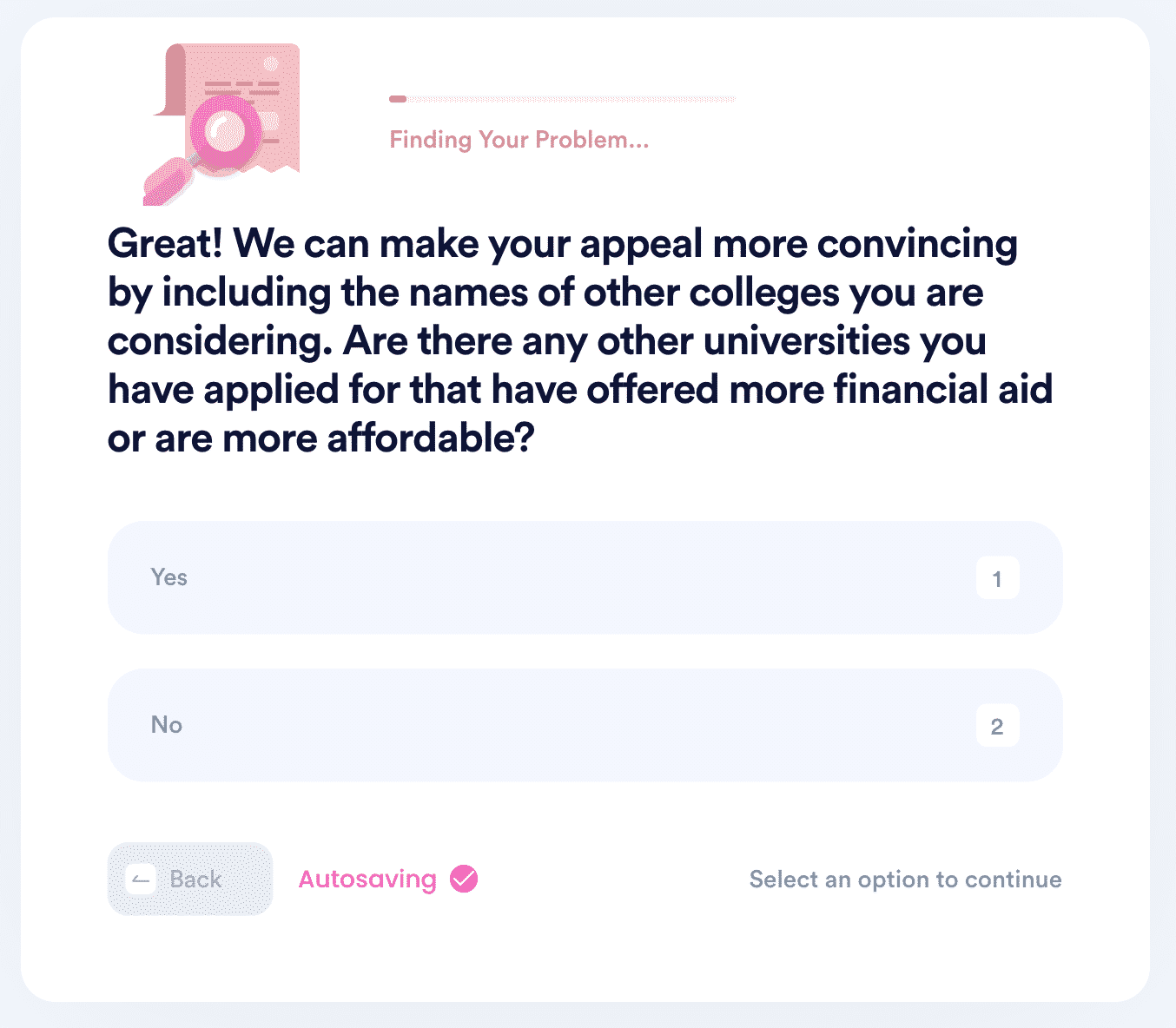 Do you want to find out how financial aid programs work at other colleges? Check out all our excellent guides explaining the propositions at:
DoNotPay Crosses All Your Tasks Off Your List
Whether you need help with preparing for government tests, online faxing, or getting your documents notarized—DoNotPay will be able to help! Whatever problem you're facing, we'll turn it into a breeze!
Sign up now if you want an easy solution to stop email spam, cancel unneeded subscriptions, schedule DMV appointments, and draw up agreements from the comfort of your home.
We can also help you reduce property taxes, pay bills, appeal parking tickets, and find any unclaimed money.
Improve Your Quality of Life With DoNotPay
The beauty of our platform is that besides bureaucratic issues, it can also assist you with numerous other struggles! To name a few, we can help you:
The list could go on for days!