How To Check the Belk Gift Card Balance With No Effort!
With 300 stores and a website to buy them from, Belk gift cards have become a popular gift for friends and family. Did you get a Belk gift card, use it on several occasions, and now aren't sure how much you have left on it? If you're curious about how to check a Belk gift card balance, learn how to do it and get your cash back with DoNotPay!
Belk Gift Cards Explained
You can purchase a Belk gift card:
In Belk stores
Online
From authorized third-party distributors (for example, Amazon)
Belk currently offers these gift card purchase options:
Plastic gift cards—traditional gift cards
eCards—online gift cards you can customize and have them sent to someone via email
Braille gift cards—plastic cards with braille inscriptions
If you're buying directly from Belk, you can load any amount from $10 to $250, but if you opt for a third-party distributor, you can only get a card with a fixed amount.
Check out the Belk Gift Card Terms of Use:
Activation—Belk gift cards come activated and ready to use
Value change—You can't change a gift card's value after you pay for it
Usage—You can use Belk's gift card on the website or at any Belk location
Reload—Belk doesn't offer online reloads, but you can refill your card at any Belk store except for eCards—those can't be reloaded
Expiry—Gift cards never expire, and you won't be charged a service or inactivity fee
Replacement upon loss—Belk can replace your gift card only with proof of purchase
Refund policy—Belk doesn't offer gift card refunds unless you live in a state with a cash back policy in place
How To Do a Belk Gift Card Balance Check
There are several ways to check your Belk gift card balance:
How To Check Belk Gift Card Balance
Explanation
By phone

Call Belk's gift card department at 1-800-474-6102
Ask a representative to check your balance

Online

Visit the Gift Cards page
Click on CHECK YOUR BALANCE
Enter your card number and PIN

In person

Visit your nearest Belk store
Ask an employee to check your gift card balance
Belk Gift Card Balance Check—What To Do With Leftover Money
Some states allow gift card cash back, each with its own money return limit. These are the states in which you can get your gift card cash back at any Belk store location:
California
Colorado
Connecticut
Maine
Massachusetts
Montana
New Jersey
Oregon
Rhode Island
Vermont
Washington
Although not a state, Puerto Rico offers gift card cash back as well.
You're not from a state that allows cash back, and you can't use the remaining balance on your gift card at Belk because there's too little money left? Check out other ways to use the leftover funds on your Belk gift card:
There are several issues regarding these methods, though:
If you choose to sell your card or use a card kiosk, you won't get paid the total value of your gift card
Should you decide to trade your used card through a website, note that card offers are limited and may not be what you are looking for
If you don't live in a state that allows cash back, you're not eligible for a refund
Avoid wasting time searching for kiosks or selling your card on potentially fraudulent websites— and get your cash back with no effort!
After the Belk Gift Card Balance Check, Get Your Cash Back With DoNotPay!
Turning your gift card into cash has never been easier! Follow these steps to get your cash back regardless of the state you live in:
in your browser
Select our Gift Card Cash Back product
Fill in your gift card details
We will forward your request right away to your closest Belk store if you're from a state that allows gift card cash back. If that's not the case, we will check if Belk operates in any of the states that have a cash back policy in place and get you your money back! You should receive the cash within 14 business days.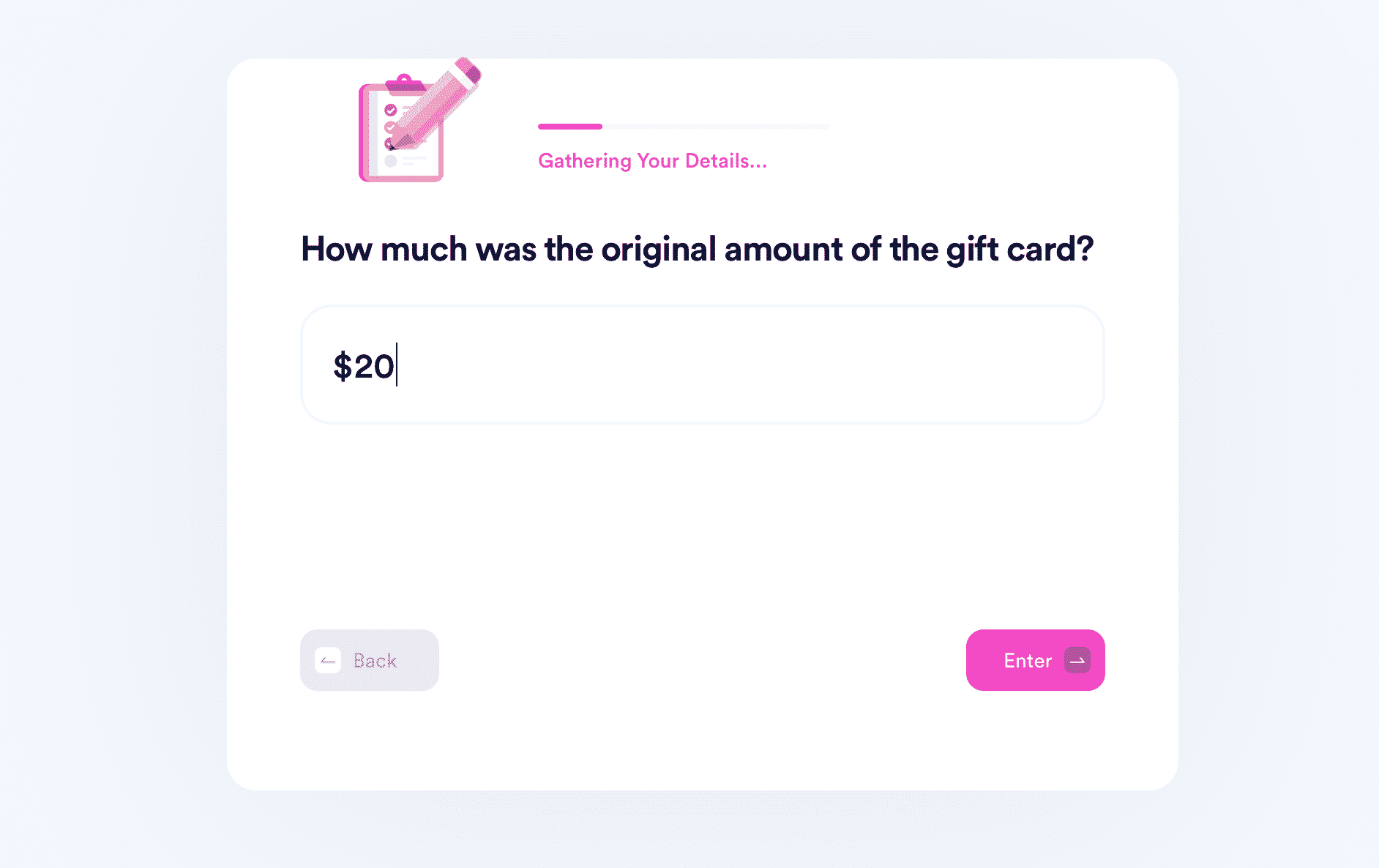 DoNotPay's learning center has answers to all of your gift-card-related questions:
We provide information about gift cards from other large retailers, including:
Do Not Let Companies Burn Your Pocket—Fight Back With DoNotPay
In the golden age of consumerism, it's easy to fall for greedy corporations' tricks and waste your money, sometimes without even knowing it. We are here to nip the money-grabbing techniques in the bud!
With your DoNotPay account, you'll be able to sign up for free trials without worrying about losing money once the trial expires. Are you also concerned about your privacy since most free trials require credit card info? With DoNotPay's virtual credit card, your privacy will remain intact.
Say goodbye to drawn-out refund and cancellation processes with the virtual assistant extraordinaire by your side.
If you need help returning an item or claiming its insurance or warranty, we'll help you throughout the entire procedure.
Need Some Extra Money? Find Unclaimed Funds or Get Compensation
Whether you need help with bills, you're strapped for cash, or you just want to get your money back but you can't bear dealing with customer service, we know what to do!
DoNotPay can help you overturn your parking tickets, apply for a college fee waiver, lower your property taxes, and get free raffle tickets. We can also show you the best way to discover your unclaimed money and obtain different types of refunds and compensation involving airlines, gift cards, and late deliveries.