All You Need To Know About Boston College Financial Aid
Boston College is a solid choice for students seeking a degree in social sciences. With an acceptance rate of 27%, this university may seem like a great choice for prospective students until you find out that the tuition and attendance costs sum up to a whopping $80,000. So how do students attend Boston College without breaking the bank?
In this guide, you will find out how to apply for Boston College financial aid and if the school doesn't offer you enough funds!
The Basics of the Boston College Financial Aid Program
Boston College offers its students financial aid in the form of:
Grants
Scholarships
Loans
Work-study programs
Boston College Grants
Prospective students can apply for the following grants at Boston College:
Federal Pell Grant
Federal Supplemental Educational Opportunity Grant (SEOG)
Federal TEACH Grant
MASS Grant (for Massachusetts residents only)
Gilbert Matching Student Grant
Grants from other states that have an agreement with Massachusetts, such as:

Vermont
Delaware
Pennsylvania
Scholarships at Boston College
Boston College evaluates your eligibility for scholarships based on financial need.
One of the scholarships the College offers is the Presidential Scholarship that only 15 students receive each year, and it covers their entire tuition cost.
Other than the Presidential Scholarship, the College has over 500 named scholarships and evaluates students for each when they submit their financial aid application.
Boston College Financial Aid—Loans
Check out the loaning options available at Boston College:
Federal Direct Loans
Federal Direct PLUS Loans
Nursing Loans
Private Educational Loans
If you opt for a private loan, the College requires you to complete and submit a Self-Certification form that includes your:
Demographic information
Cost of attendance
Estimated financial aid
Check this table to see which loans require a Self-Certification form:
| | |
| --- | --- |
| Loan Type | Does It Require a Self-Certification Form? |
| Direct Loan (Subsidized or Unsubsidized) | No |
| PLUS Loan (Graduate or Undergraduate Parent) | No |
| Alternative Loans | Yes |
| MA No Interest Loan | Yes |
| Boston College Sharp Urban Scholars Loan | Yes |
| Boston College Bank of America Scholars Loan | Yes |
| Nursing Loan (Graduate and Undergraduate) | Yes |
| Boston College Law School Loan | Yes |
Work-Study Programs at Boston College
You can opt for two work-study programs at Boston College:
| | |
| --- | --- |
| Work-Study Program | Explanation |
| Federal Work-Study | Work on- or off-campus and receive weekly paychecks. To apply, you must submit your Free Application for Federal Student Aid (FAFSA) and be enrolled in at least a half-time program |
| Campus Employment Program | Apply for part-time on-campus jobs to cover your educational expenses. This program is available for students who did not qualify for Federal Work-Study |
Both options don't allow students to work more than 20 hours per week during academic terms and 40 hours during the summer.
How To Apply for Boston College Financial Aid
To apply for financial aid, Boston College requires you to submit the following forms:
Free Application for Federal Student Aid (FAFSA)

College Scholarship Service (CSS) Profile
The deadlines for applications are:
Early Decision I—November 1
Early Decision II—January 1
Regular Decision—February 1 for September admissions and November 1 for January admissions
If you need assistance with your application, contact the Office of Student Services by:
How Much Financial Aid Can I Expect From Boston College?
Statistics show the following information about the amount of aid that first-year students received from Boston College during the 2019–20 academic year:
44% of Boston College newcomers received an average of $42,000 in scholarships
333 students received grants, averaging at $7,500 per person
What Can I Do if I Don't Qualify for Financial Aid at Boston College?
If Boston College rejects your application or offers aid but not enough to meet your needs, you can file an appeal and request a reconsideration of your application.
Use DoNotPay to generate a custom financial aid appeal letter and request more aid from Boston College in a matter of moments!
Request More Aid From Boston College With DoNotPay
Do not give up on your calling—use DoNotPay to get more financial aid and attend Boston College worry-free!
All you need to do is complete these three simple steps:
Search for Appeal for More Financial Aid
Answer a few questions about your application and include the response you got from Boston College and other schools you applied for
Once we have all the information we need, we will generate and send your custom letter to you or Boston College directly, depending on your choice.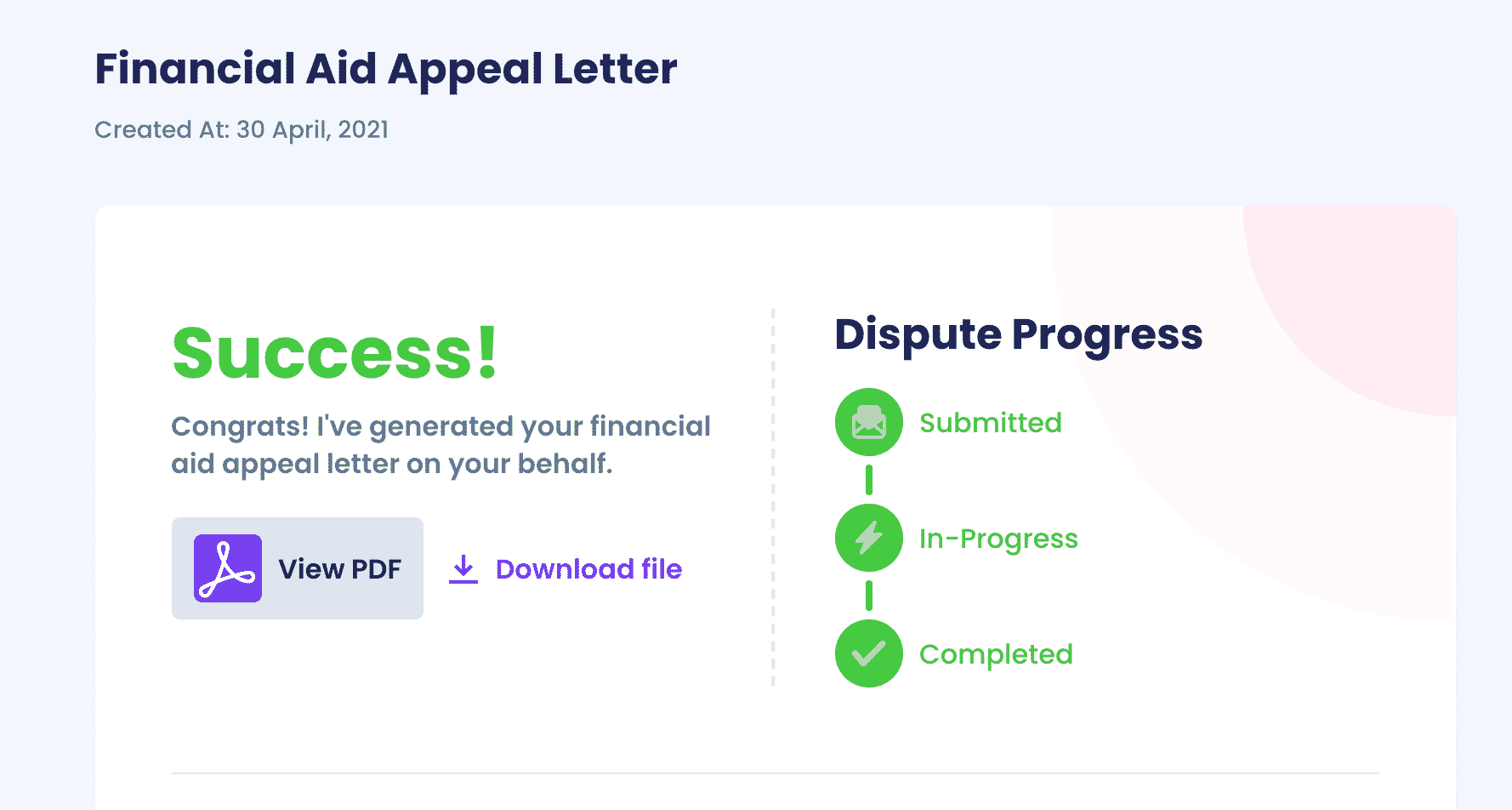 Use Our Guides To Step Up Your Financial Aid Knowledge
Our learning center can assist you in finding out:
Alternatives to Boston College
You can never have enough options when it comes to education, so here are some schools whose financial aid programs we explained:
DoNotPay Helps You Deal With Any Administrative Issue Effortlessly
Tedious administrative tasks are always headache-inducing, but they don't have to be if you use DoNotPay. With our AI-powered app, you will be able to:
Solve Any Issues Like a Pro With DoNotPay
DoNotPay is an AI assistant that is able to solve almost all issues you're facing. Whether that be your noisy neighbors, the annoying text and email spam you're receiving, or the frustrating robocalls that won't leave you alone. We'll even cancel your unneeded subscriptions and get you a few extra bucks you've been cheated out of.
The world's first robot lawyer app can help you get: