Binghamton Financial Aid—Everything You Should Know
New York offers many education opportunities at some of the most famous institutions in the USA, including Binghamton University. The costs aren't always reasonable, and parents with average income may not be able to finance the entire academic year for a student in the family. Financial aid offered by this institution can come in handy—all you should do is learn how to apply!
With this article, you will get the scoop on the most significant steps of the Binghamton financial aid application. Besides the ultimate tips for going through this procedure smoothly, we will show you how to get even more money by filing an appeal for a disappointing offer !
What Does Binghamton University Financial Aid Offer Consist Of?
The financial support programs provided by Binghamton University are quite similar to the ones at other New York colleges. They can be divided into the following categories:
Grants
Scholarships
Federal work-study
Student loans
Grants
Grants are amounts awarded by the Federal government or New York State that don't need to be repaid after graduating. Here are the programs you can opt for if this type of aid seems the most convenient:
Federal Grants
State Grants

Federal Pell Grants
Federal Supplemental Educational Opportunity Grants (FSEOG)
TEACH Grants

Tuition Assistance Program (TAP)
SUNY Tuition Credit
Scholarships
Just like grants, scholarships are non-repayable, but they are usually awarded based on your academic progress and other special skills or abilities you possess. Depending on the support resource, you can apply for:
Institutional scholarships for:

Current Binghamton students
International students
Graduate students

State scholarships, including:

Excelsior Scholarships
New York State STEM Incentive Program
Master in Education Teacher Incentive Scholarships
Regents Awards for Child of Deceased or Disabled Veterans
New York State Scholarship for Academic Excellence
Veterans Tuition Awards
World Trade Center Memorial Scholarships

External/Outside scholarships
Work-Study Program
If you want to earn for your tuition and pay for college-related costs yourself, you should take up a part-time job within the work-study programs. These are the offered positions:
Student Assistantships
Graduate Assistantships
Research Assistantships
Federal Work-Study
On-campus part-time jobs
Off-campus part-time jobs
Student Loans
A loan is a sum awarded from federal or private sources you must repay upon graduating. There are:
Federal loans, such as:

Direct Subsidized Student Loans
Direct Unsubsidized Student Loans
Nursing Loans
Graduate PLUS Loans
Parent PLUS Loans

Private loans
How To Contact Binghamton Financial Aid Office for More Info
Before proceeding with your financial aid application, you must be fully aware of all the applicable propositions. If you can't find enough info on the website or feel more secure when you contact the university directly, get in touch with the institution's financial aid department.
Here are some ways to do it:
| | | |
| --- | --- | --- |
| Method | Details | Operating Hours |
| Email | finaid@binghamton.edu | No working hours specified |
| Phone | (607) 777-2428 | Monday through Friday from 9 a.m. to 4 p.m. |
| In-person appointment | Online scheduling | Monday through Friday from 11 a.m. to 3 p.m. |
| Fax | (607) 777-6897 | No working hours specified |
How Does the Financial Aid Office at Binghamton Decide if You Get the Requested Support?
To apply for financial aid at Binghamton University, you must submit a Free Application for Federal Student Aid (FAFSA) every year by institution-specified deadlines. It's a detailed form that consists of numerous questions related to personal info, family income, taxes, and other financial particulars. When completing it, you should be precise and give correct answers as these are the main criteria based on which the university awards financial aid to students.
Upon receiving your application, Binghamton University will assess your eligibility by evaluating your responses and determining your Estimated Family Contribution (EFC). This is the sum you and your family can pay school-related expenses with. The EFC must then be subtracted from the determined Cost of Attendance (COA)—the total amount covering all your college costs. The result is your financial need sum, and that's how much money you can get from the institution's financial support funds.
Was the Response Dissatisfying? Appeal the College's Decision With DoNotPay
Once the letter from Binghamton arrives, depending on the response, you may accept the offer or appeal it if you are unhappy with it. The problem is—writing an appeal letter on your own can be stressful if you aren't skilled enough or don't have enough time for it.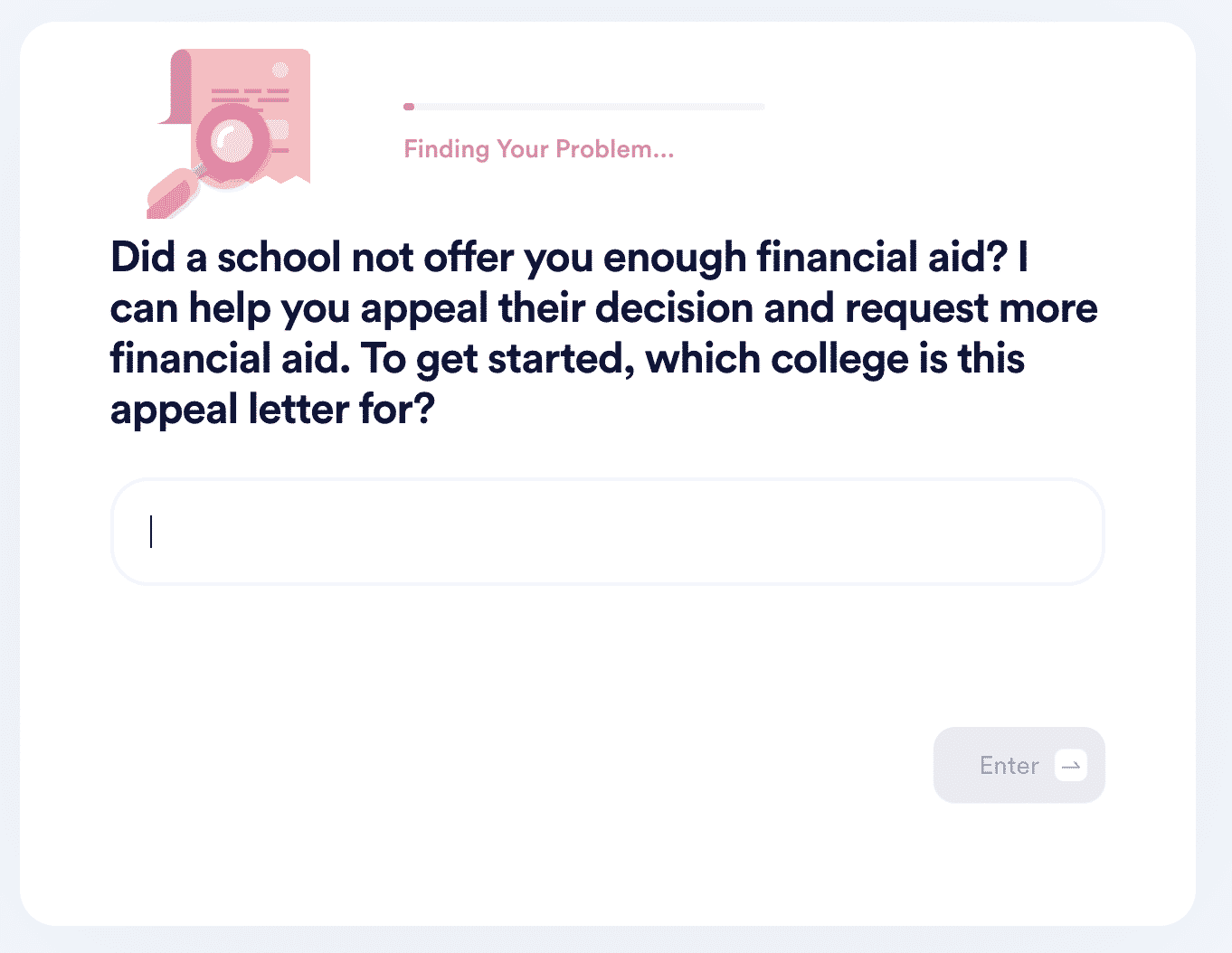 DoNotPay helps you solve the matter by filing an appeal on your behalf in record time!
Here's what we can do for you:
Collect the necessary information about your financial circumstances and potential difficulties you may be experiencing
Generate a personalized request letter in your stead
Direct it to the university of your choice right away
The procedure looks like this:
in your web browser
Pick Appeal for More Financial Aid
Type in the name of the college or grad school you want to attend
Enter the names of other institutions you are interested in if applicable
Should you decide to apply for multiple colleges but aren't sure how their financial aid system works, you can find all the info in our guides, including the following ones:

Only the Sky Is the Limit for DoNotPay
DoNotPay has an insane number of features that keeps growing. Our platform can help you:
Say Goodbye to Spam Mail With DoNotPay
DoNotPay has designed a feature that will put a stop to the flood of junk and spam mail into your inbox! We can help you join a class action against a spammer or take any person or company that's wronged you to small claims court!
Need a virtual credit card number or a fake phone number to protect yourself from scammers? We've got you covered! We can help you fight text spam or even assist you in sending mail without any chance of error.
Our users' safety is our number one concern, so we've developed a feature that will protect you from cyber stalking or harassment!