Become an Expert on the BHLDN Return Policy With DoNotPay
BHLDN has 21 different U.S. locations, with hundreds of wedding and formal products for sale.
If you've purchased a BHLDN item that's the wrong size, wrong style, or is damaged, the store provides you with the opportunity to return it.
Unsure how to navigate the BHLDN return policy? Our comprehensive guide will provide you with all the details you should know when returning a faulty item to BHLDN. If you find the company's return policy too complicated to navigate, and let us handle your return request!
The Ins-and-Outs of the BHLDN Return Policy
The BHLDN return policy states that:
Customers can get a full refund on eligible items if they are returned within 30 days of purchase or delivery
Products must have tags and be in their original packagings
Merchandise must be unworn and in mint condition (wedding and guest dresses cannot be altered before returning)
Some products cannot be returned, such as:
Face masks
Final sale gowns
You can tell which items are on final sale because they are marked with prices ending in $.99.
Your request to BHLDN will take roughly one to three weeks to be processed.
You should also keep in mind the following elements of the BHLDN return policy:
Returning a gown may include a $75 restocking fee
Gowns are shipped via UPS rather than USPS (as other products are). They come with a prepaid ground label upon purchase
Designer trunk show gowns:

Are subject to a restocking fee equal to 50% of the sale price
Must be shipped back to the warehouse rather than returned to the store
Returning Your Items to BHLDN—What To Do
Follow these steps to get your exchange or refund for most BHLDN items:
Sign in to your BHLDN account (If you don't have an account, enter your order number and ZIP code to find your order)
Select the order you wish to return
Select Start a Return
Print your return label
Pack your product and stick the return label on the box
Contact USPS for a complimentary shipment pickup
You will receive an email with tracking information designated to your return tag. You will receive an email notification once the process is completed.
When returning a wedding gown (including a trunk show dress or designer gown), you should include one of the following codes in your request:
Dress Return Codes
08—Too large
29—Return gift
23—I disliked fabric
06—Too long
32—Not as I expected
17—Too small
35—Purchased more than one
24—I disliked color
28—Changed mind
15—Too short
22—I disliked styling
40—Arrived too late
When Can I Expect a Refund?
Following a successful BHLDN return, your refund will come via the original payment method.
You will receive a merchandise credit for dresses and accessories purchased by a gift card.
Your refund will be processed up to one to three days after your item is returned. Keep in mind that you may not see the credit appear on your credit card statement until the following billing cycle.
Skip the Madness and Process Your Return With DoNotPay
Feeling intimidated by the BHLDN return policy? Forget about the endless and exhausting back-and-forth with the company and return an item to BHLDN with DoNotPay instead!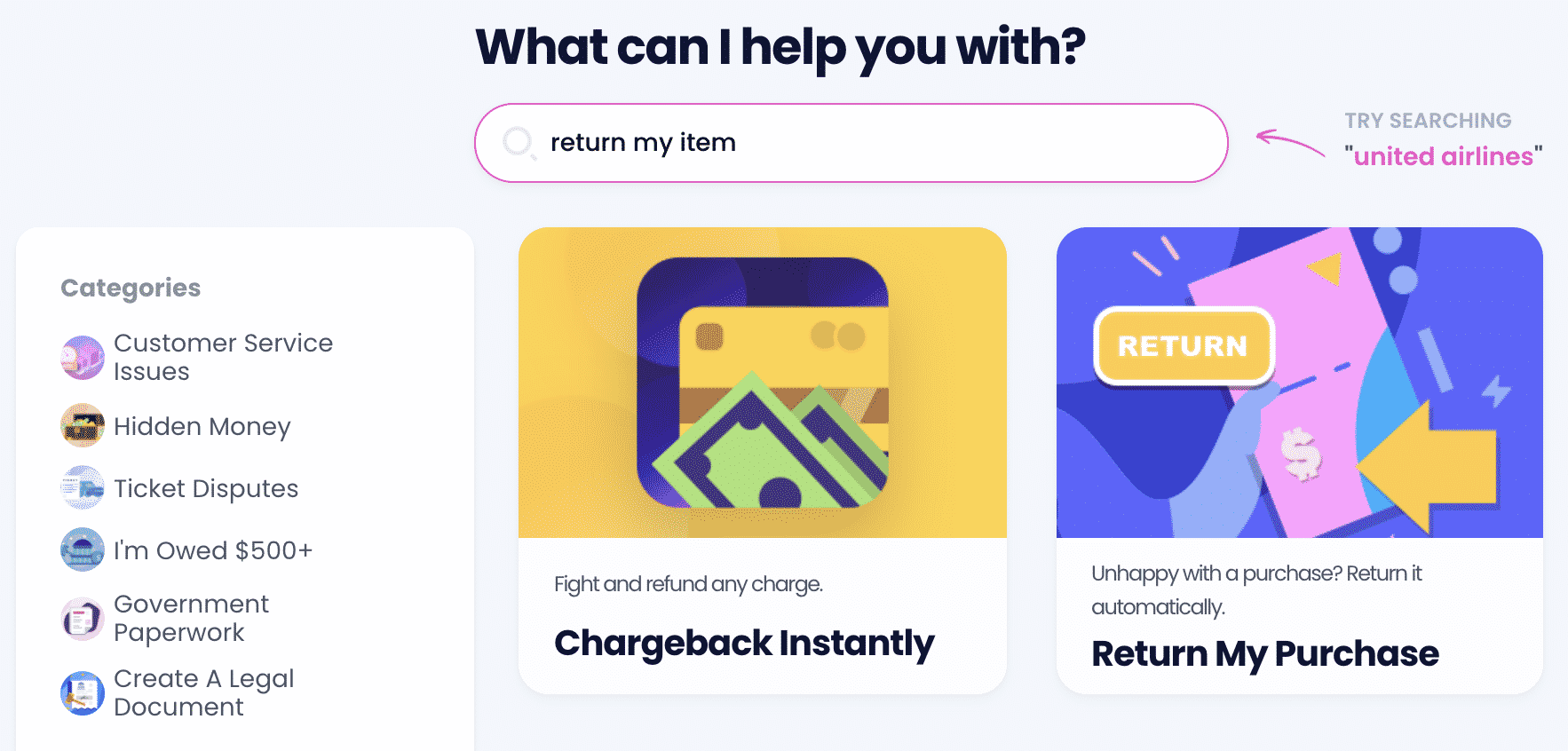 To use DoNotPay, follow these steps:
Locate our Return My Purchase product
Answer questions about the product you are returning
Submit your request
Once you've completed the steps, our app will create a customized letter on your behalf. The letter will describe the issues with your gown or accessory and specify a deadline for the company to process the return request. We will even send the letter to BHLDN on your behalf. With our help, you can be sure the company will give you a prompt response!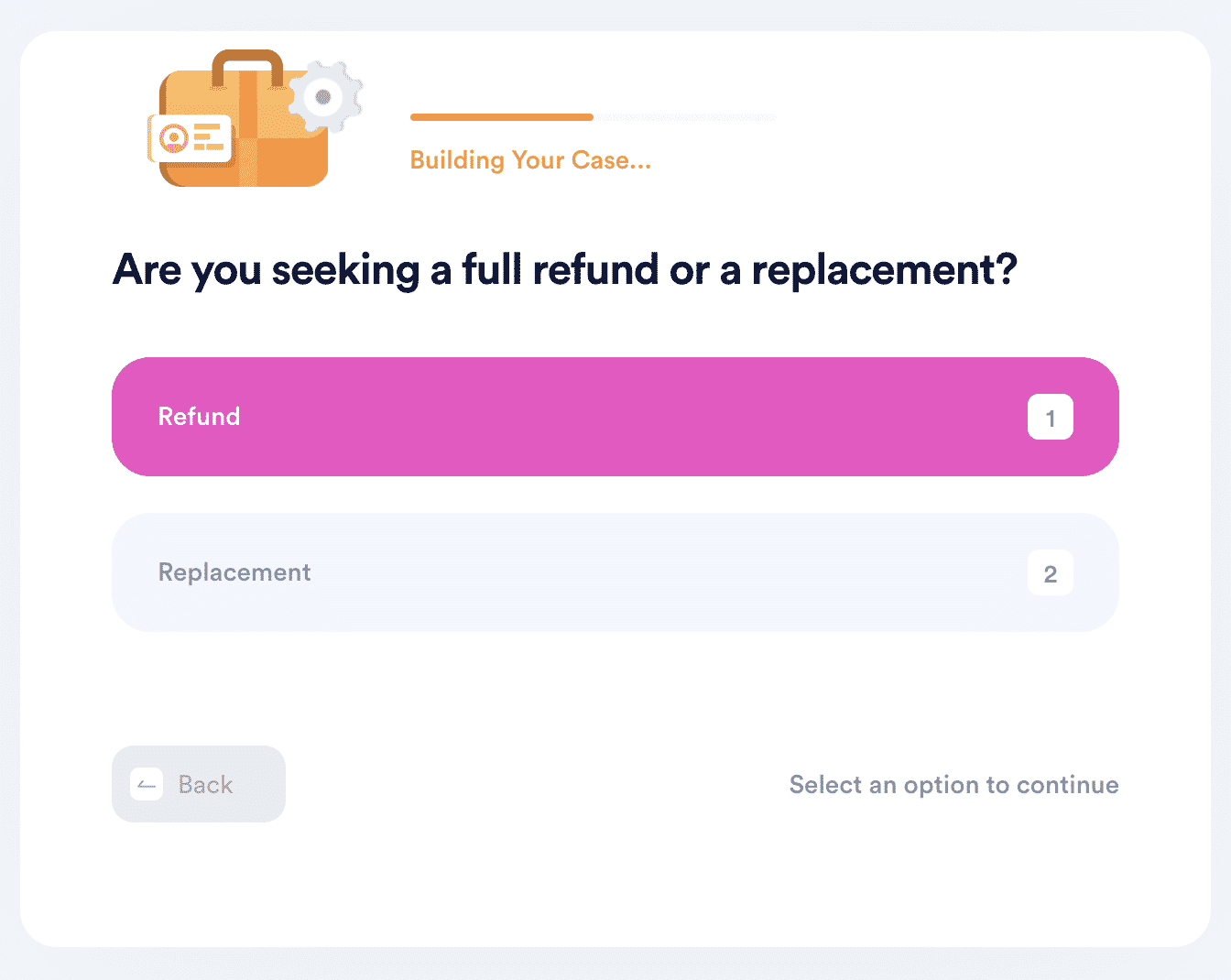 DoNotPay can help with more than just BHLDN—check out our guides to various other stores' return policies, including those of:
Did BHLDN Ruin Your Special Day? DoNotPay Can Help You Sue the Company in Small Claims Court
If BHLDN has denied your return request, don't despair!
Our app was recognized by the American Bar Association and will help you sue the company in small claims court. DoNotPay will assist you with:
Creating a demand letter
Completing the necessary court forms
Gathering the rest of the paperwork needed for the court hearing
Submitting the complaint
Generating a script with convincing arguments you can use in your court appearance
Don't face the scrutiny of the small claims court alone—go in prepared with the help of DoNotPay!
DoNotPay Is a Master at Getting What's Rightfully Yours
Are you dealing with a company that refuses to approve your return? Once we submit a refund request in your stead, we can also prepare all the paperwork you need to sue the merchant in small claims court and win your case.
Need a legal document for the lawsuit? Draw it up with our handy tool. Want to get any document notarized and fax it to someone? We have products that can do that for you as well.
Has an airline rescheduled your flight, or is your package damaged or missing? Demand compensation with DoNotPay!
Do you believe that you may have some unclaimed assets? Count on us to find and get them for you.
It Doesn't End There!
Use DoNotPay whenever you need to tackle any sort of mundane task. If you're sick of wasting your time in long phone queues or the ones at the DMV, we'll help you skip them. Do you want to apply for a college fee waiver or clinical trial? Are you looking to enter a sweepstake or get a passport photo or a tourist visa? We'll do it all in your stead!
If you want to send a letter of warning to a persistent harasser or loud neighbor or want to get compensation for victims of crime, workplace discrimination, or robocalls, let us know and we'll tackle the issue momentarily.