The One-Stop Guide to the Sprint (T-Mobile) Return Policy
If you made a purchase and changed your mind about the product, you need to get familiar with the company's return policy. Sprint, now T-Mobile, will allow you to return the items you are dissatisfied with as long as you follow the established protocol.
DoNotPay will break down the Sprint return policy and reveal how you can create return requests in minutes!
Is the Sprint Return Policy Different After the T-Mobile Merger?
If you bought a device at a Sprint/T-Mobile store, you can request a return on all purchases. The return period for all devices is 14 days, and you may exchange the product only once. When you decide whether you want a refund or an exchange, follow up with the details involved to learn more about the policy and its conditions.
You can return Sprint devices via several methods. Check out your options in the table below:
| | |
| --- | --- |
| Start the Return Process Via | Yes/No |
| DoNotPay | Yes |
| Letter | No |
| Online | Yes |
| Mail | Yes |
| Phone | No |
| In person | Yes |
| Email | No |
Before returning your device, back up all your photos, contacts and remove account locks, as all your data won't be recoverable once the device is returned to Sprint.
Initiate an Online Return
To initiate a return online, follow these steps:
Find the Chat With an Expert icon
Provide information about the return you wish to make
Request a return kit
Opt for an exchange or a refund
Wait for the return kit to arrive by mail
Mail the product according to the provided instructions
Return kits are created for specific products, so you can only send the product you listed with the return kit you receive.
In-Person T-Mobile Returns
The company recommends in-person returns to ensure fast processing, so you can visit any T-Mobile retail store to get a refund or exchange your product. Follow these steps to make a return in person:
Visit the nearest T-Mobile store
Pack the device in the original box with accompanying accessories
Bring the device you wish to return
Bring the original slip
Choose between an exchange or a refund
If you opt for a refund, you will be repaid to your original payment method immediately.
Mail-In Sprint/T-Mobile Returns
If you want to return your device by mail, T-Mobile will send you:
Return Merchandise Authorization (RMA)
Shipping material that usually includes a box or a padded envelope suitable for the device you are returning
Pre-paid return label
If you receive a plastic bag for shipping your return, contact Sprint/T-Mobile customer service, and an agent will send you new shipping material.
You can mail your product via UPS and track your delivery to a Sprint warehouse in the following way:
Visit the UPS website
Choose Track by Reference Number option
Enter your RMA number
Does the T-Mobile Return Policy Sound Too Complex? DoNotPay Can Help You!
Are there too many confusing steps and complex processes in the T-Mobile return policy? If you are struggling to understand all the details and requirements, DoNotPay will help you out! We will create a customized return request to address your case and notify the company about your intention. All you have to do is follow these steps:
and log in
Choose the Item Return Request feature
Attach photos of the product and all relevant info
Submit your request
DoNotPay can help you create return requests for other companies as well! Read through our detailed guides on various return policies of different companies, including:
Getting a Refund From T-Mobile
In case you want a refund for the item you're returning, you should be familiar with the costs you'll need to pay. Check the details in the table below:
Covered Charges
Not Covered Charges
Other Charges

Full retail price
Fees and taxes of full retail price
Monthly installment agreement purchases
Flex Lease purchase

Add-on services
Monthly plan service charges
Out-of-plan usage
Related service fee charges

Spending limit program
Detail bill fees
Paper bill fees
Restocking fee for some devices
You may need to pay a restocking fee for the device you are returning. Restocking fees are based on the Full Retail Price (FRP) and may be charged as follows:
| | |
| --- | --- |
| Full Retail Price (FRP) | Restocking Fee |
| $600 and more | $70 |
| $300–$599 | $40 |
| Less than $300 | $20 |
If the device you are returning is damaged, you may be charged the restocking fee for the full retail price of the product.
Demand a Refund From T-Mobile Using DoNotPay
Getting a refund from T-Mobile/Sprint doesn't have to be difficult. With our app, you only need to answer a couple of questions, and we will handle your refund request.
To start the process, and do the following:
Choose the Chargeback Instantly product
Click on the Get Protected option
Share a few details about your purchase
Click on Sign and Submit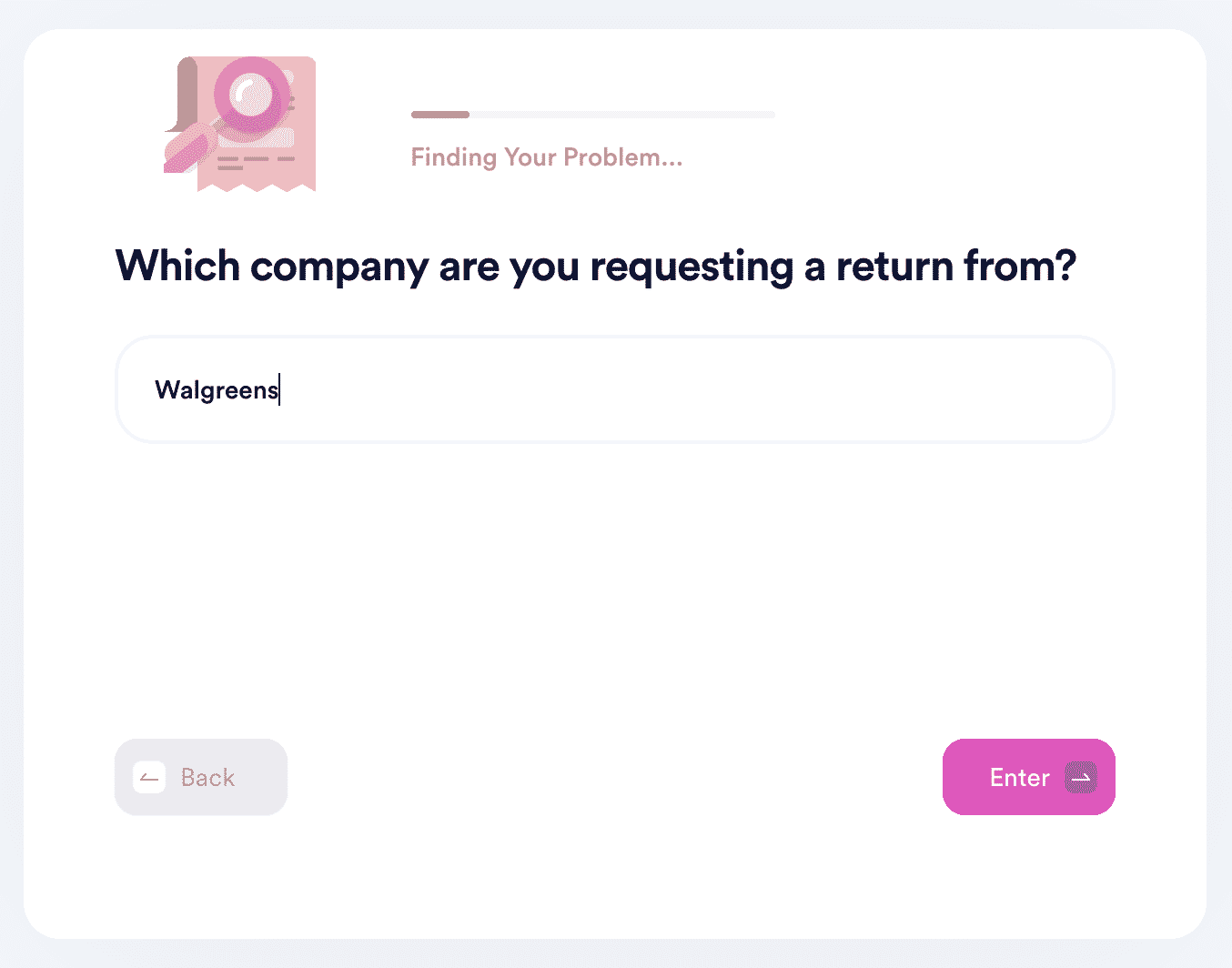 Don't Tolerate Corporate Attitudes—Request What's Rightfully Yours
DoNotPay is known for being the champion of customer advocacy because we help our users claim what's rightfully theirs, and we don't tolerate big corporations taking people's hard-earned money.
No matter if you want to request a refund, insurance, extended warranty, or compensation from airlines, our AI-powered lawyer will fight for your right.
If you feel like you're overpaying certain subscription services, we can help you cancel them. Also, if you want to test a subscription before you start paying money for it, don't connect your credit card to the free trial page! You can sign up for free trials using our virtual credit card. That way, companies won't be able to charge you auto-renewal fees because the card has no funds.
Wait! DoNotPay Can Help You in Many Other Ways
DoNotPay has many different areas of expertise—helping you return your faulty items is only one of them.
Check out how our app can assist you in: