Get the Champs Return Policy To Work in Your Favor
Not every Champs sportswear is crafted to put you in a win-win situation. If you are uncertain about your new Champs Sports buy, you can look into some practical return options described in the Champs return policy.
Champs Sports claims to prioritize user satisfaction, but many disgruntled buyers have pointed out their disappointing customer service.
Are you a dissatisfied customer stuck in a maze of policy terms and conditions? offers you an efficient way to return your unwanted product to Champs Sports without any fuss!
The Champs Sports Return Policy in a Nutshell
Champs Sports products come with a Fit Guarantee that allows you to return any unsuitable merchandise for free. You need to have a receipt to initiate the return. You must return the merchandise:
In unworn and unwashed condition
In the original bag or box
With all original product tags
Champ's Standard Return Policy for In-Store and Online Purchases
The return policy specifies minor differences for online and store-bought items, as shown in the table below:
In-Store Purchases
Online Orders

You can return your product within 45 days of purchase
Mode of refund may vary

You can return your product within 45 days of the original shipment date
The refund will be credited to the original payment mode
Can I Return an Online Purchase at a Champs Store?
Yes, you can. You need to bring your product to a Champs Sports store in as-delivered condition. The staff will verify your receipt and offer you an exchange or a refund for the return of any online purchase.
Champs Sports will refuse to issue you a refund for items with a gift receipt, but you can still get an exchange or in-store credit for the product.
Champs Return Policy for Items With No Receipt
No-receipt returns are valid for in-store purchases. If you satisfy all return guidelines but fail to locate the receipt, you can still return the item at your nearest Champs Sports store. Once the store manager approves the return, you can exchange the item or receive store credit at its current price.
If you don't have the original receipt for your online Champs Sports purchase, you need to visit their website and download a customer service form. The form will contain a bunch of rigorous instructions about packing and shipping your item. You need to fill in the form and ship the item as per instructions.
How Can You Return Your Item to Champs Sports?
Depending on your preferences or purchase mode, you can return your product by:
Visiting a Champs Sports store
Using the website for online returns
How To Return an Item at Any Champs Store
You can return both your online and in-store purchase at your nearest Champs Sports store if you follow these steps:
Bring your item with the applicable purchase proof—which includes a receipt, invoice, order, or shipping confirmation
Make sure to bring it in the original box with the labels attached
Reach out to a customer support rep for your return processing
Follow instructions to get your exchange, refund, or credit
Champs Returns for Online Purchases—Basic Guide
Didn't like the Champs Sports merch delivered to you? Follow these steps to return your product:
Find the return form on the reverse side of the original invoice that came with the product
Fill out the details required
Don't forget to mention the product details—like size and color—if you want an exchange
Visit the website's ReadyReturns portal to place an official return request
Print the shipping label before shipping
Pack the item with the return form and paste the shipping label
Ship to this address: Return/Exchange Department, Champs Sports, 3210 S US Hwy 77, Junction City, KS 66441
Champs Return Policy—Guidelines for International Returns
International returns work the same as online returns, except for the free shipping part. Champs Sports will not bear any international shipping charges—including taxes—unless you have received a defective product.
Champs Return Policy—Miscellaneous Terms
Champs's return policy is filled with important information scattered around in bits and parts. We have scooped up some easy-to-miss yet relevant policy details for you:
Exchanges on returns depend on product availability
Free shipping for exchanges is limited to the contiguous U.S., APO, and FPO addresses
Champs Sports will not accept COD returns
If you choose express or overnight shipping—you will be responsible for the full shipping cost
If you return more than one item—you cannot provide more than one shipping address for different exchanges
Take It Easy & Let DoNotPay Deal With Your Champs Return
It's no exaggeration that handling returns is wickedly exhausting! If the Champs Sports return policy is giving you a hard time, let DoNotPay take it from here. DoNotPay's unique robot lawyer can help you place a proper return request and set a deadline for the company to process your refund—all in under two minutes!
Here's what you need to do:
using any web browser
Locate the Item Return Request tab
Answer our chatbot's questions about the product
Submit the request
Once our app has all the details about your issue, we will generate a return request letter and send it to Champs Sports. The letter will state whether you want a refund or an exchange. DoNotPay will also get you a free shipping label to ship your merchandise.
Enjoy Prompt Refunds With DoNotPay
Champs Sports makes quick refunds to the original form of payment, but credit card refunds may need 1–2 billing cycles to show up on your statement.
DoNotPay likes to track your return processing status to ensure that you get your refund or exchange on time. If you face any refund irregularity, DoNotPay can help you reach out to Champs Sports with a demand letter. We will always have your back with our multipurpose services!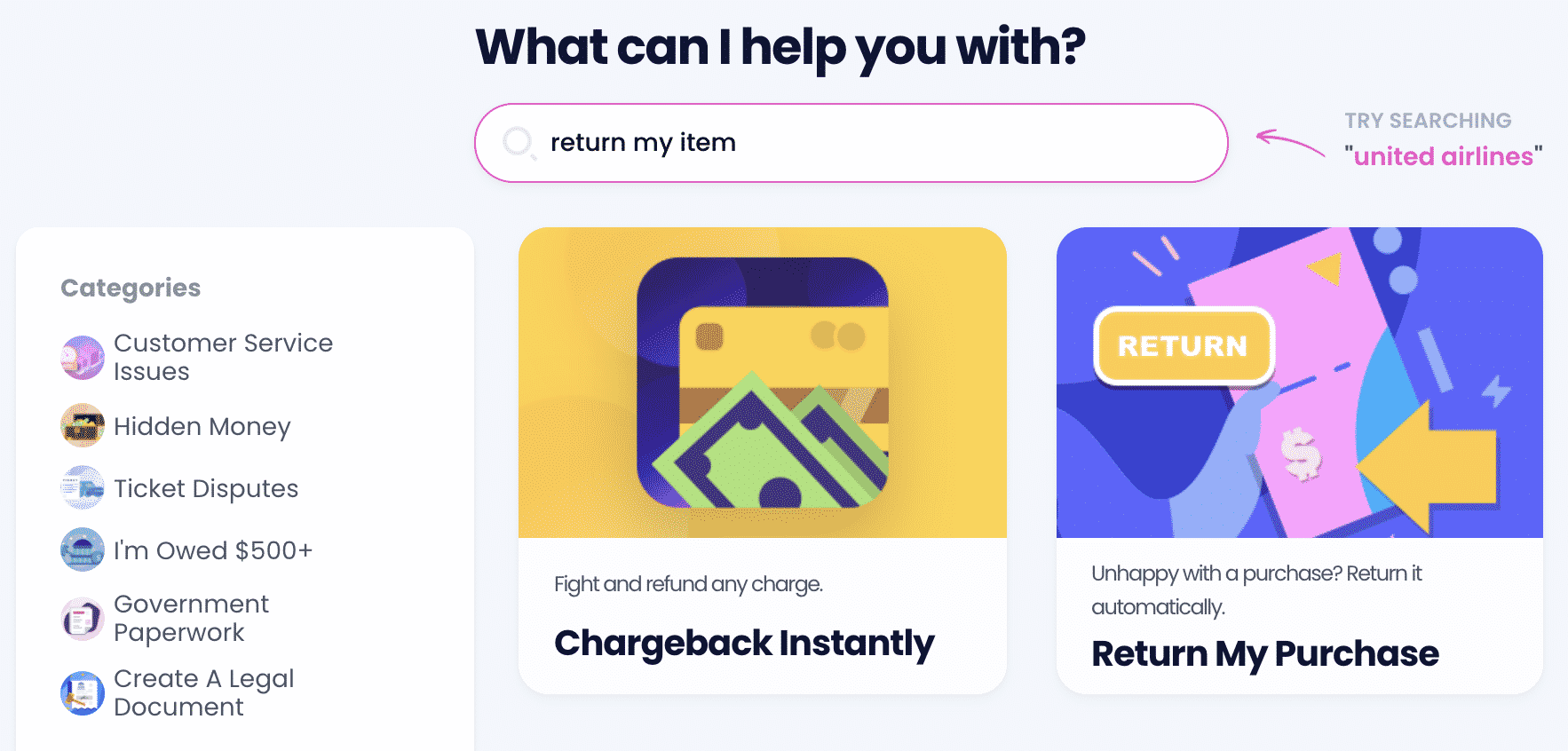 DoNotPay Has an Answer to All Your Item Return Concerns
With DoNotPay by your side, you don't have to stress over annoying return issues anymore. We have detailed learning modules for the return policies of many other companies, including the ones below:
Don't Tolerate Corporate Attitudes—Request What's Rightfully Yours
DoNotPay is known for being the champion of customer advocacy because we help our users claim what's rightfully theirs, and we don't tolerate big corporations taking people's hard-earned money.
No matter if you want to request a refund, insurance, extended warranty, or compensation from airlines, our AI-powered lawyer will fight for your right.
If you feel like you're overpaying certain subscription services, we can help you cancel them. Also, if you want to test a subscription before you start paying money for it, don't connect your credit card to the free trial page! You can sign up for free trials using our virtual credit card. That way, companies won't be able to charge you auto-renewal fees because the card has no funds.
Wait! DoNotPay Can Help You in Many Other Ways
DoNotPay has many different areas of expertise—helping you return your faulty items is only one of them.
Check out how our app can assist you in: