How To Make Use of the Carvana Return Policy
Buying a car or any other vehicle is a daunting process. Buying a car online can feel even more terrifying. Imagine going through the entire process of choosing the right color, model, and type of your car only to receive one that does not match the description at all!
Whether the car you ordered from Carvana looked different in the pictures or they sent you a different car altogether, you'll be happy to hear that the Carvana return policy is pretty straightforward. If you'd like to skip the hassle of initiating the return process on your own, to send a return request the easy way!
Key Things To Know About the Carvana Return Policy
Carvana's return policy may be simple, but there's still a lot to consider. The seven-day money-back guarantee starts from the day you receive the car, but you must submit your return request before 5 p.m. on the seventh day. For instance, if the car reaches you at 7 p.m. on a Sunday, you have until 5 p.m. seven days from then to return the vehicle and get a refund. Beyond that, the seven-day guarantee becomes void.
Carvana also provides a variety of payment options that all affect the nature of the return/refund process:
Credit card—Carvana will refund the amount to your bank account once the return has been processed
Trade-in—If you have traded one car for another, Carvana will give the trade-in back to you when you return their vehicle
Third-party loans—Refunds are not applicable
Limitations to the Carvana Return Policy
There are a few limitations to returning a vehicle. You are eligible to return the vehicle in question as long as it:
Has not been modified
Has not been in an accident or been damaged in any other way
Does not have an encumbrance (other than Carvana's retail installment contract)
You can also drive the car for up to four hundred miles before returning or exchanging it. Carvana will charge you $1 for each additional mile if you go over the limit.
They also provide the option to exchange your vehicle up to three times. The third vehicle does not come with the seven-day money-back guarantee.
How To Return a Vehicle to Carvana on Your Own
To make use of the Carvana return policy, you have to call 800-333-4554 and ask to return/exchange the vehicle. Carvana's customer service operates 24/7, so you can contact them whenever you want, but keep in mind the deadline for your seven-day money-back guarantee.
The problem, though, is that it can sometimes take a while to reach them over the phone, just like with any other business that uses this return method. Given that the money-back guarantee period is so short, you may not want to waste even a minute waiting on hold.
Here's an overview of all available options to initiate the Carvana return process:
| | |
| --- | --- |
| Can You Initiate a Return Request Via | Yes/No |
| DoNotPay | Yes |
| Phone | Yes |
| In person | No |
| Website | No |
| Email | No |
How Can DoNotPay Help You With the Carvana Return Process?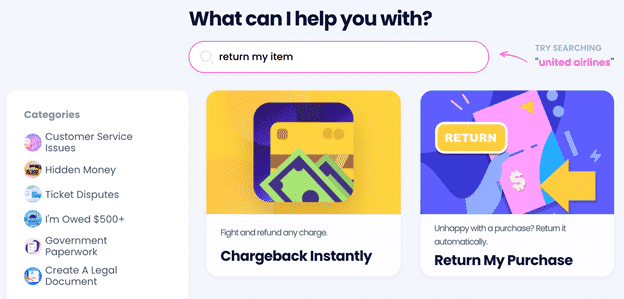 If you want to make use of the seven-day return policy but don't want to spend hours on the phone with customer service, leave it to DoNotPay. Here's what you have to do:
Look for the Item Return Request feature
Answer a few questions and submit
That's it! We will take it from there and send your request to Carvana in the form of a return request letter. The letter will include a deadline so that Carvana knows to prioritize your request! In case any disputes arise later, a written request will be of great help in resolving the issue successfully.
We can help you return items to other merchants as well. Here are a few guides that you can benefit from:
How Long Does It Take for Carvana To Refund Your Money?
Once the refund request has been registered and the return has been made, Carvana will refund you within seven to ten business days (depending on your bank). Fear not if they don't—you can use the DoNotPay app to demand a refund!
Here's what you need to do:
Locate the Chargeback Instantly product
Click on Get Protected
Answer a few questions
Sign and submit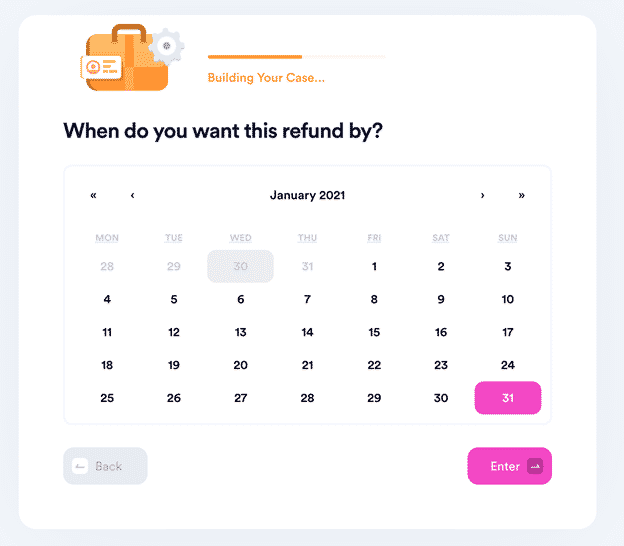 Think You've Been Wronged by Carvana? Take Them to Court With DoNotPay's Help!
Did you know DoNotPay is the world's first robot lawyer and has also been recognized by the American Bar Association? If you feel Carvana is not honoring their end of the bargain, you can sue them in a few steps with our help!
Here's what our app can do:
Write a demand letter
Fill out all court forms
Gather all necessary paperwork
File the complaint
Create a script with the best arguments you can use in court
Want Your Money Back? Rely on DoNotPay!
The world's first robot lawyer can help you get your hard-earned money back in several ways. Are you dissatisfied with a product or service you paid for and want to request a refund? Do you want to request a late delivery refund? No problem—DoNotPay will do that in your stead! Do you think that you may have missing money and want to claim it? We can assist you in finding it!
No matter the issue, DoNotPay is your shortcut through bureaucratic hurdles. Our AI-driven app can help you dispute your parking tickets, get refunds and compensation from airlines, cancel any subscription service in a flash, and so much more!
What Else Is DoNotPay Capable Of?
Being your personal AI-powered assistant, DoNotPay can help you get rid of:
Are you sick and tired of big companies not taking their customers seriously? Our app will lend you a helping hand in the process of suing them in small claims court.
Do you want to skip waiting in lines at the DMV, jump the phone queue when reaching customer service, get help with paying your bills, or get copyright protection for your work? Sign up for DoNotPay to complete these tasks and so much more!