Nasty Gal Return Policy—Fix Impulsive Purchase Mistakes and Get Your Refund
Getting stuck with an underwhelming Nasty Gal item can be rough. You feel a strong urge to get rid of the item ASAP, but the company's return policy is only confusing you. Like most brands operating globally, the Nasty Gal return policy aims to cover issues related to both U.S. and international returns. Their product range includes clothing, footwear, intimates, and beauty and body accessories—all dictated by separate return terms!
If procedural rules and policies overwhelm you, DoNotPay can assist you with a quick and simplified way to !
What Are the Terms of the Nasty Gal Return Policy?
Don't like how that Nasty Gal bodycon dress you bought online fits you? You can return your Nasty Gal purchase within 45 days of the date you receive the item. All you need to do is check the delivery date to see if your purchase qualifies for a return!
Can All Nasty Gal Products Be Returned Within 45 Days of Delivery?
Nasty Gal has strict guidelines about what can and cannot be returned across their product range. Your purchase may fall under the 45-day return window, but you still need to check if the item is eligible for a return.
This table summarizes individual return policy guidelines for Nasty Gal's products:
Merchandise
Return Requirements
Clothing

Item must be unworn and unwashed
Original label must be attached
Hygiene seal—if any—must be intact (applicable for underwear and swimwear)

Footwear

Only the shoes you try indoors are eligible for a return
All original tags must be intact

Intimates

The product seal must not be broken
The product seal must be in its original place

Beauty products & accessories

Returns are not accepted due to hygiene concerns
Beyond these individual guidelines, Nasty Gal's return policy specifically lists out the following items as ineligible for returns and refunds—mostly for health and hygiene reasons:
Fashion face masks
Pierced jewelry
Cosmetics
Swimwear or lingerie with the hygiene seal removed
Intimate toys with a compromised seal
How Can I Return My Undesired Nasty Gal Purchase?
Since Nasty Gal has discontinued sending delivery notes, you need to visit the website to initiate an online return process. If your purchase ticks all the right boxes for a return, use these steps to place an official return request:
Access the returns portal available on Nasty Gal's website
Provide the order number and your contact details
Wait for the generation of a returns label
Pay for the return in the portal itself
Get the returns label printed
Once Nasty Gal processes your return request, you need to follow these packaging instructions:
Seal the return item in opaque and waterproof packaging
Ship the item and secure a postage proof
If you have more than one return item, ship them separately
Keep tracking the item till you get an "item received" confirmation email from Nasty Gal
Can I Ask for an Exchange of the Product?
At present, Nasty Gal only offers refunds for all eligible returns.
I Received a Faulty Item—What Should I Do?
If you receive a faulty item, you must not use the returns portal. Nasty Gal asks you to use the website's Contact Us tab to alert them of the defect by providing the following details:
Customer name
Order name
Name and code attached to the item
Visual evidence of the issue
Description of the issue
When Can I Expect To See My Refund?
Nasty Gal will process your refund only after they receive the item in intact condition and in compliance with their return policy. The refund credit period may range from seven to 14 days, depending on the mode of payment used and singular bank policies.
If your bank account doesn't reflect the refund after 14 days, you must reach out to Nasty Gal customer service. You can do this by clicking the Contact Us tab on Nasty Gal's website.
If you made the original purchase using a gift voucher or store credit, the same will be credited back to your Nasty Gal user account.
Dispel Any Stress Right Now and Let DoNotPay Handle Your Nasty Gal Return
Executing any product return can be a complex and disruptive ordeal as the whole process consumes your time and mental resources to no end. DoNotPay can help you place your Nasty Gal return request in under two minutes. The app's AI-backed features will even let you set a deadline for Nasty Gal to process your return!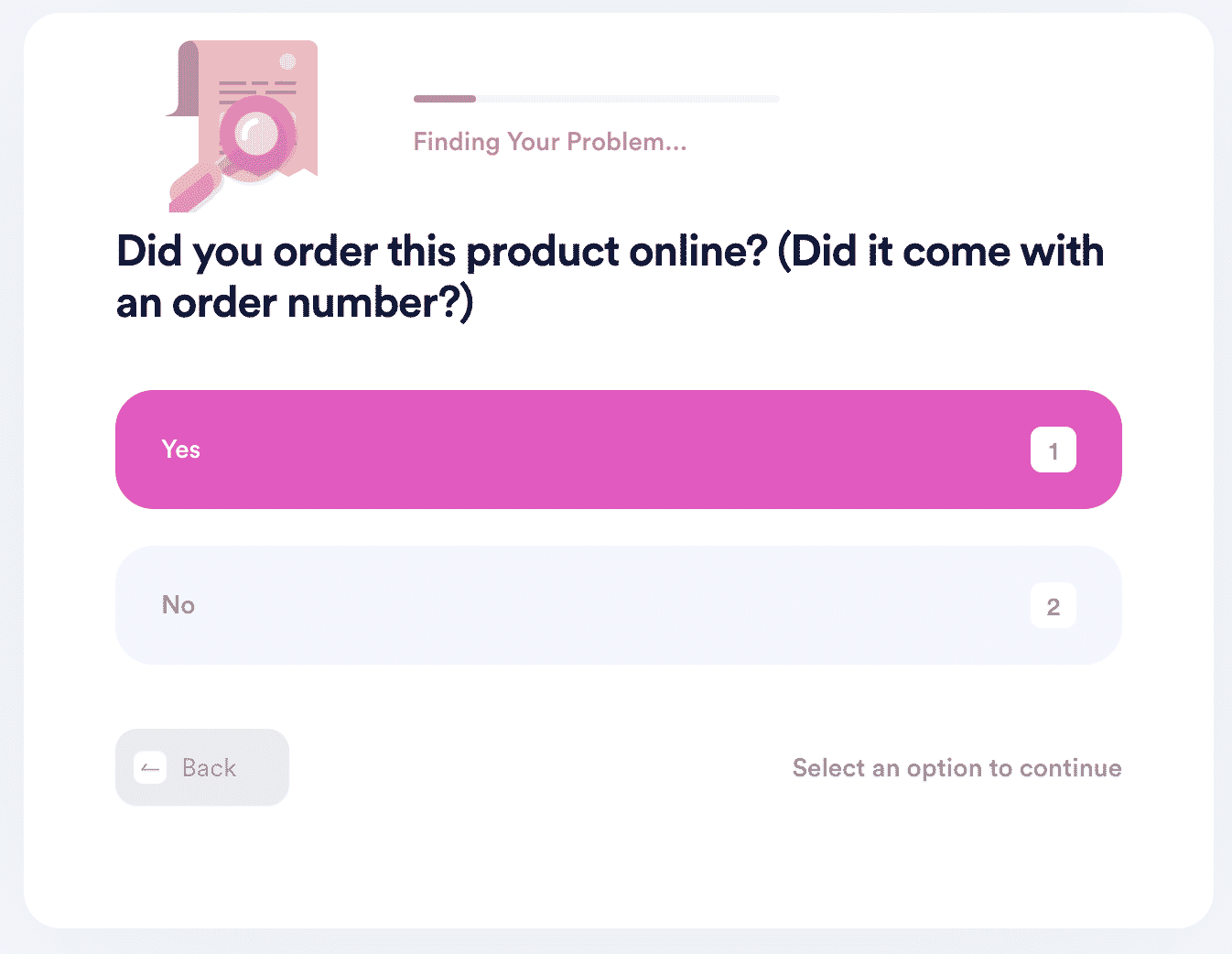 This is what you need to do to access DoNotPay's return assistance:
Locate the Item Return Request feature
Provide the basic details to the chatbot
Click Submit
How Will DoNotPay Move Forward With My Return?
DoNotPay will generate your return request letter automatically and send it to Nasty Gal. You can breathe easy as DoNotPay will also do all the tracking and monitoring for you. We can even get you the return label for shipment.
If Nasty Gal fails to process your item refund within the deadline, the app will help you write a suitable demand letter to expedite the process.
With DoNotPay's virtual assistant, a solution to your shopping woes is always a few clicks away!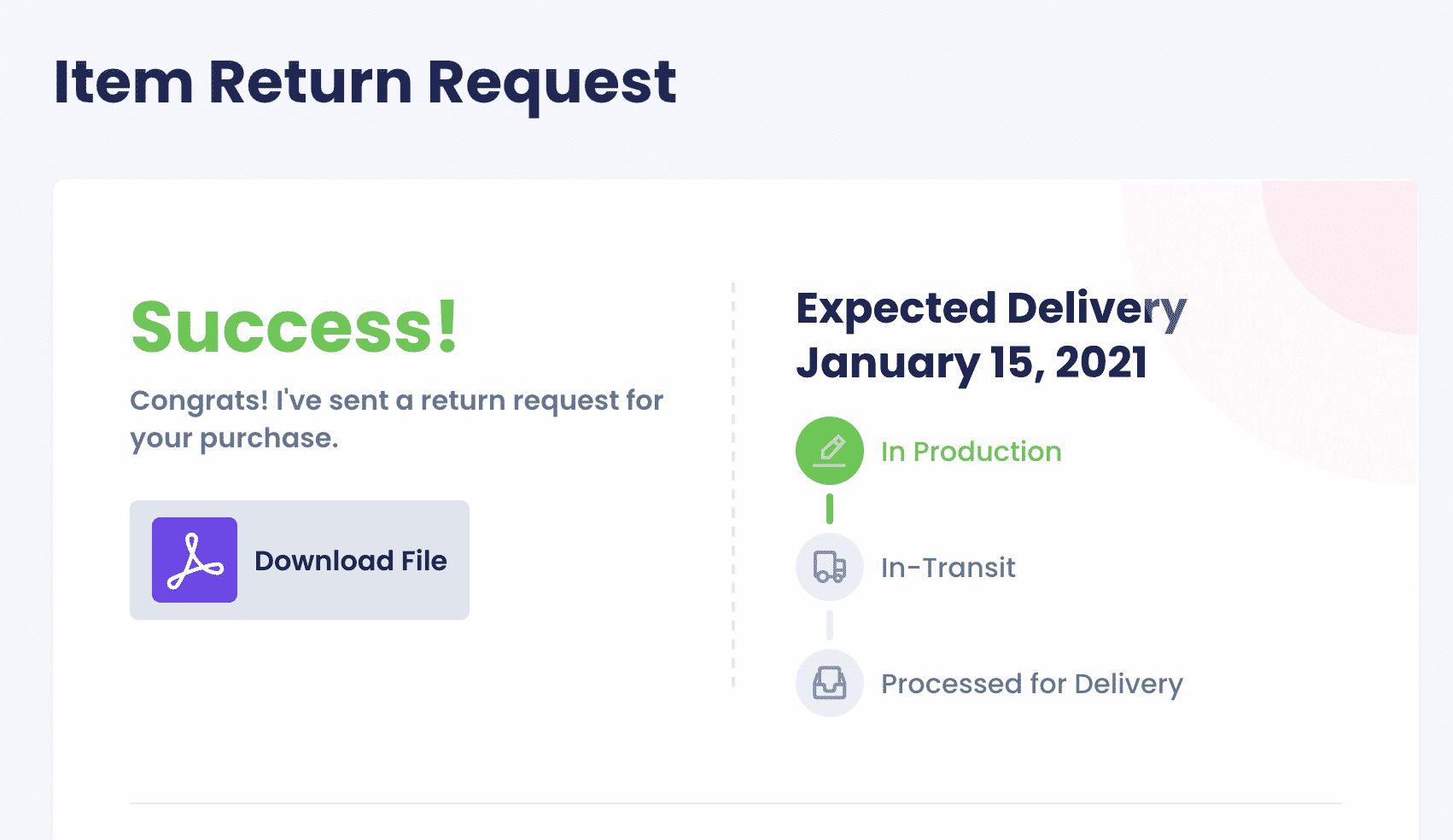 We can also help you navigate the return policies of other famous brands:
Is the Company Refusing To Cooperate? We Can Help You Get Justice
Is whatever company you're dealing with not being a good sport? Don't worry—the world's first robot lawyer is here to help. Our app can prepare all the necessary paperwork and provide guidance if you want to sue the company in small claims court.
We can also help you draw up any legal document you need for the case, have it notarized by an online notary, and fax it to anyone in a matter of minutes.
If you want to get revenge on tiresome robocalls or report a stalker or harasser, you can rely on DoNotPay.
Anything Else We Can Do for You?
Our AI-powered app is versatile—you can complete many tiresome, daunting tasks that you wouldn't want to tackle by yourself. You can use DoNotPay to:
If you want to get access to all of our nifty products, sign up now!