Dive Deep Into the West Elm Return Policy To Get Your Refund
Few things are as haunting as buying a lamentable piece of furniture. If your new West Elm purchase looks awfully out of place in your home, it's likely you're looking into ways to make a return.
The West Elm return policy lists out countless rules and procedures about eligible items, acceptable purchase proofs, and valid returns. To make matters worse, buyers often have to deal with rude customer service before making a return.
You don't have to overload your brain with policy nitty-gritty every time you want to make a return. to send your West Elm return request without any complications!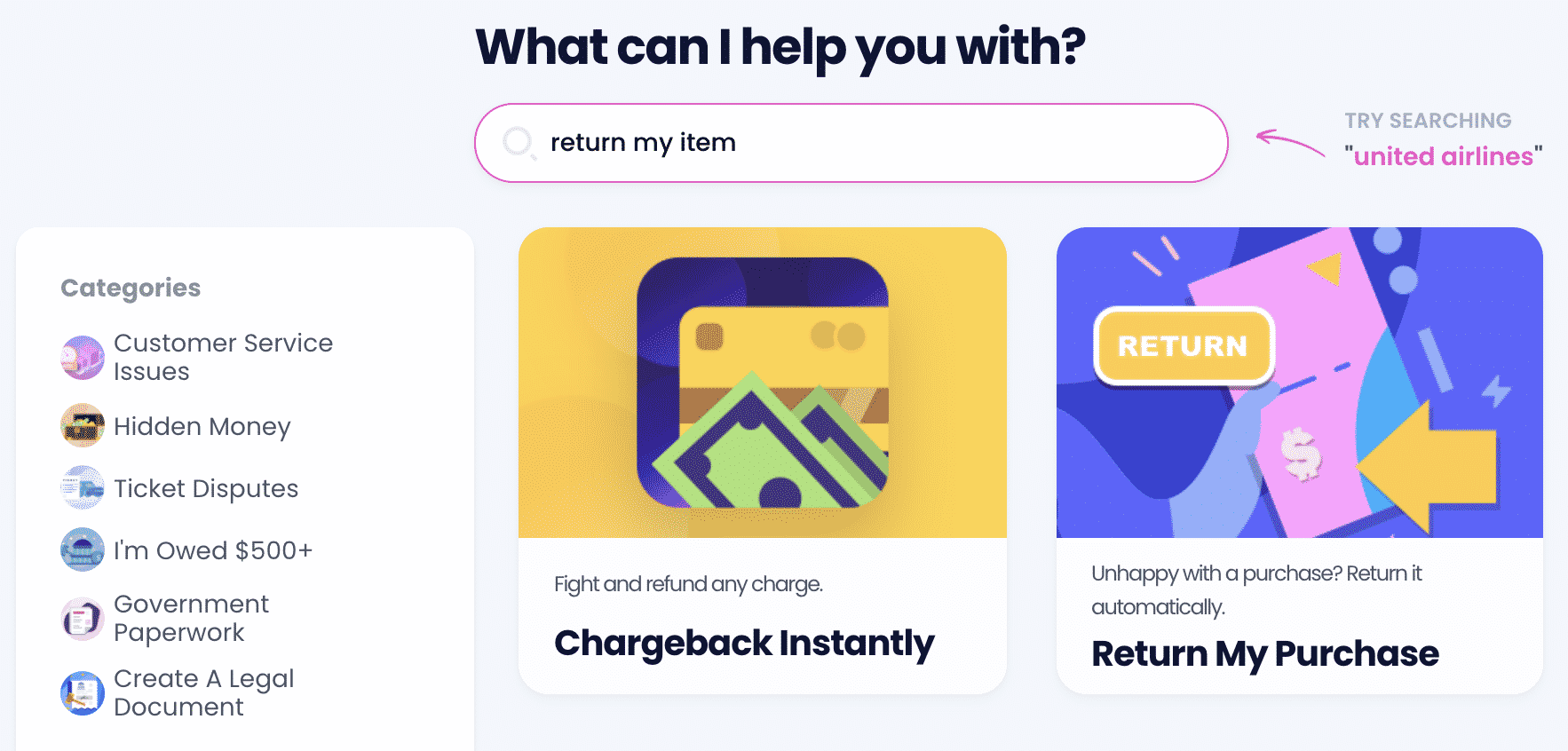 The Lowdown on the West Elm Return Policy
West Elm allows you to return your item within 30 days of purchase or delivery, as long as you have a purchase proof. The return policy dictates the same return terms for upholstery items but excludes the following from the list of items eligible for return:
Personalized monogrammed items
Made-to-order items
Robin mattresses and foundation
Clearance sale items—identified by their price tags ending in $.97 or $.99
Anything damaged by basic wear and tear
What Counts as Proof of Purchase?
West Elm return guidelines strictly mention that refunds and merchandise credit will only be available against a valid purchase proof. You can use any of the following as proof of purchase:
The original purchase paper or gift receipt
Any kind of electronic receipt
Order number
Original packing slip that displays the order number
Gift registry number
West Elm Return Policy for Special Returns
West Elm's standard return policy doesn't cover registry, international, or defective returns.
Return Terms for West Elm Registry Items
West Elm's registry items have a longer return window than the general range. You can return your registry items within 90 days of the following dates—whichever is earlier:
The date of the event you registered for
Date of purchase
Outlet Returns
West Elm Outlet range consists of steeply discounted items to suit every pocket. The company policy states that none of the outlet stores will accept returns of any kind.
Faulty Merchandise
Damaged or defective West Elm merchandise can be returned even after the expiry of the 30-day return window. To get a full refund, you must reach out to their Customer Care Center. They process a refund or an exchange on a case-to-case basis.
West Elm Return Policy—How To Return an Item
Depending on the mode of purchase or how the item was delivered to you, you can return it in several ways. Here's a summary of the methods mentioned in the return policy:
Items
Procedural Details
Non-furniture items

You can make a return to any local West Elm store
You won't be charged any additional return cost

Items shipped by mail

You can ship off the items using a prepaid shipping label
Shipping and processing charges may be applicable

Large items like furniture not delivered by mail

You can arrange a phone return by calling customer service at 1-888-922-4119

Items with an order number and billing/shipping code

This applies to all online orders
Return the item in the original box
Follow packaging instructions
Ship using the prepaid label provided
How To Get the Prepaid Shipping Label
If your mode of return involves a UPS drop-off, you will need to generate a prepaid shipping label with West Elm. For that, you have to provide your purchase details on the website or to a customer service representative.
Make sure you use robust packaging to prevent any damage in transit and qualify for an issueless refund or exchange, as applicable. These requirements are only for items shipped within the United States (including U.S. territories and APO/FPO).
International Returns
If you have ordered a West Elm item from outside the United States, the general return policy still applies to you. Due to logistics, the company will ask you to contact customer care by phone or email to collect a return authorization.
Refunds will be made in the original currency with the support of a third party. Shipping and processing costs will not be refunded.
Turn Your Return Nightmare Into a Fairytale With DoNotPay
We understand you must feel defeated after reading the return terms, but that doesn't mean you need to stick with a shabby piece of furniture! DoNotPay makes sure you don't have to compromise on your taste because of a complicated and time-consuming return mechanism. We offer a simplified four-step process to place a return request with West Elm in under two minutes!
Follow these easy-peasy steps to return your West Elm furniture:
Navigate to Item Return Request
Provide details to our user-friendly chatbot
Click on Submit when done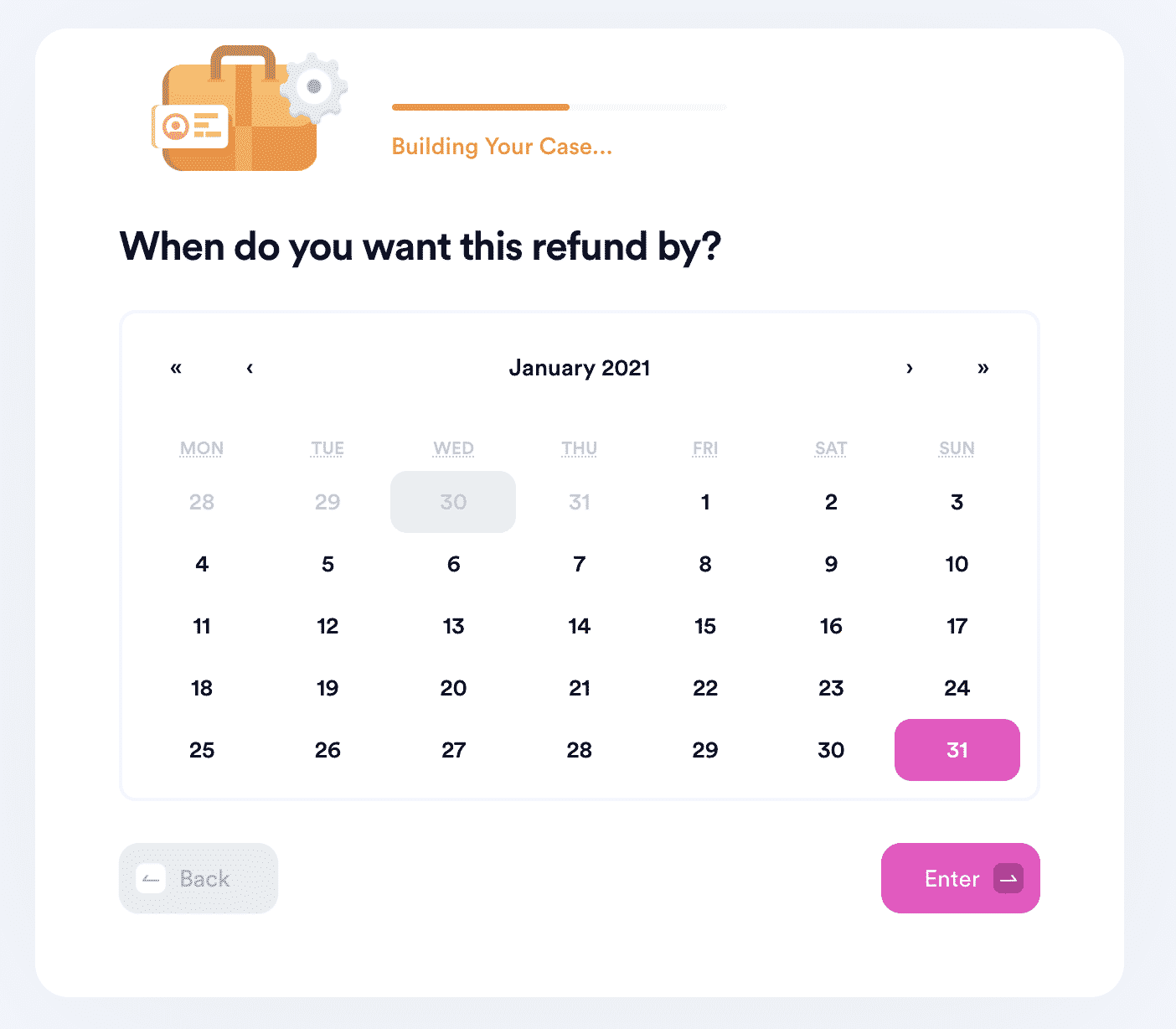 You will get your return request generated immediately after completing these steps. You can also set a deadline to get West Elm to hasten up your refund!
When Can I Expect My Refund?
It can take up to 14 business days for West Elm to process your refund, depending on the kind of refund you're eligible for. The return policy specifically mentions that any request to adjust the refund amount to the price of another item will be rejected.
You can get an idea of West Elm's refund scheme in this table:
Refund Details
Refund Mechanism
Based on the original receipt
The refund is forwarded to the original payment mode
Based on the gift receipt
You will get an equivalent Merchandise Credit as a refund
For items over $10,000 via Merchandise Credit Card
A refund higher than $10,000 will be made in two steps:

You will receive a Merchandise Credit Card for $10,000
West Elm will mail you the remaining balance over $10,000 in a check

Cash and check refunds for over $100
West Elm won't pay you in cash but will mail you a company check for the refundable amount
DoNotPay's proactive strategy will help you get your refund in the quickest way possible. If West Elm delays or disputes your return, we can back you up further with necessary legal action. You can sit back and relax while we secure that precious refund for you!
Say Goodbye to Item Return Worries With DoNotPay
DoNotPay has your return game sorted with other popular return policy guides. You can always go over some of our commonly sought-after item return manuals here:
Get Your Money Back in an Instant
If you want to both return your item and get a refund for it, you can count on your personal AI-powered assistant. These two products aren't the only tricks DoNotPay has up its sleeve, though!
With our app, you can also claim insurance, get an extended warranty, find your missing assets, request refunds from airlines, reduce your property taxes, lower your utility bills, sign up for free trials without getting charged, get free raffle tickets, and a lot more.
If you want to avoid wasting your money, DoNotPay can cancel any subscription or membership in your stead and provide you with a virtual credit card that will prevent auto-renewal charges once your free trials expire!
With DoNotPay, You Can Also Say Goodbye to Waiting in Lines
Are you sick of waiting in lines? So are most of our app's users! You can say no to endless lines at the DMV if you sign up for a DoNotPay account. Our app can also help you jump the phone queue when you need to get in touch with a customer service representative.
If any company refuses to cooperate with you, our app will prepare all of the necessary legal paperwork and help you sue it in small claims court. Need to have any of your documents notarized? No worries—DoNotPay will employ an online notary and help you schedule your appointment. You can also e-sign and send the document to anyone using our Online Fax product.